The best gym softwares caters to the specific demands of fitness center owners, trainers, and their clientele, streamlining administrative tasks, enhancing user experience, and driving overall business growth. Given that gym softwares can range in features, interfaces, and pricing models, it's evident that no single software is the universal solution for all gym environments. However, there are clear frontrunners tailored to distinct needs.

Some gym softwares excel in backend management capabilities, offering seamless scheduling, billing, and inventory management. Others prioritize the user experience, with features such as customizable workout plans, nutrition tracking, and progress reports. Backend functionality can be objectively compared based on efficiency and reliability, while user experience can be more subjective, hinging on individual preferences and gym demographics. Moreover, the scalability and pricing of the software play crucial roles in determining its suitability for different-sized fitness establishments.

1. TeamUp
TeamUp is the leader in gym management software for independent and franchise gyms, studios, and boxes. A top contender in this pack, where TeamUp shines is in its, flexibility, scalability, and attention to your business's and communities needs. At every level, all features are included, with pricing based on the number of active customers using your service each month. TeamUp's all-in-one software includes a booking platform, online class management, event management, a mobile booking app, financial reporting, top-class customer support, and top-class unlimited customer support available whenever you need it.
Pros
Scalable pricing with all features available at all levels.
Free, unlimited customer support whenever you need it.
Unique features for managing families and group plans.
Cons
A free plan is currently not available, but the starting price is very competitive.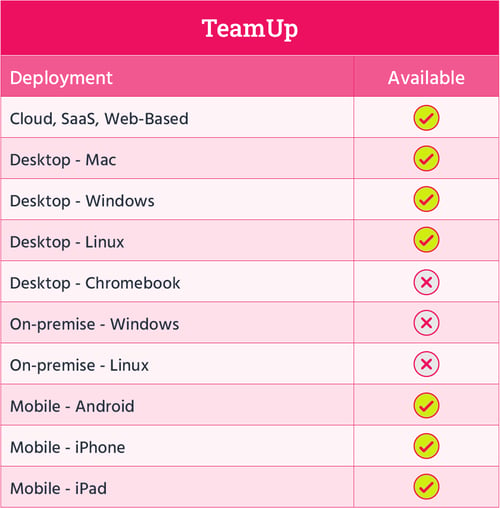 2. Gymdesk

Gymdesk is valuable software for gyms of various sizes and needs. No matter at what stage of its lifecycle a gym might be, this software will cover its needs. This tool was carefully designed to make day-to-day admin tasks easy and stress-free. Their attendance tracking feature makes this software a go-to solution for martial arts schools and other communities with a larger number of members.
Thanks to their app for iOS and Android, keeping track of member onboarding online and on mobile is easy. One of its perks is a number of options for payment processing. Gymdesk helps gyms achieve better member retention thanks to two-way email and text communication, keeping everything recorded and smooth.
Pros
User-friendly software for great pc.
Helps with converting leads to members.
Offers tracking on app both for iOS and Android.
Cons
Family memberships have no separate inputs for parents or guardians.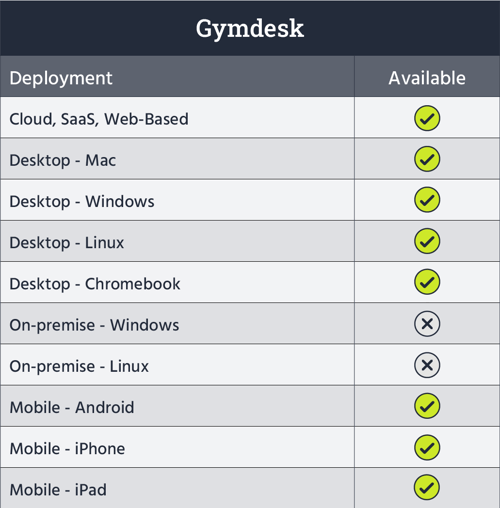 3. Mindbody
Mindbody is a long-established management software company that has booking solutions for businesses in the health, wellness, and beauty industries, as well as the fitness sector. An all-in-one software solution, there is a big emphasis on enterprise and franchise management. The platform has features for client scheduling, employee management, marketing, processing payments, and online booking.
Pros
Members can take responsibility for managing their own memberships.
Reliable member app.
Numerous marketing tools.
Cons
High processing fees.
Difficult software to learn how to use.
Not built solely for fitness businesses.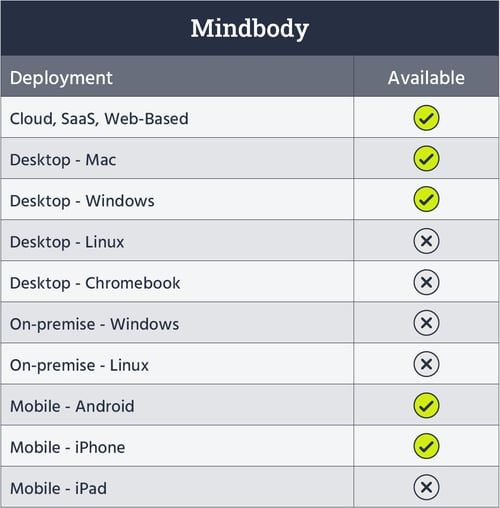 4. Glofox
Glofox is a convenient app that comes with a central dashboard and custom user experience. A software solution for small fitness businesses, as well as for larger fitness businesses and fitness franchises, gym owners can schedule classes, manage memberships, and track attendance rates. Glofox has a lead capture tool and integrations for marketing and social media. There is also a branded mobile app for customers to make reservations and payments.
Pros
Gyms can have a branded member app.
Includes family and group management features.
Good lead management abilities.
Cons
Lacks transparent pricing.
Take a fee on top of the provider's fee.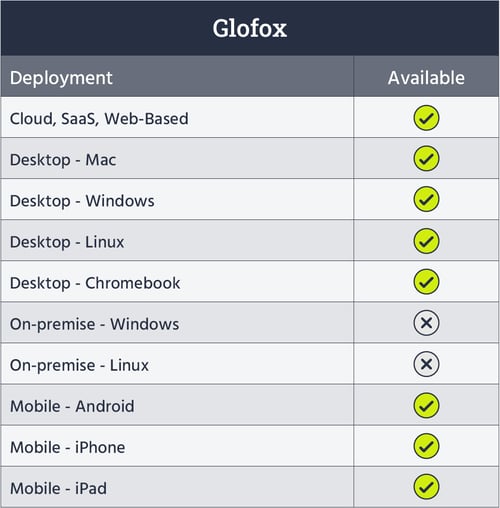 5. Virtuagym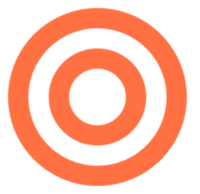 Virtuagym is a software provider for health and fitness, coaching, and corporate wellness. Their management software allows gym owners to create branded invoices. It's also possible to use multiple payment methods through Virtuagym's software, including cash, credit cards, direct debit, and wire transfer. Virtuagym has mobile apps, and it is available in a number of different languages.
Pros
Good online classes platform.
A branded app is available.
A reliable retention dashboard with membership analytics.
Cons
No transparent pricing.
Reviews of inconsistent customer service.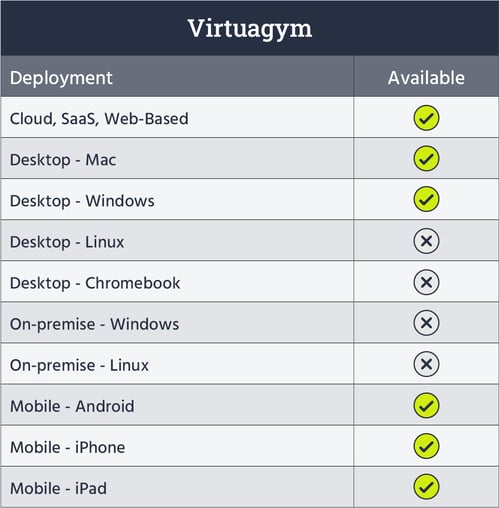 6.PushPress
PushPress is unique in that they started their own gyms before they started to build gym management software in order to understand the problems that arise when running a gym. PushPress' gym software aids with managing classes and private classes, payments, and attendance tracking. There are also features to help with managing leads and maintaining member relationships.
Pros
Free plan available.
Good range of third-party integrations.
Point-of-sale (POS) system with inventory management available.
Cons
Free plan doesn't include third-party integrations.
Pricing for paid plans is relatively high.
Event management features are limited.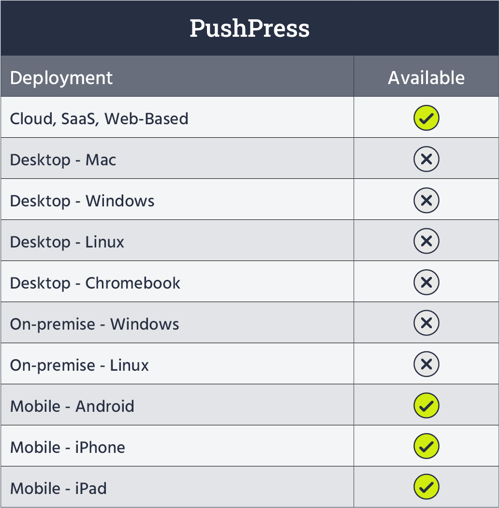 7. Zen Planner

Zen Planner is a gym management software that fits well with boutique gyms, CrossFit boxes, yoga and Pilates studios, martial art schools, as well as gyms. An all-in-one management and scheduling software, gym owners can use Zen Planner's logbook to track their members' performances and know when to take their training to the next level. Zen Planner's scheduling features include class tracking, time monitoring, the ability to embed calendars to your own website, and automated class reminders.
Pros
Scalable pricing. All features are available at all levels.
Includes reliable workout tracking and coach programming features.
15-day free trial available.
Cons
Expensive starting prices.
No SMS features for marketing campaigns.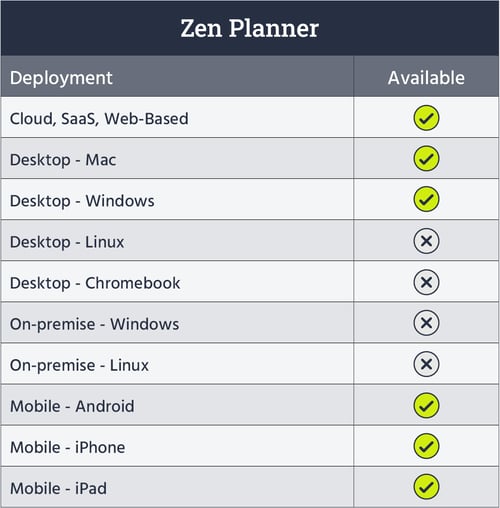 8. Wellnessliving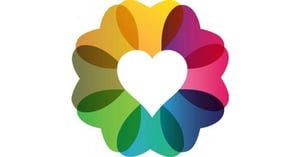 With a particular emphasis on yoga studios, spas, salons, personal training, fitness gyms, pilates studios, and dance clubs, as well as gyms, WellnessLiving provides the tools users need to manage day-to-day business tasks. From managing employees and memberships to aiding with sales, marketing, and more, this is an all-in-one software solution. From the backend, gym owners and instructors can manage class schedules while from the front end, clients can use Android and iOS native mobile apps to book classes through Wellnessliving.
Pros
Features for loyalty management based on fitness contests, progress, and purchases.
An all-in-one gym software solution.
Cons
Email and SMS service is expensive.
Pay-per-feature pricing plan.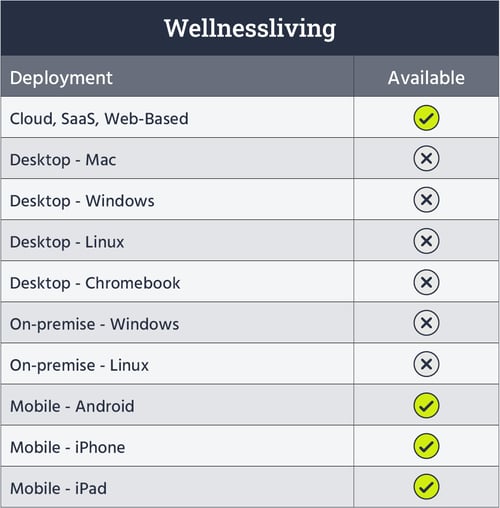 9. Exercise.com

Primarily providing gym management software for gyms, fitness studios and personal training, as well as offering key features from online class management to client automation features, Exercise.com is an all-in-one platform that covers the needs of both in-person training and online fitness business. Exercise.com also has features that allow you to log workouts, conduct digital assessments with your clients, and create custom workouts.
Pros
Member app is branded and reliable with good functionality.
Good customer service reviews
Cons
Can take time to get to grips with the software.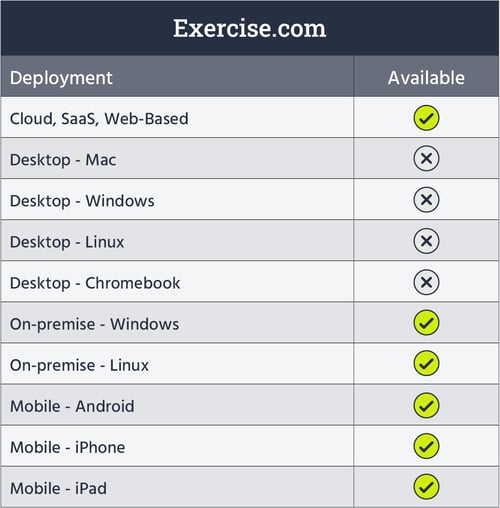 10. Gymflow

As with many of the gym management software providers in this list, Gymflow has several core features that make bookings, building schedules, and other administrative tasks a lot easier. What Gymflow also has are features dedicated to improving customer retention and boosting client engagement. Gymflow's pricing is based on what feature sets you wish to include in your package. Unlike other providers in this list, you will miss out on some useful features with their low and middle packages.
Pros
Simple setting up process.
Customer reviews highlight ease of use.
No fixed contracts.
Cons
Pricing is only available on request.
Certain features are not available depending on the package gym owners opt for.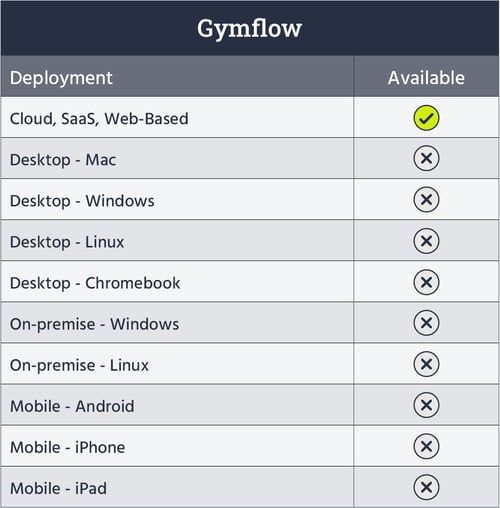 11. SimplyBook.me

SimplyBook.me is a multi-industry booking system. SimplyBook.me work with companies in beauty and wellness, sports and fitness, public services, photographers, retail, and more. A booking platform with a number of functions, SimplyBook.me has a number of integrations, including Google Analytics, to help their customers run their day-to-day. In turn, their clients can easily book appointments and sessions on any device. The software also features tools to help with promoting businesses and generating leads.
Pros
Integrations and API with Google Analytics, Facebook, Instagram, WordPress, and more.
Marketing automations included in the software.
A client app is available.
Cons
Not specifically designed for gyms.
Features don't include attendance management or attendance tracking.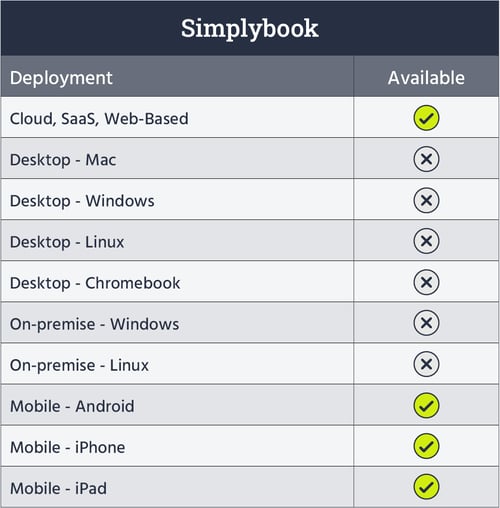 12.
GymMaster

Specialising in gyms and other health and fitness businesses, GymMaster has a focus on improving gyms' overall customer experience. With a number of strong features that support online booking, point of sale (POS), and integrated billing transactions, GymMaster is a good example of software that helps gym owners automate simple admin tasks. GymMaster also comes with marketing features that help to generate leads, while their premium packages also come with tools to help with client retention.
Pros
Good point of sale (POS) software.
Members have a certain amount of autonomy over their billing cycles.
Customizable POS dashboard.
Cons
Option settings can be difficult to navigate.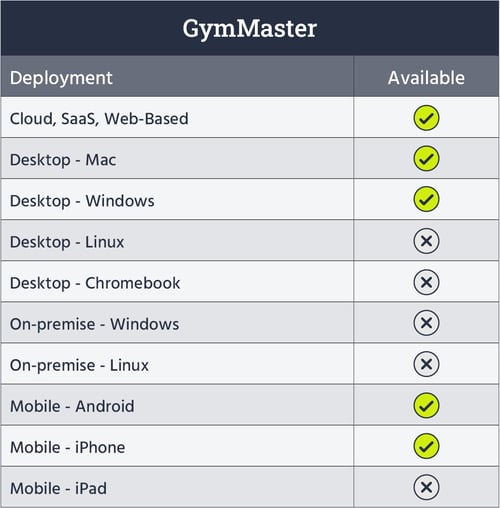 13. EZFacility

EZFacility's fitness management software covers a wide range of sports and health businesses. EZFacility's core features include desk check-in services, tools to track invoices and payments, and tools to help with staff payroll. With EZFacility, you can also get reports and analytics for your business. With a branded app available, gym owners can create a good customer experience and maintain their unique brand identity.
Pros
Offers a lot of unique tools.
Good front desk and point of sale (POS) tools.
A branded member app is available.
Cons
No transparent pricing.
The mobile app doesn't have separate iOS and Android versions.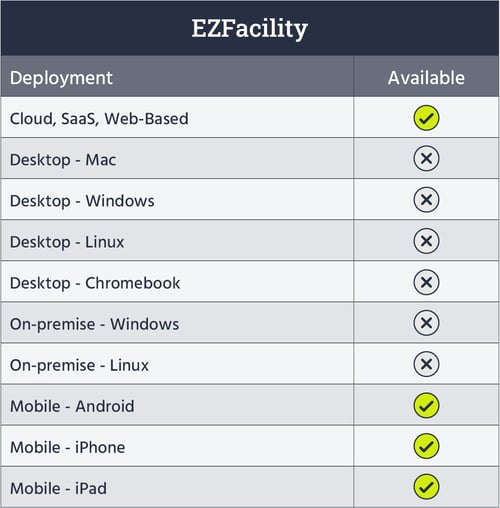 14. RhinoFit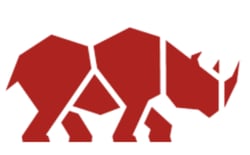 RhinoFit's gym management software focuses on simplicity. As well as aiming their software toward gyms, RhinoFit is also a good option for dojos, fitness clubs, and affiliate gym businesses. Rhino Fit has features to help you create email marketing campaigns to generate new business and attract new members, alongside the core features of online booking and automated billing and payment processing. Gym owners can create and brand custom merchandise and, through the app, they're able to keep track of sales.
Pros
Good reviews citing ease of use.
The free version has more features than certain competitors' free versions.
Cons
Reviews of slow customer support.
RhinoFit-specific hardware can be expensive.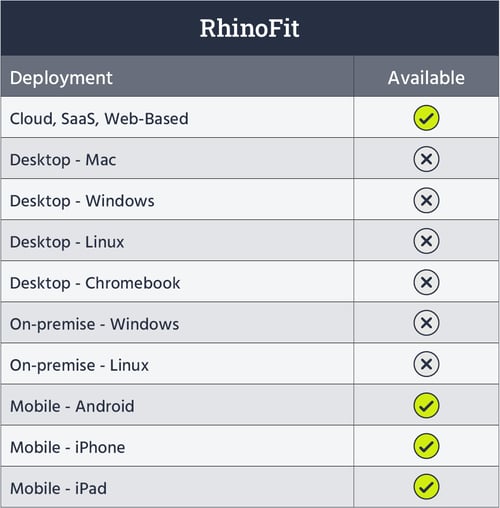 How to choose from the list of best gym management softwares for your gym
The gym software you choose to help you run your business depends on certain factors. The size of your business, your budget, reviews of customer support, and most importantly which key features you will benefit the most from are all important when you're searching for the best gym management software for your fitness business.
Knowing which key features you should look out for when you start choosing gym management software can be difficult so we've put together a list of just some of the key features you should expect from your gym software provider.
1. An organized dashboard that's easy to navigate
When you sign up for a demo with a potential gym management software provider, make sure you understand exactly how the dashboard operates. Getting lost in an online labyrinth as you try to set up automated admin tasks can make it seem easier to run things without software.
A seamless and intuitive dashboard that makes it clear to see where all the information you need, makes all the difference. When you sign into your dashboard, you want to be able to easily find information such as your business calendar, reports, customer lists, staff and employee management, activity feed and other important tools that will help you manage your business.
A clean and organised dashboard will help you save time on admin, streamline processes and scale your business.
2. Scalable pricing
Scalable pricing is a big plus when you're choosing gym management software. Scalable pricing means that you only pay based on the number of active members you have using your fitness business.
With an option such as TeamUp, you will also never have to make alterations yourself. When the amount of members you have goes up to a specific number, your software automatically changes your tariff. Similarly, if your client base drops below a certain number, your software will again make the adjustment for you down to the relevant pricing scale.
3. Reliable customer support
The last thing any gym owner wants is to be stuck in an endless loop talking to and emailing different customer support team members to resolve any issues. The best gym management software companies offer unlimited customer support with a team member dedicated to your business who communicates with you as well as their team clearly.
Choosing gym management software that offers unlimited free support with a designated support team member means building a rapport with someone who understands and cares about your business. Knowing that you can send an email or schedule a call at a time that suits you to address any issues gives you confidence in the software you choose to invest your business's money in.
4. Thorough and robust reporting
Reporting plays a huge role when you choose gym management software. The best gym management software will come with a wide range of reports that you can access from your dashboard. Reports allow you to make objective business decisions based on the facts and data in front of you rather than making snap judgments or allowing emotions to get in the way. The types of reports you'd ideally look for from gym software include:
Tracking payments. Know who has or hasn't paid.
Tracking class attendance. See who's come to class, who cancelled late or who didn't turn up.
See which clients are slipping away. Know who hasn't attended classes for a certain amount of time and use marketing integrations to re-engage with them.
Know which classes are popular or unpopular. Have a clear idea of which classes are popular and at which times. Decide whether some classes need more time slots or which need to be removed from the schedule.
Income reports. Have a full overview of your earnings and expenditures.
With the right reporting in place, become an expert in your own business. Know when you need to make tough calls to keep your business growing, such as knowing which classes aren't performing well or when you need to re-engage with clients you haven't seen in a while.
5. A fully-functioning mobile app
The majority of gym software now comes with a downloadable member app so that your customers can book classes and make payments on the go. Most people nowadays do a lot of their online transactions from their phones, so choosing gym management software with a reliable mobile app will make your overall customer experience even better.
A reliable app will have your schedule clearly laid out for your members so they can select their preferred classes quickly. It should also be easy for your members to purchase memberships, upload their payment details, and also to complete PAR-Qs and health waivers. Making the sign-up process quick and easy to do from a mobile phone is a good way to ensure new leads don't slip away and helps to retain clients.
6. Integrations that do the heavy lifting for you
The best gym management software will have a number of integrations available that have been specifically designed to free up your time. From sending out notifications and pre or post-class emails to marketing integrations, gym owners should be on the lookout for a provider who can guarantee that those time-consuming, repetitive admin tasks are a thing of the past.
Integrations create simple processes that don't just make your life easier, but also help to boost your customer experience. Even some of the seemingly simpler integrations can help you to consistently provide a great customer experience. Integrations can help gym owners in a number of ways, such as:
Free up your time from doing repetitive admin tasks.
Improve business-to-customer engagement.
Speed up communications through automated notifications and emails.
Automate and perform tasks so you don't have to.
Provide secure and timely payments.
The scope of what you can achieve through integrations is large. What makes integrations so important when you're deciding on which gym management software to invest in is that once you set up a task, you can sit back and know that your software will automatically do the rest. It really is that simple.
7. Good user reviews on review websites
There's no better critic for software than fitness business owners and gym managers who have actually had experience using them. When you want to know who other industry professionals consider the best gym management software providers, there are a few websites you can use to not only read ratings and reviews but also get a side-by-side comparison of prices and key features.
By using review sites such as G2, GetApp, Capterra, and TrustPilot, you can get a very thorough idea of what people like about certain gym software providers, where they think can be improved, and even why some fitness businesses have decided to leave their previous gym management software providers for another software solution.
Compare gym management softwares at glance

Why switch to TeamUp?
TeamUp is not just one of the most recommended gym management software providers, it's also ranked as the second easiest to use by G2.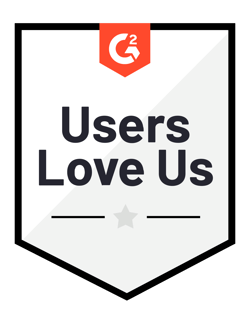 TeamUp provides their customers with all the features they need to better run their business by taking the complexity out of admin and freeing up gym owners' and gym managers' schedules, allowing them to concentrate on the day-to-day running of their gyms.
TeamUp customer support is unlimited and with team members who are not just knowledgable about the product but also about your business. With TeamUp, you know you'll be speaking with someone who genuinely cares about helping you to make your gym business as successful as it can be.
With robust features and integrations that are all included in the monthly price of the software, you don't have to worry about hidden costs or missing out on that one feature that would really help you take control of your business.
Find out more about how TeamUp has helped fitness businesses here, and see how it can help your business grow and thrive, book a call with one of our team and enjoy a free trial today.
Open Comment Form