Anyone can work out. We could get on a bike, lift weights alone, go to a park or a gym. But some of us want more than just exercise. Those of us who attend fitness classes are looking for guidance, camaraderie, motivation, friendship, and community. Take a look at these quotes from fitness customers. We asked them whey they chose the studio they did. This is what they said:
"Jen herself is to me the main thing. If she gave it up, if she suddenly said next week, I'm closing this all down, I'd be devastated. Because I could find Pilates somewhere because I need to do that stretching but I think Jen herself is the key. Her personality, her commitment, her professionalism, all those things are the things that I enjoy about the class. I feel like I get a lot out of it."
"The chats and little pearls of wisdom, definitely. It is much more than you might think. Just talking at the beginning or end of a session. [The instructor] chats about things she's learnt, things she's come across since she's read that might help us or not."
"I think it's more the atmosphere. As soon as I started going I didn't feel the same pressures and judgments that I did when I was going to other gyms. Everyone was very friendly and encouraging and they all knew that me as a beginner I didn't have the knowledge and skill set that they all had but they were very keen to improve that and that was from the coaches all the way down to people that I've only just met."
"I love the social aspect, the little bit of philosophy she throws in there. Her personality is very engaging, appealing. She is funny. And professionalism - I really admire that. She always wants to improve herself and improve her teaching. I think that's brilliant."
As more and more fitness businesses move online, it's important to remember that your students want you. They chose you for your enthusiasm, and for your attitude. They chose to stay with you because they trust your guidance, and they like the other students you've attracted to your classes.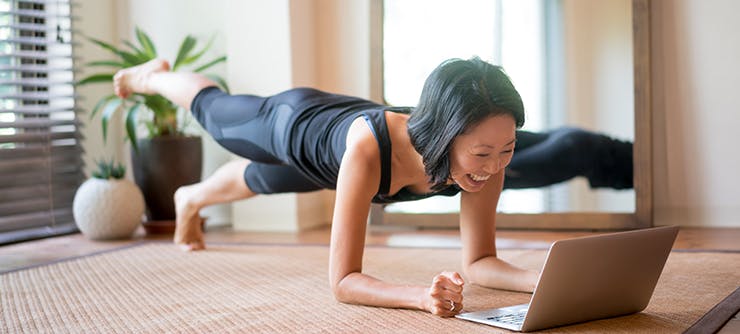 To help with consistency of service as you move classes online, we've launched a new feature: a full integration with Zoom. Zoom is a meetings app for video conferencing, and it's the best there is for providing reliable online classes, but lacks great scheduling.
This new feature will help you host online classes in the most seamless way possible. It's like a booking system for Zoom. Here's how it works:
What you need to integrate with Zoom
You'll need a Zoom account. You can sign up to a Basic, Pro, or Business plan depending on what you need. We expect most providers will use the Pro plan with one user. But, if you want to look into it more, there are three main options:
Basic plan: This plan is free but with some limits including a maximum of 40 minutes for your online classes.
Pro plan: This plan is probably the best for most fitness businesses. It allows you to run classes up to 24 hours long (which should be more than enough!) with up to 100 attendees including the instructor. With this plan, you can have multiple users with unique logins. This is helpful if you have overlapping classes in your schedule.
Business plan: This is for big classes of over 100 people. With this plan, you can put your own brand on the Zoom video portal. If this important to you, go for it!
Once you have your Zoom account, head back into the TeamUp dashboard and go to Settings and Integrations to connect it to your account. After that you will add your first online venue.
How to set online venues for your fitness class
With this integration, you can add online venues in addition to your physical locations.

The venue options will ask you for a URL (web address). You can choose to have a single, constant URL if you prefer to keep it simple, or you can choose to automatically create unique URLs for each class and attendee. This second choice is the most secure.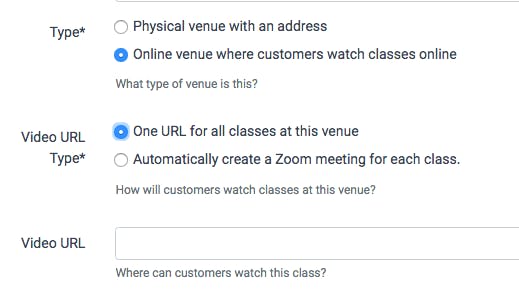 Zoom doesn't allow the same user to host two meetings at once. So, if you are running more than one class at any given time, you'll need to use multiple Zoom users. You can set each Zoom user as its own venue (as if each "user" is its own classroom). Again, this is only necessary if you have classes being taught at the same time as each other.
Meet in the class using the venue links
To sign up for your class, your customers will select from the schedule and pay as they normally do. Your customers will be sent the link when they register. This link is automatically generated and unique to each class. You can also set up a pre-class notification if you want to send a reminder before class. Most users choose to remind customers one hour before class.
When it's time for class, go to your register via the calendar and start the Zoom meeting. You'll see your customers show up on the screen.

Your customers won't need to download Zoom themselves. They'll just click their link and be transported to your class.
Run your class with energy and positivity
We've done our best to make running an online class as similar to an in-person routine as possible. Anyone who joins the Zoom class will automatically be marked as attended (unless they are late), and you can mark off any no-shows and see exactly who is attending on the dashboard. Pre-class reminders automatically send the link to attendees on a schedule of your choosing. You can set any number of reminders. You can also send automated post-class messages to ask for feedback.
We're excited about this new feature and hope that it helps you during this period and onward into the future beyond it. And, a quick thank you: we received a lot of messages asking for different features. Your feedback is integral to our product road map, so please keep telling us what you need. Thank you!
As usual, please message us if you need help with anything.
Further Reading
Here are a couple of recommended support resources.
TeamUp and Zoom for online classes