As 2023 unfolds, gym owners must keep up with the essential membership statistics that will shape the future of their industry. It's crucial to stay ahead and anticipate market changes to maintain a thriving business!
To help you get a better understanding of where the fitness industry is headed this year and beyond, here are 70+ gym statistics you need to know.
Knowing these stats will give you insight into what customers want from their gym experience and how they view health and wellness services.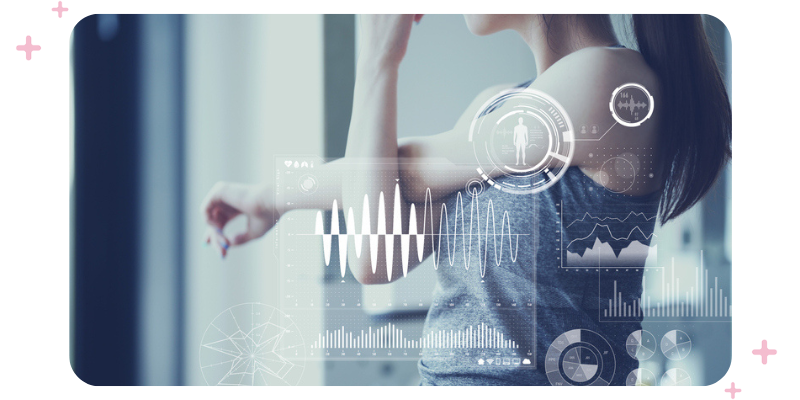 General gym membership statistics
Getting a deep understanding of how consumers use gym memberships is crucial when gauging the overall health of the fitness industry.
Here are some essential statistics about gym memberships that will give you an idea of how many people use gyms, trends, and growth in the sector.
Gym membership demographics
Knowing who uses the gym most often is a key statistic in the fitness industry, as it can aid those running gyms to provide services tailored to their members' needs.
Understanding age group and gender breakdowns help business owners gain invaluable insight into how they should adjust their offerings.
Many assume that men mostly frequent gyms, but the truth is - that women now make up over half of gym-goers at 50.5% (IHRSA, 2020)

Yoga, pilates, and barre classes have gained intense popularity with female members; 14% of female participants preferred taking yoga lessons virtually compared to 10 % of males (Morning Consult, 2020)

Even though female gym members outnumber males, men are still granted more time to exercise. According to the Bureau of Labor Statistics, in 2019, 20.7% of men engaged in physical activities daily, whereas 18% of women partake (Bureau of Labor Statistics, 2019)

Since 2010, the female membership rate has risen by 32.2%, while the number of male members has increased at a slightly slower pace of 23.2%

Interestingly, 20-40% of men report that body image is essential to gym attendance.

However, 8% still quit their membership after only one year (Finances Online)

Women are twice as likely to use home-based video exercise programs than men, according to RunRepeat

Additionally, 46% of male gymgoers and 43% of female patrons utilize their smartphones while exercising at the facility
According to the 2019 Consumer Fitness Survey by Les Mills, dedicated gym goers are generally aged 36-37, whereas new members are approximately 30 years old.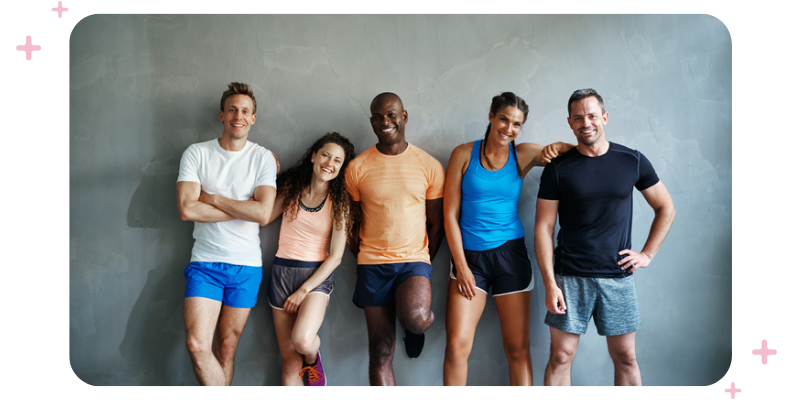 Les Mills has reported that the average gym membership consists mainly of younger generations, with more than half under 30. Below is a breakdown across generations:
Gen Z (born between 1994 and 2002) comprises 35%

Millennials (born between 1979 and 1993) make up 45%

Gen X (born between 1964 and 1979) represents 14%

Baby Boomers (born from 1949 to 1963) account for 6%
To better understand the composition of gym members, RunRepeat has provided a clear breakdown based on their self-identified race or ethnicity.
‌White:‌ 66.34%

‌Hispanic:‌ 12.78%

‌African American:‌ 12.3%

‌Asian:‌ 7.19%
An overwhelming majority of people frequenting American gyms are white, according to RunRepeat. Even more notable is that both the amount and proportion of white gym members have grown in the last decade.
Fascinatingly, the number of people who frequent gyms in white has dramatically increased from 33.9 million in 2010 to 42.59 million by 2019 - a 25.6% rise

With 5,123 health clubs within its borders, California is America's leader for most fitness facilities; Texas follows with 3,285 sites, and Florida at a close third with 2,809 centers total. The fourth and fifth are New York, with 2263 spots, and Pennsylvania, claiming 1,576 respective areas (IHRSA 2020)
Member profile and usage
Who are the people who frequent gyms now? Studies indicate that many of them have incomes higher than $75,000 yearly. Some go multiple times a week, while others only show up occasionally. Not everyone utilizes all gym amenities - which suggests there may be an interest in more budget-friendly services being provided




Of gym members who regularly use their membership, a staggering 63.3% hit the gym at least twice weekly, while 16.34% visit once weekly (Finder, 2020)

Households boasting an annual income of $75,000 or more are the primary subscribers to gym membership (IHRSA, 2020)

These individuals make up what is known as "core users," meaning they use the equipment and services within a gym facility more than 100 times annually; additionally, their incomes tend to be higher than $150,000 per annum (IHRSA, 2020)
In 2018, U.S. gym visits amounted to a staggering 6.7 billion (IHRSA, 2019), and the average membership duration was 4.7 years (IHRSA, 2020).
According to IHRSA

2020 report

,

the health club and gym industry is a booming business—with billions of dollars in revenue every year from millions of gyms worldwide

In 2019, the health club and gym industry reeled in an astounding $96.7 billion worldwide.

To put that into perspective, there are approximately

210,000

fitness facilities across the globe! In particular, the ‌United States (41,370) and ‌Brazil (29,525) boast some of the highest numbers of gyms

In 2019, U.S.-based gyms and health clubs generated the most revenue of any country in the world, with a whopping $35 billion!

Germany and England followed closely behind, earning approximately $6.2 billion that same year
Gym usage statistics
In 2019, the International Health, Racquet & Sportsclub Association (IHRSA) reported that approximately 1 in 4 Americans frequented a gym or fitness center.

Since 2010, this number has grown exponentially to 73.6 million people – a 27% increase!

Despite 6.3% of Americans never using their gym memberships, the number of people visiting gyms at least twice a week is an impressive 49.9%.

This resulted in 2019 having 6.7 billion visits to U.S. gyms – a 45% rise since 2010!

In 2019, an astonishing 27.3 million people visited the gym 100 times or more - a 24% surge since 2010!

The average membership length of 4.7 years suggests that many individuals are content with their decisions. In fact, 50% of the members cite location as the most determining factor for renewing.

Nonetheless, nearly two-fifths attribute it to equipment and amenities offered at the facility. In comparison, 38% promptly quit due to escalating costs within six months after signing up - 23% cited lack of use.
Global gym membership statistics
With over 184 million gym members, Expert Fitness has uncovered the countries with the highest average of members per gym below.
‌China:‌ 2,558

‌Hong Kong:‌ 2,389

‌Taiwan:‌ 2,366

‌South Africa:‌ 2,072

‌Singapore:‌ 1,600
With over 4,520 locations spread across the globe, Anytime Fitness stands out as one of the most expansive and thriving international chains.

Planet Fitness has achieved an impressive feat with over 16.5 million members and 2,324 locations worldwide, according to its franchise website, as one of the most successful global chains.

Fit Body Boot Camp, an elite franchise with a presence on six continents and more than 800 locations worldwide, is considered one of the few international boot-camp brands.

To give you an idea of the most costly average monthly membership fees out there (the lowest will be discussed further below), here's a glance in U.S. dollars:
Qatar:‌ $110.08

‌Kuwait:‌ $107.74

‌Singapore:‌ $105.10

‌Switzerland:‌ $91.83

‌Saudi Arabia:‌ $86.99
According to RunRepeat's 2021 Gym Membership Price Analysis, the typical gym membership fee in America is around $37.71 - a cost that may be worth every penny if it encourages you to stay active and healthy!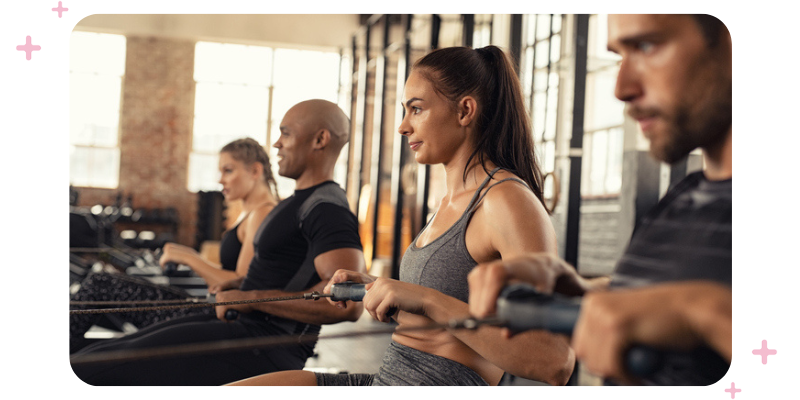 Gym membership statistics in the U.S.
The International Health, Racquet, and Sportsclub Association (IHRSA) estimates that there are roughly

41,370

gym facilities in the United States.

According to RunRepeat, the U.S. gym industry yielded a whopping

$35 billion in profits

in 2019!
According to 2019 Club Industry statistics, these are the three most lucrative health clubs in America:
‌L.A. Fitness:‌ $2.15 billion

‌Life Time:‌ $1.9 billion

‌24-Hour Fitness:‌ $1.47 billion
According to RunRepeat, the average monthly gym membership cost in the U.S. in 2021 was $37.71. To save money on your next gym membership subscription, consider these leading low-cost yet high-quality options throughout the United States:
‌Planet Fitness:‌ $10

‌Youfit:‌ $10

‌Work Out World:‌ $10

‌World Gym:‌ $15.99

‌Crunch:‌ $19.95
Gym membership costs statistics
When searching for a gym membership, one of the most common inquiries is cost. To be prepared for anything, prepare your budget to spend anywhere from $10-$40/month on your membership - not including additional costs like initiation fees or yearly subscriptions.
Gyms and clubs offer varying rates, depending on your location and the kind of classes or amenities they provide. But don't fret if money is tight - staying fit does not have to be costly!
According to Moneycrashers, the standard price of a gym membership in America is $58.

The cost of an annual gym membership can vary depending on your area and the type of facility you desire. However, generally, consumers should be prepared to invest between $500 and $700 (The Trusty Spotter, 2019)

As well as their regular monthly fees, gyms usually require a one-time initiation fee that ranges from $100 to $200 (Moneycrashers)

For most HIIT studios (39%), strength-focused gyms (41.7%), pilates/yoga studios (52%), and gym/fitness studios (57%), membership fees can range from a reasonable $10 to an affordable $40 per month, according to Harrison Co., 2020

On average, gym member fails to maximize two-thirds of their dues, amounting to $468 annually (or $39 per month) (The Hustle, 2019)

In 2020, American adults invested an average of $286 monthly on health and fitness-related activities-- a 6% increase from the previous year (CNBC, 2020)

According to Finder (2020), 87.6 million U.S. citizens invest an astounding $34.8 billion annually on gym memberships alone! Sadly, 1.3 billion dollars is spent yearly on unused membership fees that could have gone elsewhere and been put to better use

Furthermore, the average American spends less than thirty dollars a year when it comes to investing in gym memberships
Gym membership retention statistics
Securing a gym membership isn't simply about gaining new patrons but also preserving the ones you already have.
Studies on gym membership have highlighted the importance of providing a practical onboarding experience, offering diverse classes and services, and training staff to foster meaningful customer engagement when retaining members.
January is a record-breaking time for gym memberships, with 12% of all new signups occurring during this month (IHRSA, 2020). Unfortunately, the elation of signing up often wears off quickly, as 50% of these newcomers drop out within six months after joining (IHRSA, 2020)

After a year, 8% of male fitness center members and 14% of female members opted to end their membership (Noob Gains, 2020)

Ensuring a positive onboarding experience is paramount to retaining members- 87% of those who did continue being active within the first six months! (Precor)
How to increase membership retention
Group classes
Group classes are an excellent way to retain members and keep them motivated in their fitness journey.
According to AFS Fitness, 85% of gym-goers go twice a week to participate in group activities, while 43% visit four times each week!
This shows how much people appreciate engaging with others during their workout sessions – something you can easily facilitate through organized group classes.
Group activities
UK gym members are more likely to remain loyal when they engage in group activities.
As statistics from the TRP report show, 48% of participants went for one session, 32% two sessions, and 20% three or more!
Group workouts have become an essential part of any fitness club as they allow people with similar goals to bond while staying motivated toward their progress.
Strategic location and top-quality equipment
For optimal member retention, two core components to concentrate on are location convenience and top-notch equipment quality.
An impressive 50% of gym members remain loyal due to its strategic spot alone, while 38% attest that the well-maintained fitness gear is worth more than enough for them to stay (CreditDonkey, 2020).
Flexible gym membership options
Rethinking gym memberships can be an excellent approach to enhancing member retention.
Offering flexible and affordable membership plans (monthly or quarterly, for example) allows people to find a plan that caters best to their ambitions and lifestyle while also encouraging them to join in.
Provide incentives
Gym owners can persuade more people to join a gym membership by offering incentives like discounted memberships, free classes, and referral programs.
These rewards will stimulate existing members while luring new ones in, ensuring that the business grows exponentially!
Personalized customer service
Providing personalized customer service is also vital - gym staff should be friendly and knowledgeable about the gym's offerings to create a welcoming environment that encourages people to stay and continue their gym membership.
By taking these steps, gym owners can work towards increasing gym membership retention and ensure a successful gym business.
In conclusion, gym memberships can be an essential part of physical fitness, and gym owners should strive to create a positive customer experience to help retain gym members.
Frequently asked questions on gym memberships statistics
What kind of gym membership options are typically available?
There are a variety of gym memberships available, ranging from no-contract to long-term contracts. Prices and services vary depending on the gym and type of membership chosen.
How much does a gym membership usually cost?
The membership cost can depend on the gym and the type of chosen membership. Generally, gym memberships range from $10 to over $100 per month, depending upon the gym's amenities, services, and contracts.
What are the leading competitors in the health and fitness sector of the U.S.?
Regarding the health and fitness market in the USA, Anytime Fitness by far reigns as king. With a whopping 2,175 clubs across North America, they are undoubtedly miles ahead of their competition - L.A. Fitness and Planet Fitness. Although L.A. has been crowned most profitable for six consecutive years, when it comes to bang for your buck, Planet takes first prize!
How has the pandemic changed the fitness industry?
The pandemic caused a significant drop in gym attendance, prompting gym owners to pivot and offer virtual or online fitness options. This has allowed the fitness industry to remain competitive despite declining gym attendance.
What are some gym membership statistics?
According to Statista, gym memberships have increased from 54 million in 2018 to 64 million in 2020. Additionally, IHRSA reported that gym memberships generate over 6 billion visits per year to 39,570 gym facilities across the U.S.
References
Open Comment Form