Gym owners always look for new and innovative ways to promote their products and services. Video content is a powerful tool that you can use to reach new clients, engage existing ones, and showcase your gym's offerings.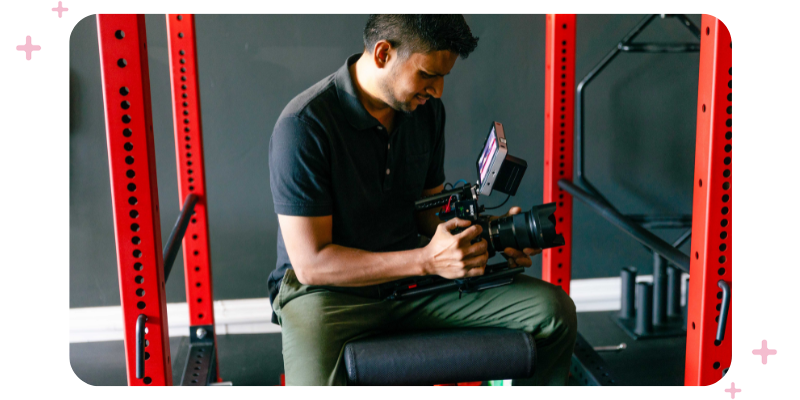 Here are 28 video content ideas to help you promote your gym and stand out from the competition. Whether you're a personal trainer, gym owner, or fitness vlogger, these ideas can get your creative juices flowing.
28 best video content ideas for gyms
As a gym owner, video content is essential for getting the word out about your business and driving more customers through the door.
You can showcase workouts, promote special offers, and introduce new members to your gym culture with videos!
Ready to take your video marketing strategy up a notch? Here are 28 video content ideas for gyms that are sure to engage members and attract potential clients:
Testimonial videos of your clients' fitness journey
Showcase your happy clients and their success stories to build trust and credibility with potential clients. For example, Gold's Gym has testimonial videos of its clients sharing their fitness journeys and how Gold's Gym has helped them reach their goals.
Behind-the-scenes videos
People love a sneak peek behind the scenes, so these types of videos are great for building excitement and demand before a launch. Provide exclusive access to something most people don't see.
Giveaways
Generating buzz and cultivating relationships with your customers is easy when you offer giveaways! Why not reward an individual for the most captivating fitness video, a delectable, nutritious dish, or an imaginative stretching program? Giveaways are the perfect way to motivate your clients while getting creative.
Workout video
One of the most popular types of video is the workout video. Here, we perform a complete workout that viewers can follow along to.
Think about focusing on a specific area of the body, fitness goal, or duration when designing your workout video. Remember, generic workout videos don't perform as well as targeted ones.
Backstory videos
Sharing our backstory is a great way to build rapport with our audience. It'll help them get to know us, like us, and trust us, leading to more subscriptions and purchases.
Use this opportunity to explain our brand values and what makes us different from our competitors.
Fun ads for your product or service
Let your gym shine with an inspiring and engaging advertisement that sets you apart from the competition. No one does it better than SoulCycle - their "SoulCycle is More Than a Workout" ad perfectly captures their workouts' unique spirit.
It showcases how joyous, energetic, and uplifting hitting those spin bikes can be!
Fitness myth-busting videos
The fitness industry is full of conflicting information, so myth-busting videos are a great way to educate our audience on the facts.
Address common questions or misconceptions and provide a scientifically accurate answer to position ourselves as credible experts.
Healthy habits video
To encourage your clients to stay healthy and fit, create a list of lifestyle habits they can incorporate into their daily routines.
Take Nike's "Better for It" campaign as inspiration: the videos feature women in real-life situations courageously facing personal hurdles while making strides towards health-related goals.
By watching these stories, viewers will be encouraged by other people's successes and motivated to reach their own milestones.
Exercise technique videos
Another popular type of fitness video is the exercise technique video. In these videos, we coach our audience through the correct technique of a specific exercise.
Pre-planning is vital, as we need to think through our coaching points, correct form, and how we'll explain things verbally and visually. Remember to ensure the camera is in the best position to capture your movement.
Fun product demos
Reach more customers and let them experience the fun of your products or services by creating entertaining content.
For instance, Les Mills recently released a video on YouTube highlighting their fresh equipment and how to use it in a gym to obtain optimal results while having an enjoyable time at the same time!
This visually appealing product demo offers potential clients insight into what they can expect from your gym, alluring them with exciting visuals that will have them eager for more!
Host virtual workout classes
The pandemic has caused an explosion in virtual fitness classes, and you can capitalize on this trend by offering them as part of your gym's services. Your online workouts will attract a diverse audience, establish yourself as an expert in the field, and draw more customers to your business!
Don't limit yourself either - offer everything from yoga to cardio or strength training for maximum appeal. Taking advantage of the digital platform means there are no boundaries when it comes to who can access your classes, so make sure every style is represented!
Healthy eating videos
Equip your clients with the tools to live healthier lives by sharing healthy eating tips. Whole Food Market's "Healthy Living" video series is an excellent source of simple yet delicious examples and comes highly recommended!
Top tips videos
If we're looking to attract new subscribers or viewers, 'top tips' videos are ideal. Put together a list of practical tips to help our target audience solve their biggest challenge. By providing a quick win, we'll immediately make a positive first impression and increase their chances of watching more of our content.
Partner with local businesses to create fitness videos
Working with local businesses can significantly expand your reach and bring new people to your gym. Consider partnering with a local health food store, yoga studio, or fitness equipment company to create workout videos showcasing their products and services. This will help you reach a wider audience and give your followers more content to enjoy.
Stretches for body pain video
Share some good stretches for common body pain, such as back and neck pain, to help clients relieve discomfort and improve their overall well-being.
For example, Yoga Journal's "Yoga Poses to Relieve Computer Neck Pain" video showcases simple and effective stretches that can help relieve neck pain.
Yoga Poses to Relieve Computer Neck Pain
Create workout challenges and contests
Take your engagement with followers to the next level by creating 30-day ab challenges, push-up contests, and even "choose your own workout" challenges - all of which captivate your followers while inspiring them to share their progress.
Not only will this keep them connected, but also develop a buzz around your gym that could dramatically boost its visibility.
Social media challenges
Invigorate your followers with exciting and interactive social media challenges! From push-up contests to ab challenges, these activities provide a fun way for people interested in fitness and health to engage by sharing video content.
Consider hosting monthly, weekly, or even daily initiatives so no one will miss out on the excitement!
Meditation and wellness video
Focus on mindfulness and meditation to promote a sense of well-being and relaxation. For example, Headspace's "Racing Thoughts While Trying To Sleep?" video offers guided meditation to help viewers fall asleep faster and sleep better.
Racing Thoughts While Trying To Sleep? Try This.
Share your own personal workout routine
Showing your personal fitness routine to your followers is an excellent way of letting them get a glimpse into what you do to remain in shape. Incorporate warm-ups, cool-downs, and exercises that work for you and fascinate others. Sharing your own workout plan not only builds trust but can also inspire people to make similar changes that may assist them in achieving their desired results!
Live video Q&A sessions
Live video Q&A sessions are an effective way to create a strong relationship with your followers and deliver them valuable content. Use this as an opportunity to showcase what you know and answer questions, offer advice, and spark conversations - all of which can help build trust between you and your audience!
How to fix your posture video
This type of video empowers your clients with the necessary knowledge to restore their posture. Not only can you demonstrate a range of activities and stretches that will benefit them physically, but these valuable tips could have long-lasting effects on their overall health!
Sharing user-generated content (video)
Encouraging your followers to create video content effectively increases engagement and gets them talking about your gym. You can run video contests or challenges and encourage your followers to share their workouts or tips for staying motivated and healthy.
This will not only engage your followers but also give you access to a wealth of video content to use in your own marketing efforts.
Instagram stories
Instagram stories are a fantastic way to engage with your gym's audience and show them what you have going on. From short clips revealing event highlights to reminders about upcoming classes - these quick-fire videos can be used as an effective tool for connecting with potential customers and encouraging people to follow along.
Virtual tours
Virtual tours are a great way to show off the space and amenities at your gym without requiring people to visit the facility physically.
Use video tours to highlight unique features, such as special equipment or workout spaces, so potential customers can get a feel for what your gym offers.
Informational video content
Creating videos that educate viewers on various topics related to health and fitness can be a great way to build trust and credibility with your followers.
Consider making how-to videos, health tips, or tutorials showing people how to use specific equipment properly. This type of video content can be beneficial for those who are new to fitness and need a bit of extra guidance.
Interactive videos
Interactive videos are taking over social media, providing viewers a unique and captivating experience. For instance, you can make video tutorials where people choose which exercises to watch - giving your followers a chance to interact directly with you!
Plus, these types of clips are more convenient for them than scrolling through lengthy posts or articles.
Fitness equipment reviews
Provide video reviews of different pieces of gym equipment highlighting their features, pros, cons, and the value they offer for viewers looking to purchase fitness equipment.
Youtube video series with guest appearances
Inviting high-profile and popular influencers in your space to come on video interviews to discuss health and fitness can be a great way to attract more viewers and build up your channel's following.
Live-streamed classes
Stream live video classes to extend your reach and supply priceless content to a bigger audience. You can also provide tutorials from the gym or step-by-step videos demonstrating to viewers how to do exercises with perfect form.
Takeaway
In conclusion, video content is a powerful tool if you're looking to reach a wider audience and engage your followers. Furthermore, creating engaging video content for your gym can be a fun and creative process.
By incorporating various themes and activities such as fitness challenges, workout routines, nutrition tips, and motivational messages, you can attract new members and retain existing ones.
Furthermore, use multiple platforms, including YouTube, Instagram, and TikTok to maximize your content's reach and create an effective online presence for your gym. Put these video ideas into practice today to experience their positive impact on your business and help foster a successful fitness journey for each client.
Frequently asked questions on video content ideas for gyms
How do you make a cool gym video?
To create an impactful gym video, captivating visuals and animations must be combined with a dynamic soundtrack. Showcasing the unique traits of your gym is essential to standing out from other competitors in this competitive market. Make sure you highlight what makes your facility unique!
How do you make good gym content?
Crafting effective gym content means acknowledging your target demographic and learning exactly what they're interested in. This could include showcasing their passions, motivating tales, and informative details about health and nutrition.
What is trending in the gym industry?
Right now, it's all about virtual workouts, mindfulness techniques, and nutrition education at the gym. Everyone is searching for ways to stay fit and healthy without having to leave their home - and these are precisely what they need!
What should I post on my gym's social media?
If you want to keep your social media followers engaged, share a diverse range of content, such as inspirational quotes, fitness challenges, and exclusive gym updates. Additionally, make it a point to post educational material related to exercise, nutrition, and general well-being.
Open Comment Form