As a gym owner or studio owner, investing in gym management software is more than just buying into simple scheduling software. It's a solution for streamlining many of your operations and keeping your members happy at the same time.
Gym management systems typically offer a wide range of features that can be customized to suit the unique needs of any fitness business. For example, some systems include tools that allow users to easily track and analyze member data such as attendance records, exercise progress, and fitness goals.
In this article, we'll take a look at how gym management systems work, their main features, and the benefits they can offer your fitness business.

What is a gym management system?
A gym management system is a software application that helps you run your fitness business. While creating a schedule and an online booking system is a large part of gym software, the best gym management software is designed to do more than that.
It can automate many of the repetitive, time-consuming tasks that are essential to running a successful gym but that ultimately take you away from training clients and seeing to the day-to-day of your business.
Tasks such as membership management and scheduling classes are all essential cogs in the machine when you use the right gym management systems.
How do you know which is the best gym management software for your fitness business?
As a gym owner, you know that managing a gym is no small feat. From scheduling classes and managing staff to tracking membership payments and equipment inventory, there's a lot to keep track of. That's where gym management software comes in.
Gym management software can help you streamline all of these tasks and more, making it easier to run your business. But with so many different gym management systems on the market, how do you know which gym management software provider is right for you?
What are the main features your gym software should have?
There are a number of key features that fitness businesses should have when you're looking around and deciding on which gym software to opt for.
Membership management
Gym management software can be a huge help for fitness businesses when it comes to membership management. Great gym management software can automate many of the tasks associated with managing memberships, such as sign-ups and renewals.
Another feature gym management systems have is to help you communicate with your members. This includes sending out reminders, birthday messages to customers, and polls or questionnaires so you can get insight into the customer experience of your fitness business.
By using gym management software programs, gym owners can take the hassle out of membership management and free up both your and your staff's time so that they can focus on other tasks, such as providing the best possible experience for their members.
Whether a fitness business is just about to launch or has already been established for a few years, gym management software can be a valuable tool for fitness businesses of all sizes and stages.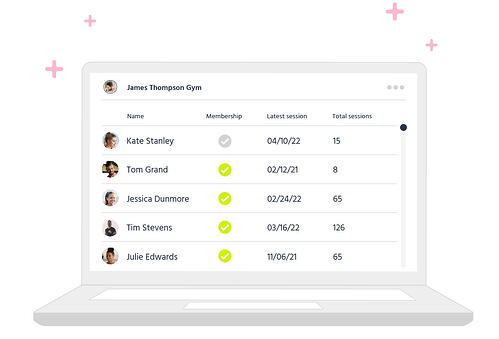 Booking system
One of the more obvious key features of gym management systems is offering an online booking solution for fitness business owners as well as gym clients. With gym scheduling software, gym owners can hand over the responsibility of booking classes to their clients.
A clear schedule, either on a members' app or embedded into your website clearly shows what classes are open, but it also makes it really simple for your clients to book a spot on any classes with availability.
Add into the equation automated reminders, and your gym management software is taking even more administrative responsibility off your shoulders.
When it's almost time for their class, be it in-person or online classes, automated reminders will be sent out to your clients confirming the time and place of their class, or a link for the class if it's online.
With the right gym management software, fitness business owners can also make sure that clients only see classes that are available to them depending on their membership type.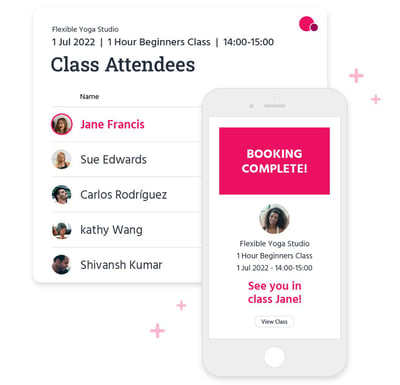 Reporting tools
In a nutshell, reporting tools allow you to get insights into your business performance, such as sales trends, member engagement, and staff productivity.
Gym management software such as TeamUp helps with reporting in a few different ways. Most importantly, it provides a clear and concise record of all the activity in your fitness business.
This is especially helpful when it comes to billing and invoicing. Gym scheduling software also allows you to track no-shows and late cancellations. This can be helpful in understanding patterns and finding ways to improve your gym's schedule.
Finally, gym booking software gives you the ability to track customer satisfaction. This is valuable feedback that can help you improve your gym's offerings and better meet the needs of your customers.
Intuitive integrations
Gym management software should be able to integrate with other software that your gym uses. This could include your membership database, your point-of-sale system, or your email marketing platform.
Integrations make it possible to share data between different software platforms, making it easier to manage your fitness business. For example, if you use TeamUp, your gym management software can easily integrate through Zapier with third-party platforms including MailChimp or your social media pages.
These integrations make even more of your repetitive administrative tasks even easier. Connecting your TeamUp gym management software with Zapier can help you when clients update their customer data, send out marketing emails, and even give you automated reminders when a new member has signed up so you can send out a welcome gift such as a branded t-shirt or water bottle.
Guides for New GYM Owners
Opening a GYM
Gym Pricing Strategy
GYM Features
Easy-to-navigate gym management software
Gym management software should make your life easier, not more complicated. When evaluating different options, it's important to choose gym scheduling software that is intuitive and easy to use.
The best gym management software providers will have a user-friendly interface that makes it easy for you to find the information or features you're looking for.
Whether you're working with your membership management software on your desktop or using gym management software on your smartphone, it should be easy to add new members, schedule classes, and track your gym's performance.
Fitness businesses have enough to worry about without having to stress over complicated management software. When you're looking for the best gym management system for your business, be sure to choose one that is easy to use and navigate.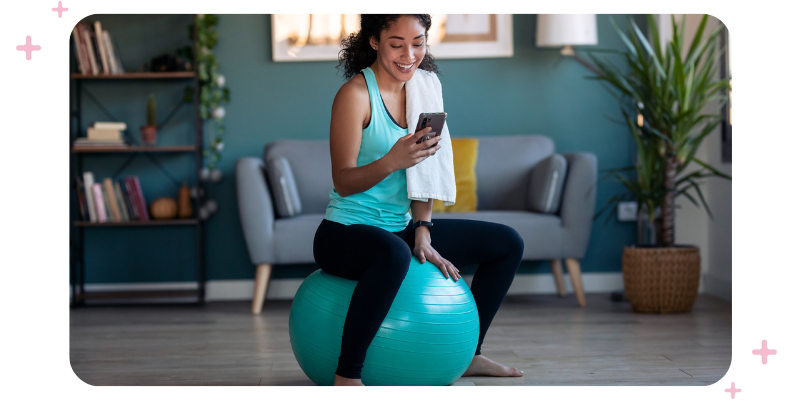 Keep it easy for your members too
Your customers and gym clients appreciate it when gym management software is easy to use. Whether from their desktops or using a member app, ease of use is as important to your gym clients as it is for you as a fitness business owner.
With busy work and home lives, spending precious time getting lost in complicated management software puts them off from signing up for memberships and classes.
So when they are able to easily find the information they need or book a spot in a class quickly and efficiently, it makes their overall customer experience at your gym or studio much better.
Intuitive and user-friendly software can help make your clients' experience more enjoyable, and keep them coming back for more.
Reliable customer service
When you're looking for the best gym management system for your business, don't forget about the importance of the customer service that gym owners using an online booking system receive.
Gym management software providers should have reliable customer service in case you need help with anything related to your account. You should also be able to easily contact customer support whenever you have a query or an issue arises that you need help resolving.
Troubleshooting an issue with your gym's booking system should be quick and easy. TeamUp can boast one of the most reliable customer support teams. From the moment you sign up you have unlimited free support.
In the initial stages of using TeamUp's gym management software, you will have help to get your system up and running, including free data imports from your previous gym management provider or from your own spreadsheets and records.
Whenever you run into difficulty, simply send an email or book a call and you are guaranteed swift support with no extra charge.
Scalable plans
As your fitness business grows, it's important to choose a gym management system that can grow with you. The best gym management software providers will offer scalable plans that reflect the number of clients you have, and by extension, your income and budget for gym management software.
With TeamUp's gym management software, that's exactly what you get. The monthly pricing plan is based on the number of active members you have attending your gym or studio. This means that unlike with many other gym management systems, you don't pay extra for additional features.
From the moment you sign up for a 30-day free trial you have full access to every feature that TeamUp's gym management system has available.
The bottom line
When it comes to choosing the best gym management system for your fitness business, there are a few things you should keep in mind. Look for a system that is easy to use, has robust reporting features, and can easily integrate with other software platforms.
Ensuring you choose an option that offers you free support whenever you need it means being safe in the knowledge that no matter what stumbling blocks you may come across, you will receive help quickly from people who understand both the gym software and your business.
The right gym management system will make your life easier by automating tasks, keeping track of your gym's performance, and helping you provide the best possible experience for your members.
To learn more about how TeamUp can help your fitness business, schedule a call today and start your 30-day free trial with no obligations.
Open Comment Form