The pandemic has inspired people to renew their commitment to improving their health, and the health and fitness industry will surely benefit from it. Although badly hit by the lockdowns in 2020, the gym, health, and fitness club industry reported a $30.74B market size in the US in 2021, with a forecast that it will exceed $32B by the end of 2022.
This article explores emerging health and fitness trends and lists great fitness business ideas to start in 2023.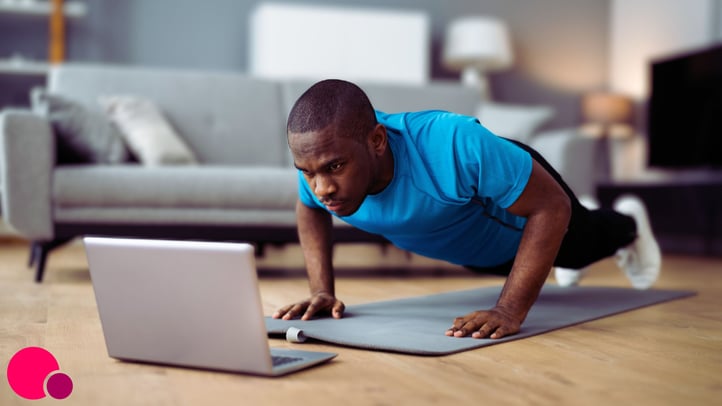 Fitness business in 2023 & beyond
Even if the fitness industry suffered a blow during the pandemic, with most gyms closing due to restrictions, they found a way to adapt and introduced at-home equipment and virtual streaming fitness classes.
From workout preferences to a change in outlook toward health in general, the pandemic changed the fitness industry forever, and you can no longer consider these shifts as trends; they are here to stay.
Virtual fitness classes are here to stay
Virtual fitness classes and home gym equipment spiked in 2020, during the height of the pandemic. While there seems to be a semblance of returning to normal in 2022, nine out of 10 Americans have expressed plans to continue at-home workouts even if restrictions have eased. Experts have affirmed that streaming fitness classes should be included as part of the fitness ecosystem.
A shift toward holistic health
An increased preference for holistic health is also visible. There is an increased demand for meditation and low-impact exercises, with a gym reporting that 50% of its platform's online bookings are for yoga classes, as a majority of people prioritize not only their physical but mental, emotional, and spiritual well-being.
Gyms need to innovate
Gym memberships have decreased—as much as 27% in the UK and experts predict the fitness industry needs to wait until 2023 or 2024 to recover fully. US numbers show a decrease of more than 10,000 health clubs (from 41,370 in 2019 to 31,028 in 2022), but gym memberships are more or less back to normal, as 75% of people surveyed have expressed intent to go back to the gym, but still retaining the online classes component.
How to find a profitable niche in the fitness industry
Identifying a need and providing a solution is still the best way to find a profitable niche in the industry. However, finding a profitable niche in the fitness industry usually starts with research. Search for buzzworthy health and fitness trends in Google Trends. It is an excellent resource for monitoring the market and identifying an emerging niche.

Learning about and staying on top of the following fitness trends can help prepare you to craft a solution for your target market.
Biohacking is the norm
Once considered a term with a negative connotation, biohacking is now regarded as mainstream, with even the healthcare system adopting most of its natural methods.

Biohacking is any science-backed method to improve the body's performance. The term has seen a massive 1,150% growth in Google search over the last decade.
Along with this, studies confirm that physical exercise should be part of one's job, and spending more time outdoors is necessary to uplift one's mood and overall cognitive development.
This means that formulating business ideas around natural approaches to biohacking has become widely accepted and even in demand.
Wearable technology is still a top fitness trend
According to the study released by the American College of Sports Medicine (ACSM), devices such as smartwatches and fitness trackers that monitor and track physical activity, calories, and even sleep time help people develop healthy lifestyles and ultimately increase their quality of life. It is even predicted that global spending on wearable tech will surpass $90 billion in 2022.
This means that people rely on fitness devices to monitor and gauge their physical activities, and offering integrations and known fitness activities listed in their device trackers are increasing in demand.
Mobile fitness apps are on the rise
Mobile fitness apps are influencing the fitness and health industry. First, it's wearable tech; now, it's fitness apps, particularly those that can be integrated into their fitness trackers. Similar to Strava, fitness apps with a social component that allows people to share their fitness activities are preferred.
This means that people still look for the community even if home gyms have increased in demand. People still look for ways to share activities with others and thrive on building connections.
Focus on functional strength, flexibility, and power building
While most people still focus on weight loss and muscle-building, there is an emerging trend of functional strength (maintaining a full range of motion or flexibility).
HIIT exercises remain a popular form of exercise, as per a recent survey by the ACSM. Weightlifting and power building have increased keyword searches by 72% in the last five years. People searching for yoga mats, on the other hand, are higher than they have ever been over five years.
This means that fitness activities related to improving overall strength and flexibility, as well as clothing, equipment, and classes, are in demand.
Increased demand for home gyms and recovery equipment
Google search trends for "garage gym" had a 233% growth in the last ten years, spiking during the lockdown. While people are returning to the gym, most have expressed their desire to keep doing online classes at home—and keep their gym setup. Home gyms have also become high-tech, with most equipment including a monitor, in-video gaming system, and even AR to motivate people to use it more.
Workout recovery is also now part of a fitness regimen. Whereas before rest was considered a post-workout task, exercise recovery equipment is now seen as necessary. For example, massage guns and vibrating rollers have seen an increase in searches.
Similar to the trend of online fitness classes, home gyms, and exercise recovery equipment are now considered part of one's fitness activities.
Learn more about Fitness Industry Trends.
Health & fitness business ideas to start in 2023
The fitness industry is changing, taking the form of its outside gyms and studios. And while the pandemic has motivated people to start taking their health more seriously, it also created a shift towards discovering new and creative ways to exercise and improve overall well-being.
The fitness industry is ripe with opportunities for new business owners; here are some ideas to help get your brains rolling:
1. Open a classic gym

Even if it seems that gyms are on the losing end, with virtual classes and home gyms taking center stage these days, it is still a profitable business idea. Before COVID-19, 64.2 million Americans belonged to at least one health club. HPLV (high-value, low-price) gyms, especially around small communities, are still popular.
2. Invest in a gym franchise

Invest in a franchise if you want something more low-risk than starting up a gym from scratch. You will follow a proven business model, so there is less risk of failure. On top of that, an established brand help sells memberships easily, and marketing and promotions are either taken care of or created for you.
Read more:
How to open a gym?
How to market a gym?
How to promote your gym?
How to create fitness ads for gyms?
Best gym management software

3. Open a yoga, meditation, or pilates studio
Opening a studio is a great idea if you are a licensed fitness instructor. Fitness studios, unlike gyms, require less space since you don't need that much gym equipment. A smart strategy to expand your offerings is on top of in-person classes, offer live-streamed classes.
Read more:
How to start a yoga Studio?
How to write a yoga business plan?
How to become a yoga Instructor?
How to get more yoga clients?
Best yoga management software
4. Open a boutique fitness studio
Boutique fitness studios have had a 450% growth rate per year since 2010. They are usually likened to small gyms that primarily focus on group exercise and specialize in one or two fitness areas. They also have premium membership subscriptions (expensive). People generally are willing to travel for ten minutes or less to work out in a gym. The small space required for boutique fitness studios allows them to pop up in literally every corner, making it a great option for a new fitness business.

Read more:

Social media management apps for boutique fitness studios
5. Start an online fitness business
Everything has gone digital, and this includes the fitness industry. There are so many fitness business ideas you can start online. For example, holding virtual classes or doing one-on-one training is a great idea if you are a personal trainer. It also doesn't need to be tied to exercising all the time. Here are some more ideas to give you a jumpstart:
Start a fitness blog or YouTube channel and monetize it with ads and sponsored posts





Build an eCommerce website and offer health supplements, workout clothing, and fitness equipment. Author Amazon kindle ebooks on nutrition and fitness





Offer a membership site that includes workouts, nutrition plans, recipes, and more
6. Sell fitness courses
Along the same lines as starting an online fitness business and offering virtual fitness classes, selling fitness courses is something you can do without much capital. It is more profitable than offering virtual classes or one-on-one training since you can maximize revenue by offering recorded fitness videos to an unlimited number of people—your courses can stay forever, and people buy them long after you build them. It has huge potential for passive income.
7. Start a fitness clothing brand
Athleisure clothing has been popular for years, and workout clothes have been a staple for most people during the lockdown. A fitness clothing brand is easier to do now with dropshipping options available from most eCommerce platforms.
8. Open or franchise a mobile fitness truck
Outdoor activities are gaining traction among people these days, but they still need guidance on what types of movement to do. Investing in a mobile fitness truck or franchise takes your business on the road and helps you reach a larger audience. This innovation alone is enough to pique people's curiosity, but it also helps generate a sense of community and encourage social interaction in outdoor places.
9. Play with virtual reality fitness
Millennials and Gen Zers make up 80% of those going to the gym, as mentioned earlier—and they also love all things tech! Offering virtual reality workouts in AR environments will surely be a popular option.
10. Launch a fitness mobile app
Wearable tech is a fitness staple, and developing a mobile app that tracks data from these devices is a surefire way to generate revenue. Add in a social component that allows people to share their activities, connect with other people, and run challenges, and you've got yourself a winner app.
11. Distribute home gym equipment
Home gyms are not going anytime soon, especially with virtual classes being part of many's preferences for carrying out fitness exercises. Signing up as a distributor for fitness equipment can be a low-risk investment.
12. Host wellness retreats
Holistic health is now a priority for most people. Taking care of the mind, body, and spirit is essential for optimal well-being. Wellness retreats, in particular, help people slow down, recharge, and get educated with better health information.
13. Be a health and wellness coach
Get yourself licensed and accredited if you want to teach about weight loss, nutrition, or functional medicine (such as acupuncture). Once you have a specialized offering, you can provide services (and offer them at a higher price point) and even lead classes and sell courses (see our other ideas). Acupuncturists, health coaches, nutritionists, personal chefs, therapists, and masseuses have high hourly rates.
14. Create your nutritional product lines
Like designing your fitness clothing brand, sourcing and manufacturing health supplements, such as vitamins, protein powders, or superfoods, are easily done by private labeling your products. However, exercise caution and research each product before getting them approved for distribution.
15. Hold fitness community classes for the seniors and elderly
The elderly population is growing in many Western countries, and their health and fitness should be geared towards maintaining a quality of life while keeping them safe. Offering daily activities as classes can be a great way to help them be social, keep them busy, and improve their health. It doesn't have to be complicated, a recreation center where they can convene to play cards and chess, learn new hobbies such as gardening and crocheting, and just walk together outdoors are great business ideas.
Maximizing health and fitness opportunities for your existing business
Not new to the gym industry? Here are some ideas to spruce up your gym offerings:
1. Have a hybrid setup for your gym
Trends show that people are still deciding whether to give up their home gyms and virtual classes for the gym, so why not offer a hybrid membership for them? You can offer subscriptions that give them access to gym equipment, trainers, and classes they can attend in person or online.
2. Provide online training sessions and virtual group classes
Online training was the top fitness trend in 2021 and shows no sign of slowing down anytime soon. Providing an online class package can help boost sales for your gym and give your business a unique edge over competitors. It's also worth noting that Millenials and Gen-Zers make up 80% of gym rats and are more likely to prefer live-streamed online classes (or delayed/recorded sessions) than other age groups.
3. Include activities that improve overall health and well-being
Traditional fitness activities are no longer the norm. It is time to provide an overall fitness experience to gym members, as they have become more mindful of improving all aspects of their health. Offer meditation, yoga, pilates, and even cooking classes for specific diets.
4. Create a digital ecosystem for your gym
Everything has gone digital, and the fitness industry is no exception. Fitness mobile apps and wearable tech see no signs of stopping, only improving through the years. Here are some ways to get your gym in the digital space:
Create a mobile app for your gym.

You can do booking classes, progress reports, and even one-on-one coaching here. Integration with fitness trackers will also be a great add-on feature, so your members can automatically have comprehensive information on their fitness activities (and so can you!)





Create an online community for your members.

You can have fitness challenges, rewards, and leaderboards to encourage accountability. This community can also give valuable business insight into your members' activities so that you can plan your marketing and offerings.




5. Partner or collaborate with local providers to offer complementary services

Since people focus more on improving all aspects of their health, partnering with other providers that care for the different elements can help boost your members' trust in your brand. For example, partnering with a food delivery or meal provider can help care for your members' diet. Having a health coach, therapist, and even acupuncturist can help address their other health needs. Selling smoothies, vegan cookies, or healthy granola bars can also increase revenue.
6. Offer branded lifestyle clothing and fitness equipment
Brands are important to consumers, and wearing branded workout clothing (from socks to tumblers, towels, and even yoga mats) is not only a revenue booster—it also fortifies your brand, strengthens the community for loyal members, and makes for a good promotion if they wear it outside your gym.
Things to plan and take action on after selecting the niche for your fitness business
After selecting a niche for your fitness business, you need to research business models, decide on pricing strategies, and select equipment and software for your gym or fitness studio.
In general, here are the steps you need to do to start a fitness business:
Select a niche

Write a business plan

Fund your business

Register your business

Decide on gym pricing strategy

Find a location for your gym

Obtain a license to operate

Get accredited and trained

Set up processes and policies

Market and promote
Part of setting up a fitness business—whether a mobile fitness truck, fitness studio, or gym—is investing in gym software to automate tedious tasks, manage appointments, take bookings, do online classes, and more. Deciding which GYM software to implement for your business is crucial as the efficiency of your business depends on it.
Open Comment Form