As a yoga studio owner and a yoga instructor, you know the importance of having a steady stream of clients in order to maintain your business. But how do you go about getting more yoga clients?
There are a number of ways you can market your yoga studio and attract new clients. No matter what marketing techniques you use, it's important to focus on the benefits of yoga and how your studio can help clients achieve their goals. By promoting the positive impact that yoga can have on people
From some marketing tips to get your name out into the community to how you can easily build a rapport with new yoga clients and use your yoga studio software to help you, this guide walks you through some simple steps and show you how to get yoga clients flocking your yoga studio week after week.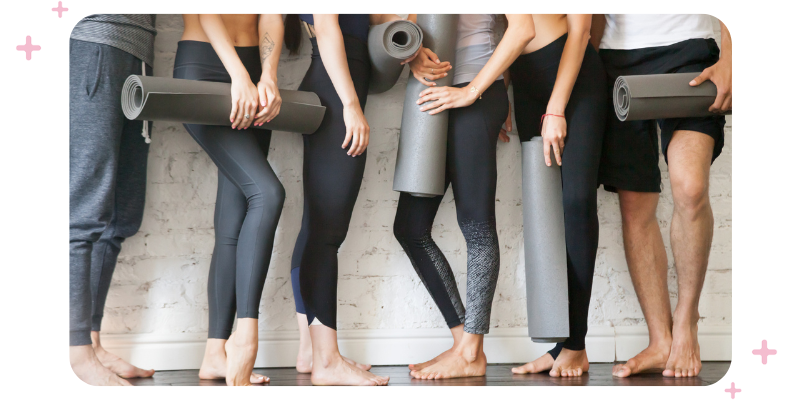 Get involved in the community
Sponsor or participate in local events such as local fun runs. Partner with other businesses in your area. For example, talk to local physiotherapists and sporting supplies shops to see if you can come up with a mutually beneficial referral scheme.
This will help you get the word out about your studio and attract new customers. By getting involved in the community, offering free classes, and marketing yourself online, you can reach a wider audience and get more people interested in what your studio has to offer.
Offer free classes or workshops
Many people are interested in yoga but may be hesitant to commit to a full class schedule. One way to get around this is by offering free classes or workshops. This allows potential students to explore different styles and instructors without any obligation.
By offering free classes, you are more likely to attract new clients who may not have considered yoga before. This is a great way to introduce people to the benefits of yoga and get them hooked on your yoga studio.
Market yourself online
Marketing yourself online can seem as though it would be a big task. But it really doesn't have to be. Once you have everything in place, it's really just a matter of being consistent with it. Make sure your studio has a website. A website gives potential clients the chance to explore your business and find out about you and your experience as a yoga instructor.
How to use social media marketing for your yoga studio
Social media marketing is a big part of online marketing as well. Sharing social media posts regularly about upcoming classes, workshops, and special events shows your current crop of clients what's coming up. Posting short videos or photos of happy clients taking part in a yoga practice at your yoga business on Facebook and Instagram gives your soon-to-be new clients the chance to see what your yoga studio is all about.
Get creative with your marketing materials.
There's still a lot to be said about some more old-school marketing tactics. Print flyers, postcards, or even window decals advertising your studio's services. Attractive and eye-catching marketing materials will help you stand out from the competition.
Use your new materials for local marketing
By creating these marketing materials, you also have something you can use when you set up a stall at local events or something to give to potential partner businesses in the area. Handing out business cards is another way to make sure potential clients have your studio's contact information on hand.
Offer new member discounts and a referral scheme
Using your current clients to help market your business is a great way to encourage newcomers to come and try out a yoga class. Reward your loyal customers by offering a referral program, such as a free class, if they can encourage friends and family to come to your yoga studio. Not only does this benefit you in the long run, but it also makes your clients feel as though they are a part of your yoga studio.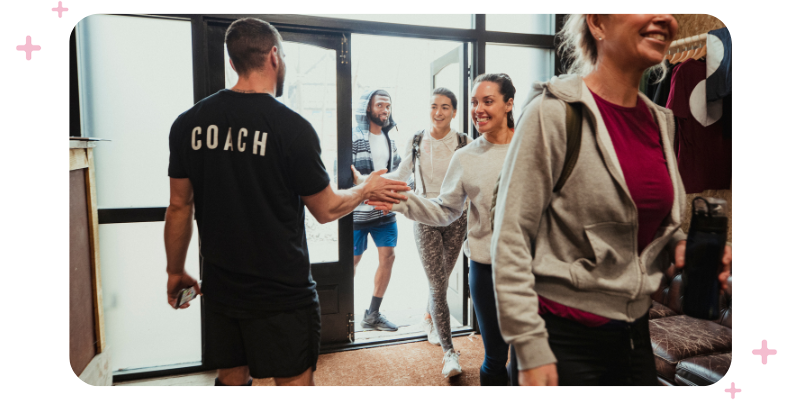 Use your yoga studio software to help you market your yoga studio business
The right yoga studio software should offer more than a platform to facilitate online bookings. With robust features that have all the management tools you want and need, your yoga studio software should be able to help you manage your yoga studio in a number of ways.
Create marketing automations
Using TeamUp, you can create marketing automations to help you reach your target audience and promote your yoga studio business. You can set up automations to send out email blasts, post on social media, or even text your clients about upcoming events.
By connecting TeamUp with Zapier, you have access to over 3,600 apps that can take a lot of the time-consuming marketing tasks off your shoulders. The beauty of Zapier is that you can set up a workflow once, and then you don't have to do any more.
For example, suppose a potential lead enquires about your business on Facebook. In that case, you can have an automation set up in Zapier that then sends a follow-up email with a link to your schedule to encourage that enquiry to become a new member of your yoga studio.
Take your classes online to increase your reach
Through your yoga studio software, you can offer online yoga classes that can help your business thrive in several ways. First off, if your in-person classes fill up, clients can join you from their own homes if you use hybrid classes to make sure all your members can enjoy a yoga practice.
Secondly, you expand your reach. A lot of the marketing techniques that we've mentioned have been about targeting your local area. With online classes, you can now use your online marketing and your social media marketing to target clients wherever you like. Offering online memberships to people outside of your local area helps to increase your income, but it also helps to get your name further out of your area as well.
Don't forget to offer on-demand as well
On-demand yoga classes add another string to your online bow. Using your yoga business management software you can create content that is available on your website for clients to access whenever they want.
If they've missed a class and want to make it up at another time or if they simply want to add an additional yoga class to their schedule, on-demand takes virtual training to another level. On-demand content can help you to get new clients for your yoga studio as it shows them that they can maintain their gains whether the
Make your yoga class offerings stand out from the rest
If you're looking for ways to make your yoga studio more successful, it's important to find ways to make your class offerings stand out from the competition. With so many yoga studios and instructors to choose from, it can be difficult to attract new students. However, there are a few things you can do to make your studio more appealing.
1. Find your niche
What makes your studio unique? Do you offer a variety of class styles, or specialise in one particular type of yoga? Do you have experienced and certified instructors? Be sure to highlight what sets your studio apart from the rest.
2. Lead unique classes or workshops
In addition to regular yoga classes, try offering special workshops or classes that focus on a particular theme or style. This will help you attract students who are interested in trying something new.
3. Create a friendly and welcoming environment
New students may be intimidated by walking into a yoga studio for the first time. Make sure your staff is friendly and welcoming, and that your yoga studio is clean and inviting. This will help put potential students at ease and make them more likely to come back.
By finding your niche, offering unique classes, and creating a friendly environment, you can make your yoga studio more appealing to potential students.
Create a personal connection with potential yoga clients
In order to attract new yoga clients, it's important to create a personal connection with potential students. This can be done in a number of ways, including:
Get to know your students
Learn their names and take an interest in their lives outside of yoga. This will help build trust and rapport. When new clients start coming to your yoga classes, make them not only feel welcome but making them feel a part of your yoga studio's community.
This is a big part of not just encouraging new people to attend your yoga practice, but it's the first step in retaining clients in the long term. The simple step of building a rapport with your students will make it easier to encourage them to bring their friends and family to classes as well. Make your yoga studio a welcoming place from the moment new clients step through the doors.
Offer private classes or consultations
Offering private yoga classes is a great way to get to know your students more personally. It also allows you to tailor your classes to each individual's needs and goals. You can easily organise private lessons for your clients by using appointments in TeamUp.
Appointments allow you and the yoga teachers who work at your yoga studio to set out clear times that you are all available outside of normal class times to accommodate private yoga clients for private sessions. Your clients can choose which instructor they wish to see and their preferred appointment type.
Whether it's for private sessions with a private yoga teacher or they want to have a consultation about practising yoga, your clients and your team will all know who's coming at what time, and for what type of appointment.
Be available and approachable
Make yourself available to answer questions or offer advice, both in person and online. This will show your students that you care about their success. Practising yoga is a long road, and by making yourself available to your clients, and offering encouragement and advice, you make it easier for your clients to stick with it.
Additionally, by taking the time to get to know your students and making yourself available to them, you can create a personal connection that will make them more likely to continue coming to your classes.
To sum up
If you're looking to increase the number of clients your yoga studio has, there are a few key things you can do. First, make sure you're marketing your studio in the right places. Reach out to potential clients through social media, local ads, and word-of-mouth.
Secondly, make sure your class offerings are appealing and unique. Consider what makes your studio special and use that to attract new clients.
Finally, create a personal connection with potential clients. Get to know them and their yoga goals, and help them feel comfortable and welcome in your studio. By following these tips, you can get more yoga clients and help your business thrive.
Find out how to further improve your yoga studio business with one of the 7 best yoga podcasts to listen to with tips and advice from industry experts.
Thanks for reading!