It's not surprising that CrossFit has become so popular over the last few years. With more than 15,000 CrossFit gyms across 162 countries as of 2018, CrossFit is well and truly a global craze. From rope climbing and weight lifting to ball dodging and kettlebell swinging, CrossFit is a whole body workout in the truest sense of the word. Add to the fact that CrossFit classes offer a sense of community in the fitness world, people are driven to achieve their goals in an engaging atmosphere.
Whether you're a seasoned pro looking to become a CrossFit gym owner or you're relatively new to the personal training game but feel ready to become a CrossFit box owner, there are steps you should take before starting your business. To open your own CrossFit box, you will need specific training as well as licensing to become an affiliate of the CrossFit brand. In this article, we outline the steps you need to take to get your box up and running. Turn your new, small business into a thriving CrossFit that other fitness business owners will look up to.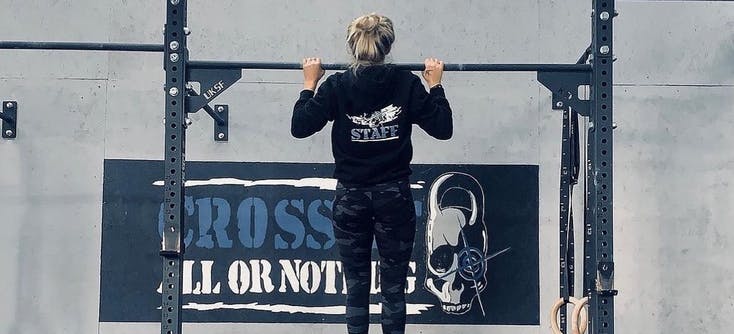 Photo Credit: CrossFit All or Nothing
Getting certified and affiliated with CrossFit: box owner first steps
If you want your box to bear the CrossFit name, you have to fulfil certain requirements. CrossFit is a brand, so you can't just call yourself a CrossFit box without getting the correct certification and paying for the franchise affiliation. To become a CrossFit box owner, you need to have at least the Level 1 trainer qualification. This isn't a difficult process. Members can sign up for a workshop costing $1,000/£720/€1,050 that only takes a weekend. Once you're certified and you've got your CrossFit open, you will need to pay an annual CrossFit affiliates fee of $3,000/£2700.00/€3182.30 with any additional taxes included.
With this annual fee, you'll have the right to use the CrossFit name for your business, as well as CrossFit will help to market your business by adding your box to their Affiliate Finder Map and Affiliate List making it easier for potential clients in your area to find you. You also get priority access to the annual CrossFit games, and you even receive prioritised support from their legal team should you need it.
Choosing a name when you start a CrossFit box
When it comes to picking a name when you start a CrossFit box you cannot simply choose a name you like. CrossFit affiliates have to send their top three choices for a potential name to CrossFit for approval. The last thing that you and the owners of other CrossFit boxes want is for your businesses to be competing under similar names. While many boxes will use the CrossFit brand name along with their location, if you're one of several in your area, you'll need to diversify the name of your box. Motivating fitness-based language along with the CrossFit brand name is another popular way to go for naming a CrossFit box.
Keep reading for tips about creating a business plan and how to finance you're new CrossFit gym
Put together a fitness business plan
A well structured and coherent business plan is a useful tool for you as a business owner and serves several purposes. A clear plan helps you visualise what you need to do in order to succeed and what possible obstacles you face along the way, however, it's also vital for when you get to the financing stage of setting up your own CrossFit box. There are a variety of things that your business plan should cover:
An overview of your CrossFit box — your vision for your business.
A full market analysis — who are your main competitors? Where is there a gap in the market?
Structure of the company — will you run it alone or with partners?
Marketing and sales — setting out a clear marketing strategy to target potential clients in your local area.
Financial plan — how will you fund your project? Will you look to investors or for a business loan?
Creating a good, clear business plan takes some time, but it's the best way to build a strategy to move your CrossFit business forward and to give you a structure of what to do in the day-to-day of starting a new business.
Secure funding for your CrossFit
Now that you have your business plan, you can start to think about funding your CrossFit. Your business plan will give potential investors or banks offering business loans a clear idea of how your business will operate and what gap in the market you intend to aim to fill. While the initial franchising fees are relatively low, you still have to factor in a number of extra costs.
CrossFit accreditation — $1,000/£720/€1,050 for Level 1 course
CrossFit affiliate fees — $3,000/£2700.00/€3182.30 per year
Gym licensing in line with your local authorities requirements
Gym equipment — $5,000 minimum
Business and liability insurance
Rent or deposit for a premises
Tax
Hiring fitness instructors and other necessary staff
Realistically you're looking at anything between $20,000 to $50,000 for your start-up costs, although that figure could change either way depending on various factors, including your location and the insurance deal you manage to secure.
Location, location, location: pick the perfect spot for your CrossFit box
Finding the best location for your CrossFit box
The first thing you'll need to decide when looking for a space for your CrossFit is whether you will buy a place outright, or if you'll rent. Ultimately this depends on your finances as well as your own preference. Finding a space big enough for a CrossFit is also another sticking point. Typically housed in warehouses or similarly sized spaces to ensure enough space for your clients to take art in different classes and exercises.
The need for warehouse-sized space could mean that you find that you can't open your CrossFit in a central location. However, you can also exploit the fact that you won't be in a built-up area. You'll have more space inside for one, but you'll also be able to lead sessions outdoors, weather depending of course.
Building a CrossFit community
When it comes down to it, a big part of the attraction to CrossFit is the sense of community it brings. The nature of CrossFit workouts means like-minded people striving to achieve their goals together. As people sign up for your CrossFit box, you're building your own fitness community. To help your CrossFit grow into a community, your marketing strategy should include building a social media presence.
Using Social media platforms such as Facebook and Instagram is a simple way to get your name out there.
Creating a group on Facebook for your clients is a great way to share information with them about any offers you may have, as well as keeping them updated with upcoming classes and events.
Regular posts on Instagram with pertinent hashtags will make potential clients aware of your CrossFit box. In order to make your hashtags work for you, there are a few simple tips you can follow to optimise your profile and posts. Using keywords such as #crossfit or #fitnessinstructor are obvious places to start. However, you want your posts will be competing with numerous other CrossFit trainers and box owners who will inevitably be using similar hashtags. Including hashtags that include your local area will target potential clients searching for CrossFit boxes, and branded hashtags help to build your fitness community around your brand and business.
Minimise your daily admin with the right management software
Running a CrossFit box is more than just leading workouts with clients. As with any business, day to day admin has to be addressed. From scheduling classes to managing memberships and payments, the whole process can be time-consuming and even overwhelming. As your client base grows, investing in gym management software will allow you to concentrate more of your time on the tasks of actually training your clients rather than dealing with piles of paperwork and accounting.
With a proven track record of working with CrossFit box owners, TeamUp simplifies those tasks that can often seem like a burden for gym owners. A simple to use and intuitive solution to daily admin tasks, TeamUp allows you to control your schedules, memberships, and payments in one place. You won't ever have to worry about chasing payments thanks to integrations with GoCardless, Stripe, PaySimple and other processors like PayPal and more. Our integration with Zapier gives our clients access to over 1500 apps designed to not only make your daily tasks simpler but to help your business grow.
Frequently Asked Questions
How much does it cost to start a CrossFit Gym?
The actual CrossFit affiliation fee is $3,000. However, when you factor in the costs of equipment, renovations (if you're converting an existing space), and other start-up costs, starting a CrossFit gym can range from $10,000 to $50,000.
Before opening your CrossFit box, you must earn the Level 1 trainer qualification, which costs $1,000/£720/€1,050. In addition to the training fee, certified CrossFit trainers must pay an annual affiliates fee of $3,000/£2700.00/€3182.30 + taxes.
In addition to the fees previously listed, you'll need to pay the following costs to start your own CrossFit gym.
Gym licensing that follows your local authorities requirements
At least $5,000 for gym equipment
Business and liability insurance
(Rent or deposit) for a premises
Taxes
Hiring fitness instructors and other staff as needed
Start-up costs could be as low as $20,000 or go up to $50,000; it all depends on where you want to open your business and how great of an insurance deal you can get.
How profitable is a CrossFit gym?
The profitability of a CrossFit gym depends on several factors, including the location, size, and amenities of the facility and the experience and reputation of the coaching staff. However, a CrossFit gym can be profitable with the right business model.
How do I start my own CrossFit gym?
The first step in starting your CrossFit gym is to become a CrossFit affiliate. This involves paying a $3,000 fee and completing a CrossFit Level 1 Trainer Course. Once you're an affiliate, you can begin setting up your facility and recruiting members.
How successful are CrossFit gyms?
CrossFit gyms are typically very successful, offering a unique and effective fitness program that appeals to many people.
How much space do you need for a CrossFit gym?
The minimum amount of space required for a CrossFit gym is 3,000 square feet. However, the facility's size will also depend on the number of members and the type of equipment you plan to have.
Some of the best equipment you need to start a CrossFit gym include:
Barbell sets, weights, and dumbbells
Kettlebells
Pull up bars
Ring sets
Medicine balls for your CrossFit workouts
Jump ropes, climbing ropes, and speed ropes
Rowing machines
How much is it to be a CrossFit affiliate?
The fee to become a CrossFit affiliate is $3,000. This includes the cost of the CrossFit Level 1 Trainer Course.
What are the best insurance available for CrossFit gym owners?
CrossFit gyms require different types of insurance depending on various factors such as the size and location of the facility, what kind of equipment is used, and how many members it has. Here are 10 of the best insurance for CrossFit gyms:
General Liability.
Professional Liability.
Business Income and Extra Expense Coverage.
Workers Compensation.
Occurrence Policy.
Equipment Breakdown Coverage.
Business Personal Property Coverage.
Participant liability and Accidental Medical Coverage.
Premises Liability Coverage.
Employee Dishonesty, Money, and Securities Coverage.
In summary...
While it may seem like a daunting task to set up your own CrossFit box, it really comes down to planning and a realistic budget. The tools are all there for you to get you started. From the official CrossFit website with all the information you need in logical sections to the support of management software providers such as TeamUp, you'll have all the support you need to get your own CrossFit box up and running.
Read these articles for more information about setting up and financing a fitness business:
How do you launch a fitness business?
9 financing options to help grow your business
5 pricing mistakes that studio owners make and how to avoid them
Open Comment Form