We've all seen fitness ads that make us want to get up and move. From creative campaigns to inspiring stories, the best fitness ads have a way of motivating us to make healthier lifestyle choices.
Fitness brands such as Nike, Reebok, and Under Armour are some of the most popular companies for creating inspirational campaigns that motivate people to stay in shape.
From running marathons to weightlifting competitions, the best fitness ads give us an idea of what we can do with a bit of hard work and dedication. If you're looking for inspiration to craft the perfect fitness ad, keep reading!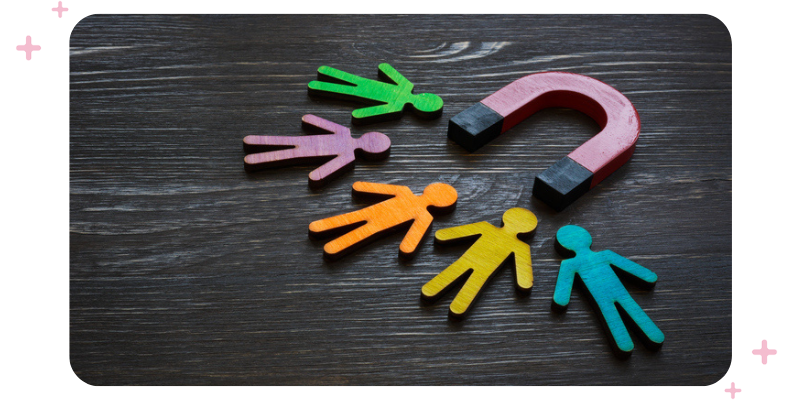 Learn more: How to create gym ads
What makes a fitness ad great?
Let's take a closer look at the advertisements of various fitness brands. In that case, their content likely incorporates one or more elements of the rhetorical triangle - ethos, pathos, and logos.
Each element effectively captures attention by creating an emotional bond between the brand and its intended audience. When leveraged appropriately, these persuasive marketing techniques are highly successful in driving conversions for fitness businesses.
Ethos, pathos, and logos are the three pillars of persuasive advertising. Ethos convinces people that a brand is ethical and trustworthy by appealing to the audience's values.
On the other hand, pathos appeals to an audience's feelings and emotions through emotional content to captivate them.
Finally, logos aims at convincing customers using logic rather than emotions; for example: if an advertisement promotes tennis shoes with 1 in 3 doctor's recommending it for better posture or less pain - who would not believe doctors?
This combination of ethos-paths-logo can be used together sympathetically when crafting persuasive ads that draw positive reactions from audiences!
11 of the best fitness ads ever made
Are you looking to unleash your creative potential or seeking some inspiration? Look no further - here are 11 of the most inspiring fitness ads ever created!
World Gym
Credit: World Gym
World Gym's ad was a clever mix of humor and directness. It featured a sofa set up as an enticing trap, with the promise of a video game controller underneath it accompanied by the tagline "Run away." By using light-hearted comedy, World Gym delivered its message in both an entertaining and straightforward way.
LA Fitness
Rebounding from a setback can be an incredibly empowering experience. LA Fitness understands the power of comebacks, and its ad does a great job of conveying that feeling without needing to delve into specific details about the origin of the comeback.
At the end of it all, personal redemption happens individually – but with LA Fitness, you know that excellent services will support your journey back to peak fitness!
Y+ Yoga Center
Credit: Y+ Yoga Center in Shanghai, China
In Shanghai, the trusted Y+ Yoga Center won the hearts of many with its effective yet succinct ad campaigns. This center aimed to reach out and connect with locals who have embraced living healthily - an ambition fulfilled at a modest cost!
The advertisement brilliantly shows a clock whose hands have been replaced by the top and bottom of a yoga student's body, indicating awe-inspiring flexibility.
Behind this low-cost ad lies an unmistakable message: you can achieve incredible feats by attending our classes. Truly innovative marketing at its best!
Learn more: How to get more yoga clients
Adidas
Credit: Adidas
With Nike's iconic "Just Do It" motto etched into memory, Adidas followed suit and sought out a celebrity face who could be their mouthpiece. And there was no better choice than Muhammad Ali - renowned for using the brand in all aspects of his life.
This ad featured a portrait of Ali and one of his most inspirational quotations, "Impossible is not a fact. It's an opinion. Impossible is not a declaration, it's a dare. Impossible is potential, it's temporary. Impossible is nothing."
The advertising campaign was released in 2006 at the start of the World Cup season - to rave reviews from their audience! This memorable ad quickly became one of the most successful marketing efforts ever deployed by this company.
By leveraging this famous figure to promote its product, Adidas continues its mission to become the foremost sportswear provider on the market today.
Powerhouse Gym
Credit: Powerhouse Gym
Powerhouse Gym created an inspirational marketing campaign featuring a bodybuilder exercising on a construction site.
The ad suggests that the gym-goer is lifting heavy objects himself, just as he is working to become healthier and more fit - akin to how the building is being improved through construction.
While it's uncertain whether this was Powerhouse Gym's intentional inference, one thing's for sure: This advertisement makes you think!
WW
Credit: WW
In 2018, WW made a bold move and rebranded itself with the tagline "Every body has a reason to get healthy."
With this new mission statement came grand ambitions; WW desires to help its users not only lose weight but live healthier lives as well - eating healthily, exercising regularly, getting fit, and creating sustainable life changes.
This revolutionary transition signified that there is more than one way for people of all shapes and sizes to achieve their wellness goals – no matter their reasons or motivations!
Weight Watchers had earned its reputation as a reliable weight loss program for many years, but their ambassadors wanted to stay ahead of their competitors.
As society moved away from vanity-based dieting and adopted a healthier lifestyle mentality that included exercise and proper nutrition, so did WW with their rebranding efforts.
No longer was it all about losing weight - it was now focused on developing healthy habits that last!
Reebok
Credit: Reebok
In 2015, Reebok launched its largest marketing campaign to date - "Be More Human ."This ambitious project saw the brand invest heavily in inspiring consumers to embody its tagline.
Reebok wanted to differentiate itself from brands like Nike when it created "Be More Human" for its rebranding campaign. This mission statement was aimed at inspiring people to fulfill their potential and have a more meaningful experience with physical activity.
It spoke directly to viewers' emotions, sending the positive message that we can all strive towards being our best selves and becoming 'more human.'
Pure Barre
Trying out a new fitness experience can be incredibly daunting, but Pure Barre understands this fear and creates commercial formats to help assuage it.
Their ads showcase calming visuals - very meditative, slow-moving, and peaceful - with the core message that you are accepted just as you are. No need to feel anxious or overwhelmed; they have your back!
Rather than opting for a rah-rah motiving tone, Pure Barre opts for a mellow and inviting atmosphere.
Their goal is to sell their services - but they do it in an innovative way that speaks directly to their customer base.
Whereas many other companies may go with loud commercials and shouted messages, Pure Barre understands its clientele will respond best to something more calming.
And by offering this different approach, the company has gained even more devoted followers who appreciate the non-traditional selling tactics!
Nike
The 2019 Oscars was an unforgettable event thanks to Nike's awe-inspiring and emotionally intense commercial - "Dream Crazier" – celebrating female athletes.
This ad responded to the stereotypes of these women being 'crazy' for pushing their limits in sports, with Serena Williams providing her empowering narration.
The powerful message behind this advertisement had its audience moved, making it one of the night's most spectacular moments.
The narrator starts the commercial by stating, "If we show emotion, we're called dramatic. If we want to play against men, we're nuts. And if we dream of equal opportunity, we're delusional. When we stand for something, we're unhinged. When we're too good, there's something wrong with us. And if we get angry, we're hysterical, irrational, or just being crazy."
With its famous "Just Do It" motto, Nike masterfully appealed to their audience's logic and emotions.
By showcasing two different messages - Dream Crazier. Just Do It. - it's easy to see that this ad was an instant hit!
Incredible as it may seem, the ad had racked up over four million views only a day after launching on YouTube, clearly reflecting how well-received this empowering message was by many people worldwide.
Anytime Fitness
The "AF" in the Anytime Fitness tagline is a daring move, but they carry it off effortlessly. This commercial campaign stands out among gym ads for its creative representation of people facing working out difficulties.
The message is that you will always receive the assistance and resources needed to get your desired results at Anytime Fitness - no matter your situation or obstacle.
Gatorade
Gatorade's "Be Like Mike" campaign revolutionized fitness marketing, exhibiting that aspirational and inspirational ads can be highly influential.
This tremendously successful campaign catapulted Gatorade to the peak of its industry and ignited an unprecedented level of inspiration among people everywhere.
Gatorade chose Michael Jordan for his groundbreaking career achievements, which made him one of the most beloved figures among athletes worldwide.
If you want a fitness ad that will ignite your members to start their journey of becoming fit and healthy, look no further than "Be Like Mike." It's an iconic campaign that motivates everyone to strive for their fitness goals!
Lululemon
Lululemon's "Sweat Every Day" ad campaign is a significant shift in fitness advertising, perfectly showcasing men and women of all shapes and sizes pushing themselves to sweat.
It highlights that everyone can join the movement towards physical activity regardless of appearance or gender - an empowering message we should all embrace!
So if you're looking for some motivation to get your gym community up on their feet, look no further than Lululemons ads- they'll have everyone energized and ready to move before you know it!
Frequently asked questions on the best fitness ads
What are the best fitness ads?
Nike's "Dream Crazier," Anytime Fitness' "AF" campaign, Gatorade's "Be Like Mike," and Lululemon's "Sweat Every Day" campaigns are widely recognized as some of the best fitness ads.
How have these advertisements been received?
The response to these ad campaigns has been overwhelmingly positive. Each was well-received by audiences worldwide for its creative approach and inspiring messages.
What message does each of these ads convey?
These advertisements all have powerful messages that promote the importance of physical activity and the strength of the human spirit.
What was the reaction to Nike's "Dream Crazier" ad campaign?
The reaction to Nike's "Dream Crazier" ad campaign was overwhelmingly positive. It quickly racked up over four million views on YouTube and was well-received by many people worldwide.
What makes Nike's "Dream Crazier" campaign so successful?
The Nike ad showcased two distinct messages - Dream Crazier. Just Do It. - that resonated with people from all walks of life. Its potent combination of logic and emotion captivated its audience, making it one of the night's most spectacular moments
What company created the iconic "Be Like Mike" campaign?
Gatorade created the iconic "Be Like Mike" campaign featuring NBA Legend Michael Jordan.
How can Lululemon's "Sweat Every Day" ad help motivate people in the gym?
Lululemon's "Sweat Every Day" ad can help motivate people in the gym by showing them that fitness is for everyone and inspiring them to strive for their fitness goals. It can also provide a much-needed dose of encouragement and confidence. Seeing the different shapes, sizes, and genders working out may be what someone needs to get off the couch and into the gym.
Open Comment Form