You are likely to meet different types of personalities as gym owners, especially as we head on to a new year and an increase in gym memberships is likely to happen. It might feel daunting to find a way to market and promote your gym to such a diverse audience.
In this guide, we outline twenty different gym personalities and give tips on how you can market and sell to them.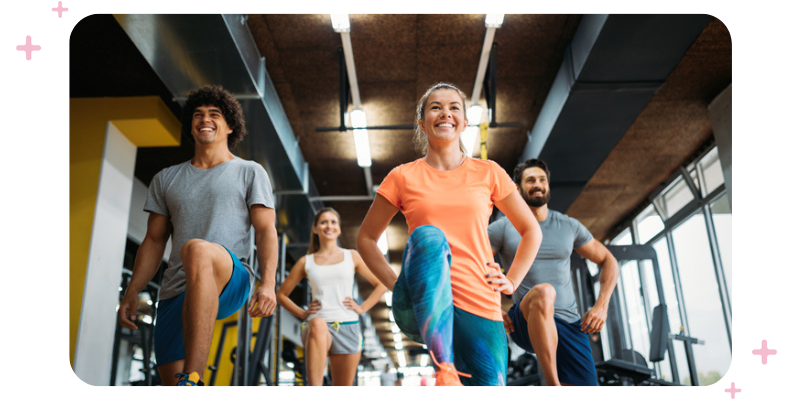 How to find the target audience for your gym?
Defining your target audience is crucial to starting a gym business. Building your brand and promoting your gym depends on the specific type of people you want to cater to.
To identify your target audience, create a persona for the different types of people that might go to your gym. For example, if you are opening a traditional gym, you're catering to men and women in resistance and weight training. You might want to dedicate space for group fitness classes to target other gym personalities.
By identifying your audience, you also identify their personalities. This helps you craft your gym promotions and marketing strategy. Aside from their personalities, make sure to gather information about the following:
Demographics (age, sex, and status)

Location

Interests

Personal goals

Availability
How to capture a potential audience?
When it comes to capturing a potential audience, it's important to understand who your target market is and what they're looking for. One way to do this is by creating compelling and informative content that addresses their needs and pain points. This could be in the form of blog posts, videos, or social media posts that offer valuable information and insights.
Another effective way to capture a potential audience is by using targeted advertising and marketing campaigns. This allows you to reach people who are interested in your product or service and are more likely to engage with your brand.
20 Most common gym personalities and how to promote to them
You tend to see the same types of people at the gym. As a gym owner, the key to effective promotion is to know the common types of gym personalities so you can figure out what is likely to keep them engaged and motivated to stay at your gym. We list the most common gym personalities below and give you tips on how to market to them.
The fitness enthusiast
Fitness enthusiasts know how gyms work and are likely to be the hardest to impress. They are eating healthy, exercise consistently, and are self-motivated, disciplined, and focused. They know their workout routines and have learned which equipment to use (and how to use it). They are always one step ahead of the latest fitness trends, and as a gym owner, it is your responsibility to keep up with what they know.
Action Tips:
Stay on top of the latest fitness trends so you can offer them too.

Provide additional gym amenities, such as meditation, cooking classes, and community events to aid their mental, physical, and social health.

Make sure your fitness trainers have updated personal trainer certificates. These add to the credibility of your business.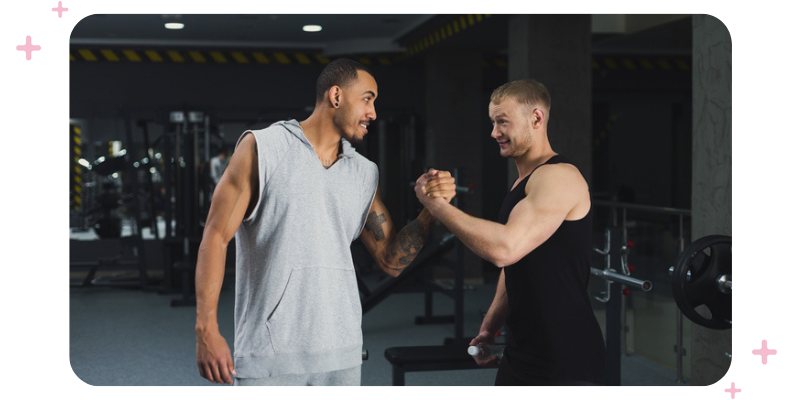 The social butterfly
Here's an interesting fact: Nearly half of gym-goers (45%) find gym workouts boring and just go to socialize with friends. You've probably seen them more often once the pandemic restrictions got lifted—they are chatting with everyone (and anyone) and spend more time talking than exercising—that's a social butterfly.
Action Tips:
For this personality, hosting events allows them to accomplish what they are in the gym for. Gym events help build and grow your community, increase member retention, and attract new ones. Some gym events you can plan for are salsa dance nights, community runs, and wellness workshops.
Social gym butterflies would fit better in group classes; try to schedule it a few times during the day. Research shows that 84% of those who find workouts boring would exercise much more if they were more exciting. For social butterflies, group activities help them to exercise more and simultaneously provide a breather for people who are not fond of chatting while exercising.
The fit couple
This type of gym personality caters to partners—they arrive and leave the gym together and work out together or alternately. You don't have to motivate this gym goer since they motivate each other already. What you need to do is ensure that you give them the opportunity and space to comfortably (and efficiently) work out together.
Action Tips:
Offer classes ideal for couples, such as kickboxing, salsa dancing (or ballroom dancing in general), cycling, and circuit training.

Have multiple pieces of the same equipment as possible. While fit couples usually take turns in using gym equipment, it can be beneficial for them (and all gym-goers) to be able to finish their sets quicker.
The yogi
Nearly 10% of the US population (around 36 million) practice yoga consistently, with 34% of Americans highly likely to try it for the first time in the next year. These numbers indicate that you most likely will have a few yogis at your gym.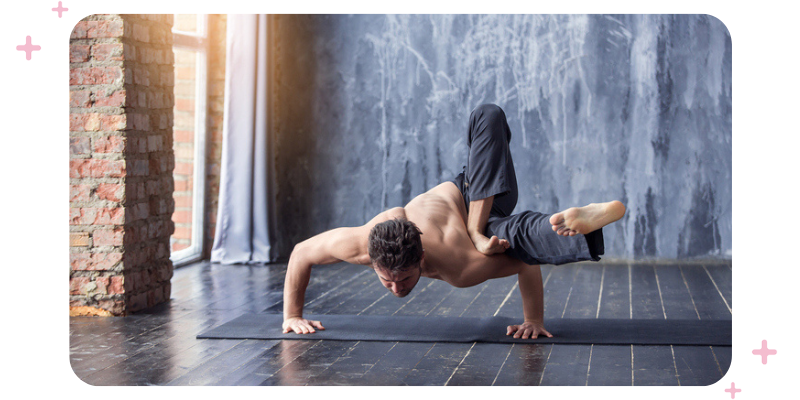 Action Tips:
Offer yoga classes or pilates sessions to promote your gym to yogis (and help bring in more). You can dedicate a space for a studio in your gym, hire a licensed yoga teacher (there are approximately 100,000 registered in the US), and promote classes.

Offer yoga apparel such as yoga mats, clothing, and some self-help books for meditation and yoga poses. Yogis are known to spend a lot. Annual spending among yogis amounts to almost $63,000 each pre-pandemic. These amounts are from classes, apparel, and accessories.
The bodybuilder
The bodybuilder is easily identified by their build and the area they frequent—the weight room. They are commonly found in the weightlifting area and are all about muscle gain. For this type of gym personality, focus on gym equipment.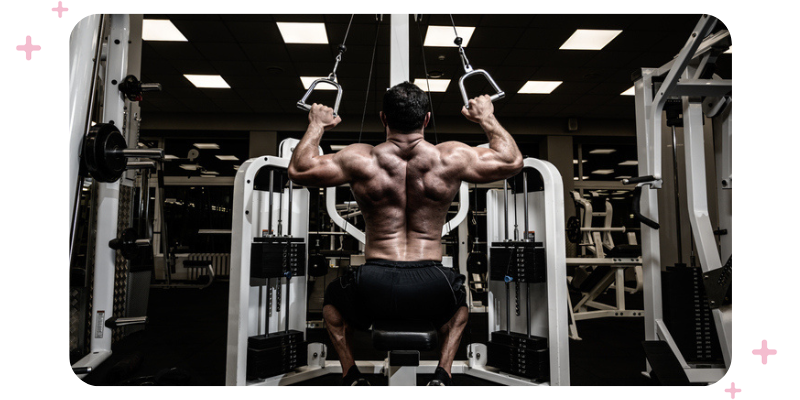 Action Tips:
Have plenty of weightlifting equipment options for bodybuilders. Sell fitness supplements such as protein powder and weightlifting essentials such as hand wraps and belts to support their fitness goals and activities.

Allocate some space between each piece of weightlifting equipment to prevent injury. Weightlifters are commonly called "grunters." Their noise and cheers for each other can be pretty distracting, even if one is wearing headphones. If possible, try to designate an area far from other fitness equipment and other members.
The cardio junkie
This type of gym personality does five to seven days of pure cardio a week exclusively—running on the treadmill, for example–and completely avoids resistance training or pulling weights. Group classes that combine a mix of cardio and strength training can be a great way to attract this type of gym-goer.
Action Tips:
Offer aerobic classes mixed with some resistance training in your workout classes. It will encourage cardio junkies to attend and help them build muscle.

Educate them on the fact that cardio alone will not help them lose weight or permanently keep fat in check. They would need to build muscles.

Make resistance training attractive for them. Have small dumbbells (in bright colors if needed) around, so they don't get intimidated by lifting. Have personal trainers on standby to help familiarize them with fitness equipment.
The gym rookie
The gym rookie just joined the gym, and they typically have little to no workout experience. They are most likely alone, feel lost, and have shy and puzzled looks on their faces most of the time. The beginners usually struggle to handle gym equipment and are too shy to ask for help. This type of gym personality needs your help and focus the most because you will likely lose almost half of them within the first six months of their membership if you do not take the necessary steps to retain them.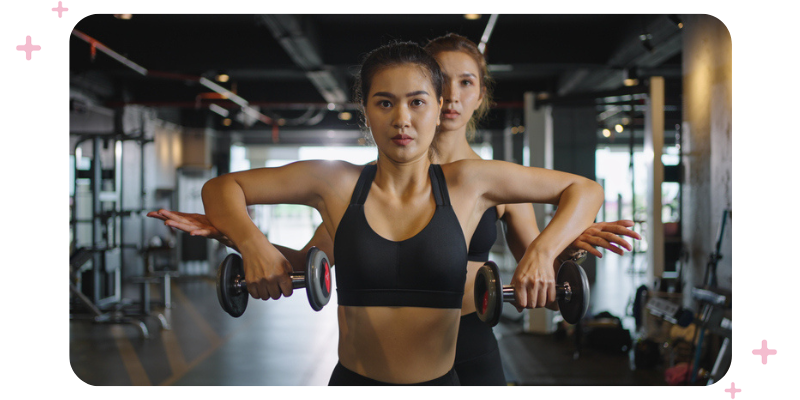 Action Tips:
Have an onboarding or introductory training session. Take them on a tour around your facilities. Introduce them personally to staff and trainers. A study shows that 87% of gym members who experienced a thorough onboarding session still had their membership active after six months.

Assign a personal trainer for the first few weeks. Part of their onboarding can have free one-on-one sessions with a fitness trainer where they are taught the correct form of exercising and the proper way to handle gym equipment.

Encourage group workouts or classes. Strava data shows people run longer when they are together with other people. The same thing applies to group fitness classes.




The gym rat
Gym rats live and breathe the gym, exercising for hours on end. You aren't surprised if they come to your gym multiple times daily. As a gym owner, gym rats and athletes are dream clients—but you need to do more than you think to keep them.
Action Tips:
If you aren't offering it yet, consider extending your gym's operating hours. Gym rats usually go before and after working their day jobs.

Have food stalls, complete shower facilities, and locker vaults. Gym rats will likely need space to store their stuff, shower now and then, and eat on the go. Make it a one-stop shop for them. Provide free workout towels if you can.




The senior citizen
Don't forget your seniors. Senior citizens, especially those that have hit retirement, are still a prime target market for the gym. They have a lot of time on their hands, and with the continued trend for health improvement, they are a potentially big group to market to.
Action Tips:
Since this type of gym-goer has time to exercise during the day, schedule classes that benefit them at times that suit them best.

Offer group classes that encourage community, such as dancing, gentle yoga, etc.

Your fitness center can also include post-exercise or functional medicine services such as massage chairs, acupuncture, and rehab treatments (sessions with a physical therapist).

Organize outdoor leisurely activities. Walking or holding group classes (such as Zumba sessions) at the park will improve their overall health.




The stressed-out professional
These people flood your gym after office hours (usually working nine hours). They are usually dazed and too tired to warm up properly and often rush to get through their workout just so they can say they hit the gym. They are most likely people who hate to work out but have to.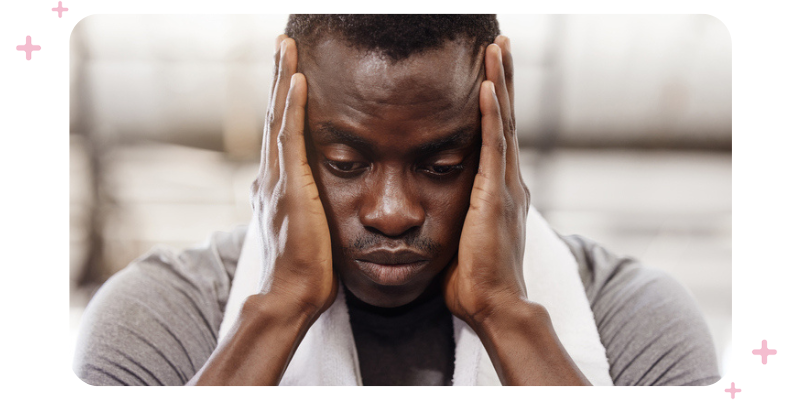 Action Tips:
Step up and be a fitness coach. Give easy-to-understand health advice.

Offer a free introductory personal training session to help them start a fitness workout routine.

Stressed-out professionals often forget something since they are too busy. Have an apparel stall in your gym so they can buy anything they forgot, like socks and towels.



The gym regular
Your gym regulars are the familiar faces you see at the gym. They are members that come in week after week. As a gym owner, be careful not to take your regulars for granted. Include them in your marketing strategy.
Action Tips:
Show appreciation by sending out thank you messages and acknowledging them through email, SMS, and social media.

Reward their loyalty and incentivize their consistent visits. You can issue class passes or exclusive member discounts.


The gym newcomer
Like the beginner, the gym newcomer is likely to feel lonely at your gym. Newcomers aren't necessarily beginners, as they might have had prior memberships elsewhere, so promoting to them should be done from a different perspective. Marketing your gym to newcomers will take more than the average promotion.
Action Tips:
Find out if they are coming from a different gym and ask why they transferred. You can discreetly ask this right away when they fill out their membership forms.

Create an incentive program for referrals or working out with a friend. Working out with a friend helps with accountability, and a rewards program gives a financial incentive to encourage long-term membership commitment.

Assign a newcomer with a regular. It doesn't have to be done formally. You can introduce them to each other and encourage the regular to help the newcomer and answer questions they might have.



The fitness homies
The fitness homies are friends who arrive and work out in a group. Similar to the fit couple, they tend to flock together.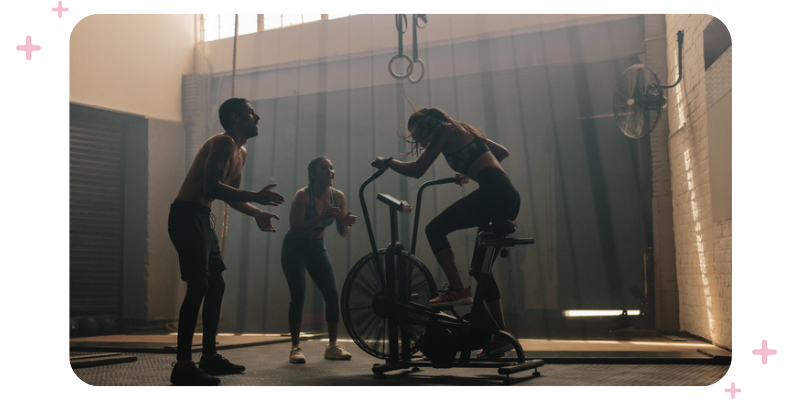 Action Tip:
Group training sessions are the perfect marketing offer for this type of gym personality. These can encourage them to come back more often. Moreover, it caters to different gym personalities too (social butterflies, competitive gym-goer, and more).




The fitness advisor
Not really fitness trainers, the personal advisor are the know-it-alls. They fall into two categories: the ones who correct you when you're doing an exercise incorrectly and those who do otherwise (incorrectly call you out or teach you the wrong information).
Action Tips:
Be a fitness expert. Offer personal training services not just to help them but also to educate them. This way, when they try to help others, you are assured that they are teaching correct information.

Provide brochures with helpful information about fitness—proper workout, healthy diet, and a positive mindset.



The competitive gym goer
The ultra-competitive gym goer is motivated and driven by competition. This gym personality thrives on winning and loves to compete every chance they can get.
Action Tips:
Constantly offer fitness challenges. Make these challenges quantifiable and with rewards. This can motivate and improve retention. Some challenge ideas include the Biggest Loser challenge, top visitor challenge, calories burned, running challenge, and more.

Organize a friendly competition and post it online—this will help you hit two birds with one stone. Retain members and attract new customers.




The equipment hog
The equipment hogs typically use one type of equipment every time they hit the gym. They also are usually not mindful of the people queuing to use the equipment. If you spot this type of personality at your gym, you need to figure out what's causing them to hoard equipment in the first place. Oftentimes, they use the same thing over and over again because they don't know how to use other equipment.
Action Tips:
Have an onboarding session with all new members, even if they are not beginners. Introduce each piece of equipment and teach them how to use it. It is also an excellent time to educate them about gym etiquette.

Offer one-on-one personal training with them. These gym goers are more likely to stay once they are introduced to various exercises and training techniques.




The fitness blogger
You are seeing this gym personality more and more—these are the ones who take mirror selfies and photos of themselves working out. Most of them are likely to post these photos on their social media, too. Social media (and, ergo, gym selfies) are changing the way people work out. And it can change the way you can promote your gym as well.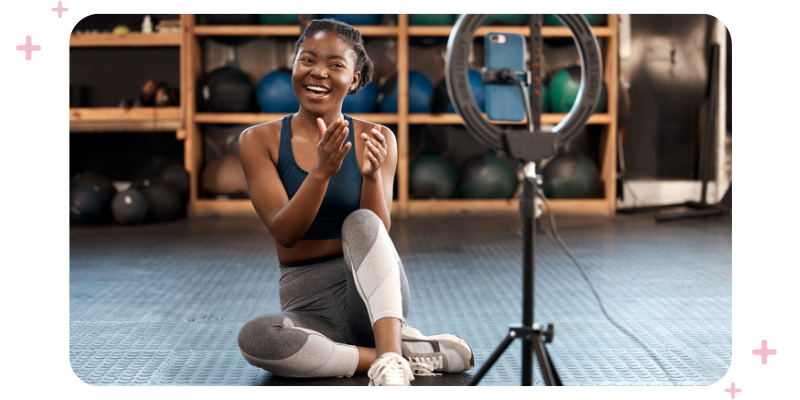 Action Tips:
Create instagrammable spots in your gym, a mural wall with your logo, or a slogan in lights. This will give fitness bloggers space to stage their selfies.

Set up a hashtag for your gym. Encourage the fitness blogger to use it. They can become brand ambassadors for your business, and you will benefit from this type of marketing.

Launch challenges that include taking pictures, such as a six-week challenge or transformation challenge, or even proof of going to the gym a required number of times in a week.



The gearaholic
These are the fashionistas, often decked out in stylish sports clothing from head to foot. Don't even be surprised if they have their hair and make-up done.
Action Tips:
Offer branded apparel in your gym as part of your promotional ads.

Start a campaign hashtag on social media for those that wear your workout apparel.


The note-taker
This gym personality does everything by the book. They most likely exercise with a notebook in hand (to refer to routine sets they must do) or have videos on their phone to refer to while exercising.
Action Tip:
Have your fitness trainers go around to spot these types of gym members so they can educate them on the spot or compliment them if they are in great shape. Make sure they explain the whys of a particular exercise routine or instruction so that the note-taker can remember it faster.


The trainer apprentice
The trainer apprentice is someone you see with the trainer most of the time. They always have a question about everything and anything. Sometimes, they also ask other gym members, which some members might find annoying.
Action Tip:
Offer them a fitness class or a personal trainer. They get personal attention this way, and their questions will always be answered. Getting focused attention will also keep them motivated.
Conclusion
There are so many types of people that go to the gym, and identifying their personalities helps you understand them better. When you identify your potential clients, you can easily lock in their needs and goals, and by doing so, you can provide solutions quickly. When you know what motivates their gym personalities, you can connect with them better and ultimately serve them better.
Frequently asked questions
What types of people go to the gym?
There are different types of gym-goers: gym rats, selfie-obsessed exercisers, bodybuilders, cardio junkies, yogis, social butterflies, beginners, regulars, and more.
What is the target audience for a gym?
There are several factors to consider when creating your gym's target audience, but basing it on demographics such as age, gender, location, or behavior will help you get on the right track.
Who are the customers of a gym?
Gym customers can be classified into different personalities, but generally, they include people from all walks of life—students, parents, working individuals, and even senior citizens.
Who goes to the gym the most?
A 2021 IHRSA report showed that young adults ages 18 to 34 and adults ages 35 to 54 make up the biggest gym population. Both age segments are at 31%, followed by children ages six to 17 (16%).
What attracts customers to a gym?
A gym is a social place where people come to exercise and gather (socialize). So gyms that promote physical activity, provide a safe and comfortable workout environment, and create a space for recreation and socialization are attractive to customers.
What inspires people to go to the gym?
People have different reasons for going to the gym. Intrinsic and extrinsic factors are involved. The desire for self-improvement, health problems, and specific goals are intrinsic reasons. Extrinsic factors include gym incentives (discounts or rewards), socialization, and competition.
Open Comment Form