The internet is filled with useful information fitness business owners can use to guide them through running their gyms and studio. Blogs and online publications have long been a very handy and accessible way to learn about everything from fitness trends to programming advice, marketing tips, how to build nutrition plans, and so much more.
With such a vast variety of content readily available, it's important to know who the most reliable sources are and which fitness blogs you should be paying attention to. Especially when those fitness blogs and publications influence the important decisions you make for your business and customers.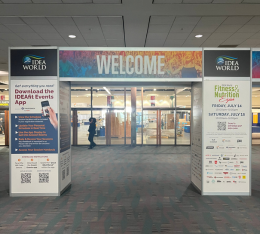 Not only are the blogs in this list excellent resources for running a fitness business, but they'll also help keep you informed on overall health and wellness trends, industry updates, and ways to improve your own fitness. That of course you can then take back and share with your customers as well. Several of these blogs even welcome owners, teachers, and trainers to share their stories in their blogs, an opportunity that is great for your brand and your website's visibility (but more on that later).
ACE Healthy Living Blog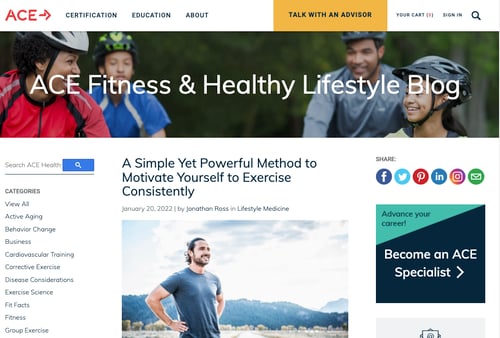 Full of everything from advice on how to have a healthier lifestyle to methods for motivating your clients to exercise and stay fit, ACE Healthy Living Blog has excellent insight for you and your clients. As one of the most prominent and highly-recognised certification organisations in the world, ACE's team of writers is made up of experts across the fitness industry. Find the best tips for you, your business, and your community by checking out their content.
Born Fitness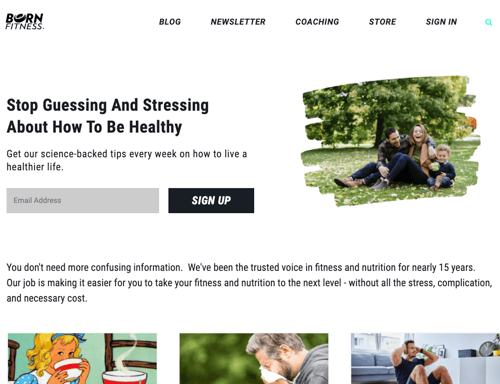 Understanding that there is conflicting information living rent-free on the internet, Born Fitness's mission is to cut out the noise and give fitness business owners a trusted voice in fitness and nutrition. Their informative guides and articles are designed to instruct, teach, and give you the most accurate information out there backed by science and data. If you want to learn how to live a healthier life and build a healthy environment for your customers, Born Fitness is a great place to start.
Breaking Muscle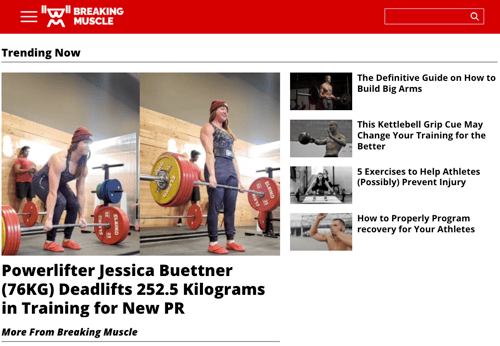 If you're looking for advice on how to get stronger, build muscle, plan workouts, lose weight, and much more Breaking Muscle is the blog for you. With an extensive collection of articles and interviews from big names in the industry to advice on how to be a better coach, trainer, or business owner Breaking Muscle will keep you up to date and on your toes. Seeking to educate and advocate for the entire fitness community, you won't just enjoy their blogs, you'll be motivated by them too.
Business for Unicorns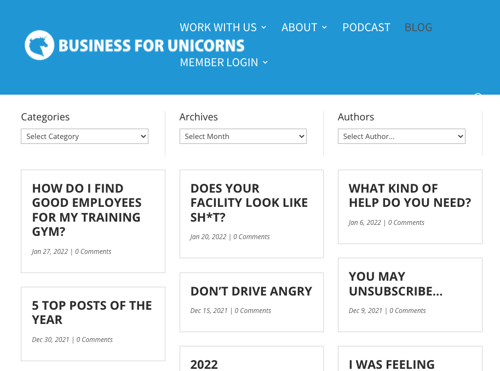 Featuring topics from how to sell and how to bill clients to guides on hiding the best market for your business, Business for Unicorns is full of content fitness business owners will love. Mark doesn't skirt around the tough topics, he hits the head-on. Publishing multiple blogs weekly, if you want advice on how to run your gym or studio, you'll find the answers you need reading this blog.
Club Industry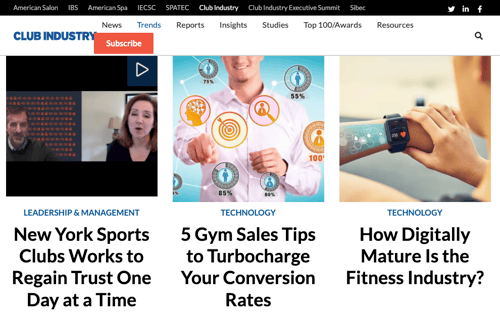 From industry news and press releases to helpful business tips on topics such as online fitness and conversion rates, Club Industry is one of the most distinguishable media sources for fitness businesses. Their group of expert professionals and partners create engaging content on topics of leadership and management to trends business owners need to know about to businesses and brands the industry should be following. If you want to keep a close eye on what is happening within the industry, Club Industry is a blog you will definitely want to subscribe to.
Healthline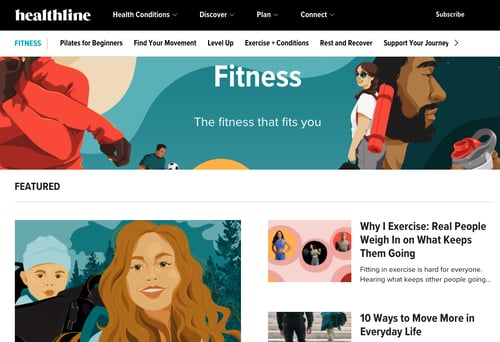 A robust collection of health and fitness topics and comprehensive guides, Healthline has long been known as one of the best resources for fitness and wellness fanatics. Not only can you find excellent content that you can apply to your own life, but you'll be sure to find helpful advice on how to apply their recommended methods and resources in your own business. From nutrition and programming to the history of fitness and stories of owners and fitness clients just like you, enjoy the diverse, informational, and inspirational content in Healthline's many blog posts.
Nerd Fitness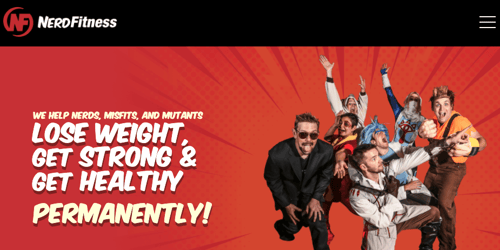 Nerd Fitness's library of workout and weight loss tips, nutrition advice, and "everything you need to know" about fitness articles is sure to entertain and educate you. Referring to themselves as a rebellion, Nerd Fitness's worldwide community strives to provide the "best health and fitness advice in the galaxy". Publishing one to two articles a week chalked full of information that will help you deliver the best results to your clients, this is definitely a website you should check out for your programming and planning.
Runtastic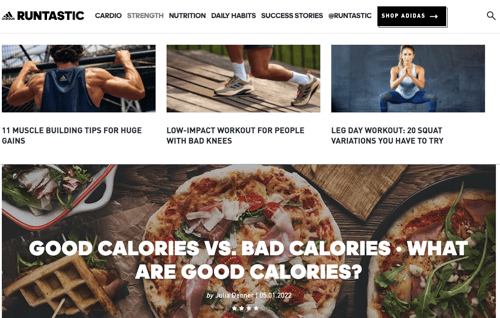 A leader in digital health and fitness, the Runtastic blog covers a whole range of fitness disciplines. With articles covering cardio, strength training, nutrition, how to get into healthy daily habits, and general fitness tips for life, the Runtastic blog is a great place for trainers to search for inspiration to help their clients achieve their goals as well as a hub for runners and fitness enthusiasts.
TeamUp Resources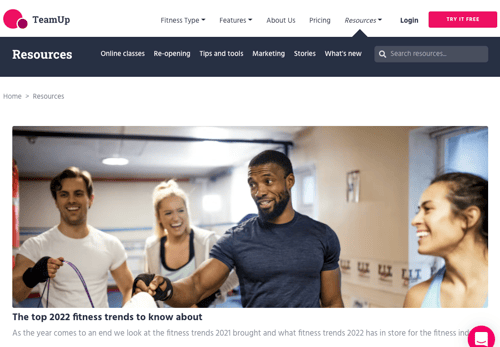 TeamUp Resources is home to a wide collection of advice and guides created to help fitness business owners succeed. With dozens of stories and case studies from TeamUp customers and fitness business owners just like you, you can read and watch videos about how they run their businesses and the strategies they have implemented to get them where they are today. From recommendations on how to best market your gym or studio to how to run online classes on Zoom and on-demand to the best fitness business podcasts to listen to, find everything you need to run the best version of your fitness business in TeamUp's resource library.
Mindbodygreen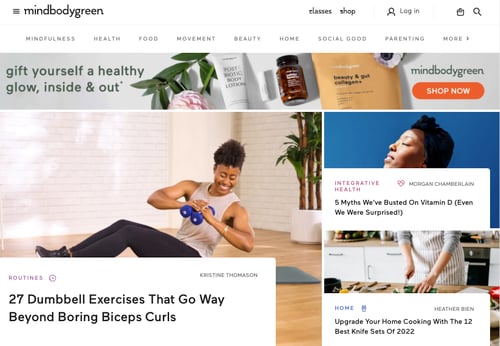 From delicious recipes to round up articles with all the workouts you need to achieve your goals, Mindbodygreen covers everything lifestyle, fitness, wellness, health, and nutrition that a fitness business owner and their clients would love. Whether you want information directly from the brands creating the products you use in your business to advice from experts across the industry, Mindbodygreen's blog has a lot of it all.
My Personal Trainer Website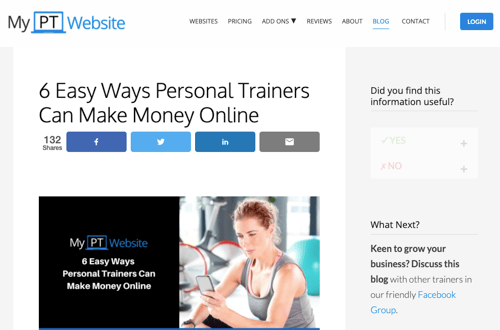 My Personal Trainer Website covers both the bases of web design and engaging blog content and guides that personal trainers can use to be better business owners. Writing on topics such as how to generate leads for your business to SEO strategies to the best fitness management software reviews, when it comes to providing resources for running a fitness business, My PT Website has got it covered.
Writing your own blog posts for your website
If there's one thing you can be doing to help your own website and business, it's writing blog content. In fact according to an article about blogging statistics by 99Firms,
61% of people said that after reading blog recommendations they have made a purchase of a product or service. (Content Marketing Institute)
34% of people said they read blogs to learn something new, 20% to be entertained and 12% to learn about industry trends and news. (Hubspot)
Not only can creating attractive blog posts on your website help you add value to your customers, but it can also influence new customers' decisions to choose your gym or studio. Not to mention, when you create valuable blog content on your website and include links to high authority and relevant websites, your website can get a boost on search engines such as Google and increase your chances of getting seen by web visitors looking for businesses such as yours.
And as mentioned at the start of this article, getting your blogs and stories shared on other websites such as the blogs and publications listed above is another great way to boost your website's domain and it can also help you improve your writing and storytelling skills.
If you're inspired by these popular fitness and wellness blogs and online publications enough to try your hand at blog writing for your own business, check out our marketing guide on how to write blog posts to help you get started.
Additional resources
For more valuable resources and media that can help you learn how to manage and grow your fitness business these guides can point you in the right direction:
Thanks for reading!
Open Comment Form