When fitness customers begin looking for a new gym or studio to sign up to, one of the first places they'll check is the worldwide web. Oftentimes they'll punch in common keywords and phrases into their search bar such as "gyms near me" "personal training in (name of city)" "(type of fitness classes) located in (name of city)", "online fitness classes" and so on. Search engines such as Google and Bing then get to work pulling the most accurate results to show their users the best options for them based on their search and what they might also be interested in.
While hundreds of options will appear across many search pages, it's fairly common that potential clients will only click through the first few to find what they need. If you want to appear high on search lists there are a few helpful marketing strategies that can raise your profile, starting with listing your business on online business directories and class aggregators and marketplaces.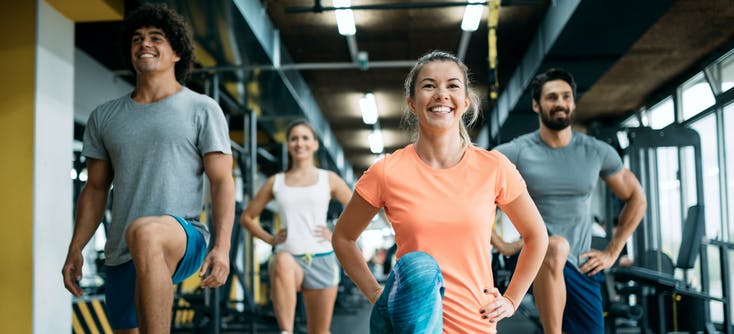 Fitness business directories: why they're important
As mentioned above, when fitness customers search for new businesses and fitness brands, if they don't know what's available to them they'll have to shop for some options. Perhaps they're looking to try something new and want to see what's out there. As with any other type of directory, online business directories and class marketplaces give you a place to list your business amongst other similar and differing fitness businesses in the area so that customers can easily browse what's available to them.
You can list anything from your business name, services, location, website, social media pages to your pricing, customer reviews, and membership packages. Not all directories are the same, but they typically will ask for those things to be able to give their web visitors the most accurate and detailed information possible.
Boosting your fitness business's visibility
Let's take a step back for a second. Before listing your business on a directory or in a marketplace, you most definitely want to have a website or web page, such as your TeamUp customer site, where customers can easily find you and your booking page. The quicker the journey to finding and arriving at your website to explore what you offer, the quicker a potential new customer will sign up for a trial or membership. Not to mention it saves time from having to pick up the phone or write an email and contact you first.
Bonus point: When your website includes SEO (search engine optimisation) keywords that people often search for to find businesses such as yours your website will appear even higher in the search list. You can check out our TeamUp marketing course SEO guide to learn more about its importance and how to use it.
Finding fitness business directories to get listed on
With your website and booking page in hand, it's time to start looking for directories and marketplaces to list your business on. As mentioned above, not all directories are the same, and there are many different types of directories you could get your business listed on. You can go as niche as directories specific to your local area and tourism websites for your region to global platforms. For this specific guide, we'll focus on the two broader categories with local filtering options:
Online business directories and review websites
Class aggregators and marketplaces
Online business directories and review websites
Online business directories are public websites created by an individual, a local body, or a corporation that display and list all of the available businesses in an area based on a search. These directories use filters and GPS technology so that users can use them to shorten or widen their search by type of business, location, amenities, and so on. For example, a person could search something specific in their area or go as wide as to see what is available in the entire country. Nowadays with online fitness being so popular, there are even options for searching specifically for virtual studios and online fitness content.
To get featured on these websites, either you can inquire with the website directly to feature your business (for free or a fee) or create a listing yourself. Most public directories have an "add a listing" section where you can include all of the information you'd like to add and your listing will be generated either immediately or after verification. There are numerous benefits to creating profiles on these directories including:
They are cost-efficient
They are widely known for being reliable and trustworthy platforms
Their domain authority is very high making them appear at the top of the search engine lists
They are excellent for visibility and branding
Customers can leave reviews
They can boost your website ranking
Allow you to advertise for free once you have an account
They also care about having accurate information and allow you to update your profile as often as you would like. When deciding which directories to list on, do your homework, find out which directories and platforms your ideal customer market relies on, and which will give your business the biggest boost.
To help you get started, here are some of the most commonly known and used online business directories and review websites
Google Maps and Google My Business
If your go-to search engine is Google (and psst it is by over 91% of the global market share), then listing your business on Google My Business and Google Maps is a great place to start. Free to sign up and create your listing, having a profile on Google will help your business's profile and website shoot to the highest results when searching for businesses in your area as yours. While not a directory in the traditional sense, Google as a search engine acts as on giant directory, so it's to have your website listed quicken the finding of your business process.
PS: in the example below, TeamUp customer, BOOTCAMP SE16 appears top of the list when searching "bootcamps london."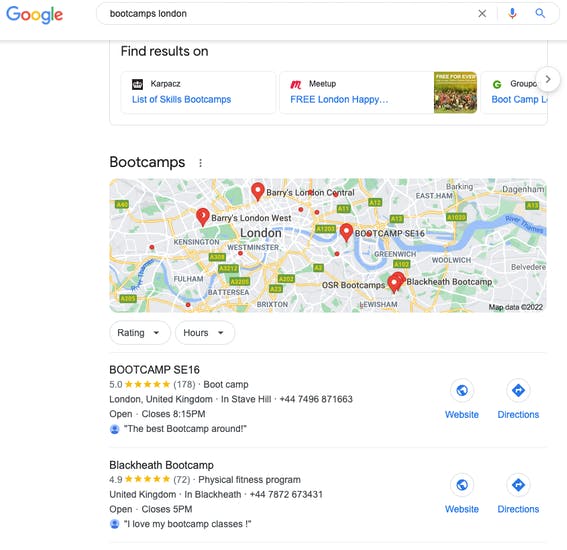 Yelp
Yelp is one of the most popular review websites and directories. Business owners can use Yelp to advertise their businesses for free, and customers use Yelp to review and request information about the business. Yelp is used by over 90 million people worldwide and its high-powered directory allows users to use its many filters to segment businesses in a given area down to what is open at the time of the search. Fitness customers can organise the results by most recommended, most reviews, and highest reviews. Yelp users can click on a website's link directly from their listing as well as see any and all details a business would like to include.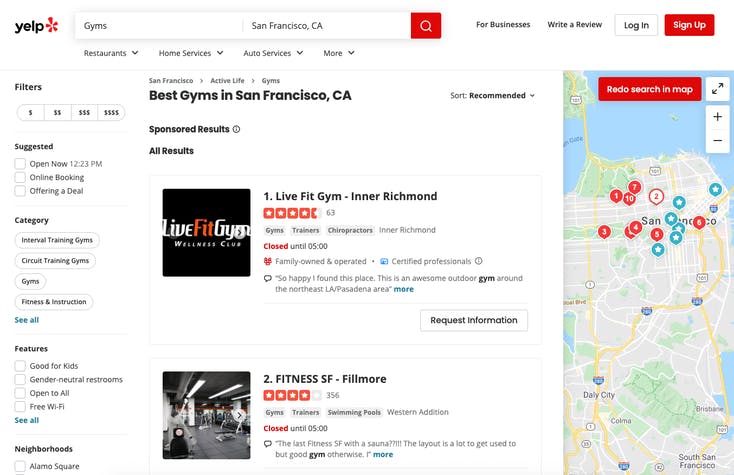 Microsoft Bing
As the second most popular search engine, covering your bases and listing your business on Bing is a great idea. Similar to Google My Business, Bing will list your location, directions, your website, and details you'd like to make public. Bing also integrates with the TripAdvisor app to show reviews listed on the travel platform.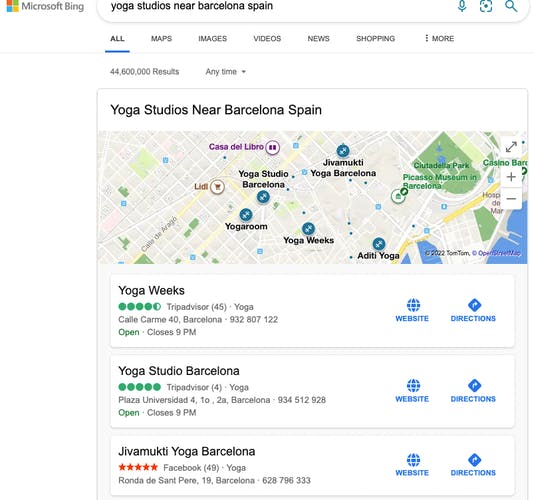 Class aggregators and marketplaces
Class and club aggregators are directories that are either for free or for a fee list your business and available classes for their customers, members, and web visitors to book. These websites are typically membership style platforms that partner with businesses such as yourself to list all the available fitness activities in an area. Similar to that of a global directory, many use filters and location tags to allow their members to search and generate search lists specific to their wants and what they're looking for.
While using class and club aggregators can be a bit more of an investment for your business when fees are required, there are many benefits to listing your classes with one of these platforms.
They can help you keep your classes full and fill empty spaces
Customers can book classes directly from the class aggregator platform
Customise your listing to make it as attractive and branded as possible
Protect your privacy and data
You also have the added benefit of knowing that the people your listing is being advertised to via the class aggregator are already invested in fitness memberships. They have subscribed to paying for a membership service and once they start attending your classes, it's up to you to convince them to keep coming back. Some class aggregators are more commonly used in certain areas over others, so find out which ones your customer market uses in your area, and inquire about listing your classes there.
Here are some of the most popular class and club aggregators, several of which also integrate directly with TeamUp
ClassPass
ClassPass is the largest health club aggregator partnered with over 40,000 gyms and studios across the globe. TeamUp integrates with ClassPass so that ClassPass can pull all of the classes you want to list on their platform without having to manually upload them yourself. It's a great tool for filling spots in a class or appointments and attracting new members who already take classes with other businesses similar to yours.
ClassPass members can use their map to find what's available in their area, see reviews, a quick description, and use the filters to narrow down their results. You can also use ClassPass's tools to see what other businesses in your area are offering to attract your ideal customer. ClassPass offers gyms and studio owners a free one-month trial and there is a monthly fee after. Start integrating with ClassPass, here.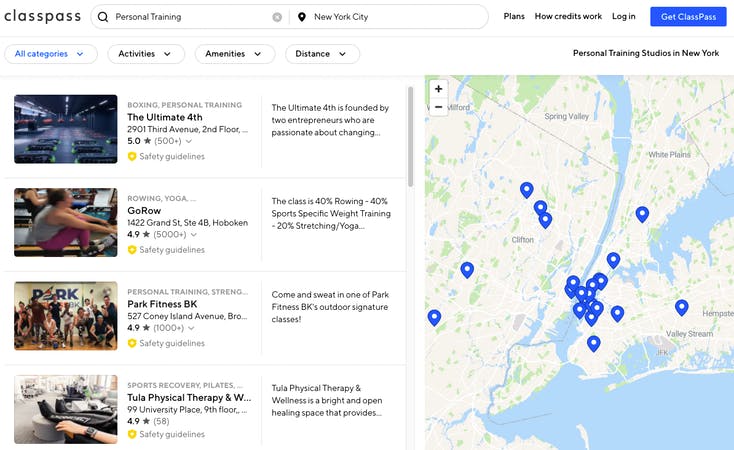 Gympass
Our newest integration, Gympass is the largest corporate wellbeing platform allowing businesses to create affordable fitness and wellness plans for their employees. Gympass members have access to a variety of gyms, studios, personal trainers, services, and apps, which can now include you directly through TeamUp.
With Gympass you have the ability to list your classes, appointments and additional services and unlock a brand new revenue stream by making those services available to corporate clients. Gympass currently works with 6,000 clients worldwide, opening the door to thousands of potential new clients for you. To learn more about integrating your business with Gympass, check out our what's new guide here.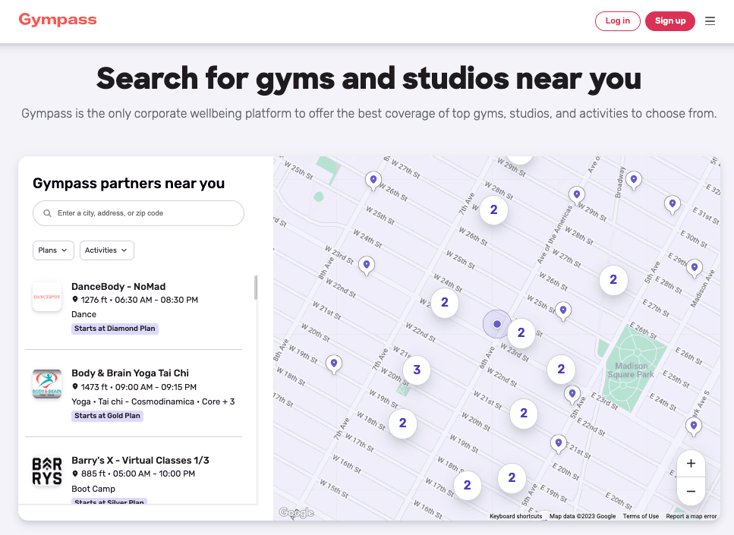 Move
Similar to ClassPass, Move, formerly MoveGB, is a marketplace for fitness providers and instructors to sell their in-person and virtual fitness classes. Move is a TeamUp partner and TeamUp customers can integrate directly with the platform from TeamUp once they create an account on Move. Move's goal is to help fitness businesses engage and grow their businesses by connecting with over 200K+ of their registered users.
Move has a pay as you go payment model that is based on a "wholesale price per activity up to a maximum amount of the total membership income paid by the customer." To integrate your TeamUp account with Move, you must first create an account on Move and they can link your two accounts to start using their platform.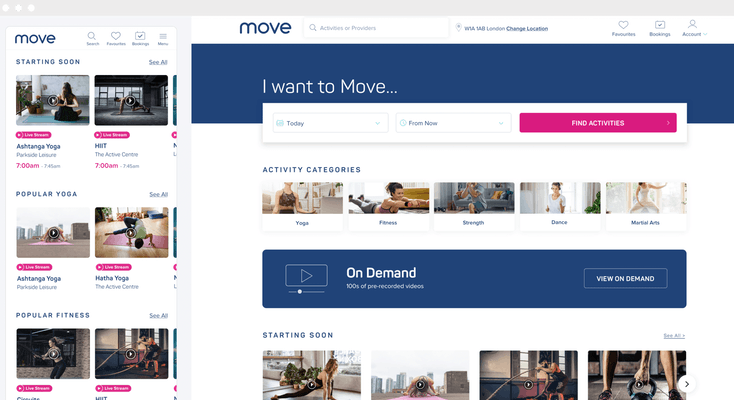 OpenActive
OpenActive is a community-led initiative that helps fitness businesses get their classes and physical activities listed on other directories and a wide range of websites. To use OpenActive, you agree to share your public data, for example, your class types, age requirements, type of activity, experience levels, and in exchange OpenActive will take that data and list it across their websites. It's free to use and only your public data is shared keeping all other business information completely private.
By listing with OpenActive you make it possible for users to easily find your classes and sign up for available memberships. As an available TeamUp integration, you can manage all the information you'd like to share with OpenActive directly from your dashboard. You don't have to go anywhere else to publish your classes. It's that simple. Start integrating with OpenActive, here.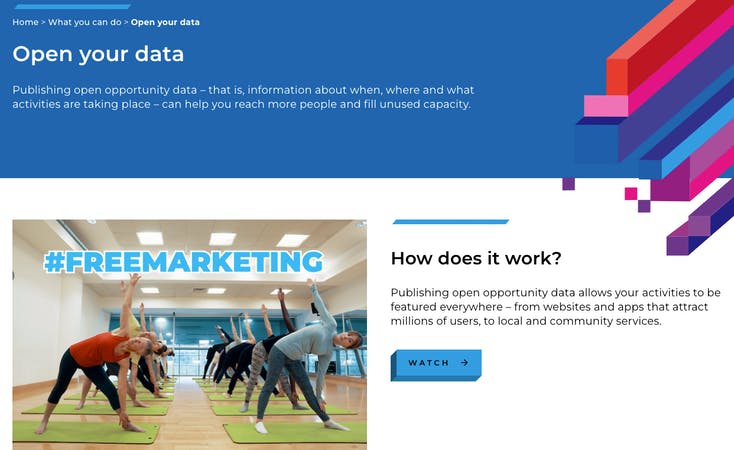 Parasport
A UK led-initiative in partnership with the Paralympics, Toyota, imin, and OpenActive, Parasport is a fitness directory for all accessible (in-person and online) activities across Great Britain. Launched in August 2021, Parasport integrates with imin to access OpenActive data to list all disabled-friendly activities on their website. As a partner of OpenActive, all TeamUp customers are able to use their OpenActive integration within their dashboard to list and offer their inclusive and adaptive activities. To get involved, simply follow the steps in the OpenActive integration, and learn more about the campaign and its generation in our blog about Parasport.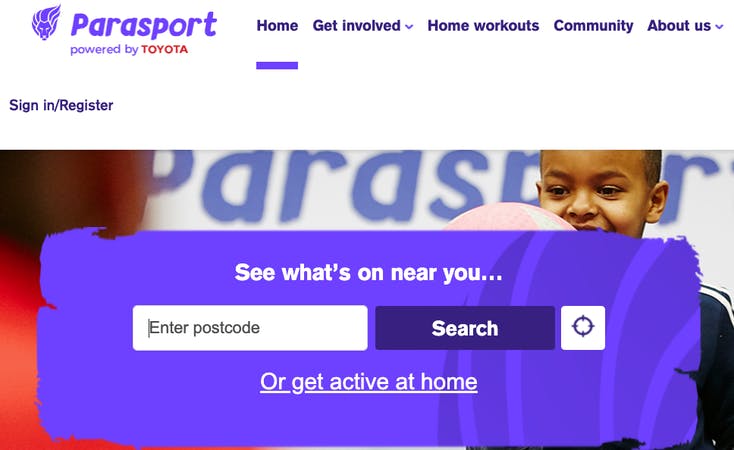 IDEA FitnessConnect
IDEA has been a leader in the fitness industry since its launch in 1982. To help fitness businesses and professionals list their services on a global scale, they have created the IDEA FitnessConnect, which is the largest fitness professional directory in the world. Fitness customers can search specifically by trainers, by health club, gym or studio, as well as by fitness classes, events, and certifications. It's free to join, and they even include marketing tools to help business owners expand their reach.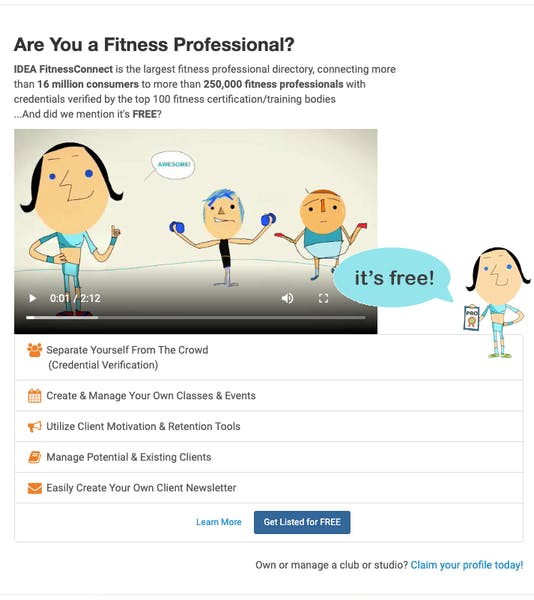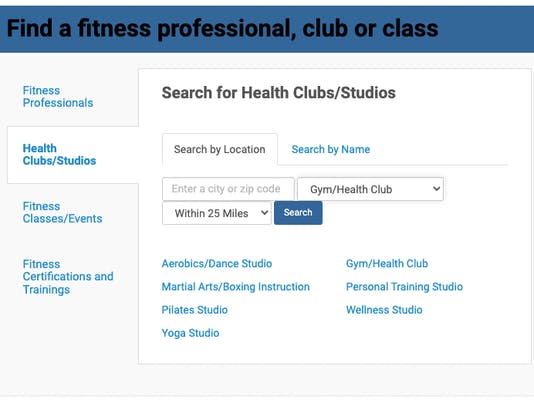 Thanks for reading our guide. We hope it helps you expand your reach, get your business featured, and attract new customers.
Check out our marketing guides to learn how to advertise your gym or studio, and learn how to set up your TeamUp integrations with the top class aggregators with our support guide, here.
Open Comment Form