If you're finding yourself spending more time on admin for payments and bookings than on running classes it might be time for you to investigate gym management software.
Not only can the right gym software help you save you time and resources, streamline your admin and tasks, and engage with your customers, but it can also help you learn how to make better business decisions to support your gym or studio's growth. In this guide, we break down the importance of choosing the right gym management software and the key features and tools to look for when shopping for a system for your business.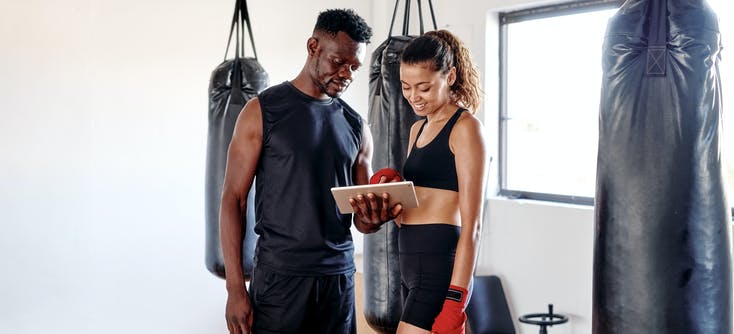 What to keep in mind when investigating gym management software
Whether you are new to gym software or transitioning from one to another, picking the right one is a very important step in ensuring the success of your fitness business. Why? Because while most software aims to solve your problems or roadblocks, each and every system is built differently and offers something unique. So rather than starting out blindly and looking at every gym booking software offering when asking, what is the best gym management software for you, a better process is to determine what you are looking to achieve and eliminate options that do not meet your needs or goals. Here are a few things you can ask yourself as you begin looking for management software for your business.
What purpose do I need software to serve?
Are you looking to better organise your classes? Have somewhere to post your schedule online where your customers can book? Manage your teachers and staff? Knowing what you are looking to achieve in purchasing gym system software can help eliminate wrong options right off the bat and point you in the right direction. As we said, all software is built differently and some excel in certain aspects over others. Make a list of your most important needs and search for software that excels in those fields. Some software come with a free trial will help you test drive the features and tools to evaluate their value and usefulness. You do not want to get stuck investing in software to later find out its tools and features do not serve your needs.
Will this software help me save time?
The ability to streamline your administration and everyday tasks will give you more time to focus on your classes and keeping your customers engaged. If you invest in software for gyms that is going to create more hassle and require more of your time then that is not the software for you. This is where trial periods also in handy. Most trials can give you a sneak peek into the kind of support that customer service will offer you when you do get find yourself in a pinch. Whether through real person assistance or guides and resources they provide, being able to figure out and problem solve on your own is another good indicator of how much time you will be able to save.
How much does gym management software cost?
Whether you are a large gym franchise or a single local studio, comparing how much different gym management software costs plays a large role in any purchasing decision. While you can do your homework to find out just how much you can afford to spend on software, remember that choosing the best gym scheduling software is an investment in the overall growth of your business. Choose a software whose value supersedes how much it costs. Make sure that you not only find the software you choose helpful but valuable for your long term goals.
Evaluating tools and features in your gym software
While all gym management software offers useful tools and features, what it comes down to is which will help you run your business. Once you have determined your business goals, whether that is to attract new customers and grow, enhance the customer experience, franchise, or all the above, the next step is to figure out which tools will help you succeed. Having an idea of what you need (ie. calendar, payment provider, integrations) will help you make better decisions when you are shopping for your software. Here are some of the key tools to look out for that will pave the way to becoming a successful fitness business.
An organised streamlined dashboard
The key to keeping everything together and efficiently organised is having one streamlined dashboard. Your dashboard is home to your business calendar, reports, customer lists, staff and employee management, activity feed and other important tools that will help you manage your business. Have an organised dashboard and you'll have an organised business. This feature is a must-have and being able to customise your dashboard to show you the information you need most will help you save a substantial amount of time in your day-to-day.
A customer management tool
Never forget your customers' names again. One of the most essential tools in any type of gym member management software is customer membership management where you can store all customer information including details, payments, history, and activity. Any time a customer purchases a membership, registers for a class, need to put a hold on their account, refers a new customer, all of this information lives within their customer profile where you can easily find at any given time. Having a supporting feature like an activity feed will give you quick insight onto the actions your customers while giving them the power to manage their own accounts at your gym or studio.
Top payment system and providers
As a gym or studio, you are providing your customers with a service, and in turn, they pay you for that service. If a customer does not pay on time, not only does the owner now have to spend their free time tracking down the customer and having awkward conversations, but that can then result to other financial issues within the gym or studio, especially if this is a common problem. Choosing a gym management software that partners with the most reliable payment processors ensure that payments are scheduled on-time, in advanced, and tracked. Having this feature will allow you to eliminate worrying about payments off your list.
Instant reporting
Access to insightful data and metrics within your dashboard will allow you to make important business decisions and track the progress of your business goals. Your software's reporting features should include information on invoices, revenue, class attendance, memberships, growth, and more. The data you collect from your reports can help you better monitor your customers and their progress to keep them fully active and engaged.
Mobile app
Your customers' ability to quickly book your classes via a mobile app should be a leading factor when shopping for software. Gymgoers love being able to do things on the go, so having an app that they can access from their mobile device to book, amend, register, check your schedule, and pay for classes will make the process of being a member of your gym or studio that much better.
Valuable integrations
Not only should your software integrate directly with your website to offer a better customer experience, but it should also offer integrations with your favourite apps and website, with services such as Zapier, to create a better user experience. From branding and marketing to automated payments and billing, make sure that your software is compatible with the top services to help your customers book and pay all in one place.
What sets TeamUp apart from the rest
Our platform is built and designed for you which is why we prioritise flexibility and simplicity - if your software doesn't your needs then it doesn't help your business. With TeamUp not only will you have access to all the tools mentioned above, but there's more...
A free trial
Gym management software can be tricky, and learning how to use it can take time. We want to give all our customers the time they need to set up and explore before even starting their free trial. Your trial begins once your customers start using your TeamUp account to book your classes. Sign up and enjoy quick and easy bookings, full insights and reporting, and unlimited access to our support team.
Unlimited customer support
Our mission to support you in running your business knows no bounds. Your TeamUp gym software comes with our "go the extra mile support" which includes one-on-one setups, showing you how to use the tools and features, and tips and advice to smoothly manage your business. Our team of experts is available to you from the moment you create your account. We'll even help you do that.
Free import service
Switching from another software? We have got you covered with our free import service. We have transferred over customers, payments, and memberships from every software system, and can offer you this service complimentarily when you sign up. You will be able to run your business without pause during the transitions, and we can even bring over remaining pack usage and former customers, too. All we need to know is what you would like transferred over and the reports from your former software, and we'll take care of the rest.
Pay by the customer, not by the feature
From the moment you sign up with TeamUp, you have access to every and all features within your dashboard. Our pricing reflects the number of customers you have, not which tools or features you need. You will never be upsold or told that in order to run your business you need this and that because you already have it all; reporting, class schedules, integrations, and more. The only time you'll hear from us about new features is when we add more to your dashboard.
Our customers
Before our customers joined TeamUp we heard a lot of the following:
"I was finding it too difficult to manage attendance at classes. I also do like the idea of having systems in place to make life easier for my clients. I think it looks more professional than not having a booking system."
"I was spending a ridiculous amount of time answering questions about my events, giving payment details and then having to check the payments had been made. Tracking everyone who was on each session and then dealing with refunds or credit, all via an excel spreadsheet was just too time-consuming, confusing and frustrating for my clients."
"I realised I was going to have to overbook my classes by a third because of no-shows because they weren't paying."
"I knew I wanted a booking system as soon as I started teaching and I'd heard excellent things about TeamUp, plus I work at MoveGB during the week so I'd seen how our clients had gotten on using TeamUp - which was really well. I'd also had experience with MindBody while working with a couple of clients and I found it really confusing (and expensive)!"
"I couldn't keep up with the admin - I have a busy day job and even with someone helping I needed something more professional and streamlined - plus an easier way to take payments rather than wasting time at the start of classes"
"I was using MindBody It was very complex, and it would take a lot of time to try and get anything done. I'm a smaller studio, and it just was too much for what I needed, and they continually kept increasing the cost year after year, so it just made it not economical for what I needed."
Better gym or studio management and improving your overall customer experience using software will help you stay on top of your competition and run your business the way you want.
To take TeamUp's software for a test drive, sign up for our free trial.
Thanks for reading!
Open Comment Form