Although gyms and studios worldwide have undergone several lockdowns over the past year, many fitness professionals have taken advantage of this time to focus on building their communities. With the help of new digital tools and resources, gyms, studios, and personal trainers have been able to continue to run their businesses online, reach wider audiences, and connect with their customers from home. While it is challenging to start a new year in lockdown, it is yet another opportunity to showcase why you are so important in your customers' lives and them yours. To navigate lockdown and any other obstacles that may be thrown in your path, here are the things you can do now to ensure you and your community come out of this stronger than ever.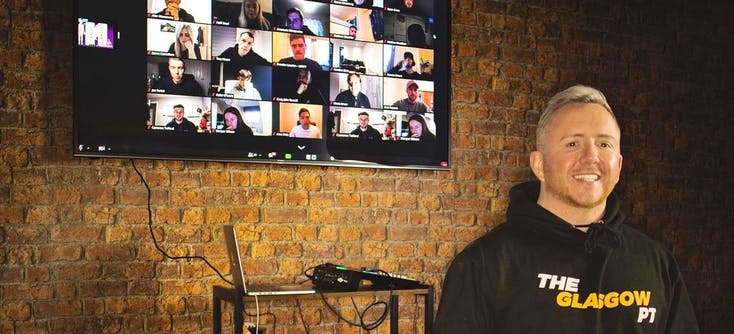 Photo Credit: Glasgow PT
Focus on supporting your customers
Your customers need your support more than ever. Building on your bond and connection with you will help them feel like they are your priority and give them a good reason to continue coming to class online. Remember your customers are dealing with their own personal struggles as they figure out how to navigate lockdown and limited social interaction. Keeping morale high, your customers' needs top of mind, and finding ways to motivate them to come to online classes will go miles in ensuring your customers don't slip away. The appreciation for your support will turn customers who were wavering about online classes into loyal members for life.
Keep your customers engaged
Get creative in finding new ways to keep your customers engaged and motivated to come to class. Working out from home does not mean that they cannot still get the most out of your classes and progress in their fitness journeys. It's normal that some of your customers may need a little more push than others, so it's up to you to keep things fresh and invigorating. Maybe you decide to switch up your class offerings to add something new. Maybe you create a challenge that your customers can win prizes for. Maybe you gift them extra classes when they refer new members, through your customer referral program. Whatever new ideas you spark, your customers will appreciate the extra effort you put forth to make class just as fun from home.
Share your knowledge with the fitness community
Just as it is normal that your customers may need a little extra encouragement, there are fitness professionals that also could do with a boost of confidence from their own community. If you have helpful tips, guides, things you have done to keep your business thriving even while under lockdown, don't be afraid to fill other gyms and studios in. Giving other instructors and owners some guidance will benefit both of you greatly. They'll be provided with some friendly advice and neighbourly spirit, and you'll gain a new connection and member of your community.
Some of our customers shared what they did to unite their communities together during the first and second lockdowns. From escape rooms to coffee chats, these gyms and studios were able to find creative ways to make a meaningful impact on their customers beyond classes. They saw what worked well for them and have advice for other gyms and studios on how to model their same efforts within their own communities. Take a look at what they did, here.
Personal trainer Sarah Maxwell is encouraging all personal trainers and fitness coaches to support each other during this time.
"I think it would be so wonderful for more instructors to connect and chat and we can all share a lot because there is so much work. We are not in competition, we just need to work together and help each other. I want to get everyone involved and share ideas."
Increase your marketing efforts
Now is the perfect opportunity to address the parts of your business that you have not had time to expand. For example, marketing. While you do not need a fancy website or millions of followers to run your classes and business, having a solid website and activity on your social media can help nurture your customers interest in your business outside of class. Using your tools including notifications, email updates, and social media will help them stay connected and leave them wanting more. Find what works well for you and stay consistent and accessible as your customers will want to continue hearing from outside of class beyond lockdown. Start small and ask your customers what they want to hear and learn so that you can provide them with the most relevant and beneficial content.
Be prepared for re-opening
As you may have already experienced with the previous lockdowns, rules and regulations regarding COVID-19 openings and closures come quick, so it's best to be prepared. Don't wait around for the last weeks of lockdown to get everything in order to re-open your gym or studio. Have your plan of action, make sure customers are informed and your safety protocols and measures ready to go so that your re-opening can go quickly, smoothly, and efficiently. You may even want to take this time to elevate your class offering and look into combining your in-person and online classes through live-streaming. After all, a little birdie told us live-streaming will be one of the most popular fitness trends in 2021. See for yourself here.
Give other businesses a hand
On top of sharing your tips for keeping your customers and community motivated, you can also help other fitness businesses by encouraging them to use software. Transitioning back and forth between in-person to online classes and managing memberships can get complicated fast. Management software can take the complexity out of running your business, and your neighbouring gym or studio can benefit from your advice on how to get started. When you refer another business to TeamUp, not only will that business receive an extended 45-day trial to give them all the time they need to get up and running quickly and smoothly, but you will also receive £80 to use for your business. To share your personalised referral code, head to your TeamUp dashboard where you can find it in the upper right-hand corner, and easily share.
Use all the resources and tools at your disposal
At the end of the day, fitness professionals want to be able to run their businesses their way and provide their customers with the best experience possible. This too shall pass, and if there is anything we have learnt this year it's that the fitness community is strongest together, and can overcome anything thrown their way.
Karen Grinter, owner of Northants Pilates shared with us,
"From the client perspective – most of our are loving online and madly grateful. It's a bit of normality in their week. It's also much needed for those who are on their own. So I would strongly suggest that the community thing for any teacher is something to push and make clients feel part of – many are quite lonely and they have just had a really crappy Christmas and now facing another 7 weeks of early version lockdown without the weather."
Ensuring that your customers feel nothing but love, kindness, and compassion over the coming weeks will mean everything to them and be a fantastic reminder as to why they chose you.
To learn more about our technical resources and tools, check out our roundup of online class guides and COVID-19 features in your TeamUp dashboard.
Open Comment Form