December marks a very special time for the fitness industry — the release of the new year's top fitness trends.
By now you'll probably have seen a few trends circulating around the zeitgeist and may have wondered what they mean for your business. What's omnichannel? And do I need to start offering additional verticals into my business. Is nutritional planning going to take my business to the next level? How do I get or stay compliant in 2023?
We're here to help you figure that out. We've pulled together our best resources to share the 2023 fitness trends with you and the impact they have on you, your business, and your community. But before we dive in, let's get a pulse on where the industry is currently at heading into the new year.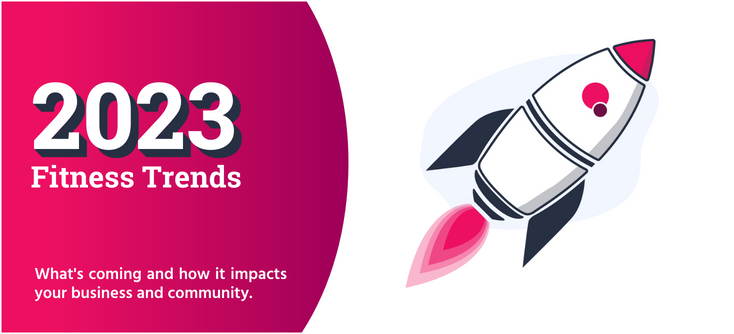 A 2022 recap
By now, it's common knowledge that the pandemic has changed how the world operates. Closures and capacity restrictions impacted the fitness industry more than others. Businesses had to move quickly and adapt to stay afloat, pivoting to a purely online business model during numerous lockdowns.
Even after gym-goers were free to return to in-person sessions, many had grown accustomed to the convenience of home workouts. The rise of real-time and on-demand classes transformed the future of the fitness industry forever, with many businesses eventually restructuring to a hybrid business model as they recovered from the pandemic.
In the current landscape, businesses continue to recover from the pandemic while gearing up to navigate a recession, yet there is optimism for the fitness industry. Fitness businesses generally don't have to deal with supply chain or transportation issues, so the outlook is positive. Events are back on in-person, businesses have found the hybrid model to continue to be useful, and teachers and coaches who put their entrepreneurial skills to the test are heading into Y2 of their businesses. There's a lot to celebrate ahead of the new year.
👉 Learn how to recession-proof your business straight from fitness industry experts.
Last year's fitness trends article predicted the growing importance of mental health and hybrid classes. As we delve into the 2023 fitness trends below, we'll explore how the past year's trends laid the foundation for what's to come.
Our research suggests that the pursuit of wellness will set the tone for the year ahead, seeping into many areas of life, including fitness - but is everyone on the same wavelength? Let's find out!
We turned to industry thought leaders and experts to share their insight. While some agree with many of the trends, others suggest we might not be there just yet…keep reading to find out just what leaders from the PMA, FBA, IHRSA, and more have to say!
📹 We'd also like to invite you to join our upcoming webinar on December 22nd to discuss these trends with our friend Staci Alden, of Alden Fitness Solutions. Head to the bottom of this article to reserve your free spot today!
Now without further ado, here are the predicted fitness trends of 2023!
A new outlook on fitness
While 'wellness' is a broad concept that encompasses much more than fitness, we're making it number one on our list because it's the driving force behind many fitness trends we'll see in 2023.
The pandemic was a catalyst in bringing mental health to the forefront. At a time when the world struggled to keep a semblance of normalcy, fitness played a big part in helping people create structure and release stress.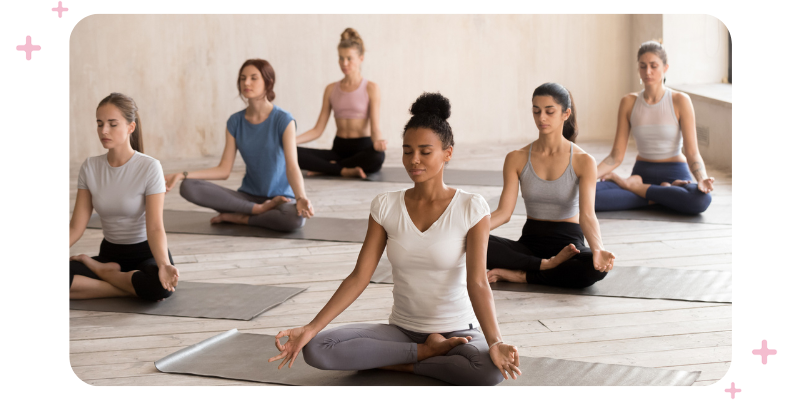 There was a shift from fitness as a means to achieve aesthetic goals to fitness as one of the pillars of a healthy mind and body.
With celebrities, influencers, and traditional media becoming even more vocal about mental health issues post-pandemic, the spotlight continues to shine on feeling good rather than looking a certain way.
Consumers are turning to fitness as one of their primary sources of anxiety relief and other health benefits, such as improved mood, sleep, focus, libido, and many more.
We expect to see gyms, studios, and personal trainers lean into this mindset and develop personalized programs that support clients mentally and physically on their fitness journeys. The Pilates Method Alliance for example is putting this at the forefront of their 2023 plans for their members.
💡 "We believe Pilates is an integral part of the body's wellness and in 2023, there should be a greater focus on preventative care and Pilates helps with that and should be viewed as importantly as physical therapy is in the healing process. Even though we are moving farther and farther away from the impact of Covid on the practice, there is still a place for digital Pilates classes for clients who prefer to work from the comfort of their homes, and it continues to open up the world of clients for our teacher members." - Carla Harris, Pilates Method Alliance
Digital fitness will become immersive
The pandemic also accelerated the fitness industry's leap into the digital world, with live-stream and on-demand classes becoming the norm. The convenience of being able to work out virtually anywhere and at any time made consumers quickly adopt digital fitness and demand more of it.
In 2023, we expect to see more formats emerge, such as virtual reality classes (in-studio and via home devices) and Metaverse events. With big brands like Nike entering the Metaverse to create a virtual lifestyle revolving around sport and play, we wouldn't be surprised to see other wellness and fitness brands follow suit.
💡 "Post-covid, virtual reality will be a huge attraction for a generation of new fitness consumers. This demographic was affected hugely through the epidemic, and for many VR will play a role in the way they redevelop their physical skills and mental wellbeing." - Mel Tempest, Gym Owners Fitness Business Podcast.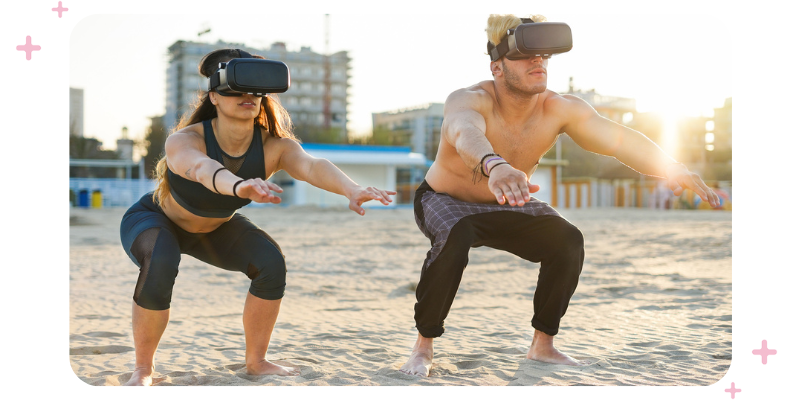 Wearables, such as watches and rings that allow users to track and share their stats online, are one of the fitness trends that will continue to go strong next year.
As Kathryn Mummery, EMD UK, mentioned to us, "Les Mills have been early adopters of this, turning their BODYCOMBAT and THE TRIP products into a fully immersive fitness experiences. It's only a matter of time before more group fitness brands and boutique studios offer their own enhanced sessions." Jim Thomas, Fitness Management & Consulting, also echoed the idea that we will see fitness gamified this year…what do you think?
New fitness tech and apps cropping up in 2023 is inevitable. Many will be designed to enhance the functionality of wearables or existing online platforms, but we also anticipate a rise in gamified fitness apps that make being active fun.
Omnichannel fitness
While gym attendance is nearly back to pre-pandemic numbers, consumer behavior has changed — people love the convenience of being able to work out at home, from a hotel room, or at the office — so businesses need to expand their offerings to cater to modern needs.
But what's the current split between in-person and online?
Les Mills describes this as 'omnifitness' or omnichannel fitness: "Mixing live and digital fitness solutions to reach members anywhere, and anytime."
The demand for multi-format fitness will keep growing, so we believe this is one of the fitness trends that businesses should invest in to stay on top of their game.
💡 "As a semi-rural, boutique Yoga space in the southwest of England, the omnichannel trend of hybrid offerings is essential for our growth and client retention. In addition, there is more of a wellness focus with the public these days, and providing our members with the option of attending our classes in person or on Zoom, only helps cultivate their wellness habits." - Ann-See Yeoh, TeamUp customer, My Kind of Yoga, Evolution of the Fitness Industry Summit)
Many gyms are already providing hybrid memberships that include in-person classes and an online or virtual option in parallel, but we anticipate the industry taking a step further by offering add-ons or upgrades, such as personalized training plans delivered via apps or on-demand platforms.
💡 "The hybrid idea in general is a good one for both membership and personal training. Significant revenue opportunities await for those that master the proper marketing and sales approach" - Jim Thomas
Staci Alden, Alden Fitness Solutions, uses the word 'ecosystem' "to describe digital and in-person working together to add value and customization for clients."
She also encourages fitness businesses to take stock of their digital content and build a plan:
💡 "Clients in 2023 expect virtual and in-person offerings and resources that meet them where they are and help chart a path for their success. We must assess and organize the library of digital classes and workshops we've offered since 2020. It's time to eliminate what we don't need, categorize what we keep, and build a plan for what we'd like to add that aligns with our ideal customer's needs and desires."
👉 Are you planning on organizing your digital library in 2023? Learn all about setting up and monetizing your library here.
Meaningful relationships with customers
Satisfied customers become a brand's strongest advocates, so going the extra mile to cultivate relationships with members is always worth the effort.
Going the extra mile sometimes means going deep. We subscribe to what Dan Duran, ISSA, had to say:
💡 "I would submit that most of the battle we fight when helping others improve their health and wellness is waged above the neck. We need to place more priority on understanding how to build strong relationships and the science of behavior change, including motivational interviewing, and less on the X's and O's of perfect exercise and nutrition."
Satisfied customers are excited to recommend products or services they love on social media and to family and friends. Referral programs have been around for years, and for a good reason — many consumers make purchases based on word-of-mouth recommendations.
👉 Learn more about how referral programs can help you grow your fitness business.
Word-of-mouth marketing
In 2023, it looks like referral and loyalty programs will be more prominent than ever. With fitness trends revolving around moving to feel good, it makes sense to incentivize happy customers to spread the joy.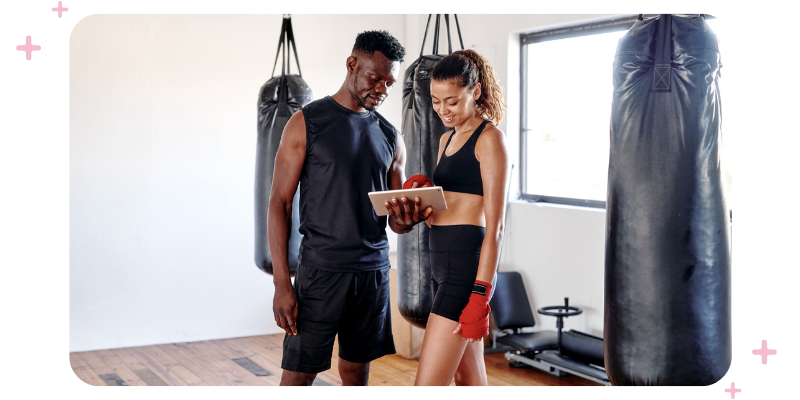 Chris Cooper ,Two Brain Business, encourages gym owners to maximize the benefits of referrals by baking them into your process:
💡 "The key to exponential growth in your gym is to have your clients bring you more clients. The number one reason gym owners don't get enough referrals is that they don't have referrals baked into their process. And because their clients aren't expecting to generate referrals, they're not expecting to be asked about their friends or family. To solve the problem, take three simple steps: At your first meeting with a client, say, 'If I do a great job and you're happy with your progress in 90 days, I'm going to ask you for the name of one other person who could benefit from this service. OK?' Then do an excellent job and get the client some results. Finally, ask for a referral at your 90-day goal review."
On the other hand, Staci Alden, thinks referral programs are tapped out and suggests focusing on experimenting with different formats:
💡 "Formal referral programs or promotions aren't nearly as successful today as they were a few years ago. People see through them as a way to serve our business, not them. Special offerings where current clients are encouraged to bring prospective clients are the way to go in 2023. Offering special events, informative workshops and immersive retreats will allow current clients and prospective clients to meet and experience various formats and instructors in a unique and powerful way."
Marisa Hoff, The Empower Group, also anticipates that referral programs are on their way out: "I don't think that is a trend for 2023 – it HAS been the case with successful operators – best loyalty program is having an amazing member experience."
❓Do you think referral programs are on the decline or are they here to stay?
Sustainable fitness habits
A more holistic approach to fitness means we're tuning into our minds and bodies to find what feels good. Quick fixes and 'no pain, no gain' are out, and it's all about finding activities and habits we enjoy.
Fitness is evolving toward a broader, less prescriptive concept. The focus is going to be on encouraging movement. Forbes talks about incorporating 'movement snacks' into our lives - "More and more studies are finding that breaking up your exercise regimen into smaller movement snacks throughout the day is not only perfectly healthy, but it can also be more beneficial than forcing yourself to do one longer workout session."
This is something we see businesses incorporating into their offerings in 2023. Enjoyable movement looks different for different people, and that opens up endless possibilities: short workouts or stretching routines that can easily be done throughout the day, common interest exercise groups (running, walking pets, hiking, cycling, etc.), walking meditation, etc.
💡 "Nearing a new year used to mean learning more about the latest and greatest fitness trends and new equipment. This is not as much of a priority in 2023. Instructors and facilities need to shift their growth and continuing education to understand what brings participants to them and what will keep them moving.

While behavior change has been a conversation in the health coach and personal trainer world in a 1:1 setting for some time, the future of group fitness will depend on instructors learning more about what makes people tick and how best to infuse these principles in the group setting. The more we can understand where our participants are coming from and build trust, the better we can serve and motivate them for longer." - Staci Alden
Group fitness and community focus
In 2022, we saw gyms become hosts for social activities and workouts. We anticipate this concept expanding in 2023, with fitness centers providing various group activities focused on building community.
As this article published in The Register-Guard explains, people who work out in a social and community-focused atmosphere experience more benefits, such as an increase in endorphins, nurturing meaningful connections and camaraderie, establishing good exercise habits, and easing anxiety.
Marisa Hoff pointed out,
"Gyms and studios becoming the core of their members social plans. This is definitely something that is happening more and more." As Marisa mentioned, we're already seeing businesses such as Third Space (after work and home) and Heimat incorporate this concept into their business model.
👉 We're passionate about building communities and fostering great relationships here at TeamUp. For more tips, see our article on how to build a fitness community.
❓The experts we spoke with also predict community and group fitness being a focal point in 2023. Do you agree? Keep reading to hear what else they had to say!
💡"Let's face it. Our clients are going to eat tacos and drink beer on their own time. So why not pair their favorite non-fitness pastimes with their favorite classes? Trying fun social events like Mother's Day Mats and Mimosas help clients get those heartwarming "these are my people" feelings." -Staci Alden

💡 "Group fitness will remain a community hub. Gym owners will need to look for niche cardio and wellness programming to compete with the many new personalised studios opening. I see circuit-style classes making a comeback as these create more social interaction. Clubs that create inclusive marketing and programming will build stronger communities." - Mel Tempest

💡 "At Fitness Marketing Agency, we are always encouraging the Fitness Business Owners we work with to create a strong community amongst their clients. Community is what will make clients 'stickier'; it is what will help you retain clients through recessions, financial instabilities, competition opening up around you, or simply preventing clients from just giving up. We believe you can build a strong community by attending events such as Fitness Marketing Agency's partner - Hyrox.

Many FMA clients have brought 10,30,50 members with them to this event, and it has been hugely successful. It is not just the event itself but everything that surrounds it. Members want to stay part of your fitness community because they have signed up for the event and now need to train for it. They get closer to other members, train harder, see better results, love the event, and then stay because they want to sign up for the next one! Hyrox is a great example because it is accessible to everyone, and in fact, many of our FMA staff will be taking part in April 2023 in London." - Ben Davis, Fitness Marketing Agency
Preventative and medical fitness
Consumers are becoming increasingly aware of the importance of physical activity on many levels, which has caused a surge in medical and preventative fitness content.
According to a recent study published in the American Journal of Preventive Medicine, "membership at a medical fitness facility was associated with a reduced risk of all-cause mortality and hospitalizations." This article by US News covers how exercising during chemotherapy may help ease the side effects and improve long-term cardiac and respiratory function.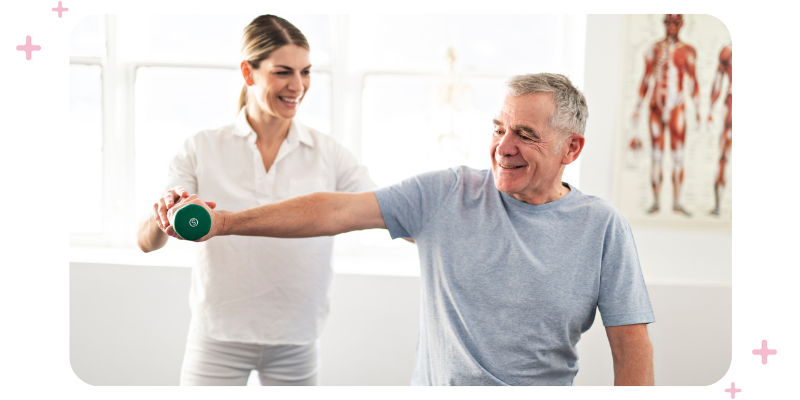 We're already seeing organizations bring this concept to life by collaborating on creating medical fitness programs. IHRSA recently reported that The Atlantic Club and Cooper Wellness Strategies teamed up to offer prevention-based and chronic disease management wellness programs and that self-care-targeted programs are available to SoulBody Fitness members.
Kathryn Mummery gave us a deeper insight into this topic. She forecasts an ongoing collaboration between group fitness instructors and medical professionals:
💡 "EMD UK research shows that 56% of group exercise instructors are interested in delivering social prescribing. As health and fitness become more aligned, there is a workforce of group exercise instructors ready and willing to assist healthcare professionals."
As consumers continue to educate themselves, we anticipate medical fitness becoming a priority for the health and fitness industry in 2023. Is there something that might help people get access now?
Lisa Dougherty (MedFit Network), sheds some light:
💡 "Consumers can find a qualified, educated fitness professional or facility for free on the MedFit Network, along with having the ability to obtain "medically necessary exercise prescriptions" through MedFit Care. With these, they can use HSA & FSA money to pay for personal fitness training as well as have the ability to include this training as a medical expense on their income tax return."
This fitness trend might look like collaborations between organizations, as mentioned above, and crowd-funded or non-profit endeavors to raise awareness and provide everyone access to preventative and medical fitness.
From functional facilities to feel-good hubs
Exercising feels amazing, but relaxing after a great workout feels even better. Over the last couple of years, we've seen a spike in at-home recovery devices, such as massage guns, foam rollers, prana mats, and electrical muscle stimulation wearables.
We envision this fitness trend making its way to the mainstream fitness industry next year: in-house massages, separate rooms where members have access to recovery devices; more stretching and mobility routines post-workout; recovery workshops, etc.
💡 "Gone are the days when marketing is driven by the facilities, from the swimming pool to the range of group classes available. Instead, we should discuss the benefits to an individual's health and wellbeing. The strategy moving forwards for our semi-rural, boutique Yoga space in the southwest of England is to become the wellbeing/feel-good hub in the area by expanding our offerings to include more seminars in collaboration with local healthcare providers and businesses." - Ann-See Yeoh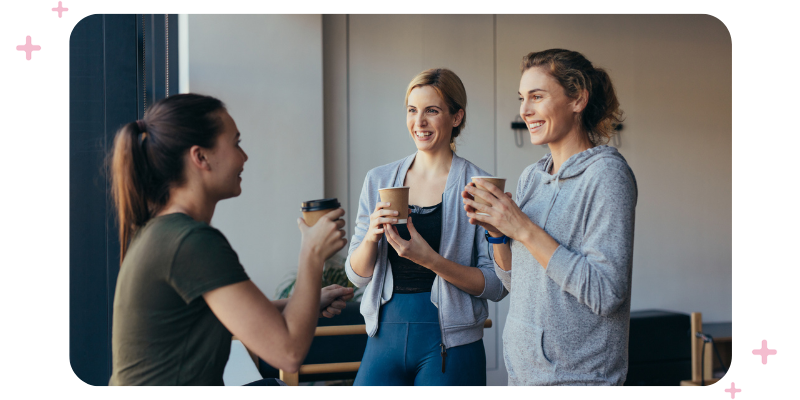 Offering a complete workout to recovery experience means clients will spend more time at fitness clubs, which can be leveraged to positively impact the bottom line. As Kathryn Mummery, there's a lot more to exercise than just the physical aspect:
💡 "I think exercise is more than just the physical and complements a lifestyle which is very much what we're seeing across other industries from tech brands to nutrition all being part of this ecosystem. Looking at boutique brands like Third Space, wellness is very much part of their aesthetic. Look at their changing rooms – they include ironing boards, hair straighteners, and hair care products. Their nutrition options from Natural Fitness Food offer high-quality nutrition choices. Other operators offer recovery sessions, with Therabody products and sports massage clinics. It's exciting to see what other wellness features operators will pick up to enhance the feel-good factor in their customer experience."
Digital detoxes
Whether we like it or not, modern living is driving society to become increasingly dependent on screens. Technology is deeply rooted in our day to day, to both our benefit and our detriment.
"Digital detox" might seem like a buzzword coined by social media, but we believe there's more to it. We all know that taking a break from our screens benefits our minds and eyesight, yet sometimes we can't stop the mindless scrolling or checking our email.
Wanting to get away from the screen but not being able to can become frustrating and, in some extreme cases, throw people into a downward spiral.
Digital overconsumption explains the increase in popularity of digital detox retreats over the last few years — from yoga and meditation retreats in beautiful secluded locations to surf camps. The variety of offerings keeps expanding and niching down as the demand grows.
As discussed in this article, the concept of fitness is shifting, and people are looking for ways to incorporate movement and self-care into their daily routines.
For the fitness industry, this could look like classes or other social activities where leaving the phone in the locker room is mandatory. However, as Jim Thomas mentioned, that may be easier said than done.
💡 "While we agree that not everyone will jump on the bandwagon, we expect to see a growing number of businesses adopt this fitness trend in 2023, making digital detoxing readily available to members."
❓Will you be encouraging members to disconnect while they work out? Are you already doing this? We'd love to hear your thoughts.
How can you leverage these fitness trends?
As we mentioned at the start of this article, most of the 2023 fitness trends stem from people simply wanting to feel good. You can implement many virtually cost-free strategies to help members feel their best.
💡 "You can't compete on the new wave of technology, gadgets, equipment, terminology, and ways to feed the public a sense of connectivity to make working out more engaging, fun, social, and accessible. Why? Because all that is accessible to everyone. You must be unique, different, and that's done through experiences. Going above and beyond will win out every time. The most successful train their clients to know they'll be hearing from them, they inform, support and invite to new opportunities and challenge them when necessary." - Josh Leve, Fitness Business Association
So, what can you do to stay ahead of the game? Here are just a few suggestions to get you started:
Review your offerings. How can you offer a more well-rounded experience for your customers? You could repackage certain memberships or create add-on or upgrade options for existing plans.
Check in with your staff. Employees are your business's first ambassadors, so building a supportive company culture plays a significant role in your business's success. Happy employees will be able to support your members even better.
Host events. As we mentioned earlier, focusing on building community is always a win in our book. Come up with a list of fun events your members might enjoy, such as group workout-social combos, gym parties, competitions, bring a friend day, etc.
Make it personal(ized). One main takeaway from all these trends is that honoring what feels good will be at the forefront of many consumers' minds. This can look very different for each person, so offering personalized programs is one of the best ways to support members on their journeys. Or, if you don't have the capacity to offer this type of service just yet, simply checking in with your regulars and showing you care can go a long way.
Join our 2023 fitness trends webinar
We'd like to invite you to join us on December 22nd 2pm to our 2023 Fitness Trends Webinar hosted by our team and special guest Staci Alden, of Alden Fitness Solutions. We'll be dive deeper into these trends and share our own thoughts. Sign up here to reserve your spot.
Parting thoughts
We're looking forward to seeing how these predictions pan out in 2023! Regardless of whether they're right or wrong, we're excited and optimistic about what the future holds for the health and fitness industry.
💡 "I am optimistic about 2023 for the global health and fitness industry because after two crushing years of pandemic-related restrictions and closures, our members—and their partners and customers—are inching closer to hitting the pre-COVID pace.

From our members and consumer surveys, we know that technology plays an increasingly vital role in linking customers and clubs, suppliers and partners. We know that boutique and studio options continue to attract new consumers to the industry and that clubs of all sizes and types are pulling in members that are more diverse than ever. At the association level, we continue to expand our advocacy and outreach in the U.S. and abroad, to position the industry as a key ally for addressing society's physical and mental health needs, and we are working hard to ensure that our educational and convention resources help arm members with the latest research and tools to face a dynamic marketplace, the challenge of energy costs and a tight labor market.

The end of 2022 brings opportunity to work and grow together, to put the pandemic behind us, and to stand proud as thought leaders for a global industry that is more popular, effective, and important, than ever before." - Liz Clark, IHRSA President and CEO
Let's keep the conversation going! To find out how TeamUp can help your fitness business grow in 2023, sign up for a free trial and schedule a call with our team.
Thanks for reading!
Open Comment Form