As we head into a new lockdown period, it's time to get your online classes back up and running. We've put together a round-up of the top tools and resources to navigate through this next month. Everything you need to offer online classes and manage memberships during the pandemic can be found in these two sections:
Whether you're looking for tips on motivating your customers to come to class or a how-to on using Zoom to give your classes, these are the top guides on managing memberships and online classes during COVID-19.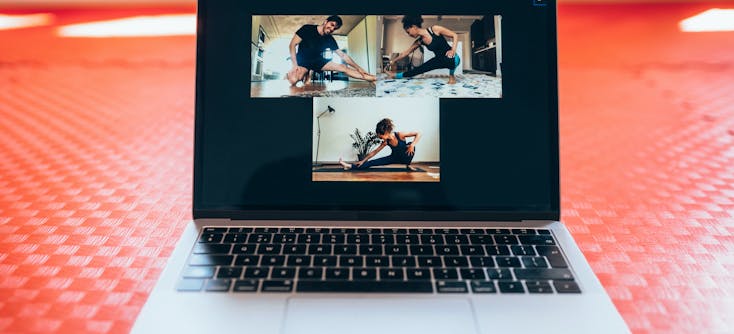 Offer online classes with Zoom
Learn how to use Zoom to give your customers classes online. In order to use TeamUp's integration with Zoom, you will first need to create a Zoom account. Once you do so you can set Zoom as an online venue within your TeamUp dashboard allowing your customers to book into your "online studio". When it's time for class, your customers will be sent a link to your Zoom meeting to join. Once they enter the meeting, their attendance will be automatically marked off. It's that easy. Get started today, by checking out our guide to taking your fitness classes online with TeamUp's new Zoom integration.
Online class FAQs
How do I run online classes? Will online classes help my fitness business? How do I get my customers to come? Find all answers to your questions about giving online classes in our guide to running online classes.
Managing your customers during COVID-19
Help your customers adapt to these new changes by checking out our guide to managing your customers during COVID-19. If your customer wants to put their membership on-hold, take classes online, get on advice from you on how to keep working out from home, this guide will give you the tools to extend a helping hand.
Teach your customers how to sign-up for class
Signing up for your online classes is just as simple as signing up for your in-person classes. Share our how-to guide for registering and attending class online with your customers so that they never miss out. They can sign up via their dashboard or member app, making it quick and easy to register.
Informing your customers about your business plans
The next step after deciding to transition to online classes is to let your customers know. Get our tips on communicating your plan of action and business plans, using our guide to keeping your customers informed during COVID-19.
Offer alternative membership packages
Encourage your customers to keep coming to class by offering alternative membership options. By creating new packages that include in-person and online classes, you can motivate your customers to still attend classes and have the option of coming back to in-person classes once your gym or studio re-opens in December.
Delivering high-quality fitness classes online
Now that you have your Zoom classes up and running, this guide will help you learn how to deliver high-quality fitness classes. Here are a few hints...choose the right space, set the lighting, and record your sessions to constantly improve.
Managing online classes with kids
Don't let having little ones at home keep you from giving and going to online fitness classes. Use this guide for tips on running smooth, professional online classes with kids at home to help you get the kiddos involved (or preoccupied) while you get your workout in. A little extra patience will go a long way in keeping your classes productive.
A business owner's perspective to online classes
If you are new to giving classes online, use the advice of one of TeamUp's customers, to help you navigate your first online class. Her report on attendance, how her customers felt, and what feedback they had to share, can help you plan ahead.
Motivate your customers to come to class online
If your customers need a little extra motivation to come to class online, use this guide to learn how the benefits, a perfect home workout environment, and checking in, can go a long way in boosting their confidence and attendance.
Ask your customers how they are feeling
If you are not quite sure how your customers are feeling about coming back to class in-person, the good news we asked them. Most said they are happy to continue with online, some even preferring it. See the full results and analysis here.
This list will be updated regularly, so be sure to check our COVID-19 tools and online classes pages weekly for new guides and articles to help you adapt over the coming weeks.