Why it's important to get pricing right
Pricing never sleeps. If you don't switch it up once in a while, you could either lose clients or accidentally leave money on the table. There are many reasons why it's important to get your pricing model right, but the main reason to price your services right is to build your services around your customers and their needs. Get it wrong and your profits will suffer. Get it right, and your customers will feel understood and loyal to your gym.
Why should you listen to us?
We built one of the leading booking, payments, and pricing gym management software systems for fitness businesses. We've worked with thousands of business owners and every day we are actively working with the best fitness businesses in the world on their pricing.
What are the benefits?
Pricing reflects so much of your business and what you offer. Get it right, and you'll have found a way to:
Balance your customers' and your bottom lines
Build membership models around your customers
Build full and engaging sessions, while controlling for capacity at peak times (without frustrating your best customers)
Understand the precise value that you offer and build marketing around it
Attract your best type of customer and deter ones that you don't want
There is more to pricing than meets the eye. Sure, you could just check out your competitors and match their pricing, but how do you know if they have got it right? Let's explore this more. First up, what are the typical types of pricing models for gyms and fitness businesses?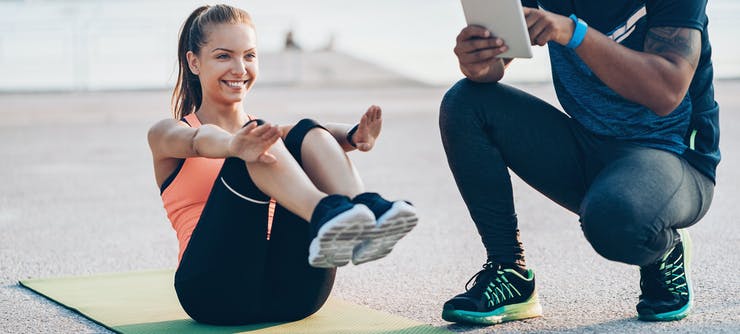 Happy clients get value from your services
What are the most common types of gym pricing?
Monthly subscriptions: The one-size-fits-all bundle
The most popular form of gym pricing is bundle pricing, where a gym delivers all its services in a one-size-fits-all package. When you think of all-inclusive monthly gym subscriptions, this is typically an example of bundle pricing. It is typically less cost-efficient than other models. However, it succeeds by selling to people who do not regularly use all the services they're entitled to. In this manner, members who use fewer gym services subsidize your regular visitors.
The businesses we love to work with do the opposite. They want customer engagement because they want a happy and motivated community that helps one another get results. The retention of those businesses is on a different scale from a budget gym.
Bundle pricing can work well for a simple community gym where there isn't a lot of difference across member activity. For the most basic 'open gym' environments this can work well, especially if the pricing is supplemented by custom PT packages.
Monthly subscriptions (optional pricing)
Optional pricing is a more personalized approach for gyms that offer extra features or have services that fit with individual needs. Rather than including everything under a certain price, clients can pay for the services they're interested in.
From experience, we've seen that just offering unlimited for a low price can actually create stress for your clients who have lower usage and participation because they feel they are wasting money by not attending. Conversely, the opposite is true for your highest attendees.
Some members like to match their activity and usage with the pricing they pay. We've seen businesses that have struggled because they price too low for the value they offer, or members who don't feel they get value because the usage allowance is too high.
The best fitness businesses base their pricing on the outcomes - a.k.a. results - that members want to achieve. It's the opposite of the big-box gym who just wants huge volume and no engagement.
Basing pricing on outcomes means that your customers are buying the end-result, rather than the process. This shifts away from commodity (i.e. "12 classes per month") towards value (i.e. "be ready for your sporting event"). After all, what's the point of the program if the 12 classes won't achieve the results they need?
Contract pricing
Contract pricing entails exaggerated versions of all the advantages and disadvantages of the traditional monthly subscription model. Businesses lock clients in for a period longer than a month, typically three months to a year, while attracting them with a bulk discount. In terms of stability and consistency, contracts are unbeatable and ensure a routine, baseline revenue flow. On the other hand, high-commitment pricing models exclude people looking for more flexibility.
For contract pricing, it's important to get the sales process right. While it can be powerful to protect revenue and cash flow by locking members in, it can also encourage negative behavior. In the end, you have to ask yourself: "Am I better off with locked-in members who are less engaged and less happy, or am I better with the pressure of delivering a great service to members who want to be here?"
Annual pricing
Annual pricing is similar to contract pricing but paid in advance. Most businesses have a few of these but they are usually offered on a custom basis. Annual pricing usually has the same rules as contract pricing, but are often for members who don't care as much about finances.
It's excellent for cashflow but also important to budget carefully to keep the lights on if you are reliant on this approach - you wouldn't want to run low on cash at the end of the year.
Pay-as-you-go pricing
Pay as you go pricing is the antithesis of the contract model. Instead of locking clients into membership for any amount of time, they pay when they show up. The total absence of commitment and absolute flexibility this model offers clients will allow you to charge more per day than other services. On the other hand, you can't necessarily count on stability from a pay-as-you-go client.
The biggest danger with a PAYG customer is no shows. If you have empty spaces in your classes then you are losing money through wasted capacity. This model works fine if you take payment in advance via a system like TeamUp. However, many businesses prefer to avoid commoditisation of their classes, and PAYG is about as commodity as you can get. What we recommend in almost all cases instead is to use class packs.
Membership packs (class packs)
Known affectionally as 'punch cards' because of the old-school system of having a card that you stamp each time you attend class, class packs can be one of the most powerful pricing models for many fitness businesses. Why? Because if you combine them with a time limit they are the best of pay-as-you-go without most of the problems associated with over- and under-using memberships. They work by selling a set of usage - for example, a 10 class pack.
Benefits of class packs:
You can take payment in advance
If a customer doesn't show, they still use credit for their class
They are easy to understand and implement
Drawbacks:
They can be difficult to keep track of without software (but really easy with a system like TeamUp)
Many businesses sell packs as open-ended which creates a 'debt' of owed classes
It's for the second reason that we highly recommend you always use a time limit with any pack. Be generous - this is a good thing. But, make sure that a client who goes away for a year doesn't come back and use up those 10 classes after your prices, costs, and customers have changed.
Some example formats:
10 classes, 3-month limit
5 classes, 1-month limit
The key is to make it realistic. If you have clients who are shift-workers, then a regular class schedule may not suit them. Allow them to use their classes when they can. Ten classes in 12 weeks, for example, are generous and flexible but also keeps members committed to getting results.
Time-based dynamic pricing
Dynamic pricing is a particularly modern approach to gym pricing. It's based on acknowledging that the demand for and value of gym usage is different at different hours. It's especially suitable for a gym that offers hands-on classes such as yoga. If your 6 PM class is overflowing and your noon class is empty, you can use dynamic pricing to drive more clients to the noon class.
This is easy to set up: you could have off-peak memberships that only allow access at particular times, or you could split memberships by class types. There are lots of possibilities.
An example of how you could do this in TeamUp is using alternate pricing.
I have two classes on the same day. Daytime and evening.

I want to charge a higher price and have 'peak' memberships for the evening slot because it's more popular.
I select the class times I want to make peak and then select the new price or membership I want to make applicable to that alternate pricing group.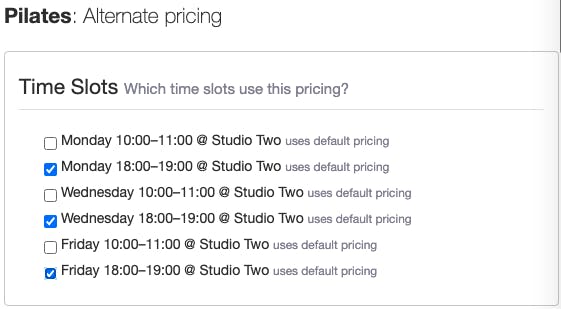 Then I can easily change the pricing for that group in the future.

What are the main factors to consider?
What are the key dimensions to bear in mind when building your pricing?
Local pricing models
If you notice that certain kinds of pricing models are especially common in your area, that's useful data. If no one uses a certain kind of pricing model, that could indicate a niche in the market waiting for you to fill it. On the other hand, it may also act as a warning that your area simply has no demand for that pricing model.
We don't recommend basing your pricing on competitors. However, you do need to understand what your customers are comparing you against. If you offer a more personal service but they see you as expensive then maybe you have a marketing challenge rather than a pricing issue.
Pricing should reflect the types of services you offer
Different pricing models are more suitable to different kinds of gyms. If you're running a standard treadmills and barbells gym, then optional pricing will be unsuitable. A gym that uses yoga classes or martial arts training as selling points will be well-suited to a combination of dynamic pricing and subscriptions. Who are you trying to attract?
What kind of client you want
If you're trying to appeal to premium members who expect a certain standard of decor or service, then pay-as-you-go wouldn't be suitable. You need long term commitment to be able to invest in your training space.
On the other hand, maybe you have a gym equipped with all the latest weight-lifting gear. In this case, your gym will be attractive to bodybuilders and passionate lifters who will be regular attendees. Since they know they'll use their subscription heavily, high-commitment and cost-efficient contracts should win them over.
What types of pricing do the most successful gyms use?
There's no easy answer to this question, for one simple reason: the most successful gyms use every model imaginable. This splits firstly into big box gyms - which have sub-groups like 'budget gyms' or 'luxury gyms'.
Planet Fitness is infamous as the king of cheap subscription pricing. In 2018, the 627,000 people with a Planet Fitness membership visited less than once a week on average. Planet Fitness effectively gains free money from many members who rarely or never use their services.
Among luxury gyms, Equinox offers a wide range of classes and additional services under an all-inclusive subscription fee. Crunch Fitness has achieved great success with optional pricing by offering tiered memberships. The approach Crunch Fitness uses is that it offers many classes, additional services, and other second services that inspire clients to upgrade. Instead of capturing many clients who don't use their services, the emphasis is upon selling many second services such as classes and training.
Other gyms such as 24 Hour Fitness achieve a happy medium by employing diverse pricing. Their members may pay on limited-term models, monthly subscriptions, or yearly contracts. In short, a gym can succeed by using any pricing model or combination of pricing models. The challenge is in choosing the right gym pricing model and strategy for your unique business.
The other type of business is a small group or independent fitness business, usually focused on PT and classes. We work mostly with the small group environment and in general, they can't be compared with big-box gyms because of the value they offer and personal attention.
Whether it's a CrossFit, yoga studio, or a pilates centre, the key difference is the closeness to their clients and the engagement. Typically an independent fitness business wants their clients there. They want to have a thriving and engaged community.
Pricing models, therefore, tend towards the usage-based models. Whether it's a monthly bundle pricing for different usages or a class pack for a more commodity-based offering. The key is that customers want to know what they are getting... and they intend to use it.
Which leading fitness businesses in the real world have got a great pricing strategy?
Reach Fitness
One of London's first and best boutique studios. They base their pricing around the needs of their members and aren't afraid to offer new options. They offer a variety of different packages to suit every type of need including a pay as you go option which is paid in advance, online, to ensure commitment to attending.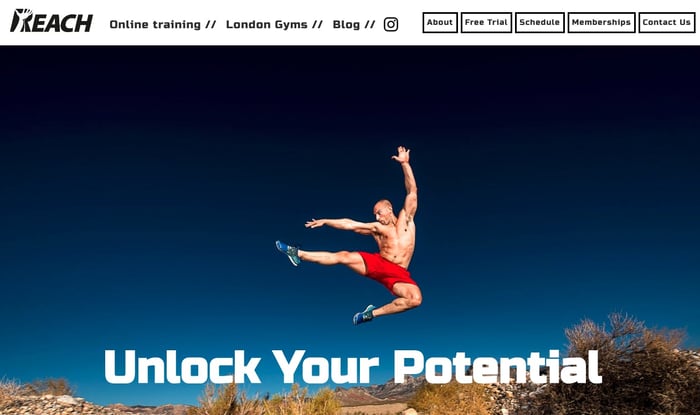 The Paleo Gym
The Paleo Gym is a leading CrossFit class provider. They offer a clear and easy to understand pricing policy. All new members start with a foundation course and then choose one of only four memberships that are linked to how many sessions they want to attend every week.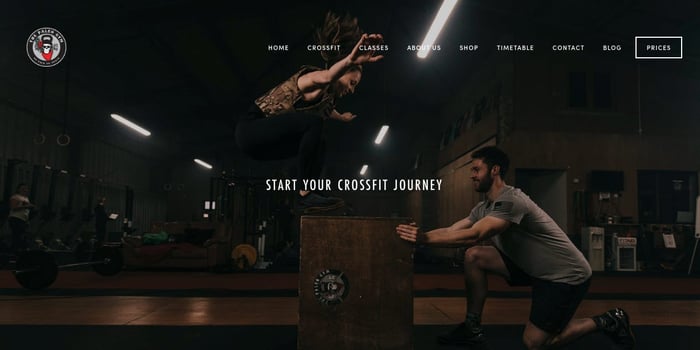 Yogalustco
Yogalustco is an inclusive and accessible studio based in the UK. They are a great example of matching your customers' needs. With yoga, it's very unusual to get long term commitment from customers, and their pricing reflects this. They have an open access drop-in price and also gently persuade customers to purchase a class pack by making them a good value option.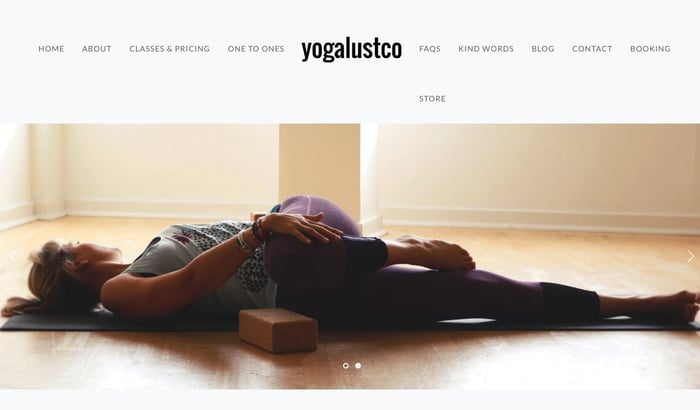 How to determine the best pricing for your gym
There are a few key factors in determining your pricing. First of all, your most important reference point is your existing customers.
Client research: know your market
It's essential that you understand your market (aka your customers). What are the local demographics, and who is most likely to come to your gym? How can you attract members of other gyms to diversify their fitness routine to include yours? Gym pricing is intertwined with the type of gym you intend to run and the type of client you expect to attract. Surveys and interviews can go a long way in informing your business decisions.
Local gym pricing: Conform or shake things up?
Most people who are in the market for a gym membership will have done some research on gyms in their area and will have a range of preconceived ideas. If you offer novel pricing models, you might have to sell prospective members on it. The advantage is that you'll distinguish yourself right away. Choosing to conform to expectations may give you an easier time with clients, but your gym will also stand out less.
Keep an open mind: Experiment and update
Above all, it's almost always necessary to experiment to find your ideal pricing structure. You should remain flexible and be willing to discard what isn't working and try something new. There's no way to be certain ahead of time what will be the best pricing model, so be ready to experiment and follow your customers' lead.
Many large gyms that employ bundle pricing will deliberately under-value their services, betting on attracting people who will not visit the gym frequently. This clever strategy entails non-users subsidizing clients who go to the gym more regularly.
How does TeamUp help with pricing?
TeamUp has lots of features to help you with pricing.
Setting up a payment plan with all the options and flexibility you need - weekly or monthly, any time periods you want. Also, decide on things like cancellation notice.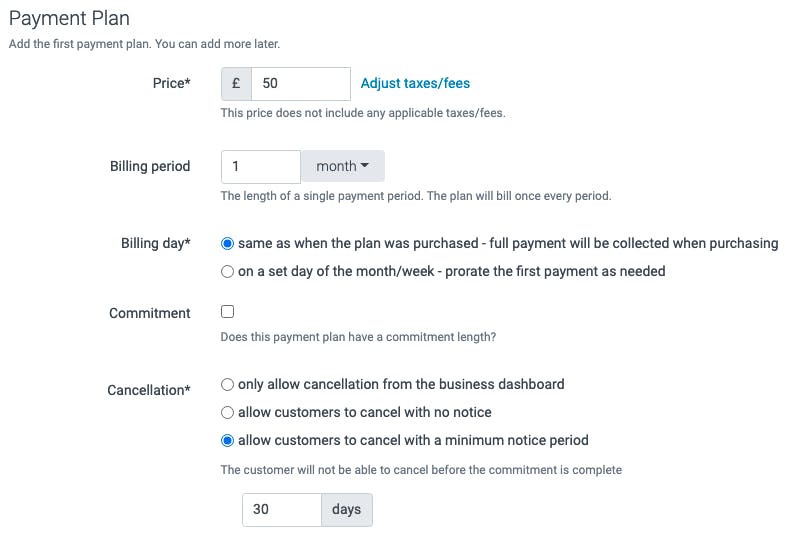 Easily adjust the current price of a membership.

And use our repricing tool to adjust existing members' prices - or just leave the new price for new members.

Changing a price is easy with TeamUp's repricing tool.
This is a very powerful approach because it leaves existing members "grandfathered" into their original price. Another reason to stick with their membership is that otherwise when they decide to come back, they will have to pay the new price.
How will I know when I've got pricing right?
The simple answer is that your member feedback will guide you. Ask your members how you are doing periodically using a survey tool and you will get vital information about your service and pricing.
Here are some comments from TeamUp customers recently about our own pricing structure:
Your friendly quick customer service wins me over the most, you always are trying to make TeamUp better and you listen to your customers' feedback. You get back to emails promptly and find solutions for me. Your pricing is fair too and the software covers a lot of my needs.
The system is v powerful and it has a great CRM element. Since going with TeamUp my sales from new clients increased because it made it easier for them. The pricing structure is fair and I really appreciate it.
It has everything to service a fitness business, membership payments and class bookings affordable pricing structure based on your membership numbers with great support.
To find out more about how TeamUp can help you with pricing and memberships sign up for a free trial.