Having booking software not only makes it easy for your customers to pay and register for your classes in advance. It also provides you with a quick and secure way to collect necessary customer health and safety information using forms, waivers, and Physical Activity Readiness Questionnaires (ParQ). While requiring new customers to provide fitness trainers and coaches with important details including fitness health history prior to registering for a new class or purchasing a new membership, without software, this vital step can get overlooked or forgotten about. Especially if all paperwork is collected physically and at the start of class.
To help fitness business owners understand the importance of collecting ParQs from their customers we have created this FAQ guide to answer all of your questions regarding what exactly a ParQ is, why they protect both you and your customers, and how to send them to new customers through your software.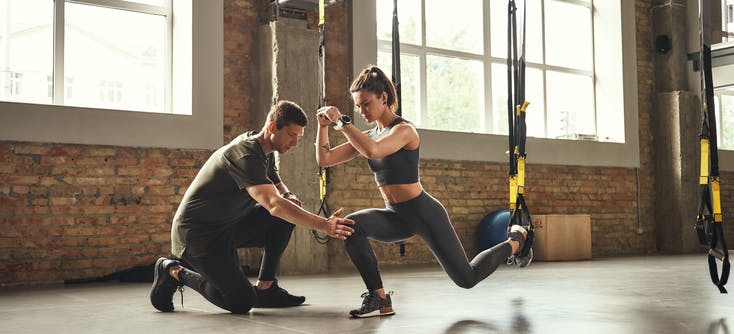 What is a PAR-Q form?
Similar to any other standard questionnaire a ParQ is UK gyms, studios, health clubs and personal training businesses' preferred method for assessing the risk of exercise based on a customer's provided health and safety information. Fitness businesses use this specific type of form to confirm that prior to signing up for a membership or registering for a class the customer is in good health and is able to participate in the classes and programming without any pre-existing health concerns or issues that could lead to risk or injury.
Importance of collecting customer data: workplace health and safety
Even if there are no issues to be concerned about, gym and studio owners and personal trainers can use the information that the customers provide to make recommendations and suggestions for their health and fitness journeys. The forms can also help you assess any safety changes or updates in your facility or workplace. If there are health concerns that the customer has specified, you can recommend your client seeks a doctor's or general practitioner's approval or advice before exercising or to confirm that physical activity will not worsen the issue or condition.
Why do I need to provide my customers with ParQs?
As a fitness trainer or coach, it is your responsibility to ensure the health and safety of your customers while training and exercising with you. Having a strong awareness of their fitness and health history will not only protect them from a sudden risk, accident, or injury, but it will protect you and your business as well. Your business is liable for any injuries caused while in a class or at your facility and if you did not have prior knowledge of a customer's condition because you did not seek or require that a customer provide you with that information in advance, then your business is now at risk for a potential lawsuit or legal issue should accident or injury to your customer occur. It is not only smarter for your business, but safer for both you and your customer to collect, review and analyze, and discuss the information your customers provides you with prior to giving health and fitness advice and exercise.
What does a ParQ form include?
The form itself requires a self-screening meaning that the customer filling out the form will responsible for answering honestly and will not be required to have a doctor or general practitioner sign the form before submitting it to the fitness trainer or facility. Essentially it is all the customer information required by a fitness instructor regarding the most prevalent health and safety concerns. Each question is designed to uncover any underlying issues that could arise during or as a result of exercise, for example, a heart attack or other sudden unforeseen cardiac event.
All ParQ forms include seven 'yes or no' questions which make it very quick and easy for your customers to answer and submit during their membership purchase or class registration process. The following questions are included in the form:
Has your doctor ever said that you have a heart condition OR high blood pressure?
Do you feel pain in your chest at rest, during your daily activities of living, OR when you do physical activity?
Do you lose your balance because of dizziness, or have you lost consciousness in the last 12 months?
Have you ever been diagnosed with another chronic medical condition (other than heart disease or high blood pressure)?
Are you currently taking prescribed medications for a chronic medical condition?
Do you currently have (or have had within the past 12 months) a bone, joint, or soft tissues (muscle ligament, or tendon) problem that could be made worse by becoming more physically active?
Has your doctor ever said that you should only do medically supervised physical activity?
If answered 'yes' to questions 4, 5, and 6, you can send additional follow up questions to further assess the severity of the past or current conditions.
This questionnaire has been adopted directly from the American College of Sports Medicine (ACSM) Standards and Guidelines for Health and Fitness Facilities 2020 ParQ+ library.
How can my management software help me collect ParQs from my customers?
When a customer books a class for the first time or purchases a new membership plan, they are prompted to fill out their customer details and any forms, waivers, or policies you have set as mandatory to sign or fill out before moving forward. With the help of software, you won't have to manually print and have your customers sign in person before class or waste class time going around and collecting forms from each of your customers. You'll both know that by booking and arriving at class they will have needed to sign the form in order to register. Your software will also store each of the signed forms and update your customers to re-sign if you need to make any changes or edits to the form in the future or if you want them to update the information they provided. This automated process will save you time while still getting you the very important information you need from your customers.
How can I send my customers a ParQ form using my TeamUp software?
To create and send a ParQ form to your customers you'll first enter your dashboard and select the forms/documents tab on the left-hand side. Once you select that tab you will be re-directed to your current customer forms.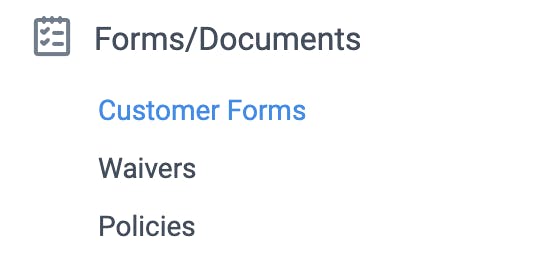 If you are creating a brand new ParQ form you will select the green add a form button on the right-hand side under pre-registration/pre-purchase forms.

Once you select to add a new form you will first be taken to the page to provide your form with a name and select the requirements in which need to be applied to fill out this form, for example, required for all registrations and all memberships. Once a customer fills out this form once they will not be required to fill it out again unless you select for customers to update this form after a certain period of time, for example, a year.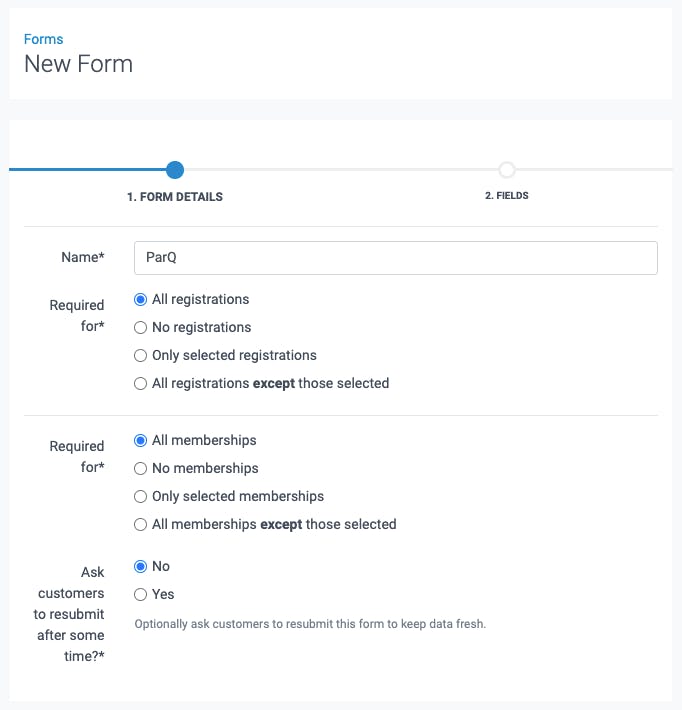 Once you complete the steps on the first page you will click next and begin adding the fields of the form. If you have ever sent your customers a safety form in the past with any of the ParQ questions you can add them to the form from the pre-existing field or select the green button to create a new field. With each new field, you will select the type as 'Yes or no' and require an explanation if answered 'yes'.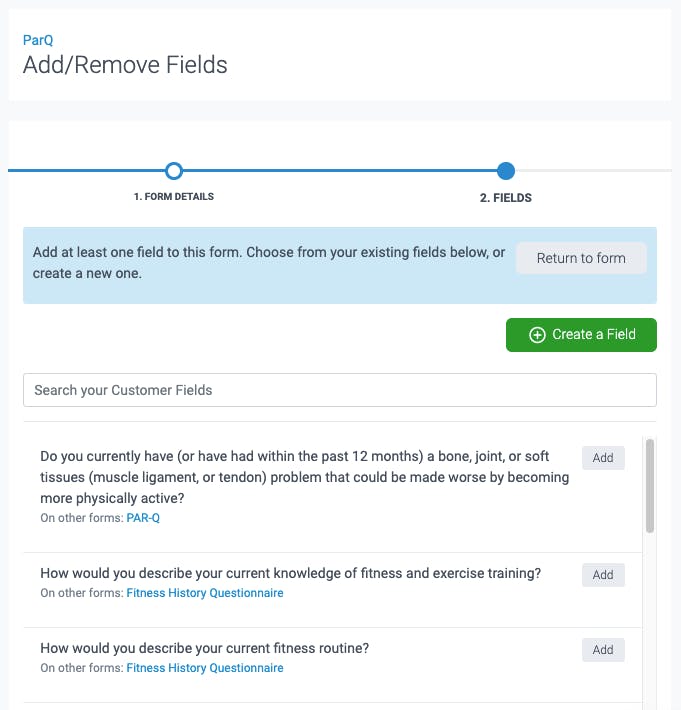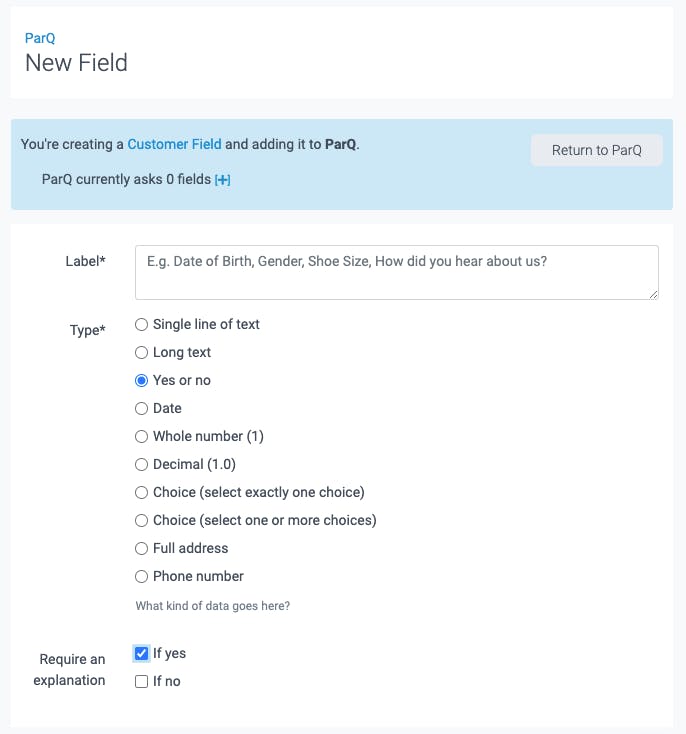 Next, you will select who has access to view this information and what form this new field pertains to. When editing or creating a form, the box will auto check, but be sure it is the correct form.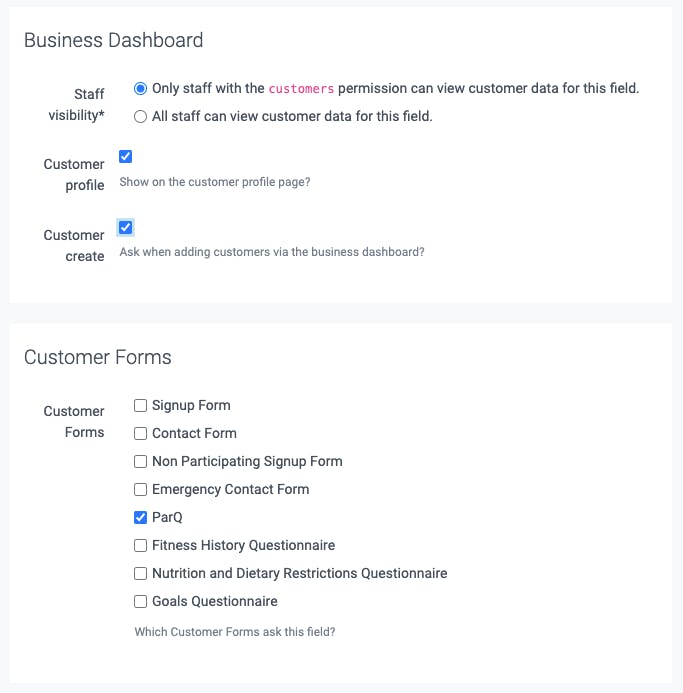 Once all the questions have been created you will return to the ParQ form and you'll find all the added fields under the form. The next time a customer signs up for a class or makes a purchase, they will be prompted to sign this mandatory form before they are able to move forward.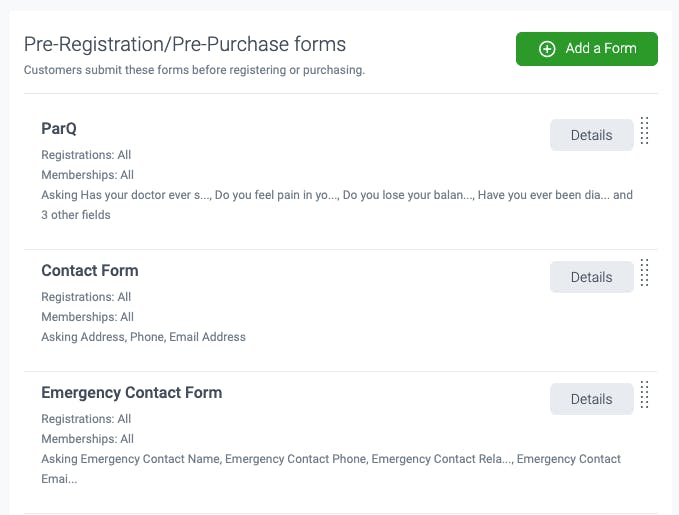 How is a ParQ different from another safety form or waiver?
While you have the option to customise any form or safety waiver and add any other questions you would like to be answered, these are the seven questions created and standardised by the British Columbia Ministry of Health and the Multidisciplinary Board on Exercise and has been adopted by national fitness organisations worldwide.
What if a customer is uncomfortable discussing their health and fitness history with me?
Discussing past or current health issues or concerns can be an uncomfortable topic and your customer may feel uneasy disclosing this information before developing a relationship with you as their personal trainer. Do your best to encourage your customers and ensure them that by giving you this very important information you can provide them with both a better and safer experience, avoiding any physical hazard under your training and care.
Without this information, you are at risk of giving them advice they should not follow and thus could result in an injury or sudden risk. Remind your customers on your website or in any materials you send to them prior to signing up that all the information you collect is completely confidential and that they do not have to worry about your sharing this information with any other person beyond yourself or your coaching staff.
To begin automatically sending your customers a compulsory ParQ form before signing up for a new class or purchasing a new membership, sign in to your dashboard or sign up for TeamUp's free trial of our personal training software.
Frequently Asked Questions
What is a PAR-Q?
A PAR-Q is a physical activity readiness questionnaire that helps determine if someone is healthy and fit enough to participate in physical activity.
What does a PAR-Q include?
The PAR-Q includes seven questions about an individual's health history and physical condition. It is important to note that the PAR-Q is not a medical exam but a screening tool to help you decide if someone should see a doctor before beginning or continuing an exercise program.
Why do clients need to complete a PAR-Q?
Clients need to complete a PAR-Q to help you assess if they are physically healthy and fit enough to participate in strenuous activity.
Where can I get a Par-Q form?
The Par-Q form is available for download on the website.
Open Comment Form