The fitness industry has seen a major increase in the number of individuals who want to become personal trainers. Not only does the opportunity to help people focus and progress in their fitness journeys attract many of these eager fitness enthusiasts, but it also helps that as a personal trainer you have the flexibility to run your own business, progress in your own fitness journey, and make a decent income doing so. Being a PT is one of the most satisfying and rewarding career paths and it's no surprise that more and more people want to experience the many benefits of running their own fitness business.
If you too, want to become a personal trainer and embark on an exciting new journey, there are a few processes you need to complete before racing to your local fitness centre to start looking for clients to train.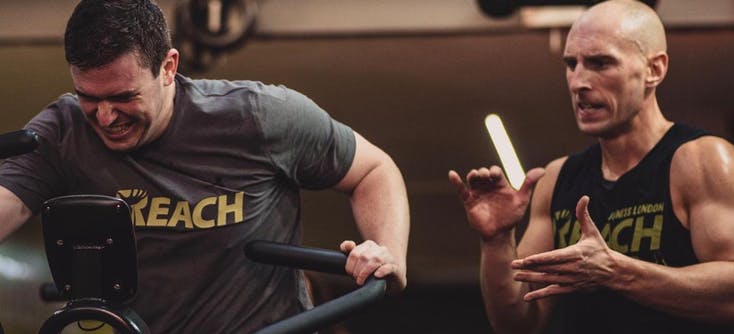 Photo Credit: Reach Fitness Gym
Personal training qualifications
For many fitness professionals, one major draw to becoming a PT is not being required to have a university or college degree. However, that does not mean that you do not need an education. First and foremost the minimum education required to become a PT is a high school diploma or GED. You will need to have one of the two in order to proceed.
Fitness certifications and accreditations
Along with your degree, you will also need to have several medical and personal training qualifications before offering your services to clients. These fitness certifications ensure that you are equipped to train people and have the knowledge and tools to do so. They will also help you prepare for the PT exams and responsibilities you'll have to your clients once you begin your career.
Getting your CPR AED certification
As a PT, the health and wellness of your clients is your responsibility while you are training. Thus you need to be certified in cardiopulmonary resuscitation (CPR) and automated external defibrillator (AED). You can sign up to programs to receive these certifications through several different nationally recognised personal training organisations including, FiTOUR, ASFA, NFPT, NASM, ACSM, ACE, ISSA (in the US), CIMSPA (in the UK) or directly through your local Red Cross. In these programs, they will also teach you how to respond and react when one of your clients is undergoing a medical emergency, having trouble breathing, or needs medical attention.
Personal trainer certification course
Once you have completed your CPR and AED certifications you will need to take a complete certified PT course from any one of the personal trainer certification programs recognised and accredited by the National Commission for Certifying Agencies (NCCA), and the European Register of Exercise Professionals (EREPs) if you are in Europe. As the national third-party agencies responsible for setting the standards for health and wellbeing in the fitness sector, your certification will need to come from one of the programs the NCCA (or CIMSPA for the UK) approves of.
After you have chosen a certification program, they can help you decide what type of PT you would like to become and are most suited for. Perhaps you want to focus on one to one training and private sessions, or you'd like to teach group classes and work in a fitness facility. These programs can help you decide, as well as help you develop your skill sets, professional goals, and prepare for the required certified personal trainer exam.
Certified personal trainer exam
After you have completed your program and received your personal trainer certification with an organisation recognised by the NCCA, the next step to becoming a personal fitness instructor is to pass the CPT exam, a must for certified personal trainers. The exams are specific to each program, so if you sign up for a program, know that you will take their test to earn your certification.
Pre-exam: candidates basic requirements
In each exam, the organisation will assess your competence, prerequisites, and abilities. You will be required to show proof of being 18 years old at the time of registration, your high school diploma or GED, your CPR and AED certificates, as well as a government-issued photo ID with signature, application and fee (if your program did not include this already).
Post-exam
Once you have completed your PT certification exam (AND PASSED!) you will receive an official personal training certification letter and card and officially be qualified to work in any fitness setting. Each program has specific requirements for maintaining your certification, so be sure to check with your program what these are in order to ensure your license is valid.
FAPTQs: frequently asked PT questions
Find the answers to any of the questions you might still have about becoming a personal trainer:
How long does it take to become a personal trainer?
If you have all the medical certifications and requirements fulfilled, the length of time it takes to become a PT is dependent on the course. Some programs can take a few weeks or months, some can take a year if you are not able to fulfil all the course requirements within the period of time set.
How much do certification programs cost?
On average a personal training program can cost between $1,000-$3,000 depending on the program and the requirements of the program. There are several programs that offer cost-effective solutions for new personal trainers and programs that land slightly cheaper, but typically a program will lie within that margin. While the price isn't necessarily indicative of the quality, we strongly suggest referring back to make the NCCA recommended list to ensure the program you are interested in is listed there, and typically free courses do not appear.
How much does a personal trainer earn?
The amount in which you earn as a PT varies depending on the type of facility you work for, the business you manage or own, type of fitness, number of clients, and location. Typically a PT can earn anywhere $15,000-$1,000,000 a year at minimum, but again it highly varies depending on the circumstances and opportunity.
How do I find clients once I am a certified PT?
After you pass your exam, there are many marketing tools that can help you find clients, as well as word of mouth, social media, and doing local marketing outreach. In our guide to finding your ideal client here, you can see how many personal trainers and coaches have successfully grown their businesses and found the right clients for their business.
Do you have another question we could help you answer? Drop us a line at marketing@goteamup.com and we'll help you out!
Starting your career - where do I begin once I am certified?
There are many directions a new PT can go down once they get started:
Working as a fitness instructor in a gym or studio
Building client lists and training individuals within or outside of fitness facilities
Independently launching their own personal training business outside of a fitness facility
It's up to you to decide where you want to start out. Perhaps you already have a decent number of people interested in training with you. Perhaps you want to launch your business and start an LLC. Perhaps your local gym has an open position you'd be perfect for. Whatever you decide, know that you are now responsible for the individuals you train and that this exciting journey has many opportunities for you to take advantage of.
Want to learn more?
We have several resources for personal trainers on the best ways to run their businesses as well as the TeamUp tools and features that can help:
Still not quite sure if running a PT business or a career as a personal trainer is right for you? Give our article on the benefits of personal training for you and your clients a read, and we're sure you'll want to get started ASAP.
Once you're ready to take the steps to become a personal trainer you can also learn more about starting your own personal training business and how to set yourself up for success.
Are you already a PT and are looking to overcome the obstacles and challenges of running your business without software? You're not alone. Check out our guide on the easy to use, reliable management software tools and features that can help you run your business exactly how you want.
Learn from the best of the best. See what several personal trainers and group PTs have said about how using TeamUp's PT software helps them run their businesses.
Interested in learning about what TeamUp's personal training software can do for you and your business? Check out our PT tools and features and sign up for a free trial. We'll show you how easy it is to run your business with the right software on your side.
Thanks for reading!
Open Comment Form