When 2021 rolled around, the state of play for gyms, studios and the rest of the fitness industry was still uncertain. However, thanks to a number of advances in technology including online class integrations, on-demand content, content hosting, and the determination of fitness owners to provide a meaningful service to their clients and members there was a bright light at the end of the tunnel. By summer, gyms and studios re-opened without any looming lockdowns and customers were able to return to their favourite venues to return to in-person fitness.
The start of a new year is a popular time to assess the previous year and see where we're at now, which results in the prediction of emerging fitness trends. In 2021 we saw an increase in live streaming and online classes, along with more equipment-less workouts, and even celebrities investing in fitness through apps and branding. We take you through some of the biggest trends we expect to see in the fitness industry in 2022, from the importance of mental health to the social aspects of exercise, and everything in between.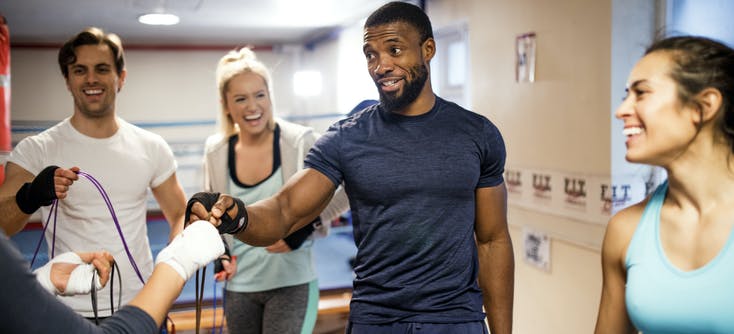 1. Fitness consumers will opt for small group personal training versus a commercial gym
18 months of lockdowns and isolation made it difficult for many to keep up with their rigorous fitness and exercise routines. While online classes and on-demand content helped members and clients stay accountable at home and exercise, this was a change and fitness consumers didn't want their aims to fall by the wayside or lose momentum on their goals. It's not surprising that more independent methods of keeping fit alongside boutique-style fitness studios grew in popularity over this time period.
These smaller and more personable gyms and studios give clients the opportunity to create a bespoke training program with a personal trainer as opposed to larger, commercial gyms where a member is largely left to their own devices. Additionally, smaller gyms can offer small group PT. These classes of two to 10 members mean instructors can give more one to one time to clients than bigger gyms with larger class sizes, but it also makes it easier for members to create a rapport while working out together.
2. Fitness studios are becoming the centre of socialisation
Now more than ever, camaraderie in the context of fitness is preferred. People want to get back to socialising and that means gyms, studios, and fitness centres are becoming important hosts to social activities as well as the venue of a workout. Members are encouraging their friends and families to come back to classes and sessions with them. Building a sense of unity along with a higher level of trust and comfort during an activity such as fitness makes it more likely that clients will continue to come to class.
"I think people are more compliant when they're both doing something together because they are on the same journey and same thinking around the same stuff. The support is generally better." - Nick Wardle owner of Body Transformation Centre
Find out about the important role health and fitness will play for fitness consumers' mental health
3. Mental health is being talked about more than ever and it's creating a divide
But not in the way you think. A lot of media outlets have really pushed the idea that consumers' mental health has suffered greatly over the last almost two years. While they tell their readers and followers to be hopeful, they can still create a sense of worry in people about their mental health, and that isn't helpful for anyone. Fitness businesses can support their clients and members with encouragement and offer them the motivation they need to get back into their fitness regimes. Offering more one to one time and opening up availability for clients offers them support, making their gyms and studios as much about mental health as physical health. Fitness centres can create communities or a hub to help and support their clients, and the more they are able to show it and show proof of what they are doing to boost mental and physical health the better.
4. People are hesitant but hybrid is here to stay
Online classes and on-demand content were perfect solutions for fitness businesses to continue operating throughout lockdowns. It also gave their clients some semblance of normality and a routine. And although lockdowns have ended, that doesn't mean online mediums are no longer needed. Online classes give fitness business owners a great opportunity to increase their class sizes by offering hybrid classes. Teaching an in-person class while live-streaming means that more clients can sign up and join in. Online classes also give instructors the chance to reach clients further afield by marketing classes to fitness consumers outside of their local area.
On-demand content will also continue to be a big feature for fitness businesses. For members who can't make a session, having the option to do the class at a time that suits them is a huge perk of paying for a membership. It's not just a benefit of signing up for a membership. It helps clients save money by taking away the need to sign up for multiple fitness memberships.
5. Customers have gotten used to working out alone
Working out alone and using apps and aids such as Peloton, Mirror, and Apple watches became par for the course throughout the pandemic. That was a great reason for gyms, studios, and fitness centres to get online classes set up and to offer on-demand content. But clients are now used to taking ownership of their workout regimes from the comfort of their living rooms or enjoying exercise in the fresh air in their back gardens. The onus is now on gyms, studios, and personal trainers to offer an incentive of some kind to get those new homebodies back through the doors of their old exercise spaces.
6. We're sick of being stuck inside
It's never a bad idea to mix things up and vary the location of your classes and sessions as it is. The fact that many fitness consumers now want more time outdoors is an added bonus on that front. Offering classes outdoors not only gives people the fresh air they're craving, but it also helps stick to social distancing guidelines. The outdoors represents safety along with more freedom. Another added bonus that online classes and on-demand offer both you and your clients is that they can still get their workouts in when travelling. Whether they're getting some sea air or exploring the mountains, members can take their favourite fitness instructor with them.
Taking your sessions and classes outdoors even offers scope for more clients during in-person training sessions. Indoor classes limit the number of clients who can attend a session, and while trainers and instructors don't want to overextend themselves, social distancing can put a limit on your class sizes depending on the size of your space. Outdoor classes open the door to increasing the number you can accept to your classes.
Keep reading to find out why members and clients will prefer shorter workouts in 2022
7. Time is of the essence and clients are more aware of that than ever
Fitness consumers have seen that shorter but more intense workouts can offer them similar results to the more traditional methods of fitness. Giving them short and efficient workouts such as HIIT and programs including F45 and timed 20-30 minute Tabatas will be a good way of encouraging people back to class, especially for those with busy work schedules and home lives. Normality is starting to return which means a return to normal work schedules, school runs, and the plethora of responsibilities consumers have.
8. Fitness customers are hyper-aware of safety
Hygiene is and will continue to be a huge influence on fitness consumers returning to gyms and studios. Make sure that you have proof that you've followed all the relevant health and safety regulations set out by local authorities. Letting people see you wipe down and disinfect workout spaces and equipment after each session will give them peace of mind. Also ensuring that clients and members have access to hand sanitiser and disinfectant spray after handling equipment is something that will definitely be here to stay.
9. Making customers feel like it's custom for them - a holistic approach
A more holistic approach means a more tailored approach. Fitness consumers don't want to be lumped together in one category. Everyone has their own needs nutritionally and physically. Working with your members to build a program that fits them gives clients a sense of taking control over their own well-being. By letting them feel as though they have helped create a workout program and that they are allowed healthy options of the foods they love fosters a feeling of trust with their fitness instructor. It tells them their needs are the priority. Use this time to get to know your customers again and how they have changed. It's an opportunity to provide a better service, not the same service.
10. Putting restrictions on people are going to scare them away
You don't just want to retain your current crop of clients. You want to welcome new faces through the door and say a hearty "Welcome back!" to any returning members. By having too many rules and restrictions, fitness businesses will put people off. Gyms and studios of course need a set of rules and policies. Keep the proper restrictions but don't go overboard and let our customers know how they can help you keep your space safe. But altering long term memberships to allow for revision or recurring memberships without a contract offers flexibility for a customer to make the best decisions for them.
The upcoming year at a glance
After an unpredictable almost two years, things are calming down. We're seeing a return to some semblance of normality, and that's great for the fitness industry. People want to go back to classes, they want to get back to their old routines, and they want to set themselves new fitness goals. But there are certain things that have changed seemingly for the long term.
Using online mediums to deliver sessions is still popular, and will more than likely increase in demand. We'll also see more fitness consumers looking for outdoor classes and sessions, while those who go back to indoor classes more regularly will be expecting to see a high level of safety and hygiene before and after classes.
This is no bad thing though. It's a chance for fitness businesses to adapt to a new, exciting trend that will help trainers and instructors to grow their businesses.
To find out how TeamUp can help your fitness business grow in 2022, sign up for a free trial and schedule a call with our team.
Thanks for reading!
Open Comment Form