Hotpod Yoga has developed a successful business with a very modern approach to yoga. The company aims to make yoga accessible to anyone and provides hot yoga classes in its own inflatable, heated studios, which it can locate in any free space.
Hotpod has also built a fitness franchise operation that helps instructors and entrepreneurs who are passionate about yoga to build their own businesses. As managing director and co-founder Max Henderson explains, franchisees can draw on the experience Hotpod has gained to get their business off to a fast start and avoid the mistakes many start-ups encounter.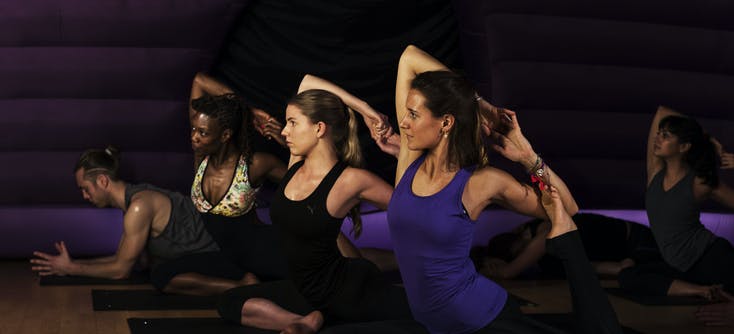 He also points out that, to be successful, franchisees must be clear about what they want to achieve and remember they are responsible for running a business, not just offering yoga classes. They must be prepared for pressure and understand all sides of the business.
For people with those characteristics, franchising can be a great choice. They have the opportunity to teach great yoga and earn good rewards that have already provided others in the business with a six-figure income.
We interviewed Max recently to understand the driving factors behind success, and what the key benefits of this type of franchise are for a yoga instructor looking to start their own business.
The Hotpod approach
Hotpod runs hot yoga classes of up to 20 people, either in their own studios or by taking the inflatable pods to company sites or other locations. The pods can pop up in 15 minutes in any free space. The hour-long lessons combine a thorough aerobic and cardiovascular workout with elements of meditation and relaxation. 37°c heat warms the muscles and aids flexibility, as well as making the heart work harder, enabling a satisfying workout for all ages and abilities.
This is an incredibly versatile business format, enabling a true studio experience in any location.

Why become a yoga franchise?
Max Henderson believes that franchising is an effective and low-risk way to start a yoga business, rather than going it alone. "Successful franchising works on the basis that a strong brand will attract customers. You will always see a queue of people outside the latest McDonalds because everybody knows the brand."
But, there is more to franchising than just a strong brand. A newcomer has access to the experience, market knowledge, operational and business skills that the franchise owner has built up. Without that level of support to draw on, it can be difficult to get a new business up and running.
Franchising provides valuable opportunities for instructors who want to own their own yoga business. They may have great teaching skills but relatively little business experience. Franchising gives them a proven formula for success, high levels of support and minimal risk.
A balanced approach to franchising
A yoga franchise appeals to two types of people, according to Max. "Some are instructors and just want to carry on teaching. We meet others who don't instruct but have strong management ability and a passion for yoga. It's rare to find someone who can combine all those talents. We allow people to focus on what they are good at and we do the other bit that they might not be good at." Reducing the risk
Max Henderson believes that helping new businesses avoid mistakes is one of the most important services a fitness franchise operator can offer. "Most new businesses make mistakes in the early stages and it can be costly. That puts people off because it means putting money into something with no guarantee of getting it right."
"A lot of the value we can bring is the fact that we made lots of mistakes along the way. Now, we can share that learning with whoever comes on board. Helping people avoid mistakes isn't glamorous but it's very valuable to them."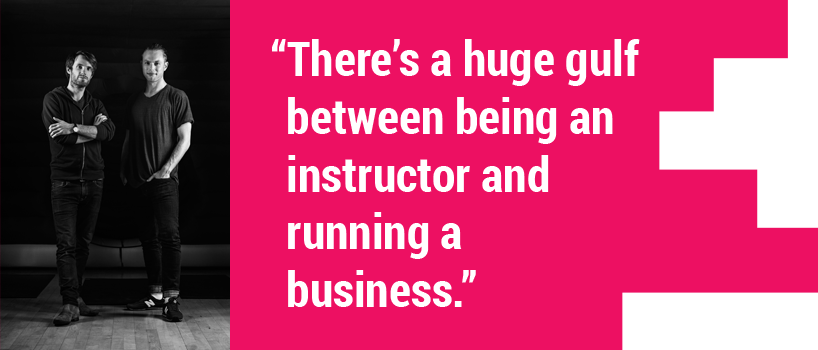 Top success factors in franchising
Remember it's a business
When you run your own business, you don't just teach the yoga classes. You have to market yourself, be your own human resources department and manage your own finances. That's a big skill set, so it's important to understand what it takes to succeed when you start a yoga franchise.
Be clear about what you want to achieve
"Before you approach franchising, consider what you want to achieve. Do you just want to teach great yoga? If you do, you would need to bring in other people to run the business."
"You have to understand what your take on yoga is. How does it fit into your life and other people's? We believe it's essential to make yoga very accessible, boil it down to simple principles and attract people who have never done it before. You have to feel empathy with others and be true to yourself."
Be prepared for pressure
"The third factor is ambition and culture. To someone not in the business, it looks very relaxing, very chilled out to be an instructor. But, there's a huge gulf between being an instructor and running a business. The market is competitive and you have to be constantly pushing forward. You need resilience, serious motivation and being able to push yourself. Because of the pressure, you could end up hating what you do."
Understand all sides of the business
"The biggest pitfall is not to understand both sides of the business — instruction and business. If you have a partner, understand each other's roles. If not, you have conflicting decision making that doesn't take all factors into account. It helps to share the load and have someone to take the other decisions."
Take the next step
"A yoga franchise with a team like Hotpod is a good opportunity for someone who agrees with our approach and is happy working with the idea of really accessible yoga," says Max Henderson. "It suits someone who wants to start their own yoga business but doesn't want to go it alone and wants some flexibility, support and experience behind them."
"We've got franchisees who were earning £12,000 a year as instructors. Now they are earning not far off £100,000 a year as a franchisee. If that's the sort of ambition you've got in mind and you can align with the culture, then I think franchising is a great opportunity for you."
To enquire about franchising opportunities with Hotpod Yoga visit their page here.
To learn more about franchising your gym or studio with TeamUp, schedule a call with one of our team today for a free demo.
Thanks for reading!
Open Comment Form