As you start welcoming customers back to your facility, you might be considering scaling back your online classes. Between in-person classes and on-demand content, your bases are covered and your customers have options to choose from...right?
While removing or reducing online classes from your offering might seem like a typical next step post-lockdown, remember that online classes were successful and beneficial for many more reasons beyond being an alternative when your facility was closed. Whether you welcomed new customers during lockdown who otherwise would not have been able to come to your in-person classes or were able to expand your offering and introduce new skills and sessions that attracted more clientele, you most definitely don't want to lose them by removing a staple online service.
Rather than having to decide what to cut back on or how to juggle it all, we have an idea on how to keep your online classes alive without adding more to your plate...Live-streaming your in-person classes online!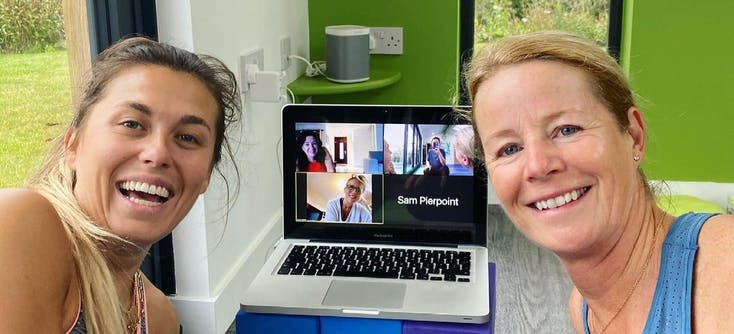 Photo Credit: Balance the Countryside Gym
The benefits of live-streaming your classes
If you're unfamiliar with this service, live-streaming is the process of broadcasting your in-person classes online. Using the Zoom integration, you can also schedule an online class for the same time as your in-person class, giving your customers a choice of how to attend. Your customers who register for the in-studio option will attend in-person and the ones who select the online option will attend the same exact class but watch it online. This allows you to offer an in-person and online option to your customers who prefer one over the other or have circumstances that don't allow them to attend in-person classes.
Live-streaming offers many benefits both for you and your customers, on top of giving everyone a chance to come to class. Here are some of the top reasons you should continue to offer online classes via live-stream:
Customers who live far away can still attend
This is the perfect solution for all of the customers you gained during lockdown who live in faraway locations and can't ever come to in-person classes. Whether you have friends who live in another country that became members or you were able to attract some new customers through your target marketing and social media, if you want to keep those customers and their memberships you have to find a way to continue offering them your services. Live-streaming can save you time and bring those customers into your local community. They can also experience what taking an in-person group class with you would be like because they can see it on the screen.
Time and energy saver
The in-person, online, and on-demand workload when run separately can add up especially if you are doing it all yourself. Live-streaming your in-person classes online is a great way to cross off two things at once without sacrificing the quality of your services and content. Rather than doubling up your scheduling and adding more than you can handle, you can now give the same value to both groups of customers at the same time through two different formats. Your members in person can help motivate you and boost your energy to deliver an even more active and engaging class to your customers at home.
More people can attend even with smaller class sizes
If you were worried that having to adjust your class sizes due to social distancing was going to affect your business, live-streaming can help. By offering your customers the option to attend online not only might some of your customers prefer it, but now if a class fills up and they can't get a spot, this no longer means they miss out on class altogether. Giving a select number of spaces in the in-studio class and offering unlimited spaces for customers at home means everyone has the ability to take advantage of their membership and have options. You can even create specific memberships that provide each customer with options to attend both in-person and online classes.
A boost in revenue and a way to offset higher costs
A common fear shared between fitness businesses is that post-lockdown they won't make the income they did before the pandemic. Essentials including extra cleaning supplies, equipment and disinfectants add up and become large additional costs that come out of your revenue. Offering your customers memberships with in-person, online, and on-demand options is an upgrade that you can now market to your customers as a premium service.
Encouraging your customers to purchase these types of memberships that can give them more flexibility is not only a better option for them but it can also allow you to charge more for that premium service. Your customers will understand if your prices are higher coming out of the pandemic. By showing them that rather than just raising your prices because things cost more, you are actually raising them to offer a better service, they'll not understand the change but see that this experience justifies a higher price.
An option for customers who aren't yet comfortable
As you transition from lockdown to your normal in-studio or gym classes, you are bound to have a few customers who aren't comfortable coming back immediately, but still want to attend class. By live-streaming your in-person classes you can include your customers at home without asking them to step out of their comfort zones. They still get their workout and you are able to offer the class up to more people. You can also use this as an opportunity to show your customers at home how safe and comfortable you have made your facility which will encourage them to return.
A helpful way to see who you might need to encourage to come back
Live-streaming is a great way to see who is and isn't coming to classes at all. With both options to choose from your customers have a great solution to make it to at least one or two classes a week, and if you start noticing that some of your customers aren't showing up at all, then you can check in with them and see what you can do to help. Everyone's comfort zones are different right now and checking in with those customers and giving them your attention might be all it takes to make them feel confident about returning.
Your customers who tune in online will also see how safe and secure you have made your in-studio or class environment and want to join their pals and you in-person. Use your live-streamed class to show everyone at home what changes and restrictions you have put in place and how comfortable being back in class can be.
I give my clients the opportunity to still attend via Zoom if they do not or cannot make it to the gym. I live-stream my team training sessions in the mornings that my clients can decide if they want to join in-person or through Zoom. For my clients that are at home on Zoom, I turn on the gallery view and direct them to face my clients who are in the studio that way they can feel like they are part of the class and my clients who are in the studio can see them as well. They can all interact and I can keep the community together which is the whole point of gyms.

Now we can use it whenever we want no matter what the need is. My clients now do not have to worry about not being able to make it to class or not having a chance to work out when they have the option to join online. Now we as coaches and trainers can do the maximum to be there for our clients and they can make the choice whether or not to attend. - Joe Lyons, owner of Fitnostics
Top tips for live-streaming your classes
Now that you know some of the many benefits of live-streaming your classes, here are a couple of things to keep in mind as you prepare to deliver this new experience and service to your customers.
Acknowledge your online customers during class
With customers physically right there in front of you, it can be easy to give them the majority of your attention and forget to give as much to your customers attending online. Make sure your customers at home feel included and that you give them as much of your attention and focus as you do your customers in the gym or studio. They want to have as close to an experience as your in-studio customers as possible and calling them out by name and acknowledging them throughout class can help bridge that gap.
Set your camera up where your customers can clearly see you and the class
Part of the fun of taking a live-streamed class is being able to interact and see all of the customers there in person. Make sure you set your camera up in a great position where your customers at home can get a clear unobstructed view and be able to see what's going on. Seeing their fellow class attendees and friends can boost their motivation and help them stay focused on the class. You can see all our tips for online class delivery to help you perfect your set up, here.
Let your customers in the studio see your customers at home, too
Your customers in the studio will love seeing their friends at home attending class too. Just as you set your camera and computer up to show your customers at home your customers in the studio, you can do the same by hooking up a computer or phone to a larger monitor or screen where your customers in the studio can see your customers at home. They can spot their friends and still feel like they are taking a class together.
Get creative with class ideas and themes
Another way to connect your customers tuning in from home and those attending class in person is to give your classes a theme or add a costume element to class. Your customers in the studio will love running over to the screen to see what their friends are wearing and you can add ways to partner members at home or in person up for workouts and exercises. The class will feel interactive for both groups and everyone will get to join in on the fun together.
Offer the best possible experience both in-studio and online
Do not feel discouraged if you have re-opened your facility for in-person classes and many of your customers take advantage of the live-stream option. They'll come back when they're ready, and the most important part is they're still coming to class and subscribing to your services. Reward them and show them how much you appreciate their customer loyalty by continuing to offer them the best service and experience no matter if it is online or in the gym or studio.
Setting up a live-stream class in TeamUp
To set up your live-stream class in TeamUp all you have to do is schedule an in-person class, and then schedule the exact same class at the same time, but instead of setting it to your physical venue, you will set it to your online Zoom venue. In your calendar, the two classes will appear one on top of the other and be easily identifiable by the video recording icon next to the online class name. You can even give the online class a helpful name and description to show your customers that it is a live stream of your in-person class. The customer calendar filters will also make it easy for them to find the class they want to register for in-studio or online.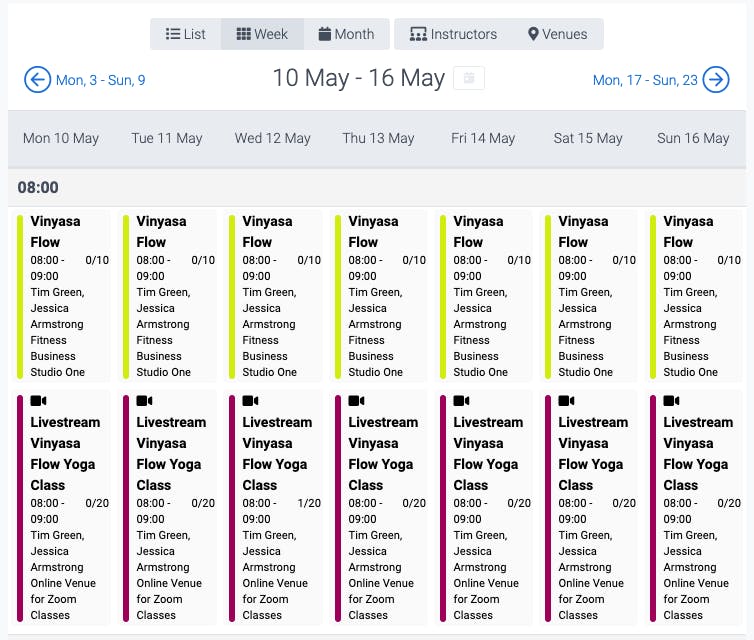 If you want to continue offering your customers classes in-person or online without adding more to your plate, then live-streaming is the way to go. To find more tips on resuming your classes in your facility, check out our best resources for your re-opening guide.
Thanks for reading!
Open Comment Form