"We're better at in-person classes because we like to teach and help you out and coach you."
It's true. Coaches live to teach, support their clients, and be hands-on with their fitness journeys. So how do you as a coach or trainer transition to full-time online classes and still maintain the same quality of your in-person classes?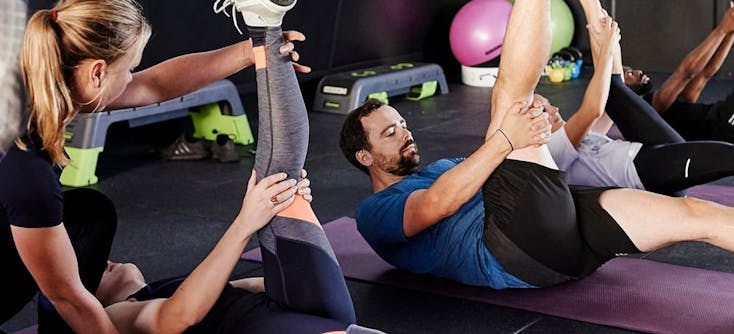 Your main goal should always be to help your customers achieve their goals no matter where you are. We talked to Anne, trainer and owner of Fison Fitness and asked her for her best pieces of advice on what to expect during online classes and what you as a coach can do to offer the best customer experience. Here's what she had to say:
Be prepared for customer questions
Don't be too surprised if your customers come to you with a long list of questions regarding their personal fitness. Working out from home online may be a brand new concept for them and something they are not used to. Whether they are not sure about how they will be able to meet their goals from home or are worried about scheduling, use this as an opportunity to learn how to better meet your customers' individual needs. If a customer requires a little extra guidance to feel more comfortable, find a way to incorporate "one on one" time to come up with achievable goals and solutions that you can work towards together from home. Your customers will appreciate that you are taking the time to help them even from distance.
Give your customers an opportunity to give feedback
The best way to improve your online classes is to get feedback from your customers. Find out what they enjoy and what could be better, so that you can structure future classes in a way that is beneficial for you both. Your customers' input will help you gain more knowledge and fully understand what you could be doing to enhance the customer experience. This can also help you ensure that your customers continue to come to class.
Find ways to keep your customers accountable
Whether you keep an online leaderboard or create milestone markers, giving your customers a system to keep themselves accountable will increase the likelihood that they do not give up on their fitness journey. With so much time at home, it's easy to become distracted and lose motivation. Find helpful ways to motivate your customers to keep them accountable for their attendance and progress. If you notice a customer is slipping away, check-in and find out what you can be doing to keep them coming to class. Remind them that is their fitness journey and they will only achieve their goals if they put the work in, and you are there to help.
Use booking software
Online booking software will not only help your customers book into class, but it will also help you track your customer's activity, manage class schedules, and boost attendance. Booking software will give you the information and tools you need to ensure that you are offering the best services and classes to your customers. And you can host your classes online right from your own dashboard.
Using the TeamUp Zoom integration, you can launch a class without having to worry about getting your customers set up on other platforms or websites. You will quickly notice that running your classes and fitness business online is no different than managing your in-person classes. Software makes it easier for you to manage all of your business tasks and daily processes in one place.
Keep yourself motivated
In a gym or studio, your customers will have more distractions and things to pay attention to during a workout. At home, during class, they are focusing solely on you. Which means that if you show a lack of motivation or desire to be giving a class online your customers will notice and reflect on your attitude. Make sure that you are giving your 110% in every single class no matter how you may be feeling at that moment. Your customers' attendance and willingness to stick with their fitness from home is reliant on your attitude, positivity, and encouragement.
Have a clear direction for classes
Just as you would prepare for an in-person class, online classes require planning ahead. Having a clear vision and direction for the class will help you maintain your customers' attention for the entire duration of the class. If you stay focused, your customers will too. You can always designate extra time after class for questions or discussions amongst you and your customers. Keeping class time focused on the fitness will ensure that you set a precedent that can be carried out through all of your online classes. As well as help your customers build your class structure into their mental and physical routines.
Your TeamUp tools can help
Along with the TeamUp Zoom integration, there are several features within your dashboard that can help you deliver successful fitness classes online.
Online booking system
The online booking system is the best way to ensure that your customers both register for class and pay in advance. Having your booking system set up to require that your customers pay before class begins will help you reduce no-shows, late cancellations, as well as help you plan ahead. Using your booking system and the Zoom integration, when your customers register for a class, they will receive a link to the Zoom meeting and be able to join right from the link or their TeamUp member app. It's that easy. You will be able to track all of your customers that are coming to class and see which customers may need a little extra nudge.
Pre-class notifications
To ensure your customers don't get distracted and forget to come to class, set up pre-class notifications that will alert them before class starts. In your dashboard, you can customise these notifications to remind your customers about the class for a certain period of time before it begins. Your notifications will also help keep your customers accountable and remind them to prioritise their fitness at home.
Member app
Just as your customers can register for your in-person classes using the member app, they can use it to also register and attend your online classes. As we mentioned before, any customer that registers for your online classes can enter a Zoom meeting and join class right from the app on their iOS or Android mobile device or tablet. When your customer enters the class they will be automatically marked off the register. The member app is another place where you can encourage your customers to keep themselves accountable for coming to class and track their progress and attendance.
Email marketing
One of the best ways to motivate your customers about your fitness business and online classes is through email marketing. Whether you create a newsletter highlighting the events of the week, spotlight customers and their milestones, or send inspirational messages and advice, connecting with your customers via email is another way to ensure you are reaching them at home without constantly checking in on them. It's also a way to show your customers you are actively trying to keep them engaged and motivated. Your customers will value your efforts to connect with them outside of a fitness class.
Forms and documents
A helpful tool when you do want to check in with your customers and get their feedback on your classes is the forms and documents feature. If you are new to giving classes online and need a bit more information from your customers on best ways to give them classes, you can use this tool to collect that all in one, and require they fill them out before registering for classes. This feature will also help you collect information regarding scheduling, expectations, fitness history, and personal details.
Customer referral program
One of the benefits of online classes is being able to reach and attract customers who may not have been able to attend your in-person classes. By creating a customer referral program your customers can help speed up that process. Every time one of your customers refers a new member to your classes you can give them a credit or free classes. Watch as your fitness business grows from home, and without you having to go find new members or customers. You can save time and focus on delivering the best customer experience while your customers help you take your business to the next level.
To learn more about the best tools and resources for running online classes, check out our round-up, here.
Thanks for reading!