In the process of opening his own CrossFit box, CrossFit 13, James Pattison took several classes at CrossFit CM2 to get some pointers on running an affiliate. One of the things that he immediately saw value in was the usefulness and simplicity of their booking software.
He knew at his own box he would need to know how many people were in class and didn't want to have to worry about who had what membership and how to track that. CM2 use TeamUp for their software.
So when James was ready to launch he created his TeamUp account so that he could have CrossFit management software ready to go right from the start.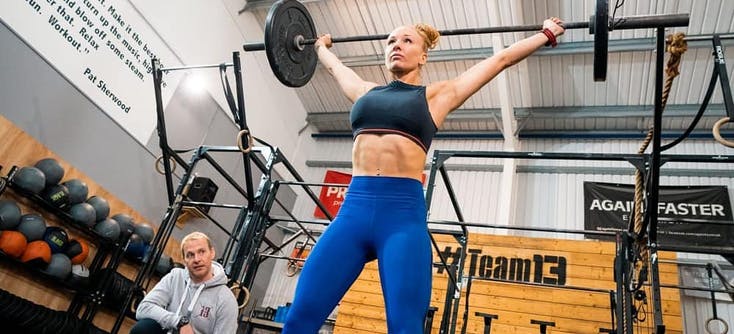 Photo Credit: Lucy Wildheart, CrossFit 13 customer
James is an excellent example of a gym owner who knew exactly what he was looking for in software and that having the right tools would help him avoid major business challenges down the road. Unfortunately, there are many box owners who launch their affiliate without a system in place and run into issues with their customers, memberships, classes, and payments early on simply because they don't know about the benefits of management software.
Whether you are new or have been running your box for some time, if you are still struggling with these and other challenges, booking software for your CrossFit box can help you get your business under control quickly and easily.
We asked some of our customers what major struggles they faced when opening their boxes without a booking software set up. Here are their responses:
Not finding the right members
Finding the right customers to become members of your box can be tricky. CrossFit is very appealing due to the appeal of its high-intensity workouts and performance lifestyle. However, CrossFit is often misrepresented or misunderstood. Without being able to take a class and understand what they're signing up for, trialists often don't return which means a lot of wasted effort for you and your coaches. This is particularly true when booking new trialists in, checking that they attended, and following up. Software can help you give clear accurate descriptions of your sessions, as well as automatically manage trial bookings for new customers who are interested in seeing if CrossFit is right for them. Without software, people will continue to come and go with no promise or interest in becoming a full-time member and waste your time.
No time to properly plan and connect with customers
Without software to streamline your business admin, you'll end up spending all of your time trying to get organised when you should be focusing on building relationships with your customers. If you are constantly mixing customers up, not paying attention to who is or who isn't coming to class, your customers will slip away before it's too late.
CrossFit workouts can also be very intense and dangerous if you do not know how to do them properly. Your organisation and time are required to properly plan and execute safe workouts for your customers. Getting to know your customers to better understand their fitness level and ability will allow you to structure your WODs with modifications and proper equipment. If you do not have time to plan, your customers can seriously injure themselves.
Attendance reporting and having organised customer profiles with all of their details in one place will help you easily track and monitor your customers' activity at your box as well as keep an eye on those who may need a little extra assistance. While your software runs in the background you'll be given valuable time back to plan safe productive workouts and spend with your customers so you can strengthen the overall experience at your box.
Don't quite have pricing right
Getting your pricing right is one of the most important business details to lock down from the start. If new gyms open and try to offer lower prices to attract your customers, how do you figure out a price that will help retain your customers and make them feel confident in your service? You need a system that will help you create a financial plan and take equipment, competitions, amenities, and more into account. Running your CrossFit box is a big commitment, so having prices that will help you maintain a steady income and provide the best environment for your customers is a crucial piece of the puzzle.
Chasing members for payments without billing software for CrossFit gym
Neither you nor your customers want to worry about money. Not only can missing or late payments require you to chase down your customers, but it can also lead to awkward conversations and a lack of trust between you both. Without a proper payment system that will automatically collect payments in advance, you will end up spending all of your time worrying about whether or not your customer paid and tarnish your relationship. Keeping payments organised and automated through your CrossFit software will ensure that the only thing you and your customer will worry about is their progress on their journey.
10 TeamUp features to manage your CrossFit business
If you want your box to grow, your first step is to start using software for CrossFit studio that will improve your customers' experience, simplify your daily processes, and help you manage your CrossFit business. These TeamUp tools in intuitive CrossFit gym management software will help you get started on the right foot.
We scoured the internet for the best member management system for our gym three years ago and TeamUp stood out from the rest. Members' use of the system is intuitive and easy to learn and it looks clean and professional.
Online bookings
Getting your customers to come to their favourite CrossFit workouts is even easier with an online booking system. Your customers will be able to log into their accounts using the TeamUp dashboard or the member app and sign up for your classes on the spot. If the session they want to book is filled up, they can sign up using the waitlist. Once someone who was booked into the call cancels, the next customer will be automatically notified and registered for the class. Online bookings also allow your customers to see the class type, venue, instructor, and availability without having to contact you and ask.
Eliminate no-shows and last-minute cancellations
While CrossFitters are very dedicated to their WODs, things come up and this can result in one of your customers pulling a no-show. Not only is that a lost workout for them, but that's lost income for you. By having clear cancellation policies and periods, you can minimise the possibility that a customer won't attend a workout and that you won't get paid. This will also ensure that if a customer does have to cancel that they do so before the appropriate period ends, allowing another customer to fill their spot from the waitlist.
Give classes from home
With changing regulations and customers being unable to come to the gym in-person, online classes are an excellent way to ensure you do not lose business, and the best CrossFit gym software providers should provide a solution.
Using TeamUp's zoom integration, your customers will be able to join your classes from anywhere at the click of a button. Before class starts, your customers will be sent a link to the Zoom meeting and be automatically marked off the registry once they join. If you need a little help motivating your customers to come to class online, you can try out a few of our tips, here.
Make payment a hands-free experience
A good CrossFit member management software will also allow you to collect payment online and in advance. You won't have to worry anymore about chasing your customers down for payments or whether you will have a steady cash flow. Your payment system will bill your customers monthly and let you know if one of your members' packages is running low. You can require that in order for a customer to come to class they will have to either have a membership, class pack or pay the drop-in fee online beforehand. Say goodbye to late and missed payments.
TeamUp means I don't ever have to chase members for payments and it is really simple to use and customise. Whenever I have an issue, which is rare, the team gets back to me really quickly with a solution.
Manage your customers all in one place
Whether you have 10 or 50 customers, having their information all in one place will make it easier for you to track their progress and their memberships at your gym. Using the dedicated customer relationship management tool (CRM) you can manage all personal details, fitness history, records of past injuries, and payments. Your customer tool will also show the status of your customer and indicate if they are an active member or at risk of slipping away.
Sign your customers up using forms and waivers
When a customer signs up for a membership or class pack, you can prompt them to fill out their details using the forms and waivers tool. As soon as they fill it out, they will be automatically added to your customer list where you or your customer can manage their profile.
Waivers come in handy for updates to your policies, safety information, and protecting your customers and your business. Using TeamUp's email integrations, you can set up your forms to be sent to your customers to re-fill after a given period, ensuring that their customer information and awareness of your box policies are always up to date.
Track your customer status in your activity feed
Your very own activity feed goes hand in hand with your CRM. Anytime one of your customers signs up for your gym, purchases a new membership, registers for a class, or does any type of activity regarding your gym, you will see an update in your activity feed. You can also choose to receive or not receive notification alerts, as well as customise your feed to show you the most important information at the top.
Celebrate major milestones
Motivate your CrossFit crew by celebrating their milestones at your box. When a customer reaches a certain length of their membership or attends a certain number of sessions, you can recognise their progress using milestone emails. Just as you would set up any pre or post-class reminder, milestone emails are sent based on conditions you set up in your dashboard. The emails that go out to your customers should be uplifting, include words of encouragement, and gratitude for being a loyal customer at your box.
Get data quickly with reports
Staying on top of your CrossFit affiliate is a breeze thanks to reporting. Run reports for invoices, account credit, memberships, your instructors and employees, and more. Whether you need quick information or need to assess your business's growth and development, reporting will help you make your decisions based on clear and efficient data and stats.
Encourage your customers to download the member app
Your customers can register for your workouts using the member app. After signing up at your CrossFit box, your customers will receive a link to download the member app on their iOS or Android mobile device, or tablet. Within the member app, your customers can see their memberships, register for your classes, amend any upcoming bookings, and see their past reservations at your box. Not only does this allow your members to act fast in registering, but it also lets them track their progress.
Make running your CrossFit box's business admin streamlined, organised and seamless. To get started using these TeamUp tools and more, head to your TeamUp dashboard or sign up for your free 30-day trial.
If you struggle with admin at your CrossFit gym, drop us a line at stories@goteamup.com and we'd love to understand and help.
Open Comment Form