Now is the perfect time to give your clients a refresher on taking your online classes. All they need is the member app, a device to access TeamUp's Zoom link, and themselves! We put together a quick how-to guide to signing up and attending so that none of your customers ever have to miss a class with you when they can't make it into the gym or studio.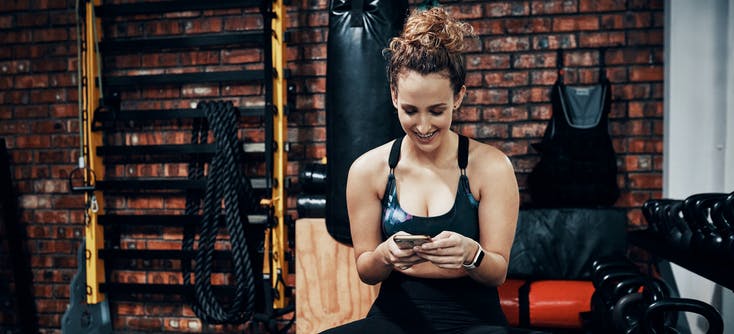 Tools and software
Your TeamUp software was built to give your customers the exact same booking experience for both in-person and online classes. Making it easy and seamless no matter which format you choose for your class offerings. While in-person classes only require your customers to book online and show up to class, there are a few simple things we recommend your customers have in order to participate in your online classes.
A laptop, tablet, or mobile device
The most important piece of equipment your customers need in order to take your online classes is a laptop, tablet, or mobile device. Either through an internet browser or through the Zoom application, your customers will be able to click the link sent directly to their inbox or member app and join the Zoom meeting without even needing to create their own Zoom account. Once they are in the meeting room they will be automatically marked off the registry giving you one less task to do before class begins.
The member app
While your customers can also sign up for classes online through their customer dashboard, the TeamUp member app makes it even quicker to sign up and register. When using the member app they can even open the Zoom meeting link for class right from the app without having to open it via an internet browser or new window on a laptop.
Steps to signing up for and attending online classes
Once your classes are uploaded to your class schedule, all you need to do is wait for your customers to begin registering. Here's how they can sign up for class. Both your in-person and online classes will appear in your same calendar where your clients can sign up and book. Let your clients know that your online classes are available and located in your calendar so that they can even book in advance. To avoid confusion, be sure to label your online classes with "Online" or "Zoom" so that your customers know to book those specific classes if you offer online and in-person at the same time.
Your class schedule will appear as so in an internet browser from any device.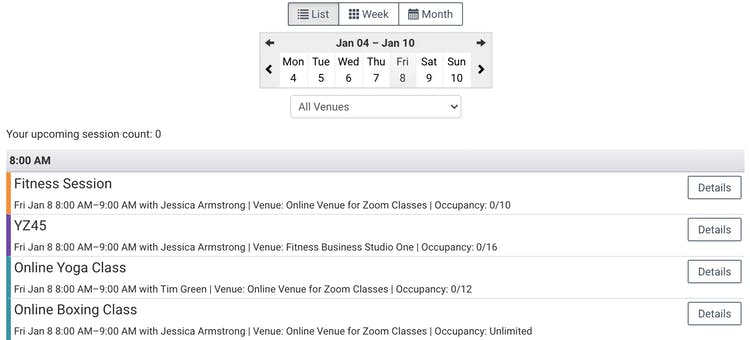 In the member app, your online classes will also appear with the rest of your class offerings as so and can be easily identified as the classes with a Zoom icon next to the class name.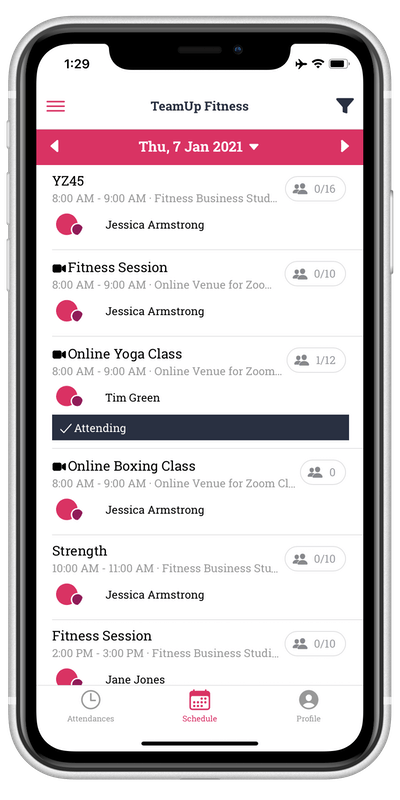 Remember that if you would like to cancel your in-person classes for a period of time while you host only online classes, you can do so in your dashboard using the "bulk cancel class tool."
Once your customer decides which class they would like to register for they can select the class and click "Book Now" or "Registration Options" if they are new and a membership purchase is required in order to take the class.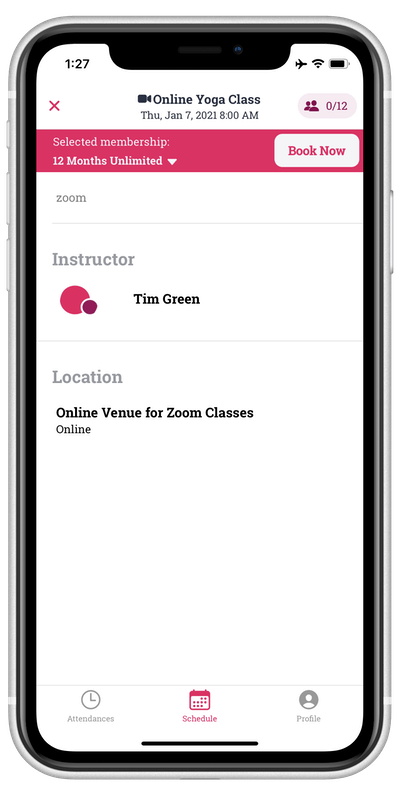 After booking the class, your customer will receive a confirmation email with the link to the Zoom meeting room that can be accessed up to 15 minutes before class begins.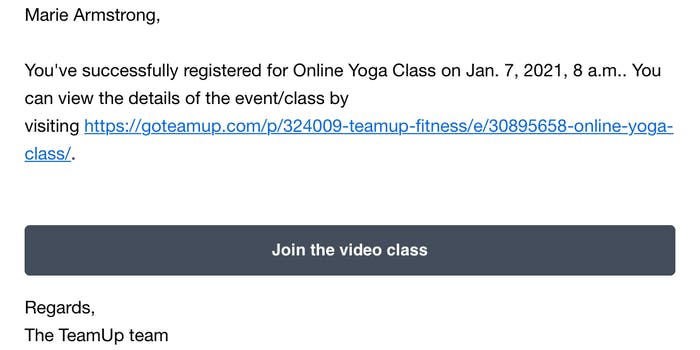 Their registration will also be added to their dashboard where they can also access the Zoom room.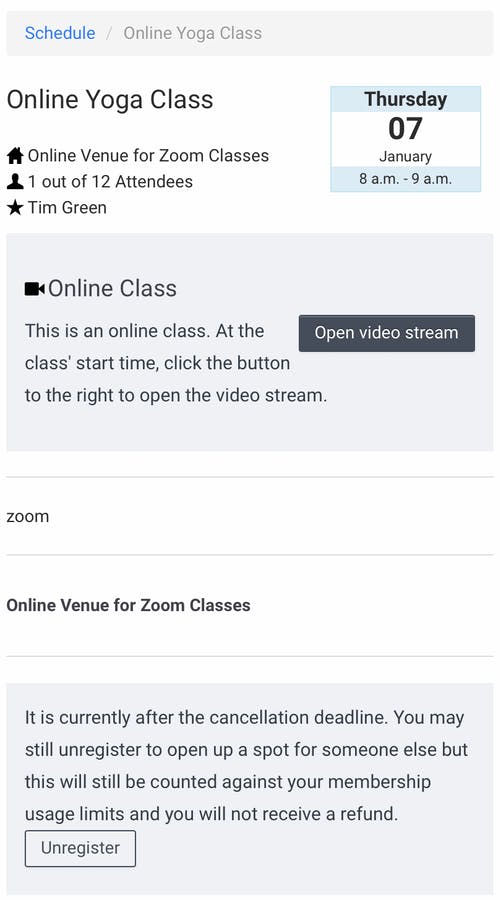 They can also access the meeting room, as mentioned, directly through their member app by clicking on the class they have registered for.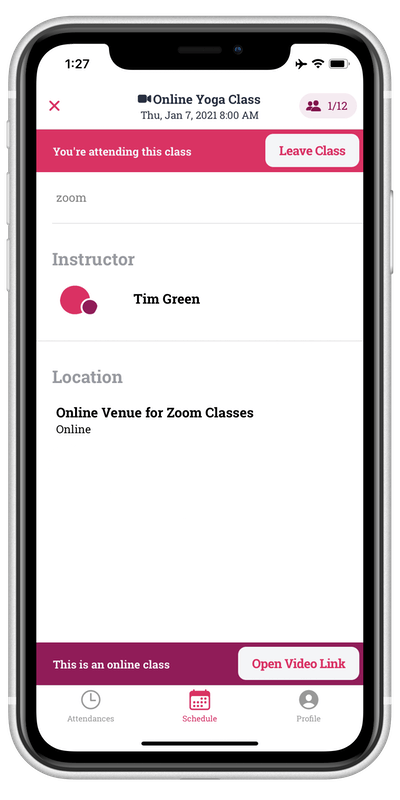 When it is time for the class your customer will be able to click on the link and be direct to the Zoom meeting room. If they try to log on too early notification will appear to remind them of the time class starts and re-direct them to the link again.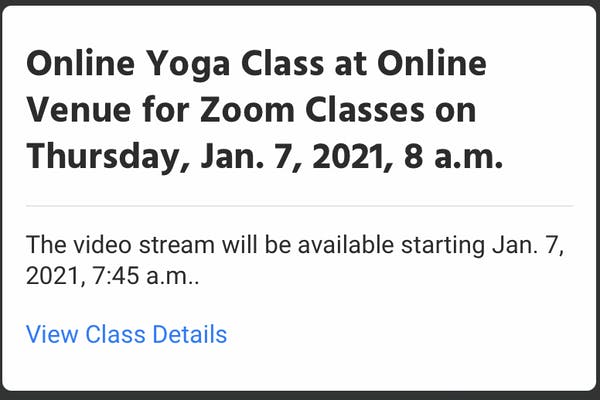 Additional online class resources
We are continuously adding to our online class resources and would love to help you offer the best class experience possible. If you are looking for more tips on motivating your customers to come to class, how to deliver high-quality classes, creative ways to keep your customers engaged, owner advice for teaching online, and more, check out our entire collection of guides, how-tos, and advice, here.
We'd love to hear from you
We can't wait to hear all about your online classes and we'd love to share your class photos on our Instagram page. To be featured and shared drop us a line at stories@goteamup.com.
If you need any assistance setting your online classes with TeamUp and Zoom, let us know at support@goteamup.com and we will get you up and running in no time.
Open Comment Form