Did you know that TeamUp partners with your favourite apps and websites? With easy plug-ins, we integrate with payment providers, marketing tools, website developers, and other fitness software to help you connect with your customers.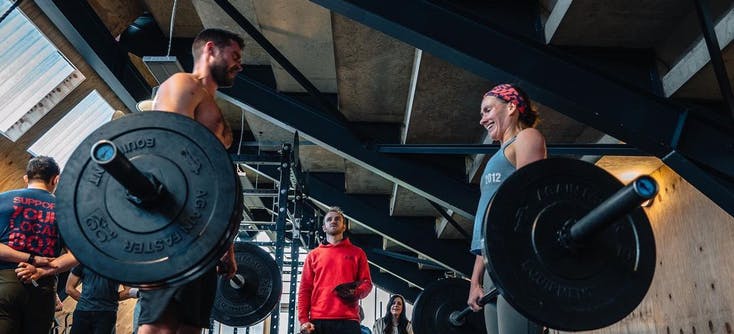 Photo Credit: CrossFit 2012 UK
But what exactly are integrations and why does that word seem scary? Integrations can help you create smoother processes to enhance the overall customer experience. It's one thing to have a customer. It's another to have a dedicated loyal member support your gym or studio for life. This only happens when your members are left with an unbeatable experience and impression of your business. Integrations can help ensure this remains constant. Some of the benefits of using marketing, payment, and software integrations include:
Time saved
Increased engagement
Automation and execution
Faster payment collection
Quicker communication
and more. As each integration we offer serves a unique purpose, it's important to know which will make your life easier as well as which will contribute to your business's success. Some of them may even teach you a new thing or two that can help you grow faster. We are breaking down TeamUp's top integrations, how they work, and how they can help you run the best version of your business.
Zoom
The integration that saved 2020. Zoom was very very popular with our customers this past year as many had to close the physical doors to their businesses and open virtual gyms and studios instead. Although working out at home or using pre-recorded workout videos is not a new concept, many fitness professionals had to quickly learn how to give live online classes to keep their customers active and engaged from home at all times.
On top of keeping instructors and coaches connected with their clients, the Zoom integration mimics the booking process for in-person classes, making it easy to understand and do. Your clients will be able to sign into their dashboard or member app and register for an online class just as they would an in-person class. In order to give online classes with the Zoom integration, all you have to do is create your very own Zoom account, and add a Zoom venue to your TeamUp dashboard. Once you begin to add online classes with Zoom as the venue, your customers will be able to book and register for any online classes you offer. When your customer signs up, they will receive a registration confirmation with the link to the Zoom meeting which can be accessed when class begins. Once they enter the meeting room they will be instantly marked off the registry, giving you one less thing to do before class.
This integration also makes it easy for you to expand your target market and reach new customers who otherwise would not have been able to attend your classes in studio. TeamUp x Zoom will allow you to keep things fresh, engaging, and connect with your customers no matter where they are.
Zapier
Connect your TeamUp account with Zapier to access over 3000+ applications. Your marketing messaging, campaigns, emails, and more can now be automated and executed even easier, thanks to the Zapier integration. One of the most common marketing questions our customers ask us is how to automate tasks like communicating with customers. Rather than sending an individual message for each customer action, it is much faster and more efficient to send automated notifications for everything from class registrations and membership purchases to changes in schedule and low pack alerts.
Zapier will move all of your important information regarding your customers from one web app to the next to make sure everything is in sync and wherever you need to access it. Your customers will never miss a piece of communication from you ever again, and you'll be able to stay on top of their activity without having to inquire. Increase engagement and boost your connectivity to always reach your customers' inboxes. The process of getting more done within your dashboard becomes so much faster when integrated with Zapier, so head to their website to create your account and enable the integration today.
The TeamUp APIs
If you need to integrate TeamUp with other tools (such as your CRM, marketing software, etc.), or you want to build a custom application or website for your business that's powered by TeamUp, our APIs may be the solution.
We have two APIs: a Customer API, which allows users to interact with TeamUp as if they were a customer, and a Business API, which allows users to interact with TeamUp as if they were a staff member at a business. These APIs can power custom websites or apps for your business or build automations for your business.
From your Integrations page on TeamUp, you'll be able to generate your Business API credentials instantly. You can learn more about our APIs here.
GoCardless x Stripe
Never miss a payment or chase down a customer to inquire about whether or not they have paid ever again. Our two top payment providers, GoCardless and Stripe take the hassle out of payment collection thanks to their automated billing systems. Having a payment provider will also let you know how much income you can expect every single month, allows you to run reports to see how your year compared to previous years. Your membership plans can be customised however you would like with the ability to choose your billing dates to work best for you. Although they are similar and both achieve payment collection, each has their own set of benefits. Stripe's automated billing system makes it easy for you to accept credits card information via your website and TeamUp dashboard, while GoCardless makes it easy for businesses to collect payment directly from customers' bank accounts.
You can learn more about the specifics of these TeamUp's payment processors and the several others we integrate with, here.
Kisi
Kisi is the top-rated smart security system for gyms and studios. Their digital smart locks are designed and built to keep your facility secure and provide the safest and most streamlined experience for your members. When you enable the Kisi integration your membership details will sync with Kisi allowing you to create entry access periods for your facility for your members. You can customise these access periods by your membership types and upcoming registrations so that you know who and when members can and cannot enter your facility.
Using your chosen Kisi device, a key, fob, or the mobile Kisi app, your members will be able to enter during their given access periods, saving you time on manual check-in and reducing pre-class admin. Not only is this a great security tool but it also allows you to offer services such as an open gym and 24/7 hours to your members without having to monitor who is or isn't coming through your door. You can also disable non-active, non-paying members or members with late payment from entering your facility without your permission.
To learn more about access control and how to set up the Kisi integration, check out our access control guide here.
Gympass
Gympass is our newest class-aggregate integration, opening the door to you to reach thousands of clients worldwide. Gympass's unique corporate wellbeing platform allows business owners to create affordable fitness, wellbeing, and nutrition plans for their employees. Members of Gympass have access to a wide variety of gyms, studios, personal trainers, apps, and services. By integrating TeamUp with Gympass you can make your services directly available to its corporate clients and members and create specialized plans and programs for businesses and their employees.
Listing your services opens the door to increased revenue opportunities and visibility to new audiences. In the Gympass integration settings in TeamUp you can customise which venues and services you'd like to visible and available to Gympass members. Once a Gympass member has registered for one of your classes or appointments they'll automatically be created as a customer in TeamUp. You'll be able to track and manage all Gympass attendances straight from TeamUp, and in your attendee list Gympass members will be labeled so that you can easily identify new customers who came from Gympass. To learn more information about the Gympass integration and how members can sign up and pay for your services, check out our what's new guide here.
Google Analytics
Track and monitor your web traffic and data using the TeamUp and Google Analytics integration. When synced with your TeamUp account, Google Analytics can provider you with detailed insight on your customer site and help you monitor and track the traffic coming to your website and TeamUp site or widget embedded into your website. This information is very helpful for understanding where new customers are coming from, your main traffic drivers, number of visitors at a given time, and more. Knowing these key details can help you make improvements and enhancements to your website and marketing and create new channels for potential customers to reach and access your website and services. To learn how to integrate Google Analytics with TeamUp, check out our guide here.
BoxMate
Crossfitters, we're looking at you! We love partnering with BoxMate, especially when it helps our CrossFit box owners have an easier and better experience running their affiliates. BoxMate integrates with TeamUp so that all customers of CrossFit boxes (who use both systems), can log into their BoxMate app, book classes, and record their stats which help the box owners monitor and track their customers. Our systems combined to keep both owners and their customers engaged, motivated, and organised. Together we create the most dynamic management software for your affiliate. Enable the TeamUp BoxMate integration by heading to BoxMate to create your account.
OpenActive
Reach even more customers with OpenActive. This helpful tool allows your classes to be listed on a wide range of websites and applications. When you give sign up with OpenActive, they take your available data and make it free for anyone to access, use, and share. While this may sound like something you do not want others to know, OpenActive only shares public data, therefore only anything you make viewable and available on your website or social media.
No private, important data, payment or customer information is shared. It's basically marketing for free and making your class schedule available to a wider network. OpenActive is then also able to create helpful resources for the wider fitness industry and give everyone the same amount of assistance and guidance all at once. You'll welcome new customers to class faster than ever when you enable the OpenActive TeamUp integration.
ClassPass
Keep your classes full with ClassPass. ClassPass has helped thousands of fitness professionals sell their extra class spots and get paid for every single reservation. When you list your studio, gym, outdoor, or digital classes on ClassPass for free a worldwide network of users will be able to book your empty spots, helping you get paid for every opening. All you have to do is sign up online and tell them about your business, and they'll be able to let you know how much you can expect to earn. The intelligent spot management tool will assess your TeamUp schedule and real-time data to price your unfilled spots and maximise your revenue.
Reach new customers and convert them into loyal members of your gym or studio. From yoga to spas to group fitness classes, and much more, this powerful website integrates with TeamUp to make sure you get paid for the classes and services you offer every single time. If you do not already have a ClassPass account at the time of integration, TeamUp provides you with an already made partner ID and location ID that you can provide ClassPass with to get up and running. If you already have an account you can enable the TeamUp ClassPass integration.
MoveGB
MoveGB makes it easier for potential clients to find your fitness business. A MoveGB membership allows fitness consumers to try a range of activities and to find fitness providers in their area. Based in the UK, the strongest areas are currently Bristol, Bath and Brighton with a goal to expand their customer base in another five to six areas. Their integration means that for anyone booking with a TeamUp member through the MoveGB app, the business's TeamUp dashboard will automatically be updated. The integration also shows availability for the gym or studio based on the TeamUp calendar so there is no risk of double-booked appointments, classes or sessions. Additionally, MoveGB and TeamUp's integration features a referrals partnership.
To learn more about TeamUp's many powerful integrations and how to use them within your dashboard, check them out here. We're happy to help you decide which integrations are best suited for your business. Send us a message to support@goteamup.com and we will walk you through the integration process.
Open Comment Form