As a Pilates instructor, the level of competition for winning over new clientele is higher than ever, but that doesn't mean your Pilates studio business doesn't have a foot in the race. With studios worldwide doing more than ever to offer a variety of in-person classes, online sessions, and on-demand content, their efforts won't get them very if potential new clients don't even know their business exists.
The best way to help your business grow and make your studio stand out above the competition (on a local and global scale), gain exposure and attract ideal clientele is to create a solid marketing plan.
In this guide, we are going to walk you through easy-to-implement marketing strategies to help you learn how to market your Pilates studio and increase your client base. To lend us a hand, we asked one of our Pilates clients, Karen Grinter owner of Northants Pilates to share her best tips and the methods that have helped her marketing efforts.
With over 20 years of experience teaching Pilates, 300+ students and multiple studios, Karen knows a thing or two about managing and growing a successful Pilates business. It's never too late to start earning the recognition and success you and your business deserve. By using her tips you can start doing so right now.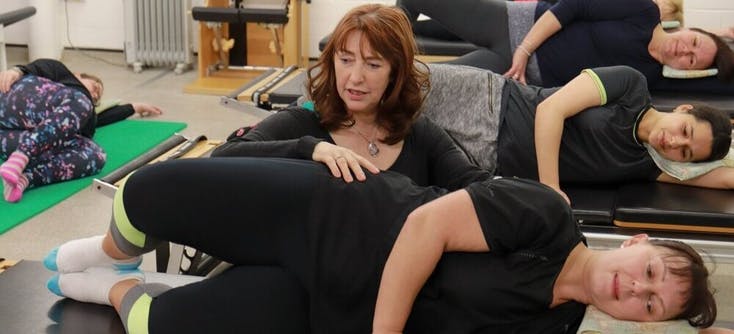 Photo Credit: Karen Grinter, owner of Northants Pilates
Find your ideal client
Knowing the person who resonates most with your services and is going to benefit from what you have to offer. Anything other than targeting your ideal client is a scattered approach that will result in wasting your time and efforts.
New Pilates business owners who want to get people through the door as soon as possible will often overlook this very important step. Knowing who your client is and the people who are going to benefit the most from your services are who you should be concentrating your efforts on. But first, you need to identify and know where to find your ideal client.
How to know who your ideal client is
To begin your search you can use this simple exercise:
Write out your main offering and services and who your target customer would be.
Next describe the person that best fits that description, what they look like, their demographic, their interests, their location, their age, any details that can help you identify that person
Once you have a solid idea of who that person(s) is you can begin researching where they spend their time, ie, both on the internet and what types of other places they might frequent according to their interests
Knowing where they spend their time and how they are most likely to spend their disposable income will help you better target those clients so that you can attract them to your Pilates business.
Don't be afraid to tell someone why you are a fit for them and they you. Your relationship is valuable and just as clients need to find you to meet their needs you need to find the clients that are right for your business.
Have a digital marketing strategy: engage through email marketing
Email marketing has been one of our most successful approaches. It allows us to tell a story, give advice, and show them what we do. It's also helpful as many clients aren't always on social media, so email is the best way to connect with them outside of classes.
For both clients and new potential clients, email marketing is a fantastic way to engage with your community, share your offering and updates, as well as keep your clients connected. People subscribe to dozens of email newsletters, whether they want to or not. You want to make sure yours isn't another email that lands in their spam folder or gets lost in their inbox. The go-to formula for a successful email marketing strategy is to create a newsletter that is equal parts attractive and engaging as it is informative and useful.
What to include in your email newsletters
Discount codes and promotions - exciting for both new clients and existing clients, your email newsletter is the perfect place to share any type of promotions you are currently running. If a person has subscribed to your newsletter, chances are they already are engaged with your business or are looking for something to really seal the deal. Offering promotions in emails adds a layer of exclusivity that will help you make sure that the people taking advantage of your promotions are most likely to become loyal clients of your business and actually benefit from what you are offering.
Your offering and services - with multiple services and membership options, clients might pick something to get started but not take full advantage of everything you offer. Reinforcing your offering in your email newsletters by including updates about classes, memberships, new on-demand content, teachers, and what's happening in your business will remind clients of everything you have for them to experience and encourage them to take more advantage of all of your services, not just one or two.
Customer stories and reviews - whether you have collected them from review sites or your clients have shared incredible testimonials directly with you, highlighting the positive things your clients have to say about you as well as their success stories in your newsletters is a very helpful way to convince potential new clients to give you their business. They will be inspired by the stories that your existing clients want to share and be encouraged to sign up to experience the same success.
Links to your website and social media pages - Including links to your social media pages and website will make it easy for your clients to quickly navigate your other content and places to engage. Whether you share the same content in your newsletters as your social media or keep them separate, letting clients know where else they can connect with you will give you more opportunities to keep them engaged.
Calls to action - Telling your clients specifically what you want them to do in your newsletter with calls to action will help you actually convert subscribers into clients. Including a link to your booking page with the words "Book this class now" or "Don't miss out on this promotion, book this class now" or "Purchase this new membership here" will give your clients a sense of urgency that if they do not do what you say now will make them miss out. Don't flood your newsletter with CTAs. Intentionally sprinkle them throughout your newsletter so that by the time your clients reach the end of your email they have been convinced to do what you have asked.
Send your new clients video messages at sign up
A new way of engaging with new clients that has worked well for us is sending a video message once they sign up. I can send them a personalised message based on what I know about them and speak to them about how we could potentially help them. It's so much nicer than a wordy email they might not read and also gives them an intro to me personally. I can chat to them about their problems so they can see we are already invested in trying to help them with a solution.
Clients don't just choose your business, they choose you. Giving them a hands-on experience will go miles in proving to them why they should be your client and invest in your business. Adding personal touches including video chats and dedicating time to learning about their needs and what their goals and expectations are can help you deliver an even better service. Don't be afraid to make suggestions for your clients based on the information they provide you with and guide them on the best path to success in your classes.
Sending them forms and waivers to fill out online at the time of sign up can help you collect some of their personal information, fitness history, and goals in advance so that when you send them a personalised video message you can include the information they have shared.
Share your content on social media: Pilates marketing ideas with the help of management apps
Let's face it. Social media is noisy, and while we don't need lots of new clients, we do want the right ones to join our business. Pre-planning social media posts that resonate with our audience while speaking to the people we want to be a part of our community can help save you time while making the most of the apps.
While social media can seem like a full-time job of its own, it definitely is one of the most influential places to attract new clientele. People spend so much time across various social media channels including Instagram, Facebook, Twitter, Pinterest, Linkedin, and Tik Tok, making social media marketing an important tool to promote your business. And while posting content across each channel gets the job done, targeting your ideal audiences with promoted and boosted posts can help you ensure your content gets in front of the right eyes. Each of these social platforms allows you to create and share your posts with specific audiences either using automated audiences to earn you the highest number of views and impressions, or you can create your own and compare.
Know which popular social media platforms your clients spend their time on
Remember that while your ideal clients might have multiple channels and spend time on each, they are most likely going to have a favourite social networking platform, one that they engage with more than the others. Knowing which platforms the clientele you want to attract uses most will help you be more strategic with your targeted ads and content. If you want to maintain your profiles on multiple channels to increase your brand awareness and visibility, there are several social media management tools that exist to streamline and automate your post scheduling as well as provide you with detailed reports to help you fine-tune your posting and distribution. Not only will you know when to post, but you'll be able to see what content your community engages with most on which platform.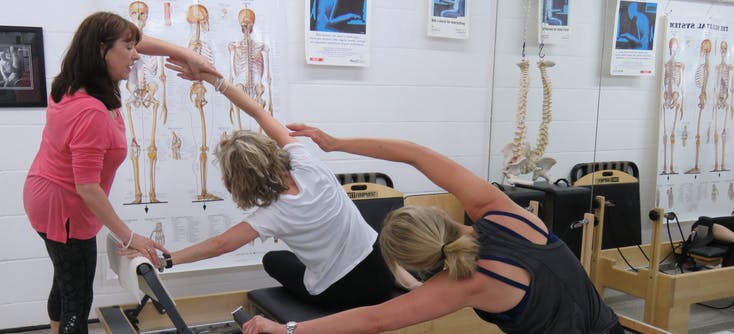 Offer on-demand content: video and downloadable guides
"n the form of guides, PDFs, videos, however, works best for you, on-demand content gives people something to use outside of class. We create PDFs about exercising with back pain, something people are really afraid to do is exercise if they have experienced really bad back pain. I also give them a few simple exercise videos which they can access on-demand.

It gives people insight into our approach to teaching and they can sign up to our mailing list to access the guides. Once they've signed up they have even more access to helpful insight as to what could be blocking their recovery, as well as be able to do some simple workouts that will start to build their confidence and strength.
Giving your clients content they can use outside of classes will go far to extend the value they receive from your services. The customer experience doesn't end when your clients walk out of your studio (or virtual studio's) door. Having access to on-demand video content or PDFs with instructions for exercises they can do at home between classes will keep them engaged and prevent them from seeking external resources when they aren't in class. It also keeps them covered if they do need to miss a class or can't fit a class in their schedule for one week.
Existing clients will love the additional services you provide and new clients will be more convinced by your well-rounded offering. Being able to find everything they're looking for in one membership will relieve them from looking at and subscribing to multiple services in various other facilities. With you, it's available all in one place.
Show what you know
I do believe putting things together to showcase your knowledge, expertise, and authenticity is a good way to get the right people through the door.
Become your very own publicist by engaging with publications and online communities that you know will benefit from the stories and information you have to share. Helpful tools such as HARO can help you find journalists looking for information from business owners and Pilates teachers that will then be featured in online and print publications.
You can also do some extra homework and research the types of publications and websites your ideal clients also explore to collaborate on content, feature ads and gain exposure for your business. When your potential clients not only read your content but see that the publications they enjoy give you their recommendation, they'll be more inclined to investigate your studio over a competitor. Not to mention these mentions and features can also increase your search engine visibility and help your business's website rank higher on Google, where potential clients are searching for businesses just like yours.
To wrap it up, consistency is key
It can be hard to be consistent, but it's one of the most important parts of engaging with your clients and retaining them.
As with any type of communication and business practice, consistency is key when you put your marketing plan into practice. You do not want to make promises to your clients that you cannot keep and your marketing will reflect those promises. Creating a consistent posting and content distribution schedule will help you stay on track and deliver to your clients without fear of not doing enough or having enough time to do so. With a schedule that works well for you, gives you plenty of time to manage and automate ahead of time, and falls in line with your branding and messaging your clients will not worry about when or how they'll hear from you. They'll come to expect it and know it's coming.
You don't need to find the magic solution overnight, little by little you will figure out what works best for you. Establish a workflow that allows you to implement the strategies you know you can do that will help you achieve your marketing and business goals. There are also several platforms and tools that can help you automate your marketing to your Pilates clients including TeamUp's Zapier integration.
Check out our marketing tools guide to learn more about Zapier and the other features that can help you market your Pilates studio. Discover how management software can help your Pilates studio business to grow here. To begin using these tools through TeamUp, sign in to your dashboard or sign up for a free trial.
Open Comment Form