With more people online now more than ever it's the perfect time to step up your marketing game. Whether you currently use social media or you are just starting out, there are many benefits to building your online presence. Social media can help you keep your customers informed and give them a place to connect with you outside of class, as well as advertise your business and classes for free. While posting on Instagram, sharing on Facebook, or tweeting may seem like more work added to your plate, there are several social media management apps that can eliminate the hassle of managing your accounts.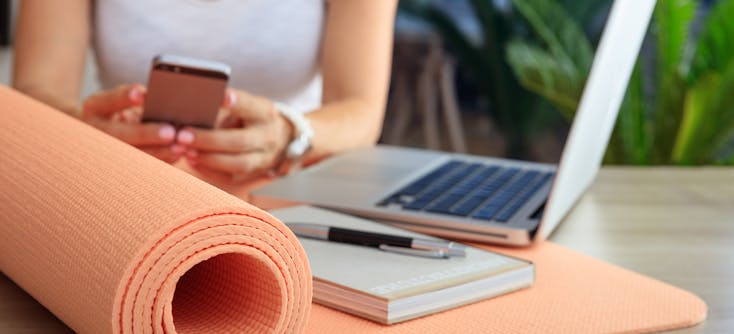 Not only will these apps make connecting with your customers fun and exciting, but they will also prove advantageous to your brand's overall growth and relevancy. Each of these apps' features and functions will make it easy for you to create, automate, and analyze your content. While your apps help your streamline your posts you can focus on reaching your customers and giving them access to you and your business whenever they want.
Recommended apps
We put together a list of the top social media management apps to help you expand your marketing efforts. These apps along with a few of our tips for small business owners new to social media marketing will get you on the right track to establishing your gym or studio's brand online.
Buffer
One of the most commonly used social media tools, Buffer is perfect for business owners looking to schedule social media posts in advance. Their free plan allows you to connect up to three social media accounts including Facebook, Instagram, Twitter, Pinterest, and Linkedin and suggests four slots for with the best times to post every day for the time zone in which you are located (or select). You can use Buffer either on your computer or mobile device, allowing you to edit or schedule posts on the go. One of the most useful user-friendly capabilities is Buffer's Instagram shop grid feature in your Instagram bio which when clicked, will direct your customers to specific pages on your website. It also gives you the option to list special links at the top of your shop grid page for even quicker access to landing pages on your website.
Buffer will allow you to share content directly to the social accounts or send you a push notification to manually publish depending on the type of content (multi-image posts, videos, IGTV). Although the reporting and data insight is not available for free users, their paid packages run as low as $15/month for the Pro Package (for one user, eight social accounts, 100 scheduled posts) and $65/month for the Premium Package (for one user, eight social accounts, 2,000 scheduled posts) which includes limited data analytics. The Premium Package also provides you with an Instagram hashtag generator and the ability to schedule Instagram stories in advance. For businesses with larger reporting needs, Buffer has an additional service, Buffer Analyze, which can be used to access more advanced metrics and data.
Hootsuite
Compatible with over 35 social networks including Instagram, Pinterest, Facebook, Twitter, Instagram, Linkedin, and more, Hootsuite is an all-in-one solution for your social media needs. With its very own app directory of extensions, Hootsuite can cover all of your bases. The app's full scheduler will allow you to queue posts at any time you choose. Or you can use the AutoSchedule feature to schedule your posts and updates at the most optimal engagement times determined by the app. You can either schedule your posts within the app or upload a CSV file with pre-prepared content ready to go. Similar to the other apps, if you need to re-order or change the times and dates of posts you can easily drag and drop posts across the planner.
Where Hootsuite truly excels is in its analytics, however, you will need to purchase their Professional Plan which costs at least $39/month for one user, three social profiles, and 30 scheduled posts. With Hootsuite's analytics, you can generate several reports with over 200 metrics and export them whenever you choose. Their social monitoring tool allows you to customise your feed to watch for mentions, new followers, hashtags, engagement, trending terms, and more. You can also sign up for the Team Plan which costs $129/month for businesses looking to add multiple users to the platform. The Team Plan also includes the Content Library which includes free stock photos, GIFs, as well as the ability to upload your own content. You can also assign certain tasks to specific team members within the tool using the Team Plan, making this app very appealing for growing businesses.
Later
For business owners looking to save in their marketing budgets, Later is an excellent option. Completely free to use, this platform focuses on visual content. Meaning that every post must be scheduled with an image in order to publish, unlike the other apps in this list where you can simply schedule a message without an image attached. Where Later stands out above the rest is its pricing. Perfect for small businesses the free plan allows up to 30 scheduled posts per social profile, which is more than any other free or trial plan.
As long as you have a business account on Instagram set up, you can collect media and add it to your library from stock photos, Google Drive, Dropbox, or your computer or mobile device. Similar to Buffer, Later also includes a link in the bio feature giving your customers the option to click on your link and be directed to website links attached to your images. The grid view will allow you to visualise exactly how your feed will look, giving you even more creative possibilities to design and brand your social media profiles.
Although many users start with the free option, Later also has paid plans starting as low as $9/month that have even more posting options including videos, Instagram and Facebook Stories, multiple image publishing in one single post, analytics and more automated features. The paid version also includes a hashtag generator that will give you ideas on what to include so your posts reach a wider audience. If you're looking to post many images a week of your gym, studio, and classes, Later is a great platform to investigate.
Zoho Social
If you have more than one member of your business or team running your social media accounts then Zoho Social may be the solution for you. With scheduling capabilities for Twitter, Facebook, Instagram, Linkedin, and Google My Business, Zoho allows you to queue updates and post all at once to each network. However, their Standard Plan at $15/month includes two users, where the other apps only permit one user at a time for their free or paid plans. You can add each additional user at an extra $10/month. With the additional users, you also have the option to give users only access to specific channels or tasks. Say you want to limit a team members' access only to Instagram content, you have the option to do this within Zoho without disrupting your other channels' activity. You could also give certain users permission to only reply to comments and messages rather than posting and listening features. All of this and more can be done by creating "roles" within the app. With other apps, many businesses get around one user limitation by giving multiple members the same username and password info. However, this can become challenging and confusing if changes and updates are being made by multiple people. Zoho keeps it all organised so that each team member can be responsible for their own individual activity, making it worth it to have more than one.
Zoho also includes a built-in messenger system so that all collaboration for any social media posts or updates can be done within the app. Unlike the other services that do not include social monitoring and listening in their free or lowest-priced packages, Zoho does. You can use the monitoring features to set up a customised dashboard to keep track of all engagement and interaction across your channels, including competitor activity. When it comes to tracking your customers' activity and giving multiple members of your team access to your social media management apps, Zoho is definitely the platform to consider.
Tailwind
Primarily catered towards Pinterest, Tailwind has become a very popular social media management tool for business owners. Combined with Instagram, Tailwind focuses on providing the best services for all Pinterest planning, usage, listening, and engagement. Using this tool you can bulk add and schedule images from your desktop. The SmartLoop features allow you to set up a collection of pins that will be automatically be rescheduled based on the dates you select or at random.
Similar to other tools Tailwind also includes a smart scheduler that can help you decide when the best times to post are to maximize engagement, as well as replicate and reproduce this process again and again. It will even give you suggestions of what content to follow and repost or create your own similar content to post. Their Plus Plan starts at $14.99/month and includes one account, 400 posts per month, smart scheduling, analytics, and a 30-day history. While in comparison to the other tools Tailwind's prices are higher specifically for one platform, if your main objective is to attract new customers through Pinterest, do not pass up checking their platform out.
Why did we choose these social media management apps?
We know what you're thinking...'Even though each one of these apps can help eliminate the hassle of managing my accounts, this is another software I now have to manage.' Although adding social media to your list of tasks and responsibilities means wearing another hat, each of these social media management apps can be accessed and used in your TeamUp dashboard through the Zapier integration. You'll actually be able to get more done and expand your efforts, without adding extra time and work to your plate. Zapier connects your TeamUp account with over 1500+ applications, so that no matter which management tool you decide to use, you'll be able to handle all of your marketing tasks and admin in stride.
These applications are also rated the highest by the top social media platforms when compared to others. They will allow you to experience a free trial or a completely free account before deciding to move forward. And you know how much we love both free-trials and standout reviews.
Social media marketing tips for small business owners
When it comes to social media marketing there is no one size fits all. Each individual business owner will have their own needs or goals for what they want their social media accounts to achieve. Maybe you want to attract new customers or maybe you just want to build your online presence. Maybe you want to do both. Whatever your intention is for growing your brand's awareness on social media, there are a few tips that gym and studios owners can use to take their social media skills to the next level and gain exposure for their business.
Start small and pick your channel(s)
A big misconception in the marketing world is that in order to have a successful social media account you need to post all day every day. However, a few posts and stories a week go a long way in showing your customers you are present and active. The fundamental part of having a social media page on Instagram or Facebook is to give your customers insight into your business, updates, and a place to show what you are up to. Keep your content simple and to the point and allow yourself to invest in growing your channels without overwhelming yourself.
You also do not have to start a social media account on each individual channel. While it can be advantageous to be active on every platform, your main objective, in the beginning, should be to pick which platform you are most comfortable using and that your audience will engage with the most. Do not feel the need to make assumptions that your customers will be more engaged on one channel over the other. There are several studies and data shared in the social media management tools that can help guide you towards the right platform to start out with.
Adapt the S.M.A.R.T. framework
As a business owner, you know how important having goals are. Setting concrete goals will ensure that you are using your channels to the best of your abilities. Use the S.M.A.R.T. framework to create specific, measurable, attainable, relevant, timely goals that will help you stay focused and on track. This framework is a great foundation to get you into the goal-setting mentality as you embark on new marketing endeavours for your business. That same framework can be applied to multiple different business functions, so be sure to keep it in mind when goal-setting in the future.
Build relationships with your customers
We personally love seeing what our customers are up to via their social media profiles. From online classes to game nights and surveys, checking out our customers' content has given us more insight into who they are as businesses, coaches, mentors, and friends. Your customers can also give you that same insight and help you get to know them better as members of your community rather than just your customers. Interact, engage, and show them you are invested in what they are up to and they will return the favour. Don't be afraid to hold back and let your customers know you are accessible and available to chat, share content with them, and connect.
Focus on branding
There are several elements that play into further establishing your business's brand via social media. Firstly, visual branding. Make sure that your business logo, colours, tone, your business's name, and any messaging you regularly share are reflected across your social media channels in the images, cover photos, business bios, and in your posts. Giving your customers these visual cues across your channels will make it easier for them to quickly recognise your brand. The more visually appealing and helpful, the more likely your customers will share with their own audiences. You can also create a specific hashtag for your business that you can encourage your customers to use when they post photos related to your gym or studio. They can also tag your social media handle so that you can be notified when one of your customers posts.
Collect user-generated content
Your customers will love coming to your social media pages to find themselves being shared in your posts. Using our hashtag tip and tagging, you can easily find images and videos that your customers post. Ask and encourage your customers to give you permission to share their images and videos from on your social pages. Not only will this give potential new customers an inside view into the community you have built around your brand, but it will also help you collect imagery quickly. While stock photos will get the job done, user-generated content and content you create on your own will add a realness to your social pages that your customers and audience will value.
Stay consistent while keeping things fresh
Many of the tools we mentioned above make it easier to plan out your content thanks to the social calendars and scheduling tools. Use the calendars to schedule your posts in advance, and mix it up by posting a combination of various types of images, updates, messages, and more. Collect pictures of classes, post motivational quotes, share ideas for staying fit and healthy outside of class. Your content is totally up to you and this is your opportunity to let your creativity soar. And don't be shy about asking our customers what they want to see. They will love that their opinion matters to you, and you will have the opportunity to post content that you know they value.
Yoga Business and Wellness Coach Shayna Hiller advises, "Make sure you have social media channels and begin to post about your virtual offerings. The more you put yourself out there, the more people learn about your business."
Check your TeamUp resources
While you do not have to become a social media pro overnight to have a successful business, investing in a social media marketing strategy and tools to help you reach your customers will benefit your growth and establish your presence online. To learn more ways to amplify your marketing efforts, check out our marketing guides and resources. Your TeamUp dashboard includes Zapier and several other marketing tools that can help you grow your brand. Login to your TeamUp account or sign up for a 30-day trial to explore these features.
Thanks for reading!