This blog was updated on June 6, 2022, to include the new Membership Tools section, which is now home to the COVID-19 membership management tools.
Opening the doors to your gym or studio will require a lot of patience, trial and error, and confidence that your customers will return. It will require that you prioritise ensuring the health and safety of your staff and customers, maintain any necessary guidelines, and offer your customers the best and safest experience possible.
Quarantine guidelines can change every week. So it's best to start with staying up to date and aware of the evolving situation. Here's how to stay on your toes.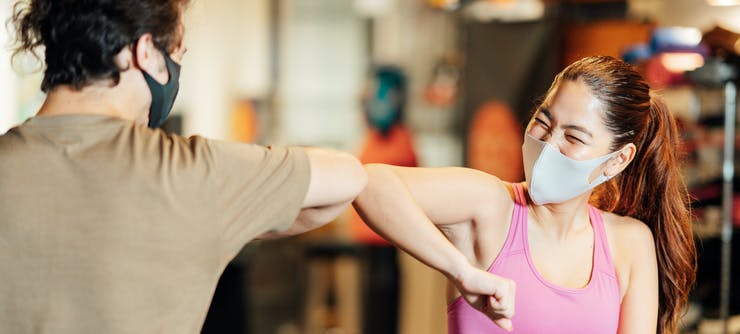 How to keep your customers informed
The reality is, COVID-19 is very much still a mystery. For the foreseeable future, planning in advance is not a sustainable option as laws, regulations, and restrictions change daily. But you can still prepare for the interim and keep your customers aware of news and changes in your local community and area. Here are some things your customers will need to know before you re-open:
Availability and hours of operation
Let your customers know that you are keeping your calendar and schedule as up to date as possible. If you have to make changes to your regular schedule, your customers will understand, but give them time to adjust as they consider new changes. Let them know you are doing everything you can to accommodate everyone, and are still available for online classes if you currently offer them (if you don't, we recommend you read this article about customer preferences for the immediate future).
Your methods for health and safety
One of the big areas of focus has been both complying and making customers (and staff) confident in the safety measures you are taking. The CDC has provided good resources for gym and studio owners and what they need to do to guarantee compliance with the rules. These include:
Having handwashing and sanitisation stations throughout a gym or studio.
Marking socially distanced spaces to ensure 2 metres or 6 feet of distance between customers at all times during a class or workout.
Screenings and temperature checks. While the rules on these checks differ by location, it is recommended to provide at least some type of screening before entering a gym or studio.
Checking attendance of each and every person to attend class or the gym and studio each day.
Contactless payment. Set up your contactless payment options so that your customers pay before class and do not have to worry about cash or credit cards when they arrive at your facility.
Your membership and class pack offerings
As some customers may be more motivated to attend in-person classes than others, make sure you have different membership and class pack offerings to fit customer needs. If someone would rather stay at home and participate in classes online this may be a different membership offering than those wanting to go back to class regularly. Talk with your customers and build a solution that works well for both of you. Consider modifications to your normal offerings and create tiers or different packages that can best meet their comfort needs, as well as their financial needs.
If one of your customers decides to put their membership on hold or opt-out of class for a period of time, let them know you have options for this. Offer your customers a pause period or opt-in option that will allow them to come back whenever they feel comfortable. You can also use the slipping away feature in your dashboard to check in with your customers if you think some may be going down this route.
How you feel
We've seen hundreds of examples of business owners that have been incredible community leaders and helped their customers get through this challenging time. As well as an opportunity you have a responsibility to your customers. Help them because you want to help them but also know that you are building long term value in your business. You may struggle too, but we've seen so many examples of how that can be used to be transparent and be ever closer to your community too.
What you need from your customers
Just as much as your customers rely on you to offer them classes and keep up their workouts, we know you rely on them to help you keep your business running. Let them know how much their customer loyalty means to you and encourage them to review your plan for resuming in-person classes. What do they think about your new structure? Are they feeling comfortable coming back to class? Ask them to follow a code of conduct and that by doing so, you can keep running your gym or studio for them. You can use your TeamUp dashboard messaging and emails to send policy updates and safety forms to your customers before they walk in the door.
How to prepare for the big day
As a gym or studio owner, you know that preparation is key. Class plans equal motivated happy customers that get the most out of their sessions.
Once you have your rollout plan ready to go, health and safety measures in place, and your customers aware of your new policies, it's time to prepare for the big day. Here's how:
Be ready to adapt to any issues or concerns that may arise. Having extra staff or instructors onsite for your first few days back will allow you to prioritise sanitisation, new tasks, as well as availability to address your customers' questions and comments.
Make sure your class schedule is properly spaced out to allow extra time for cleaning and sanitisation between classes.
Double-check to make sure all of your classes and schedules are correct and that everyone has been sent safety waivers and policy information.
Ensure that your facility is completely set up to comply with local regulations and avoid customer confusion when they arrive. Having a member of your staff available to show your customers the new layout will be extra helpful.
Place signage around your facility to let your customers know where the hand sanitisation stations are and where to properly distance themselves from other customers.
Have supplies and then some, ready to go. Extra safety equipment, first aid, masks, and hand sanitiser should be readily available in case stock runs out in the first week.
Evaluate the results after the first week
You've finished your first week back, congrats! It's time to evaluate the results and see what needs to be done, what you can improve on, and how your customers felt. Start with customer feedback and reports.
Ask your customers for feedback. Now that they have experienced being back in the gym for the first time in months, they may have some useful comments to share with you. Ask them in person or send out a survey to see how they felt and what their thoughts were. Let them know you appreciate them taking the time to help you offer an even better experience.
If fewer of your customers returned to class in your first week, don't worry. Everyone needs to take their own time to do what's comfortable for them. Continue offering online classes and mix your in-person and online classes so you can host both at the same time and keep your bases covered. Some customers may need to stay at home for periods, so online classes offer a built-in redundancy for your packages.
Understand your plan B if the situation changes. Your backup plan might include keeping online classes as part of your programme so that you can easily tweak your offering as things change. Another alternative might be to understand how your schedules will work if maximum class sizes reduce for a time.
Check your supplies. Find out what you need more of for the coming weeks so you can order in advance. Maybe more towels were used than you expected, or your customers loved your eucalyptus hand sanitiser, this is one of those situations where surplus is a plus. Lead times on some items have increased so build that into your planning.
Conduct routine reporting. Reports can show you who came back, who is still taking classes online, and who is doing both.
7 TeamUp features that will help you re-open
Once you have planned and know what to do, your next mission is to utilise your TeamUp dashboard to help you streamline your new processes. Here are 7 TeamUp features that will make the next steps smoother.
1. Calendar
Remember that your online calendar and class schedule are your customers' first steps to booking a class and connecting with you. Organize your calendar with details including class size, venue, instructor, and availability. Your customers will be able to completely manage their bookings and account via their member app.
2. Memberships and class packs
As your customers may be split on returning to your studio full time when they can still take classes online, alter and customize your memberships and class packs to incorporate both. You can add as many memberships or class pack options as you would like in your TeamUp dashboard. You can even conduct a survey and ask your customers what they prefer, so you can organize your membership options and create the best selection for everyone.
3. Customer forms
Safety first! Using the customer forms tool, you can send your customers waivers to fill out before they come back to class. In your waivers, you can include things like new safety measurements, what you require your customers to do, and how to conduct themselves at your gym. If your policies change or you need to make an update, you can easily edit the forms within your dashboard and re-send them to your customers.
4. COVID-19 Membership Tools
Find tools to manage your members during COVID-19 in the Memberships Tools section in your dashboard. As well as in our articles from our how-to guide in the COVID-19 resources page. This tool allows you to help you manage memberships that were on hold and make bulk price edits to your new membership and pack options. It will let you manage all of your business changes due to COVID-19 in one place.
5. Email templates
Create your very own email templates to quickly send information directly to your customers' inboxes. Whether it's to send uplifting words of encouragement or to relay tips and updates, email templates will help you get your message across, and save you time...at the same time! TeamUp integrates with several email marketing providers and offers all the email options you need directly in your system - class confirmations customised by class type or venue, milestone emails, and many more.
6. Reporting
The reporting tools manage all of your customer data. Check and see which of your customers are coming to class more, sticking to online classes, choosing memberships over class packs, and vice versa. Reports also allow you to track your current and new sales during the pandemic. These tools will help you collect important feedback about your customers based on their attendance online, in-person, or both.
7. Waitlists
The waitlist feature alleviates the worry of no-shows and last-minute cancellations. Because your customers will pay online before class even starts, you don't have to worry about messy refunds and back and forth. Depending on the options you have arranged for your memberships and class packs, if one of your customers has to cancel in advance or miss a class, as long as they inform you through their customer app or dashboard, their spot will go to the next person on the waitlist, ensuring your class is full.
Re-opening your gym calls for an all hands on deck approach. To offer the best and safest experience for your customers and staff, keep them informed, have a plan of action, and evaluate the results. Make sure to bookmark this page for weekly updates and tips on running your gym or studio. If you're looking to hear from more of our providers and what they are doing to re-open their gyms and studios, check out our collection of fitness business stories. Just like you, they are learning how to create a healthy, safe, and successful in-person fitness business again. Their advice may be just the thing you need.
Looking for more resources on running your business during the pandemic? Check out our COVID-19 tools and resources, here.
Thanks for reading!
Open Comment Form