As the UK begins another temporary lockdown due to COVID-19, our UK customers have had to transition their businesses back to online classes. No strangers to closing their doors over the last year, there has been a significant difference between this and the previous lockdown — preparedness. Our customers have been so proactive in getting classes set up on Zoom through TeamUp's CrossFit software, springing into action to make sure their customers have the equipment they need and making sure their support doesn't end with the class.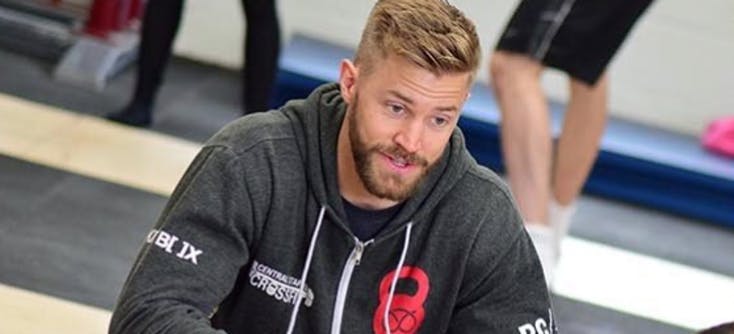 Tim Fearnett, owner and coach of Central Staffs CrossFit
One of the best examples of a fitness owner who has taken charge to push forward is Tim Fearnett, owner of Central Staffs CrossFit in Stafford, England. In 2013, after 9 years of serving in The Core Of Royal Engineers as a No.2 High Threat Operator in the British Army and serving two tours in Afghanistan, Tim wanted to take his career in a new direction. After trying his hand at CrossFit during one of his tours and going on to train and mentor at another gym, he began drawing up his own business plans to open his very own affiliate box.
7 years later and Tim has one of the most successful and largest boxes in the UK with over 160 members, and counting. We asked Tim to share with us some of his observations about running a fitness business during a global pandemic and what advice he has to share with other fitness business owners who have also had to pivot this month.
How did you grow your CrossFit box when you first opened?
I was at the point where I wanted to do something more with my life. I had a good career but wanted to move forward. So, I became a personal trainer in 2009 and began training and then working at a local CrossFit affiliate, and learning from the mentors there and I decided to think I can make a career out of this. I loved coaching, I loved training, so I transitioned leaving from my second tour in 2012 and went on with a business partner to open our own box.
We were all about setting up things correctly. Preparation was key with software management booking of classes. For me, it was always about professionalism so my first point was to decide what software to go with. TeamUp sold it to me straight away. We grew in numbers very quickly. I employed coaches and after two years of partnership I ended up becoming the sole director and we kept expanding. We moved into the premises next door, took on a new unit, doubled up on space. It was drastically growing quickly and TeamUp helped us do that.
How would you compare this lockdown with the previous?
The last lockdown compared to this current lockdown is different in terms of preparation and maybe the expectation of it coming again. We've been a lot faster to react this time than we were the last time. Again a massive pro from our point of view is the TeamUp integration with Zoom. We actually used Youtube Studio last time which worked fine because we were able to copy URLs and paste them into Boxmate. We didn't actually use TeamUp as a platform for booking during lockdown 1 because we weren't so confident with Zoom's security issues at the time and did not want to create confusion during what was already a difficult time.
But now that we have had a bit more time to plan and prepare, we are using TeamUp and we are using Zoom to take our CrossFit classes online and the interaction and preparation for that has been so easy. It has saved us a lot of hours. We used your guides on using Zoom to go through the process, create the venue and classes. I managed to get that done all in one morning, and the URL links and the meeting gets created automatically every time prior to the class. So that's absolutely fantastic.
How are you connecting with customers?
Our online classes are in the evenings, and we have additional mobility classes that are held in the evenings too. We're also looking at doing weekly quizzes for social interaction and will probably do a weekly chat and discuss with members if they have any questions about nutrition and habitual habits. We can have an open discussion amongst the members in the community if they need support, they can ask.
We moved into the premises next door, took on a new unit, doubled up on space. It was drastically growing quickly and TeamUp helped us do that.
Was lack of equipment at home a barrier for CrossFit online?
We've done a kit loan. Every single piece of CrossFit equipment we loaned out last time came back clean and tidy, so we've done that again. A little bit less this time, because last time everything was going out the door. This time it's just single bits of items so they can sustain our programming at home and keep up to date with some load rather than just bodyweight stuff because it can get a bit boring, and then motivation.
What are you finding the most important part of the TeamUp and Zoom integration?
The accountability with TeamUp and Zoom is so important. Not just the fact that our customers can get the link really easy to join the class, but what I find is going to be the most beneficial for us is accountability. Our customers are booking that class, which means they are committing to turning up. We haven't capped our classes so as many customers can turn up as they want. We have 150+ members so want to be able to look after them all.
How many customers are attending online sessions?
The integration between TeamUp and Boxmate gives them the ability to track their progress and how many classes they are coming to is great. Last time when we were using the Youtube studio it was harder to track. I think we were averaging about 10 and sometimes it was higher. But it was almost as if people were coming in and out, dropping in and out, some would come for the full workout. Some didn't want the warm-up so they'd come in after the warm-up, some would come for the warm-up and then do their own thing. Some people only had 30-minute slots because of the work timing.
This time I am planning for an uptake. The feedback looks like it's going to be good. If I can push that to 20 or more people every day then that's fantastic. We can track it all on Zoom which is really good.
But now that we have had a bit more time to plan and prepare, we are using TeamUp and we are using Zoom and the interaction and preparation for that has been so easy. It has saved us a lot of hours.
How do your customers feel about the second lockdown?
The first time it was panic and fear of the unknown. I think my career has prepared me for a lot of stuff like this and having to overcome and push forward. Our types of facility, not just CrossFit, but I think generally if you have a facility regardless of the fitness you provide if you are a supportive community if you're passionate, and your customers can reach out to you for help and trust you, it will be ok. Word of mouth goes around and the more people that walk through that door are already likely to be suffering through some type of anxiety or depression or lack of motivation and they require a lot of your time initially because they are reaching out and holding their hand out and saying can you help me. And you're there going, okay, how can I help, and your customers and team want to get more involved to help too.
Last night I connected a new member to a current member who has been at our gym for 3 years. This new member has anxiety, and I was able to go to our current member, who knows our mission, knows our ethos, and ask if they could be a helping hand for this new customer. It wasn't even a question, that member immediately said yes and got involved. Knowing we have members who will help others deal with issues they've had before is amazing, we hope it will carry on during and beyond lockdown.
The second time around it's more of a 'here we go again' attitude. The attitude has changed from fearful to knowing what to expect. It's hard, but mentally they are ready to go into isolation. And we are here for them. Especially in the days leading up to lockdown in the gym, we are making sure they are getting the routines down. Making sure they stick to the habitual things they need to focus on. We have asked them to try to be interactive with somebody and hold themselves and others accountable. Telling another member what time they are going to train and asking others to join. Getting them to be their own support system and allowing us to use systems like TeamUp and Boxmate to get it all done. Not having software or a system in place would be fearful for me.
From my perspective this second time around, we know how to manage this, we know what we can do, and what our customers can expect from us. We've gotten great feedback that they love what we have put together in terms of the package, and are supportive, and happy. We regularly have customers come to us and ask us what can we do to help us and sometimes we honestly don't know, but I really value and appreciate the support.
The attitude has changed from fearful to knowing what to expect. It's hard, but mentally they are ready to go into isolation. And we are here for them.
What is your best piece of advice for other fitness business owners?
I would say you're never on your own. As a business owner sometimes I feel like I am talking to the wall and getting no answers back and then thinking to myself is that the right thing to do? You ask yourself something hoping to get the right answers back. So, having feedback is so great especially from your team. I absolutely value my team so much, my coaching staff, my media team, they do so much for me. And in turn, I hope to guide them to excel where they need to. Everyone has areas where we need to improve, we all do, but there are so many things that so many people are good at. Allow them to do what they are good at and let go of some work, trust that they will do a better job than you will. It's about acceptance sometimes and a bit of humility.
Also, have some trust not just in your team but in yourself. Trust that you will make the right decisions. We're human, we'll always doubt and procrastinate, and be pessimistic, but generally, if you think about it too long you may be too late to make a difference. So trust your own decisions, you will no doubt make the right choices and people will always stick by you. And you know what if you make a wrong one - accountability. Recognise you made a wrong decision there, and move forward.
In terms of lockdown, always do what you can to support your team and your business. Trust that your members will come back.
How did TeamUp help you?
I think we've been with TeamUp since 2013. We started with TeamUp immediately as soon as we opened the affiliate. TeamUp has helped us do so much more with data, tracking classes. I use the TeamUp software so much. Operations and tracking of percentages of attendances, our coaches schedules and tracking if they potentially work overtime, front of the house with the store/shop has been easy.
In terms of what TeamUp provides for the facility, it's fantastic software for a small gym. We have 7 or 8 modalities of classes and it's easy for us to program that in with TeamUp. We're into our 8th year now. I have talked to several different people from TeamUp, and I have tried to influence and push where we need some new stuff, and a lot of it has come been done quickly. Some stuff takes longer than others, but I am very very impressed with what I have been supported with so far. What you guys do as a package is so rewarding.
What would you say to another business owner about TeamUp?
TeamUp has been great and I have always been a big fan of it, and have never had a reason to consider leaving. I've never even considered another software platform since because when I look at trying to make a change or feel like I can't do something, I'll get in touch and over the years there have definitely been things where I have said 'I need this' and then Beatriz or Mitch or Tim have been great, the modifications have been changed, and that's great! So, they listen to the customers because they know what we are after, and that's brilliant!
Thank you so much, Tim!
If you have something you would like to share with us about your fitness business or lockdown, drop us a line at stories@goteamup.com
To find our best resources on COVID-19 and online classes, check out our guide, here.
Open Comment Form