Gym and fitness center owners, are you ready to take your business identity to the next level?
In this competitive, fast-paced climate, successful branding requires more than a memorable logo or specific color palette; it involves creating an exclusive identity to which your intended audience can relate.
In this article, you'll learn how fitness branding can help make your business stand out from competitors, promote customer loyalty, and increase your visibility in the industry.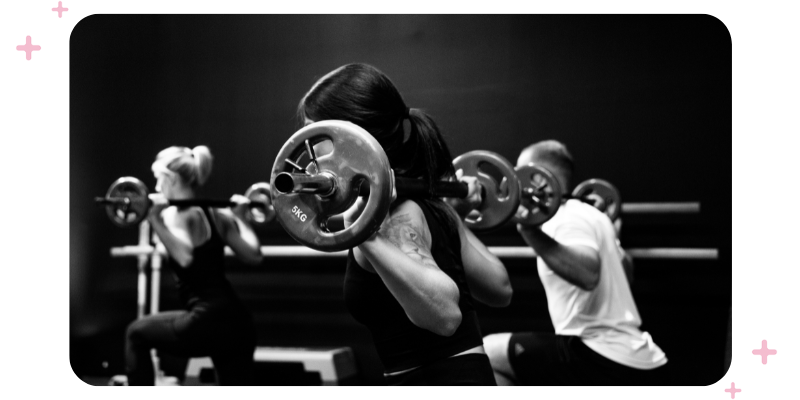 What is fitness branding?
Fitness branding is the art of forging an overall perception that will stick in the customers' minds, reaching them through all mediums—from their computer screens to in-person sessions at your facility.
Crafting a unique identity for your gym or fitness center goes beyond something as simple as logos and color schemes. It involves strategic thinking and planning to cultivate an image strong enough to differentiate you from competitors while conveying positive vibes.
Why do fitness businesses use branding, and how is it used?
Consider your brand personality as a bucket of paint that you can use to add vibrancy to several touchpoints.
Ensure that your current and prospective clients can view it in various locations, such as on social media, websites, emails, banners, customer reception area(s), and vehicles used for advertisement purposes (e.g., billboards).
Elements of fitness branding
In today's world, consumers are exposed to branding in various forms, making it essential to have a unique business identity that stands out.
Leverage the following branding elements to ensure your business radiates with a successful and distinct identity:
Brand name
Your business name is the first thing that customers remember and recognize, so make sure it's catchy, easily pronounced, and stands out from others.
Additionally, your brand title should accurately depict what you stand for to ensure people can quickly associate it with its mission and purpose. This will help set you apart in an ever-crowding marketplace full of competitors vying for attention.
Logo
An aesthetically pleasing logo is an indelible icon of your brand and exemplifies the passion you want to infuse in it.
It must be unique, unforgettable, and optimized for any device; furthermore, it should embody the values and qualities that underpin your business. If crafted correctly, this can help build customer trust and strengthen vendor relationships.
Look at some of the most renowned corporate logos, such as Nike's swoosh, Apple's apple icon, or Coca-Cola - they are all simple yet immediately identifiable symbols worldwide!
Color scheme
Colors can have a powerful impact on our emotions and play a vital role in branding. Your brand's color scheme should reflect your brand's personality and values and help create a memorable and recognizable brand identity.
Typography
The way you use typography can help create a consistent and recognizable brand identity. Your font, text size, and formatting choice can impact your brand's perception.
When selecting typography, it is essential to ensure that the font choice is legible, encapsulates your brand's unique personality, and maintains continuity in all your branding material.
Slogan
A good slogan can help to convey your brand's vision and personality in a few memorable words.
Create an unforgettable slogan that is succinct and carries the spirit of your brand. Consider famous slogans like Nike's "Just Do It" or McDonald's "I'm Lovin' It"- these catchphrases will help you stand out from competitors while reflecting your core values as a business.
Tone and voice
Your brand's tone and voice encompass how you interact with your customers, including written content and language.
These elements must remain consistent across all of your branding materials as they reflect the personality and values of your company.
For instance, if you are trying to motivate people in their fitness goals, you should weave a motivating yet upbeat vibe throughout any material connected to this mission - after all, it helps build trust between yourself and those who support what you do!
How to build a fitness brand strategy
As a fitness business owner, you need a brand strategy as your guiding principle for all your brand activities. It represents your direction, and you'll develop tactics to execute the plan.
Here, we'll analyze three fundamental elements of your fitness brand strategy: niche, target market, and positioning. With this information at hand, you will be well-equipped to construct a successful business model!
Uncovering your ideal fitness market
Nailing down the perfect fitness niche for your brand is essential to success. Consider what you have expertise in and where your goals lie, such as launching a yoga studio or spinning class center.
Additionally, it's important to research the competition in the area and gauge demand surrounding potential niches before making any decisions. The niche you select will be crucial when establishing a standout brand identity that resonates with customers.
A grid layout with essential elements can help spark inspiration if you're searching for new niche ideas. Populate the table with various options, and you could be well on your way to unlocking hundreds of unique concepts!
Narrowing down your fitness brand niche to maximize success
After you've brainstormed potential fitness niches, it's time to assess the competition and demand of your chosen niche to ensure its success.
For instance, independent studios that offer yoga classes with cutting-edge technology for millennials are incredibly successful ventures - take a look at Chroma Yoga for proof!
With an idea like this in mind, make sure you focus on what works well within your strengths to build a lucrative business from scratch.
Pinpointing your fitness consumer segment
Knowing and targeting the ideal market is essential for attaining success in your fitness venture. It would be best if you consistently tried different demographics to determine which will generate the most revenue. This allows you to immediately identify who makes up your target audience.
Conversely, you may also consider beginning by identifying those people or organizations that work best for your brand and those whose values do not align. This thought process sets a foundation for marketing strategies throughout the life of your enterprise.
Creating a comprehensive and detailed customer persona is essential for any business that wishes to be successful. Taking the time to construct this profile accurately will pay off in the long run, as it helps shape your overall marketing strategy.
Create a unique identity for your fitness brand with strategic positioning
Establishing the right location for your fitness brand will bring in customers looking for exactly what you have to offer.
Your brand must be placed relative to other similar brands on the market, and some of these positions include low-cost, mass-market, luxury, bespoke, professional, or 24/7 options.
This positioning also dictates who your direct competitors are as you compete over patronage from one particular segment of people.
For example, Pure Gym positions itself as a budget-friendly and dependable option, particularly in the UK fitness market. On the other hand, Equinox represents luxury with its Harrods of fitness brands. Additionally, Barry's Bootcamp stands out by offering innovative HIIT classes that are only 40 minutes long - and members can burn 1000 calories or more!
Real-life examples of fitness branding from the best brands
All fitness businesses, big or small, must emphasize branding as a key strategy to remain competitive and foster customer loyalty.
To that end, let's examine five exemplary companies – OrangeTheory, Aarmy, Girls Just Wanna Box, F45 Training and Spartans Boxing Club – who have succeeded in this area.
Aarmy
Aarmy is a fitness brand offering gym memberships, a subscription-based training app, and apparel.
Their ethos centers around the belief that everyone is an athlete and that individuals are more likely to achieve their fitness potential by training alongside others as a unit.
Their branding is unique and consistent, with a bold slogan, distinctive typography reminiscent of military stamps, and a cohesive black, white, and orange color scheme across all touchpoints.
Girls Just Wanna Box
Girls Just Wanna Box is an all-women's boxing gym in Toronto that has built a memorable brand from the beginning. The founders, Kristina Ejem and Helene Jafine are passionate about fitness and are on a mission to unite women through boxing.
Their branding reflects this passion and mission, with an unmistakable personality that strongly resonates with their target audience.
The company's brand expanded online during the coronavirus pandemic, and the founders discuss strengthening their studio after the lockdown on the Fitness Founders Podcast.
F45 Training
F45 Training is a fast-growing fitness franchise that originated in Australia and has more than 1,750 locations worldwide.
The brand focuses on the community and experience, providing an addictive fitness experience with high-tech equipment.
The company uses every touchpoint to engage its audience and customers, including a branded heart rate monitor, app, and fitness program.
OrangeTheory Fitness
Orangetheory Fitness is a full-body workout that uses heart rate monitors to help members train at fat-burning intensities.
Their unique approach and franchise model have helped them build a loyal customer base across the US and Europe.
The company's branding includes a distinctive logo incorporating the "splat" point, a feature unique to their workouts. Orangetheory also uses memorable slogans to describe their services, with catchphrases like "What Happens in Class Doesn't Stay in Class."
Spartans Boxing Club
Spartans Boxing Club is a community-focused boxing club expanding rapidly across the Middle East and Asia Pacific.
The brand's messaging centers around honor and courage, with a "Made for Everyone" workout to create an entirely inclusive atmosphere.
Spartans Boxing Club's focus on community and connection has helped to build a successful fitness franchise from the ground up.
Leveraging gym management software for fitness branding (and 4 of the majorbest benefits)
Gym owners have long been limited to their physical locations for customer engagement. But why settle?
Investing in gym management software can revolutionize your online fitness business and take customer loyalty to unprecedented heights!
By utilizing cutting-edge technology, you can boost participation from customers while also accessing a host of other advantages that will elevate the success of your fitness brand.
Here are four of the best benefits that come from leveraging advanced gym management software for branding your gym:
Improved brand recognition
Gym management software can help boost your branding with logo, slogan, and color integration to craft a unified customer journey.
Leveraging the effective branding tools within the program will allow you to establish an everlasting digital presence associated directly with your brand name. This way, all existing and possible customers will remember your business for years to come!
Furthermore, you can use branding elements like promotional videos, branded emails, and loyalty rewards to solidify customer loyalty and improve brand recognition.
With automated branding features built into the gym management software, it's easy to create an impressive branding experience that will keep customers coming back for more.
Targeted messaging
With gym management software, you can craft targeted branding campaigns for different consumer groups according to their age, gender and interests.
This way, your messaging is more likely to resonate with each customer on a personal level. Additionally, you can leverage social media and email marketing initiatives to boost the visibility of your branding messages.
The software also makes it easier to measure branding success, allowing you to track the performance of branding campaigns and adjust them as needed.
This allows for greater flexibility and accuracy in targeting customers, leading to increased customer engagement and loyalty.
Enhanced interaction
Gym management software allows customers to interact with your branding materials in real time. By leveraging interactive elements such as polls, quizzes, and surveys, customers can engage with branding content in a meaningful way.
This helps to create a more engaging branding experience and build relationships with customers on a deeper level.
In addition, the software allows gym owners to respond quickly to customer feedback, providing personalized branding experiences that hit home.
This helps to create an environment where branding materials are seen as helpful and valuable rather than intrusive or annoying.
Automated branding tasks
With gym management software, you can automate branding tasks with ease.
From social media posts and email campaigns to loyalty rewards and promotional offers - branding elements can be initiated with a few clicks of the mouse. This helps to streamline branding processes and make branding materials more accessible to customers.
Furthermore, automated branding tasks can help reduce errors and deliver branding content promptly. By leveraging branding automation, gym owners can save time and money while still delivering high-quality branding experiences that drive customer loyalty. You can also use free procreate downloads to design banners, social media images, and other visuals to save more time.
Takeaway
Branding is about forming a special bond between you and your customers – one that involves much more than visuals or logos.
By crafting an effective brand plan, you can reach higher sales targets and give your customers the trustworthiness and assurance they seek when going to the gym.
Furthermore, utilizing gym management software makes branding simple and efficient; automation helps the process move more quickly while providing a better customer experience and increasing loyalty.
And lastly, to achieve the best results from your brand efforts, tailor them to your objectives and target customers. We hope this article helps you succeed with your gym's branding journey - good luck!
Frequently asked questions on branding for gyms
What makes a good gym brand?
Effective gym equipment, hygienic facilities, and knowledgeable staff are essential for any quality fitness brand. With these elements in place, customers can confidently work towards their desired outcomes with ease.
How do I attract people to my gym?
To draw in your target audience, offer competitive rates and many classes as well as equipment selection. Additionally, create an atmosphere where customers feel welcome and encouraged to come back!
How do I promote my gym?
Increase your gym's visibility through social media, referrals from satisfied customers, discounts, and promotions, as well as partnering with local businesses or prominent fitness advocates.
What are 7 steps to creating a brand identity?
Create an unforgettable brand identity with these 7 essential steps:
Defining your target audience

Creating a unique value proposition

Developing a brand personality

Creating a brand name and logo

Designing visual elements

Crafting a brand message

Testing and refining your brand identity over time.
What are the 3 things that are included in branding a business?
Establishing a solid brand identity for your business requires three essential components: an eye-catching logo, an appealing brand name, and a clear message that portrays your unique value proposition to potential customers.
Open Comment Form