When investigating personal training software for your online PT business, what are some of the things you are looking for?
Is it software that is easy to use and provides your clients with a seamless online booking experience?
How about a tool that allows you to manage your own availability so that you don't have to waste your and your clients' valuable time stuck on the phone?
Or what about a system with a feature that allows you to offer both online appointments and online classes and allow your clients to book either?
We're not here to tell you that what you're looking for is far out of reach, because it isn't. In fact, these three tasks and many many more can all be achieved using Appointments. This is only the newest feature to be included in TeamUp's intuitive personal training software, with dozens of other tools and features that can help you elevate the online experience you currently offer or want to offer your clients.
Whether you are an experienced online personal trainer or are just getting started, in this guide we'll show you why you should use TeamUp's personal training software and how the appointments tool can help you deliver an unbeatable online service.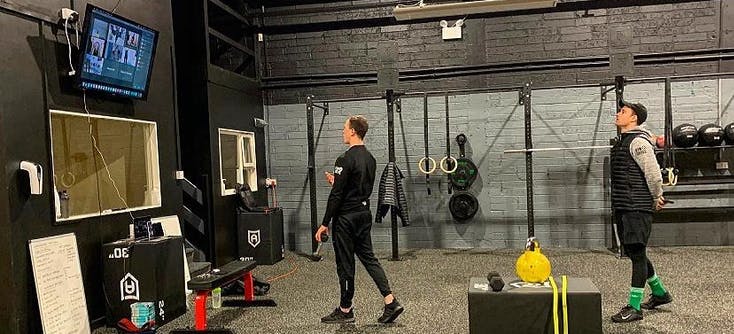 Photo Credit: Rocky Fitness PT
Why personal trainers are moving online
As online fitness services continue to be in-demand, more and more personal trainers are going the way of online coaching. Due to the numerous benefits of running their training businesses online, including:
reaching more clients
larger area to cover with less of a footprint
flexibility when coaches and clients can't meet in-person
ability to offer multiple online services including on-demand
And more, personal trainers have found offering their services online to be one of the best, if not fastest ways to grow and expand their businesses. Not to mention that technology and software integrating with Zoom make it increasingly easier for coaches to be able to deliver an incredible service to their clients even through a screen.
Why appointment software is essential for online personal training
Although many personal trainers still rely on pen and paper and manual spreadsheets to organise their clients and in-person sessions, using these methods to manage online sessions is not effective.
Manually sending out individual Zoom links and trying to keep online sessions private and secure for one is not only a hassle but can be concerning for clients who want to ensure that the businesses they are investing their health and wellness in are professional and reliable.
The constant back and forth of messages, calls, and texts, not just between coaches and their clients, but also between coaches and their managers is draining and can tarnish the valuable relationship between a client and a business.
Without software to not only facilitate the session but also to facilitate the booking and payment online before the sessions are to be held, clients slip through the crack and both they and the business suffer.
TeamUp's new appointment scheduling software
Fortunately, thanks to TeamUp's development of a brand new appointment scheduling tool, online personal trainers and online personal training businesses can eliminate the issues that commonly arise without the ability to book and run PT sessions online. Now personal trainers can run their bookings for online classes and online appointments alongside one another.
Built to make offering personal training sessions in-person and online streamlined and easier than ever before, this tool gives coaches the flexibility to edit and manage their schedules and clients the ability to manage their own appointments.
When a client now wants to schedule their online personal training session, all they need to do is enter your customer site or TeamUp Member App, select the online appointment type, and register.
Notifying both the client and coach with a confirmation at the time of booking, just like it's done for online classes, the client will receive a link to the Zoom meeting to open shortly before the session will begin. It's that easy.
Why you should choose TeamUp's appointment scheduling software for your online personal training business
For personal trainers and coaches investigating appointment scheduling software to run your online PT sessions, you'll want to consider TeamUp, especially now that our new tool is available for all TeamUp customers. On top of the convenience of having online software to run your business, this tool in particular takes out the complexity of offering online appointments. Here's how:
Coaches manage their own availability
Intentionally built and designed to eliminate the hassle and obstacles that can arise when running a PT business online, the new appointments tool cuts out the middleman and allows coaches to schedule and manage their own availability.
Without having to worry about figuring out when your schedule works with your clients, as a coach you can focus on preparing for your sessions and your coaching staff can focus on preparing for theirs.
If you or a coach does want to schedule appointments for your clients yourself if you know they will be coming at the same time and date every week, you have the capability to do that as well.
No need for your clients to reach out to you to book a session
The ability to check your availability on their own eliminates clients from overwhelming you with calls, texts, and emails to set, change, or cancel their appointments. And they'll love that as much as you do.
No more having to spend time going back and forth now that they can manage their own registrations and you can focus on delivering incredible online service. It's a win-win for your business, your clients, and you.
Offer a well-rounded complete service
Whether your personal training business centres around online services or is a hybrid of both in-person and online, with PT software on your side you have the power to run your business the way you want. Deliver appointments online, run in-person classes, and offer on-demand content that's a mixture of both. You can do it all when you have the right tools to elevate your business.
No longer need to use external tools to offer appointments and classes
If you have been using several different tools to run your classes and appointments, now you don't need to. Your classes and appointments can be managed and scheduled all from the same TeamUp account, saving you time from bouncing back and forth to different platforms.
Not to mention your clients will appreciate being able to book your classes or schedule an appointment all from your TeamUp customer site and member app.
Schedule appointments in rooms, not just venues
You no longer have to meet your clients at the door of the gym or studio and spend time wandering around looking for a space to train. The appointments tool not only allows fitness businesses to assign a venue to an appointment type but also a specific room within that venue.
You can even offer multiple rooms, that way if one is already booked for an appointment at the same time with another coach, you and your client has another option. Clients can show up ready to go without you needing to look all over the venue for a place to host the session.
Clients value your delivery and experience
It's never been easier to show your clients how much you care about their investment in you and your business. Offering appointments to your clients with TeamUp's easy-to-use tool will reaffirm to your client how much you care about delivering them an unbeatable service and experience they can't get anywhere else. The addition to your business's services will help them take better advantage of your time when it's better for you and better for them.
Pay per client not per feature
Using the new appointments tool doesn't come with its own price. TeamUp customers have access to all features and tools in the system including new ones added. When you sign up for our personal training software you won't have to worry about being upsold or told that in order to use a certain feature you'll need to upgrade. With TeamUp's pricing model you pay per the number of active clients you have, not the features you need to run your business.
Once you sign up, you have dozens of tools and features to support you
Beyond the appointments tool, TeamUp's personal training software comes complete with dozens of tools and features that will support you in running your business. The appointments tool joins a fully functional calendar, streamlined dashboard, organised CRM, the best payment processors on the market, high-powered online integrations including Zapier and Zoom, a new On Demand feature, intuitive reports, and many more features that will get to fully explore before you even sign up for TeamUp's monthly subscription.
Delivering online appointments in TeamUp
Similar to delivering online classes in TeamUp, online appointments are hosted via TeamUp's Zoom integration. To begin scheduling online appointments you must first integrate your TeamUp account with Zoom. Once you have integrated with Zoom you can create your online venue titled however you'd like, for example, "Zoom Room" or "Online Studio."
After you have your online venue created you can select it as the venue option for your online appointments and your clients will be automatically sent links to the Zoom meeting prior to the personal training session. Simple, easy to navigate, and a seamless experience for both you and your client. To learn more about setting up your online appointments in TeamUp, check out our step by step Zoom for personal trainers guide.
To learn more about TeamUp's personal training software and new appointments tool for your online personal training business, sign in to your dashboard or sign up for a free trial.
Open Comment Form