Want to cut the hassle with collecting payments? Exciting news - TeamUp's preferred payments system, GoCardless, is now available to TeamUp customers in the US, Canada, Australia and New Zealand.
If you're a fitness business owner in one of these regions, you can wave goodbye to all that time wasted ensuring your customers have paid you - complaints we've heard much of!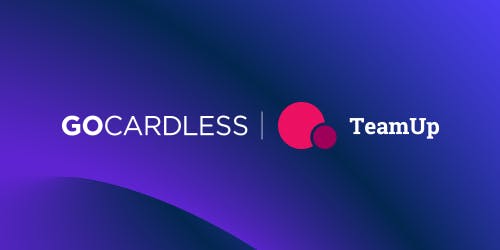 Now collecting payments is pain-free
Fitness business owners who don't yet have payment systems in place often track everyone who was on each session via spreadsheets, dealing with refunds or credit and then confirming payments in the doc.
This system is time-consuming, confusing, and frustrating when it gets out of hand. Keeping up with the admin when you have a busy day job can be tough - but it doesn't have to be anymore.
GoCardless keeps your business professional and streamlined
It's an easier way to take payments automatically, rather than wasting time at the start of classes. TeamUp has been partnered with GoCardless for over 6 years in the UK and, after 4 million customer payments and $200 million of payments, we can safely say it's a customer favourite.
Now TeamUp customers in the US, Canada, Australia and New Zealand can use GoCardless to collect payments from their members, hassle-free.
What other TeamUp customers are saying about GoCardless
"TeamUp has all the functionality you require from a gym software management system while still being user friendly. It links easily with GoCardless and plugs nicely into our website. Above all, our customers enjoy a seamless transition from logging on to our website to booking a class."
"A good system that can handle a good membership base & links to GoCardless to make taking payments easier. I like the scaled payments on membership levels this allows you to grow without paying initial high fees."
"I like it is easy to set up members and can connect to GoCardless. Love the register for class attendance."
Why GoCardless? Reliable, safe, and simple to use
At TeamUp, we like GoCardless because of its security and reliability. Our customers praise its ease of use, and online tracking and reporting. Here's what makes GoCardless and TeamUp so great to use together:
One-click setup - All from within your existing TeamUp dashboard
Cut your costs - And no contracts, no subscriptions, and no charges for refunds.
Complete visibility - See exactly what the status of any payment is, and when you will receive the money.
Disbursement reports - Break down large payments into the individual component parts, and see precise charges.
Payment reports - Track payment success, see how popular your payment methods are, track campaigns, and know where your business is at.
How to get started collecting payments through GoCardless
If you're already a customer, just head to Settings >> Collect Payments to get started.
If you're not, sign up to a free trial and you can link and create your GoCardless account directly from your dashboard, as above.
Open Comment Form