To help you learn the best ways to grow your business through financing, Funding Circle has shared the top financing options.
Starting a gym or fitness studio is hard work. You have to make plenty of investments in real estate, exercise equipment, and staff before you can even open your doors. However, once you get rolling and the members start subscribing, things begin to slow down.
You might be tempted to sit back, relax, and harvest the fruit of your labours, but now's the prime-time opportunity to grow your business. Don't wait until you plateau or break-even —build off your progress and keep the momentum going.
That's easier said than done, especially if your cash flow isn't bursting at the seams. Fortunately, you can find plenty of financing options to expand your business without eating into your profits or draining your business savings.
You likely already know a thing or two about business financing, so we'll skip all the interest rate and terms mumbo jumbo. This guide will walk you through all the different ways you can finance gym growth and expansion. We'll explain why you need to expand, ideas to make it happen, and nine options to fund it.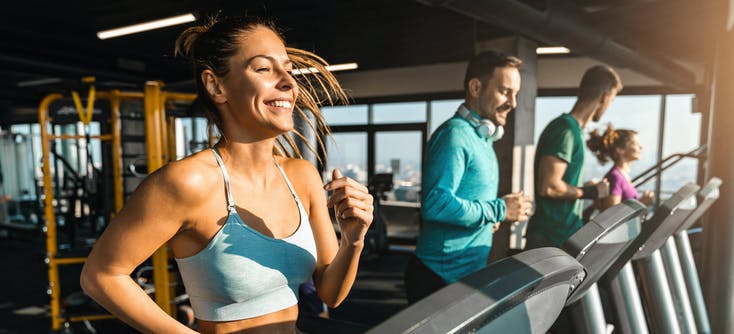 Why expand your gym or studio?
Do you really need to grow your gym or fitness studio? What's wrong with coasting along where you're at now?
In business (and life, too), you're either moving forward or moving backwards. If you're not pushing your business towards growth and evolution, then it's slowly falling behind and becoming irrelevant.
Competitors will swoop in to steal up your customers, and your members will eventually move on to bigger, better things—that's just how business works. To protect your business for the long term, you'll need to continue investing in its growth.
That growth can come in various shapes and sizes. Your gym doesn't necessarily need to get bigger—there are plenty of other ways to expand your business. Below are a few tried-and-true growth methods.
Ideas for growing your business
Open a second branch
Gyms and fitness studios can only operate at so much capacity. If the busy hours are getting a little too busy, you may want to consider adding a second (or third) location.
Before opening another branch, do some research:
Is your gym operating at peak capacity?
Are there offerings you'd like to provide but lack the real estate to actualize?
Do your members have to make a long drive to get to your fitness studio?
Is there another community where your fitness centre can fill a need?
If you can answer "yes" to any of these questions, you should seriously consider expanding to additional locations.
Expand your existing gym
Sometimes, the answer isn't a second gym—it's a bigger gym. Expanding your existing premise can allow you to service more members, add equipment, and provide additional amenities.
Expanding your gym could give you an opportunity to attract new kinds of customers. For example, you might remodel to make room for boxing bags, Zumba classes, yoga studios, or spin classes. You could also add showers, tanning machines, or even a sauna.
Update equipment
Fitness equipment doesn't last forever. Eventually, you'll need to upgrade, replace, and refresh your equipment—preferably before you have no other choice.
Take regular inventory of your equipment to see what needs fixing or replacing. Also, keep track of evolving trends and new customer needs. You may find that your members want mirrors, floor mats, or a certain kind of stationary bike (recumbent, perhaps?). Or you may want to invest in technology to host better online fitness classes.
Investing in your gym aesthetics and branding is a worthwhile investment, too. Upgrading the lightning, repainting the interior, and improving the curb appeal can do wonders for attracting new customers and retaining legacy members.
5 best loan options to expand your gym
Okay, now that your mind is full of all the expansion possibilities, it's time to consider how to make it happen. Growth takes money. Unless you have a pile of cash sitting around (if so, you probably wouldn't be reading this), you'll have to find a small business loan or get creative with your financing.
We can help you with both.
Below, we'll walk you through a few common, reliable ways to finance your gym expansion with a business loan.
Business Credit Card
Term Loan
SBA Loan
Equipment Financing
Business Line of Credit
1. Business credit card
You can use a business credit card to finance your gym expenses just like you'd use your personal credit card—swipe now, pay later. While most credit cards won't give you a huge credit line for expanding your business, they can provide enough to boost your cash flow.
Use a business credit card to finance gym equipment, hire staff, or just cover day-to-day and month-to-month expenses. As long as you pay off your card every month, this can be a great way to fund growth a little bit at a time.
2. Term loan
Secure a term loan to open a second branch, remodel your current location, or upgrade your equipment. Term loans come with large borrowing amounts, extended repayment terms, and reasonable interest rates—which all help keep your monthly rate affordable.
The beauty of business term loans is that you know exactly how much you owe every month and when the payment is due. There are no surprises. As a gym or fitness studio owner, you likely have a good idea of how much revenue you're going to make month to month. This consistent income makes it easy to estimate how much funding you can afford.
3. SBA loan
Small Business Administration(SBA) loans come in all shapes and sizes. You can secure a traditional SBA 7(a) loan for up to $5 million, or you can secure an SBA microloan for as little as $500. SBA loans come with wide-ranging borrowing amounts, low-interest rates, and flexible repayment terms, making them one of the most sought-after (and competitive) financing options for small businesses.
SBA loans are perfect for growing your business—that's mostly what they're made for. You can use an SBA loan to:
Purchase land to expand your operations or build a second location
Cover construction costs
Acquire an existing business (maybe a competing gym?)
Buy equipment and supplies
Refinance your existing debt
4. Equipment financing
You'd be surprised how much of your gym you can fund with an equipment financing loan. These loans are intended to be used on machines, equipment, and tools. For example, you could use equipment financing to purchase:
Workout machines
Dumbells and barbells
Matts and fitness bands
Bosu balls and kettlebells
Treadmills, bikes, and ellipticals
Squat racks
5. Business line of credit
A business line of credit gives you access to additional capital on a revolving basis (much like a credit card). You can spend your line of credit on just about any of your expenses, and then you'll get access to the funds again as soon as you repay the borrowed portion and interest. And the best part is that you only pay interest on the amount you borrowed—not the entirety of your credit line.
Business lines of credit are a bit harder to qualify for than business credit cards, but they typically come with lower interest rates and larger borrowing amounts.
4 Best creative financing options
Don't want to take on any new business debt? No problem—there are plenty of other ways to finance your gym expansion. Here are a few of our favourite creative financing options:
Bootstrapping
Friends and Family
Crowdfunding
Grants
1. Bootstrapping
Bootstrapping is when you use your business's revenue or your own money to finance your growth. This method helps you avoid taking on any debt, but it's notoriously slow. Plus, it's hard to make money without spending money.
2. Friends and family
You could always ask your friends and family members for financial help. Some family members may give you money as a business investment, while others may do it as a donation. Make sure you agree on the terms upfront (in writing) to avoid any confusion down the road.
3. Crowdfunding
Ask your community to help fund expansion. If they're excited about a new gym offering or a closer location, they may be willing to contribute to your growth project. If you have a brand-new idea you want to offer, consider spinning up a Kickstarter page. If you just want to take donations, launch a GoFundMe initiative.
4. Grants
Business grants are financing you receive that you don't have to repay. No debt, no payments, and no equity—it's essentially free money. And since everyone loves free money, grants are notoriously competitive.
You can find government and non-profit business grants for just about every imaginable use case. The hard part is sifting through them all and choosing which ones to give your attention to. Top-notch applications take time, so be picky with where you spend your time.
Plan, finance, grow, repeat
Growing your gym or fitness studio isn't a one-and-done activity—it's something you'll continue doing for the life of your business. Taking this approach to your business will keep it competitive, regardless of how trends and gym member behaviours change.
Look for opportunities, find financing, expand your business, and repeat. That's the recipe for long-term success in the fitness industry.
To learn more about TeamUp's best tips for pricing your fitness classes, check out our pricing guide.
Open Comment Form