While the pandemic threw a curveball into the plans of fitness business owners worldwide, many jumped at the opportunity to revamp their businesses and find ways to not only survive but thrive. James Robertson, owner of The Fitness Game, is a perfect example of a fitness business owner who went above and beyond during England's numerous lockdowns to show up for his customers and grow the business he always dreamt of running. Not only did he manage to keep his many customers engaged and active online, but he was also able to introduce new programs, supply his customers who didn't have equipment with a homemade kit, and build so much interest and anticipation for his bootcamps that once outdoor fitness returned he had to expand his timetable.
James shared with us his experience venturing out on his own to launch The Fitness Game and his journey as a business owner, trainer, and community leader. Continue reading below to learn more about what he did to build such a loyal group of customers and what his plans are for the future of his Bootcamp business.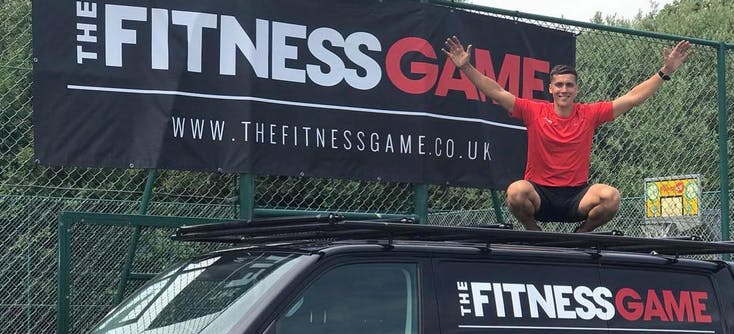 Photo Credit: James Robertson, owner of The Fitness Game
My name is James and I first launched The Fitness Game in London, England, in 2013. At the time, I set up my Bootcamp just as an idea. I had worked at a local health club and I started it as a side project since I was working as a full-time trainer at that gym. In 2016, I finally decided that after years of working in the club I was ready to venture out and commit to my own business. I went out and bought a VW caddy and filled it up with equipment and set up a Bootcamp on Saturday mornings at the local park. I started building that up and it was in 2017, months later, that I realised there was something here and that the business had a lot of potential. So I bought an even larger van so that I could have a larger setup, put a rig up at the top for TRX and rings, and it made an incredible impact.
I thought having a larger van would allow for more ideas in training because in the park you're more restricted as it is just you and the park and you are responsible for bringing the equipment. I brought more kettlebells, squat racks, and barbells, and having the van all loaded made the set up quick and easy and from there the business took off and started growing. I now run 15 classes a week outside and I am the only trainer at the moment, but I also have a few freelance yoga teachers that provide some online classes to my client.
Launching a Bootcamp business
I've always been an outdoor person. I'm big on cycling, running and football. When I first set up the most realistic option was to run my business outside because of the crazy fees to set up a facility. It's a huge investment. I was in my early 20s when I first launched, and I wanted to be able to start without taking a big big risk. I thought that opening up more of a pop-up fitness business rather than space would help keep those risks down, and it went from there.
Participating in local events and word of mouth referrals
I also participate and get involved in a lot of the local races and half marathons and it's been a great way to share what we're doing. Word of mouth has played a huge role and I have been able to build up the business organically. I haven't ever really invested in a lot of marketing or advertisement, but I am also never rushing the process. I started 7 years ago and slowly over time the awareness built and the word of mouth has been very important for that growth.
Creating a unique offering
I really wanted to do something different when I started running my first classes. Everyone thinks of outdoor fitness as a bootcamp, so I knew I needed to think of a new angle to attract customers and offer something unique. I run a "hit and run" class that is HIIT training with running. We run and stop and do 10 minutes of HIIT and then continue running and stop again and repeat. It's a great class and people see you running around and become curious and inquire. I also run a "lift and burn" class which is focused on weight training. Offering these additional classes and a variety that wasn't just 'go go go' all out bootcamp, helped generate so much awareness. It was a big talking point.
Investing in Bootcamp software
When I first launched the Bootcamp, I started off with one class on a Saturday morning and then before I knew it, I had over 25 people coming to that session. They started asking if I could offer more sessions and then it became four classes a week and started taking over, which is when I decided to leave the gym. TeamUp saved my life because I originally would come to the park and I had a small book to sign people in and a small cash box to collect their payments in person. People would arrive, pay, and train, and it started getting to the point where it was unmanageable to keep on top of who came to what sessions and paid.
I knew I wanted to set up a membership, but I didn't know how to do that and be able to keep track of people and the sessions. I went to a CrossFit gym and they were using TeamUp and after seeing how easy it was to use, I knew I needed it for my Bootcamp and it was the best decision.
Running a Bootcamp business during the pandemic
I knew straight away when the pandemic hit that I had to go online to keep the business alive. I think it's really important to do everything you can and go above and beyond when it's your brand and you're representing your community. Here's how I did it:
Zoom and online classes
I converted my old shed into a small studio and added kit, set up a camera to see the space, and right away TeamUp sent all the information about integrating with Zoom and how it worked. The customers being able to receive links and open Zoom means I just have to enter the meeting and wait in my studio for my customers to arrive. It's such a smooth transition and was amazing to see how easy it was for the customers to carry on doing what they're doing and then enter the sessions.
Welcoming customers who couldn't come to in-person classes
When we got started online it was mostly my regular members training with me, but through word of mouth, I was able to start training friends and family in other locations including Wales and Scotland. People who have never been able to come to my bootcamps before because of their location can now join from their living rooms.
Working with the local council
I work with the local council to reserve and secure our location. We have to book when we use our spots, and when all the gyms and studios shut, trainers started moving outside and it was crazy. For all the years I have run my Bootcamp I have paid for the usage of the park. The trainers who came and tried to use the spaces didn't know the rules and there was a big confusion, but they were just trying to keep their clients happy. The local council has been amazing at getting it all under control. I have two locations that I use to run my classes, and one of them is a strictly Fitness Game location so only I can use that park to run classes which is very helpful.
Adding more classes to my timetable
We had to do a COVID risk assessment and ensure that we were social distancing, cleaning our set up, and had enough time between classes to do that. We had to follow the guidelines and change our structure in order to do that. It was a bit of a nightmare to set up at first as we had to cap all of the classes from 25 customers to 16 because of social distancing and spacing.
When we first came out of the second lockdown, the waitlist was filling up super quickly, so members were wondering how they could train when I was capping the classes and they were used to having much more availability. I knew I had to add more to my timetable and it was a lot for me, but it was the only way to keep the waitlist down and keep everyone moving. I arranged the timetable so it was back to back with a class from 9:15 am to 10 am and the next class from 10:15 am to 11 am, leaving me 15 minutes in between to clean, set up, and prepare for the next group. I also offered nightly classes in the same structure, and the clients were so happy to have so many options.
Surprising my customers with equipment to use at home
During the first lockdown, the majority of my customers did not have any equipment at home so we focused mostly on bodyweight sessions. I was able to lend some equipment to some customers who wanted it, but that could only go so far. When lockdown 2 started, I ordered a ton of sand, so much that it had to be brought by crane, and I ordered sandbags. I stencilled over 200 of these bags with the Fitness Game name on them and in each of these bags, I added different amounts of weight from 5kg up to 20kg. I delivered them to 150 members without them even knowing.
I was able to use my TeamUp CRM to get all of the customers' addresses and I basically copied them all down and set up and organised them by name and location so I could create a smooth route. I wouldn't have been able to do it without having that information.
I left them on their doorsteps the Sunday night before I started the program so when class started and I introduced the program on Monday I told everyone that they had a sandbag waiting at their doorstep and to go run and grab them. They were so excited and we incorporated those sandbags as our kit into the program. Some people have made them heavier or lighter and some have had to be replaced after wearing them out, but it's been a great place of kit and way to keep my customers interested to offer something to those members who didn't have equipment.
The future of The Fitness Game - getting back outside
Monday (March 29) was our first day back and action. I am really lucky that my business is an outdoor fitness company so as soon as we were allowed to go back into groups outside we were ready to go. I still have a yoga instructor teaching online once a week just for people who want to do that, but everyone wants to be outside as much as possible. We couldn't have had a better start, the weather was so good and it was great.
Normality for me will be when I have all my customers and classes back up and running how they were before the pandemic began. We don't know if that's ever going to happen but we hope so. Beyond that, we might run another van with another trainer and grow in that direction, but outdoor fitness is here to stay and we're thrilled about that.
Thank you for sharing James! Stay up to date with Jame's outdoor fitness classes on Instagram.
Video: Why James chose TeamUp to run his outdoor bootcamp business
I went to a CrossFit around the corner from me in Twickenham, and they were using TeamUp so I signed up using TeamUp and I was like, this is so easy I need to bring this into Bootcamp. So that's where I went. And if I'm honest, it was probably the best decision just to keep the business alive, really.
Open Comment Form