Annie Norris, owner of Pure Studios UK, a pole and aerial studio in Hereford, wanted nothing more than to be able to simply run her studio and share her passion for pole dancing with her clients. With over 100 clients to teach weekly, Annie had originally been managing her business via spreadsheets and paperwork. Having been recommended TeamUp's software by a neighbouring studio, she was confident she could take on the workload and continue with the process was already comfortable with.
However, when it came time for tax season and organising all of her payments and invoices, Annie decided to give TeamUp a go and see if studio management software was all it was hyped up to be. Annie and her studio have now been TeamUp clients for over six years and since then has been able to run her business and admin completely hassle-free.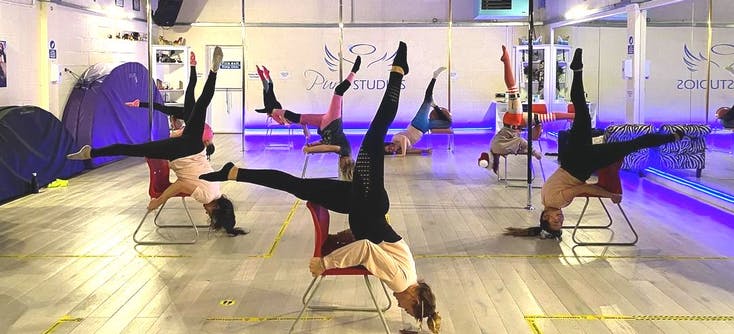 Photo Credit: Annie Norris, Pure Studios UK
Like Annie, there are many many studio owners who confidently wear all the business hats at once. But when the paperwork starts piling up and you start prioritizing admin over your clients, that's when studio owners realize they need help. Booking and studio management software gives owners the tools and resources that they need to stay on top of payments, streamline their tasks and workflow, and provide their clients with the best possible experience at their studios.
I signed up for TeamUp and it changed my life, I can't even say how much it changed my life. It made my taxes so much easier and my clients can book themselves into classes. I get everyone onto TeamUp when I can because I know it can help people run their studios much better.
If you are a business owner and have found yourself running into the following common challenges of managing your pole and aerial studio then it might time for you to consider signing up for studio management software as Annie did.
Communication overload
One of the biggest challenges management software can help pole studio owners control is the midnight calls, texts, and emails from clients wanting to sign up for classes or amend their bookings. Without a system that will allow your clients to manage their own memberships and registrations, you'll be stuck having to maintain your clients' bookings and end up spending all of your free time organising your calendar. Software will give your clients the ability to manage their own memberships without you having to communicate with them regarding every single booking, cancellation, or payment. It also comes with tools that can help you automate your communication to your clients so that they hear from you without you having to send out individual messages every time.
Overbookings and nowhere for clients to book
Just as it is important to give your clients the ability to manage their own registrations so that they don't bombard you with calls, texts, and emails, it's just as important to do so in order to avoid overbookings. No one wants to show up to class only to find out there are no open spots left or enough equipment to go around. Your clients' class registrations become even easier when they are able to book online in advance. Having a calendar with the number of available spots and a waitlist that your clients can sign up for when classes are full can help you eliminate any messy registration issues and ensure that your classes are kept full with people who intend on showing up. Say goodbye to having to turn clients away at the door because class filled up on the spot.
Knowing your clients' ability level
In pole classes, clients and students often need to be able to support themselves on the pole and in challenging positions. In order to ensure they are not put in a situation that could result in injuries knowing their abilities in advance is incredibly important. Sign up forms and waivers can help you identify where your clients are at before they come to class, so you can help point them in the right direction of which classes to sign up for that are fit for their level. Without knowing this information in advance a new client can sign up and attend a class both you and they aren't prepared.
A booking system can also help you publish certain classes for specific memberships, that way if you do have clients that are beginners, advanced or somewhere in between, they can purchase memberships according to those levels and only be able to sign up for those certain classes. You'll avoid injuries, confusion, and clients feeling bummed out about not being able to participate.
Late payments and cancellations
Who wants to spend their weekends chasing down clients asking where their payments are? Or finding out last-minute that a client is cancelling or even worse, pulled a no-show? We sure don't and we don't want that for you either. All this leads to is awkward conversations, not being able to trust your client, and late income for you and your staff. Without the ability to automate your payments and require your clients to purchase membership plans with recurring monthly payments or class packs, you'll be left to always worry about being paid and whether or not your clients will attend.
This is often one of the biggest reasons studio owners switch to software. They no longer have to worry about their finances thanks to automatic payment processing. Clients no longer have to pay in cash or in person, and those uncomfortable conversations about money will no longer be a worry for either of you.
Not knowing who's coming in the door
Pole dancing can be an incredibly personal experience, and clients often choose the teachers because of who they are and because they trust them with their safety. When a teacher or studio owner doesn't know their clients well they are not able to build that same relationship with each other. And oftentimes those clients will go looking elsewhere for someone who has time to dedicate to them personally. Not knowing whose coming in the door, their fitness history, and especially their name is one of the most common causes for failed membership retention. Not to mention, not knowing who's coming in the door can result in you not being prepared for class.
Management software with dedicated customer relationship management can both help you get to know your clients better as well as help you see who has signed up for classes. The organisation of these simple but integral details go a long way in building a strong relationship with your clients and ensuring you gain their trust, loyalty, and membership retention.
TeamUp tools and features to improve your pole and aerial business
Save yourself the extra time and energy it takes to organize your business by letting us do it for you. Studio management software will not only make your life easier, but it will give you back the power to run your business the way you want to. Your time is better spent building meaningful relationships with your clients and helping them be the best versions of themselves. And while you're focusing on your clients, these tools will help your business be the best version of itself.
Quick and easy online bookings
One of Annie's favourite TeamUp features is the online booking system because it saves her time and makes her clients accountable for their own memberships and bookings. An online booking system where your clients can pay, register, sign waivers and forms and amend any bookings without having to contact you will eliminate all hassle and stress from your plate. Now times that by the number of clients you have and you'll be doing spins around class all day.
Offering your clients the ability to book their online or in-person classes will give new importance to every single sign up. You can customise all of your classes by venue, teacher, class type and allow your clients to book in advance. Your classes will stay full and you'll be so glad you didn't have to spend all day and night checking your emails and texts.
Keep your classes full with the waitlist
Things happen and sometimes your clients will sign up for class and have to cancel when something comes up. But thanks to the waitlist feature, when a client cancels you won't have to stress or worry that that will result in you not getting paid and that spot not getting filled. When a client cancels in advance within the cancellation period you set, any client who signed up on the waitlist will be automatically notified and registered for that new spot. It's that simple. You won't have to scramble to keep classes full and your client won't have to cancel or worry that they've left you in a bind.
Get to know your clients before they walk in the door
Through the waivers and forms and customer relationship management tools you can get to know your clients before they even come to their first class. Ask about their ability level, what their experience with pole and aerial is and any injury or medical history you need to know. Your clients will appreciate you took the time to get to know more about them and that you are interested in building a relationship with them as more than just another customer coming in the door. Your CRM will store all details, payments, and keep everything organised for you to check whenever you need. Your clients will be able to make updates to their own profiles and you'll be able to see them without following up for more info. Simple, easy, and no time wasted for either of you.
Intuitive detailed reporting
Know your business at a glance. If you have a client that stops coming to class, perhaps you need to have a conversation with them and find something else that works best. The beauty is you'll be able to see all of this information in your dashboard using your reporting tools. With details on everything from invoices to who is or isn't coming to class, you'll be able to make important decisions that will positively affect your business. When it comes time for tax season or needing to apply for a loan or a grant, all of your payment information will be so easy for you to download and have on hand.
Customise your classes and memberships
Do you have a new class type you'd like to offer or a new membership plan you'd like to introduce? You have the ability to add any number of class types or membership plans to your account. This feature also comes in handy when you'd like members to only be able to access certain classes or courses.
You can also customise your memberships when it comes to online classes as well. Live-stream classes or give them one specific venue, whatever you choose, you'll have complete flexibility to design your curriculum and schedule just the way you want.
Automated payments
Never worry about a missing or late payment again. When you integrate with one of our trusted payment providers, GoCardless or Stripe, you'll be able to see when your payments are coming and use that information to forecast your income for months to come. Your clients will love that all they have to do is provide their bank or credit card details once and not have to remember to send you money every month for class. Payments can be collected for any type of membership plan and you can even set the date you'd like them to be charged. As one of the most important parts of your business, if not the most important, it should also be the most straightforward. Your clients rely on you to teach them and provide them with your services and you should be able to count on being paid for them.
Online classes
Can't make it to class in the studio but don't want to cancel? The Zoom integration can help you run online classes wherever you are and never miss out on teaching your clients. When you set up Zoom as your online venue and your clients register for that class, they'll be sent the Zoom link right to their email and be able to access it right from their TeamUp member app. When they enter the room they'll be automatically checked off the registry and you can happily start class on time.
Online classes can also help you keep your in-person classes full. If you have clients that would love to take your classes but can't make it to the studio either, give them the option to tune in online. They still get to take your class and enjoy the sense of community and you get to invite even more clients to each one of your classes.
Pre and post-class notifications
Whether for in-person or online classes, your clients will never forget one of their bookings, especially if you enable the pre and post-class notification settings. Your clients will be alerted before class starts and sent a reminder or sent a follow up after class. Automate your notifications so that you don't have to worry about chasing people down asking why they missed class. Your attendance rates will boost and your clients will appreciate that you reminded them about their upcoming registrations ahead of class.
The best marketing integrations
Stay connected with your community in and out of the studio using TeamUp's marketing integrations. From Mailchimp and Constant Contact for quick and easy to use email marketing to Zapier to connect you with over 1500+ apps and websites, all of your communication can be streamlined and automated to keep your clients happy and your network in the loop at all times. Let your creativity take flight and give your clients something to look forward to from you regularly outside of class.
Customer referral program
Do your clients have friends and family members that would love to begin their own pole and aerial journey at your studio? Encourage your clients to bring them to class using the customer referral program. When those friends and family members use your client's code to sign up, your client will receive class credits and you can gift your potential new client with a free class, trial, or discount. Your clients will love having a familiar face in class and your business can grow without you even having to lift a finger.
Taking back control of your studio and business is easy and software can help. To use these tools and more head to your TeamUp dashboard or sign up for your free trial to get started. We're here to lend you a helping hand.
Do you have a story about how software helped you run your studio? If so, we'd love to hear it. Send us an email at stories@goteamup.com to share your business story with us.
Open Comment Form