When Hayley Coe owner of CoeActive Fitness started realising that her management software, Mindbody, wasn't working for her the way she needed it to, she began looking elsewhere. Hayley was recommended to check out TeamUp. She switched and didn't look back.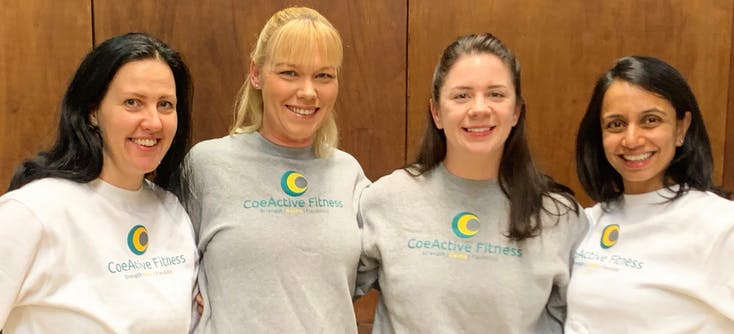 Photo Credit: Hayley Coe, owner of CoeActive Fitness (middle right)
My name is Hayley Coe and my business is called CoeActive Fitness, and I also run a business hub for teachers and instructors called Fitness Instructors Business School. I have been teaching Zumba and other group fitness classes since 2011 and have run my business as a membership system since September 2018. I first decided to launch CoeActive Fitness as I wanted to grow and develop the business with more classes and choice. As a pay as you go business, I knew the only way to grow and forecast sales was to step away from cash payments and introduce an online payment portal and class booking system which included liability waivers and other important documents.
When I launched CoeActive Fitness, I wasn't actually with TeamUp, although I really wish I had been. A friend of mine said they were using Mindbody so I decided to as well, not knowing anything else or what other booking systems were available to me. Although my business did grow in the beginning and was running fine, (I had hit my financial goal by March 2020!) I was also incredibly stressed because I was struggling with Mindbody, a lot of my time was taken up by trying to navigate around the software or calling support.
Switching from Mindbody to TeamUp
When the pandemic hit, I realised how important it was to have proper infrastructure and a system in place that could help me run my business online, collect payments, manage data, and offer online memberships. In September 2020, I decided to move away from Mindbody and look for more supportive booking software. I switched to TeamUp in September 2020 and it was an absolute game-changer. Here is what TeamUp was able to offer me that Mindbody could not:
A better customer experience for my clients
With Mindbody, I personally found every admin task long, frustrating and confusing. Simple tasks like changing class times or instructors took an unnecessary amount of time. What this inadvertently did, was make me avoid admin tasks and that had a serious knock-on effect on my customers.
With TeamUp, I can operate admin tasks within a few minutes so making changes to customer accounts or memberships is quick and the customer gets their query answered quickly and swiftly and have received great customer service. Changing the class schedule whether it be the instructor or time/venue is super easy and you can notify all customers who are booked into the class of these changes, this simple feature is such a huge customer plus point and keeps you the business owner looking professional and trustworthy.
More convenience and ease of use at a lower cost
Cost-wise, there is a huge difference. Mindbody is very expensive for the service. Having said that, if they had provided a fantastic booking platform that met my needs, I wouldn't have minded paying. I have never minded paying for something that is going to work. While cost is relative, the most important thing in a business is the ease of convenience.
With TeamUp, you would be able to navigate your way around the booking platform and it just makes sense. The layout is clean, it's visible and it's easy to find the area you are looking for. This understanding and confidence are just so huge for any business owner. It makes you feel like you can actually do this "business owner thing". It means with all the stresses that come from being a small business owner, your booking software is not one of those stresses and actually alleviates worries!
I feel like I never learnt how to use Mindbody, and it may just be me, but simple tasks would take me hours to figure out. I would spend hours on the phone to support and I would just feel really drained by the end of the day. It wasn't the best use of my time or energy.
Flexibility to make changes to class times and the schedule
The most stressful thing to do in Mindbody is changing a class time, instructor or date. I run up to 15 classes a week and have 5 instructors I manage, changing some details to classes does come up. With TeamUp, I can do this simple change on my phone in around 15 seconds, with Mindbody, I would need my laptop and a good chunk of time. For non-studio, multi-location business owners like myself, TeamUp is your best friend as I really can't be lugging my laptop around to every class.
Integrations with Zoom and marketing platforms
When I made the switch to online classes in March 2020 in response to the CoronaVirus pandemic, I decided to use Zoom for my 20+ weekly classes. At the time, the 3rd party platform to integrate Zoom into Mindbody was another cost I could not afford at the time so I was manually sending out Zoom links. Also, in my experience, the 3rd party integrations with Mindbody were not very reliable so I was keen to avoid using these.
When I changed over to TeamUp, Zoom was already integrated and it was FREE. The marketing suite within TeamUp is brilliant and covers pretty much everything that you need to do as a business starting out. The most important thing is, TeamUp worked. Not once has the TeamUp software let me down. It's easy to navigate and it was easy for the customers to transition to with no problems at all. It makes my working day less stressful, I have more time and any 3rd party platforms that I have integrated and connected have all worked perfectly!
Online services to offer more
I have now launched my On Demand platform via Vimeo OTT and although I personally have not yet integrated this into my memberships, I know it is a possibility for the future. TeamUp has made the option easy for business owners to offer more to their clients thus making them more desirable.
Customer support every step of the way
Working with a smaller customer support team like TeamUp means you create rapport, trust and I get the best customer service. The support team communicates with each other to resolve or answer your query meaning any questions or issues are resolved swiftly, this is so important for any business.
Mindbody can have waiting times of up to two hours and very often a support ticket would need to be raised, one of my support tickets was open for 16 months before I closed my account with them in September 2020. Because the Mindbody support team is so huge, everyone's knowledge varies massively and I found this to be one of the most stressful aspects.
Capability for non-location-dependent businesses
I don't own a studio nor do I want to own a studio, I have run a successful community-based business by renting spaces like halls and social clubs. TeamUp supports multi-location businesses such as myself as you can set up 'Venues'. This particular feature has without a doubt been my favourite and has helped massively when managing my classes. If you are a multi-location operating business, TeamUp is perfect!
The ability to offer discount and voucher codes to my customers
One of the ways I want to be able to support new customers is by offering them vouchers and discount codes. It is a great way of introducing new customers into your business and with TeamUp's reward feature, you can say thank you to the members who refer customers in. This really has changed my business entirely and it feels good to have the capabilities to do what I want. I always felt hindered by Mindobody's capabilities with this function as they really only favoured packages and not recurring memberships. It also did not have the feature where the referee could be rewarded, a really key function that improves business-client relationships.
A way to grow my business and launch a new business side by side
In lockdown not only have I launched an On Demand business, but I have also launched another dream project called the Fitness Instructor Business School. My mission is to prevent other fitness business owners from falling into traps and obstacles that I have previously experienced. I want FIBS to be a hub of advice and support for fellow community fitness instructors who want to build highly profitable, fulfilling and sustainable businesses.
It's so easy as a small business owner to become overwhelmed as you wear all the hats in your business. You teach, market, build websites, post on social media, write newsletters, write T&C's….the list is endless. I want FIBS to help alleviate the stress and worry by providing the tools that will help them wear all the hats and not feel overwhelm. Instructors will learn all the things I have…..minus the faff, time wasted and money spent down the drain!
To sum it up
I love TeamUp and it has changed my life. I feel confident with TeamUp and I feel in control. At the end of the day, the Mindbody software does not support people like me, a multi-location business owner. And while I appreciate that their system does work for some people, it's important to recognise what you want and need from a software booking system. TeamUp is able to offer and do so much more than I ever was with Mindbody. I am excited to go back to face to face because I know I can grow twice as big as I did before and with way less stress. I'm very excited to use all the tools that TeamUp has and help other people with the things I have learned.
Thank you for sharing Hayley!
Video: Why Hayley switched to TeamUp's software
So for me it's been a huge difference in not only my time but the way that I interact with my business. It's now such a pleasure to sit down on my laptop, open TeamUp and do whatever I need to do because it's easy. I know what I'm doing it's quick, effective and yeah, it's made my life 10 times easier.
Open Comment Form