With the recent launch of the new Appointments tool, dozens of TeamUp customers have jumped at the opportunity to start delivering a one on one service to their customers and members. Not only have we seen classic private sessions and consultations offered, but we have also noticed several gyms, studios, clubs and personal trainers using Appointments to offer some pretty unique services. Interested in learning what those are? Keep reading!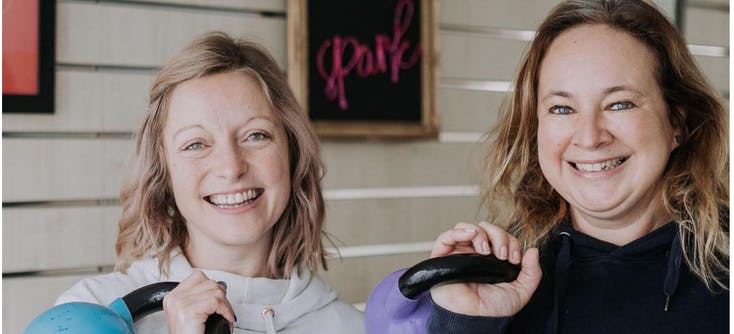 Helen (right) and Maggie (left), owners of Spark Life
Gym and studio owners offering appointments
We asked 20 studio and gym owners about their experience using Appointments and why they recommend other business owners begin to offer personalised services to their customers. In this article, you'll find examples of the types of services they are offering and how appointments have helped them deliver these private sessions, specialised one on one classes, treatments, and more to their customers.
If you are still on the fence about whether Appointments are for you and your business, the responses of these fitness business owners and the types of services they are able to offer with the tool will encourage you to get started.
Indoor personal training
Action Fitness Norwich Bootcamp knows that an important part of their clients' fitness journeys is being able to focus and work on their individual goals and needs. Which is why they offer 30, 60, and 90-minute indoor personal training sessions with owner and head coach Craig, at their studio location alongside their outdoor Bootcamps.
I love how appointments have been added to TeamUp. Finally, I can migrate my 121 clients to TeamUp bookings. Looking forward to seeing how the appointments feature develops going forward. - Craig

Train with a friend
Ascend Personal Training knows the value of having support on one's fitness journey, which is why they allow their clients to bring a friend to their personal training sessions. Offering a deal where the client and friend each pay half the cost for personal training classes means clients save and stay motivated to achieve their goals, while also showing a potential new client what their services can do for them too.
TeamUp helped me manage my class timetable and income, saving me time and effort. My clients find it so easy to use and enjoy how they can control their bookings. Team up has introduced On Demand and appointment booking features, which has helped me better my service and boost my income. - Danielle

Private pole session
Blush Pole Academy clients can book their choice of a 30, 45, or 60-minute massage or a private pole session with one of the studio's qualified instructors to work one on one on their skills. The opportunity to meet one on one with a trainer gives clients a chance to work on the choreographic or specific techniques that they can use in group pole fitness classes or on their own.
At Blush Pole and Aerial Studio, we found appointments has worked well for services such as private pole and aerial lessons and sports massages. The staff set their own availability easily and we added marketing tools such as images to advertise our services. The staff get notified automatically when someone books a slot meaning my admin time is spent improving and developing the company. - Becky

Sports massage
Body Transformation Centre clients can work out their knots and kinks and refresh their muscles when they sign up for a 45-minute sports massage, a new service added to the centre's transformational programs, personal training sessions, and small group PT sessions, both in-person and online.
We have been waiting for Team up to add something like this for a while to help streamline some of our systems and processes and also save us having to use additional software. We think that the new appointments system is a great addition and looking forward to seeing how it develops. - Nick

Doubles masterclasses
From individual coaching sessions for kids and clients to personalised hitting and serving sessions, to all day doubles masterclasses to make the most of the tactical teamwork and training needs for Doubles teams, Boom Tennis Coaching makes sure their tennis clients have all the opportunities they need to perfect their game and skills.
We use TeamUp Appointments for individual Tennis Coaching sessions. We have several coaches showing available time slots and spaces with TeamUp allowing us to offer clients flexibility and a professional service. - Dave

Swedish massage
Hope Studio Yoga designs its classes and appointment services to help clients slow down and move mindfully. To provide clients with their specialised services, the studio offers 45 and 60-minute Swedish massage appointments, with a special intro offer just for new clients. Which also goes hand in hand with their new member intro offer for classes as well.
TeamUp appointments was launched at a perfect timing for my business. As a small yoga studio now offering massage treatments, having a class schedule, and managing appointments under one single platform make it efficient and affordable. The new feature is easy to use and since my clients are already familiar with the app, they found it straightforward to book appointments with me. Great new feature! - Camila

Premium private ballroom and Latin dance lessons
For dance students and pupils of Hove Dance Centre who really want to nail their steps and choreography, they can take a premium private ballroom and Latin dance lesson with owner Jake Hooker. Offering a variety of 30, 45, 60, and 90-minute lessons allows students to find a time and session that works best for them and will allow them to practice and improve their skills right from the best.
Using the new feature on TeamUp with appointments has allowed me and my business to run how it used to. Being able to give the option of private lessons ranging in times to suit everyone's budget and flexibility is a great step forward. It makes the management of scheduling so much easier for me and my pupils who can see when staff are available to book without the back and forward communication beforehand it's a real time saver! - Jake

Individual Tennis coaching
Game Plan Sports customers can put their skills to the test with individual private coaching with Game Plan Sport's Head Coach, Matt. Their dedicated fitness training for Tennis allows players and customers to focus on their technique one on one and improve in the areas that will make their game stronger and take control of their skills, speed, and intensity.
Me & my team have been using the appointment system with our clients. We have found it unbelievably useful tool, to allow coaches to make their diaries available & give clients the ability to book in when suits them best. It's a really useful and easy to use function! - Matt

Myofascial release
Clients of Louisa Thomas can take advantage of a number of specialised yoga and restoration services including one to one yoga sessions and myofascial release treatments. Offering these one to one services are perfect for clients who want to focus on beginning and improving their yoga journeys as well as clients who need assistance and treatment for chronic pain, mobility, and alignment.
For me, the appointments option has made booking so much easier. I offer yoga 1-1s and also myofascial release treatments and now clients can choose to book one of those at any time. Previously I had to specify which time slots were for yoga and which were for MFR. It's much more flexible with the appointments system. - Louisa

One to one private training
Private one to one training with your favourite teacher, Mill View Pole Academy offers its members personalised and catered training. Labelled as "class for YOU", students book with the teachers in advance so that they can create the perfect place for each individual student.
I really love the appointments feature. It takes away the hassle of listing staff availability hour by hour and gives the customer the control to book one to one's without the extra admin of having to contact the studio to schedule time slots! - Kiley

Bachelorette and hen parties
You don't have to be a full-time member of Pole Dance BCN to take advantage of their amazing appointment offering. The pole studio offers private 60-minute and 90-minute pole sexy and pole sports classes specially designed for bachelorette/Despedida/hen parties. Attendees of the private event learn all of the basics and even choreograph their own dance routine by the end of class.
The appointments section allows us to have our two types of service separately, so we don't mix our regular classes with the appointments and we can offer the booking link for each client. We can have the available times/day on the system so the client can book directly without having to call or email us, so the amount of work time is reduced considerably. - Tania

Reiki session
Spark Life clients can enjoy an hour of Reiki to feel relaxed and refreshed. Alongside their small group and personal fitness training and yoga classes, the studio offers Reiki sessions designed to help clients relieve pain, reduce their heart rate, and reduce stress and give them the one on one time they need to restore. Spark Life, owners Helen and Maggie love how easy it is for clients to be able to book themselves an appointment whenever they need.
Appointments have made it so much easier for our customers to book ad hoc appointments with us and have saved us so much time. Where we used to have to set available individual time slots, now all we need to do is set the times we're available and our customers do the rest! - Maggie

In-home private yoga session
With 10 different appointment types in her schedule, Tilly owner of Yoga with Tilly, offers her clients appointments for private one on ones both in-studio and at their homes, sound healing therapy, prenatal private yoga, and Swedish massages. The ability to deliver a personalised service to her customers directly wherever it suits them shows her customers how dedicated she is to them and how much value she gives to their business.
TeamUp has saved me so much time and energy to put more into what I love doing. As a yoga teacher and massage therapist, you don't train to be an accountant or marketing and advertising expert. TeamUp has allowed my schedule to be managed, and for my appointments to be booked under an availability schedule which means I don't have to look at my times to book people in, the pressure is off me and it's so humbling knowing that everything's being taken care of. I cannot recommend TeamUp enough, thanks everyone x. - Tilly

Refresher: benefits of offering appointments
As you can see there are dozens of fitness business owners, coaches, teachers, and trainers who can see and have experienced the value of offering their customers a personalised service. To give you a refresher on what you too can experience by offering appointments to your customers here are a few of the top benefits:
Appointments is a premium service, therefore you can charge extra. Whether you predominantly offer appointments, classes, or both, this service is one that can both stand on its own two feet or run alongside your classes and sessions, but it is indeed a premium service. Customers can't receive the same attention from you in a group class or session that they can in a one on one setting. Knowing that allows you to charge more for that time and focus while also ensuring your customers that their investment in you for a one on one service will always go towards helping them achieve their goals and make the most out of their time and money.
Appointments can help your customers progress faster. The ability to offer customers who already take group classes the chance to meet with you privately gives them an opportunity to invest more in your business and in their own personal fitness and health journey. The more they see their goals accomplished and their hard work come to fruition, the more they'll want to keep coming back
Customers give you their undivided attention. When a customer pays for a membership that includes one on one time with you, they're telling you they will not only show up but pay attention. Customers don't want to waste their time or their money, and by signing up for a tailored session they want to make the most out of their investment both in training and in you.
Customers experience value from meeting with you one to one. When you deliver a training session, skill lesson, or treatment to your customers one on one it's an opportunity for them to really focus on their goals and individual needs. The ability to share the goals and vulnerability with their fitness and health with you is a sign of trust and opportunity for you to show them how much you value each customer of your business.
Customers will choose your services over your competition. When customers see that not only do you offer classes, but also one on one sessions or additional treatments, they won't feel the need to use the external services they once used to fill those gaps. By offering additional services that your customers enjoy, they'll turn to you to take advantage of what you offer rather than go somewhere else.
Your customers' success becomes your biggest marketing tool. When an existing customer reaches their goals or notices the progress they are making in their journeys, they'll want to share that excitement with their peers. You then have an opportunity to encourage your customers to not only share their results but also refer their friends and family members who also have their own goals they want to achieve. By showcasing what you can do for your customers in both a group and one on one setting, new customers will want to investigate if you are the right business for them.
This list can go on and on, but once you start offering appointments of your own, you'll be sure to experience these benefits above as well as many others very quickly.
Additional resources: learn how to set up appointments
To learn more about using Appointments for your own business, check out our set-up guides and blogs on the best ways to offer this personalised service to your clients:
Thanks for reading!
Open Comment Form