Global personal trainer, mother of two, and rescuer of dogs, Sarah Maxwell's life and fitness experience is filled with wonderful adventures and achievements that surpass the norm. But she wants her community and her clients to remember one thing above all else - she's a real person and her success did not come without working extremely hard and a few bumps along the way.
Like many other trainers around the globe, Sarah's business was very heavily affected by the COVID-19 pandemic. Not only did she lose some of her most loyal clients, but she also struggled with giving classes in her studio which was in her home. Between managing her business, taking care of her family, and trying to balance her work-home life, Sarah saw the power of online classes during the early stages of the UK lockdown.
However, she was also juggling different types of software, none of which supported online class integration, and were causing her more stress than aid. Once Sarah found TeamUp's personal training software and the Zoom integration she began to offer her clients training online.
What's so unique about Sarah's story with us is that after seeing success and how her clients reacted to taking classes over Zoom, she knew she would be able to teach online full-time. She has found a solution to her struggle for balance and with the occasional in-person one-on-one or masterclass, she has completely transformed her online business.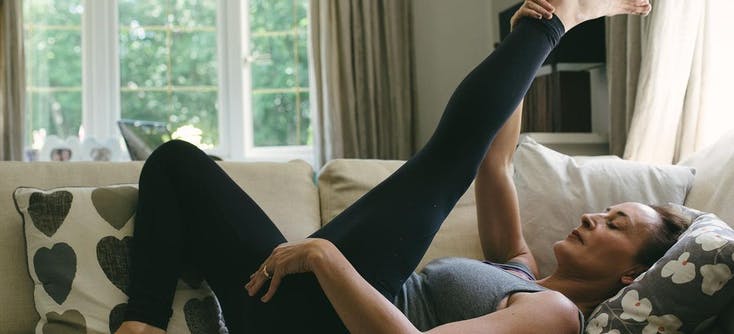 Photo Credit: Global Personal Trainer Sarah Maxwell
Sarah's background and motivations
Sarah has some big ideas on how other personal trainers and fitness coaches can follow her example and make online classes a larger part of their businesses beyond COVID. We got a chance to sit down with Sarah and chat with her about her journey in transforming her business. She also shares her advice for other coaches on why recognising the value of your services and relationships with your clients is key to a successful online business. You can follow along with the full interview here:
What made you want to become a personal trainer?
I've been working as a personal trainer for 33 years. I was one of the first personal trainers in the world, and back then personal training just didn't exist as it does now. There were a few that started the fad including Princess Diana's trainer and Body by Jake, but very little back then. I started in sports development and was working with athletes and coaches. I then moved to London and worked at the YMCA, when I was 26, then went with Cliff Richard on the tennis circuit. I've worked with some of the most talented and innovative teachers and athletes.
Growing up, my uncle Ivan was world speedway champion nine times. I would stay with him and I would see a different side of life and athleticism. He even paid for me to go to ballet training in Newcastle. I was fascinated by him and his determination was unbelievable. I would watch him and he would go into this psychological zone and he trained with the purpose of being a world champion. So that was when I really got into this idea of being a trainer.
What made you want to transform your business and become an online personal trainer full-time?
When I first moved to London and worked in a YMCA, I had taught classes, but I had never really worked in a gym before, and my class set was very different to the normal standard and I was a bit off the wall. My long term goal was to be more transient, so I could travel and teach at the same time.
I wanted to eventually do all of my PT online. I found it worked much better because I can look at the videos over again, and move around to give retreats, and still keep my clients. I thought, 'I need regular income but need help to move online', and then lockdown happened and pushed me to move into that space I had always intended to be in.
Another reason was my studio has always been at my home, even since before my kids were born. One of the things was a big problem for me, was that everyone was always in my house so it could get pretty stressful. Everyone would come and unload their own things on me, and it was hard.
Not only because I am trying to give class, but for clients who come to you with their own problems, we can help them, but not be their therapists. One of the best pieces of advice I have ever heard was: 'Personal trainers and fitness instructors are not your therapists and you shouldn't go to them with your problems. But the truth is they do, and we do have a responsibility to be there for them in some capacity.
How have online classes helped you build a better healthier relationship with your clients?
I don't know how many people have had the experience where you do act as a therapist for your clients and you do everything you can for them, only for them to leave you because you now remind them of that time in their life. They may forget, but we don't. I started to see how online classes had a positive impact on my relationship with my clients.
With online classes, you have a beautiful tool — the mute button. I can go to class and help my clients, but not be their therapists. Online has really saved me with that. What I do now online has been a big help for us all. I open up the class 10 minutes before the start time. I keep my camera off for that time and have a chat with my client, a catch-up as if we were on the phone.
Then when class time begins, I turn my camera on, hit mute, and now the floor is mine. This has shown my clients that when class starts the focus is on the session. In a live class, you start class but that doesn't mean you always have the full attention. This way I have full control to run my class. Your time as a personal trainer is valuable as is your client's time to get in their workout.
How do you plan to run your online studio moving forward?
I would like to continue giving three or four online classes a week and lower the price of the monthly membership. I personally have no intention of going back to my physical studio ever again, partly because it's in my house. Because I wanted to go around the world and be transient, one thing that would be fabulous would be to live stream from a class if I did have to teach in person. I'd love to give larger masterclasses and retreats where I could also live stream.
What advice would you give to other personal trainers looking to launch their online businesses?
For me, I can feel very motivated, but I have moments in time where I can get overwhelmed and have a lack of motivation. The only time I ever operate on fire is when my back is up against the wall. I can react very well when I have to put pressure on myself.
But I had to have a lot of training in the process of achieving things. It's this whole thing with having to have a personal training website now and social media, it's really really hard because you can't do everything at once. And we see these things all the time. Here is my advice for other coaches:
Get a business mentor or coach
I managed to get myself the most amazing mentor who is my best friend for the last 25 years and happens to be the head of conditioning for the British Olympic Association. He's my mentor and he works with me. I have also been working with a business coach and she told me to map out my career which has been very helpful.
I mentor several younger trainers. When you start out training you have to go in there and own the room. Those trainers who are empathetic care so much about what we do and our clients' opinions of us. I used to get so nervous before giving classes. I once had a student tell me the day you stop being nervous is the day you stop caring, and I knew she was right.
Start out small with social media and your website
Social media can be an absolute nightmare and unless you have thousands and thousands of followers, it can seem daunting. When it comes to having a website, at the start keep it simple. Just start with a page and don't worry about a full website if you don't have time for one. You just need a place where your customer can book online. For social media, post a couple of times a week. The important thing when it comes to social media is chatting and engaging with your customers and giving them a place to connect with you.
Stop offering your services and content for free
There's so much free stuff out there. The biggest mistake I ever made was to not charge enough. I have had certain trainers say to me 'I am not going to charge anything', and 'I am only going to give classes for free'. Stop the free stuff. People do not value 'free'.
Don't do anything for free or be frightened to charge. We have to earn money, and if we do not charge, and people do not pay for the services we provide, they do not value what they are getting. I gave massive discounts to people during the lockdown, even if they could afford it and those people flaked. The ones who are paying top dollar have been brilliant because they made a commitment.
Combine online with in-person via live streams
It's a brilliant time for personal trainers because we can still give in-person classes if we wanted or needed too while still live-streaming online PT classes. It's a truly brilliant time that we can do both. People are still connecting without being in the same room as their clients, and that flexibility has been so helpful.
I know many younger or newer instructors prefer to be with their clients, but as you get older you need to maximise what you have with minimum input. I would teach eight to ten classes a week and feel so burnt out. It's about quality, not quantity.
Combining live streaming with a live class is excellent because when you go live, now people are respecting your control and the time of others through the two mediums.
Find the right gym management software
When I found TeamUp and I was struggling, upset, and I couldn't believe TeamUp was real. Everybody was so supportive and helpful. It was just gorgeous and then you had Zoom integration. I actually feel like TeamUp is a family and everyone cares.
It has completely changed my personal training business and what I am doing. I have struggled with personal difficulties for years and it took me quite a while to accept when I need help with the software. But I think anyone who is struggling or worried just needs to get on the phone and chat with TeamUp and they'll find their solution.
I think it would be so wonderful for more instructors to connect and chat and we can all share a lot because there is so much work. We are not in competition, we just need to work together and help each other. I want to get everyone involved and share ideas.
Embrace the challenge
I wrote a blog post about embracing things. I imagine there's a lot of trainers or teachers that felt quite hurt and disappointed at some of the lack of loyalty of some of their clients. Your ego takes a bit of a bashing, and it's quite hard not to take it personally.
In the early days of lockdown, we were all lost and didn't know what to do with Zoom. What's really interesting is people have embraced it, whether they've had internet or connection trouble or other obstacles. But it was a moment in time when everyone thought it doesn't matter if you make mistakes and you can still make mistakes because people will guide you through.
But the ones that don't embrace this change are the ones that will lose out in the long term because I believe you can mesh live in-person and online, it's a perfect combo. And that's the way things are going to go.
Do you have any fun online class stories to share?
I have had a lot of horrific experiences at the start. In the last three months, I have had all different sorts of venues as I move around. I have been in Sicily, Italy, where I have a home, I have been at my house in Kent, and moving between the two.
When I first started on Zoom I had to give this 80s class and I thought 'I am going to make it outrageous', everything from dressing up to the music. I put a Zoom background on of an 80s cassette which I thought was really cool, and as class began, I started to blend in with the background and my limbs would disappear or part of my face would disappear. It was a disaster, but it was hysterical.
When I first moved into my apartment in Sicily, I had to give a class using the bath as a prop. I have had to give classes from my iPad, I have had to give classes in the car while stuck in traffic. But that's what's so fun, is it's not restrictive. We're keeping it fun and it's exciting.
Thank you so much, Sarah, for sharing with us! To learn more about Sarah and her business, check out her website and Instagram.
Video: Why Sarah chose TeamUp for her personal training business
And then I contacted you lot. And it was a whole new world. And I always make a shout out for Yasmin, I mean just amazing and for me having learning difficulties and actually trying to think through it and getting confused, not for once did I feel like an idiot. And believe me, for my whole life I felt like an idiot when I haven't quite got something. It doesn't mean I'm stupid. It just means that I learn in a different way. And they (TeamUp) were just brilliant. And I'm never leaving now.
To learn more about TeamUp for your PT business, check out our personal training software. If you have a story about your business or advice you would like to give other coaches, drop us a line at stories@goteamup.com.
Open Comment Form