For many fitness businesses, the many transitions between in-person classes and online classes due to the pandemic have been a bit of a roller coaster. As venues re-open and in-person classes are welcomed back, we wanted to get an inside look as to what that looks like for fitness businesses who run their classes out of multiple venues and locations.
To share her experience running online classes and returning to in-person classes is Yvonne John, owner of Feeling the Feeling. While lockdown presented many challenges, Yvonne has found new success as she re-opens in finding a brand new market, introducing new classes, and hosting classes in a new location. Check out our interview below to learn about her journey and which TeamUp tools and features have been essential to her business over the last year.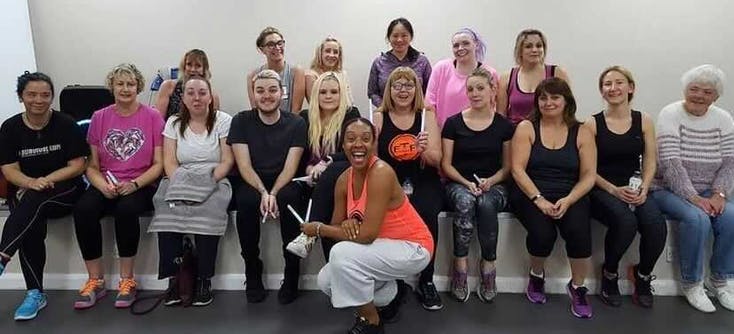 Photo Credit: Yvonne John, owner of Feeling the Fitness
My name is Yvonne and I run Feeling the Fitness. I have been running my business for nine years now. I started with Zumba and then six years ago I added Clubbercise which is another dance fitness program. Last year I added personal training and coaching to the brand, and we're expanding and will be adding more this year.
Prior to TeamUp, I used to use Bookwhen. I was a part of a coaching group and they recommended TeamUp. It took me a good year before I finally moved from my current system to TeamUp 1) because it's a nightmare to move from another software and because 2) TeamUp was more expensive. But I had grown out of the other one and everything I needed I was told would be on TeamUp and it has exactly what I need and then some. TeamUp also exported and brought everything over for me and if you're going to go with a system, use it.
What are your plans for re-opening your in-person classes?
I am going to do a class that is called Soul Line Dancing. Every class will centre around one song and we will introduce a few steps and you build and build and get it to one song at the end. That's a class that will be fun and low impact. It's not really fitness, but it's just nice and fun for people who want to be out with their friends or want to do something in the evening, listen to good music and have a laugh. That class will be hybrid and will be online and in-person and I will probably record it and add it to my on-demand library too. I don't want to do that with every class, but I will do that with that particular class.
I only do one day in the gym and the rest of the time I work for myself, so I get the opportunity to showcase new class ideas in the gym. I just go and say let's try something new or I will ask the gym if I can hire it out to give some free tasters to try out new classes. I'll see if people like it and if they do, great, and if they don't they don't. With Zumba and Clubbercise I just went ahead and introduced the class, but with this particular one, it's a completely different style. For new classes, I do a lot of tasters and get my feedback from there. It doesn't really cost me anything, I am already paying for the space so if I put it at the end of a class and offer something new it isn't a problem.
Where will you run your in-person classes now that venues are re-open?
At the moment I use schools, but I have used church halls and community centres in the past. I am not using any of the venues that I used before because we're still socially distanced. I tried it in September and the class size was cut down to about 1/3 of what I was normally running. That made a lot of the venues unfeasible and not worth it so I haven't gone back.
In early March 2021, we were told that at the beginning of April we could start teaching outside. Now that we have been told we can resume in-person classes while staying socially distanced, I have another space reserved for me to resume my in-person indoor classes, but unfortunately, it's not big enough. However, I have just found a new outdoor space at a school and the school has a lot of other gyms. I was using their basketball court when we were allowed outside.
Due to COVID because there are different rules for children, at the school there is actually a cheerleading squad practice going on at the same time inside. The moms of the cheerleading squad started watching my class and talking about it. They were getting excited and came to me and now I will be doing a class for the moms while the kids are in cheer. It was brilliant.
How has identifying this new ideal market helped you expand your class offering?
I didn't even know they were there so now that I know they are there, I am going to look for other squad practices and offer the same service. One of the first things the cheer mom who approached me about the classes said to me was that all of the moms of the squad had been complaining about being unfit and that they really wanted a fitness class. Because of this arrangement, they have even said not to worry about finding another venue and that I can share the same hall.
They put up a screen and we run our classes in the back and the squad practices in the front. I now have two days a week with them and because they are a group, they'll receive a discount. The arrangement I made is that in order to receive the discount there must be a group of 10. Initially, everyone will pay the full rate and then once they hit 10 I will give them a partial refund or credit to cover the discount. If I just gave them a cheaper rate and only four people came it wouldn't be worth having a discount.
What role does marketing play in running your in-person, online, and on-demand services?
My main marketing tool is social media, particularly Facebook. Facebook is more for my demographic than Instagram. I tried working with a younger group (30 and younger) and the effort they put into class was different from my clients who are over 30. If they are a client over 30 they tend to have a reason for being there and they don't forget that reason when they get tired and things start to hurt.
If they're younger and it starts to hurt you can see straight away and they knit pick and don't come back. I know my demographic is over 30s and even more so over 40s. They can use Instagram, but their thing is more Facebook, so I am more targeted with Facebook.
For a long time, I was using a local company in my area that is a subscription service that would get your content out to people. But when the pandemic hit, I had to stop using the service but they kept me on and gave me loyalty rates.
How have your customers reacted to the return of in-person classes?
For the first class, my customers came back happy "I can't wait, I am so happy to be back," and then began the "Oh no, I have money issues or I don't have as much money as I thought I had." You had everything opening up at once, the salons, the beauty parlours and money was being spread further and further apart. But I have to say part of that is also because it's been absolutely freezing outside and people aren't used to doing my sort of class outdoors. I am hoping now that we're going inside everyone will come back and it will be great fun.
What tools and features have been most helpful in running your business during COVID and transitioning back to in-person classes?
Ability to customise price and offer free classes
One of the best things about TeamUp was being able to offer free classes. And free should mean free. Free shouldn't mean needing to put your credit card details in. You should be able to just put in your customer details and you get the class for free, and if you then decide to commit then we start talking about how you want to pay. That's not for everybody but for me that was huge.
Client notifications
Being able to send clients notifications before and after class. One of the things I found I would have people booking onto the classes, particularly the free classes and couldn't make it for whatever reason, it didn't matter. What I would then have to do prior to using TeamUp, was to manually email people and say "no problem, life gets in the way, just re-book it." Now I can set a trigger on the notifications on TeamUp and it automatically sends it to someone who registers, but hasn't attended that says "It's ok you haven't lost your free taster, go ahead and re-book." That right there was huge and worth its weight in gold.
The Zoom integration
About a week after the lockdown was announced, TeamUp integrated with Zoom. I went from emailing people and obviously forgetting some people which was a nightmare to suddenly having the integration with TeamUp and Zoom where if you booked all you had to do was press that button and it was a game-changer.
On-demand
Two years ago I started recording myself for personal training. I knew that when I was going to start my personal training side of the business, I wanted to have videos and have visuals as well as the text so that my clients knew what was going on. Prior to TeamUp launching their On Demand feature I had looked at five different systems because I knew I needed something with this on-demand functionality but I decided to continue with TeamUp. It was doing what I needed because I found that I wasn't going to be able to move anywhere else and achieve the things I was already doing, so I stayed because TeamUp had other things that I needed. I knew that at the time even though TeamUp didn't have on-demand, TeamUp was still the best of the best and I would just have to wait until the feature came and now it has and it's brilliant.
Would you recommend TeamUp for other community fitness businesses?
I would definitely recommend TeamUp for any fitness business particularly now with the on-demand section being a must. If you run face to face, it's going to work. If you're a hybrid system where you're using face to face and on-demand, it's going to work. And if you're working with the online integration with Zoom, it will work. I absolutely recommend it 100%.
Thank you for sharing Yvonne!
Video: Why Yvonne chose TeamUp for her group fitness business
There's no rush. There's no hassle. They deal with a problem and they make sure it's solved. I cannot put enough emphasis on customer service. So if you need a software that's going to give you the help that you need when you need it this is the one for you.
To learn more about TeamUp for your community-fitness classes, check out our personal training and dance software when you sign up for a free trial.
Open Comment Form