When people decide they want to get fit they're overwhelmed with choices. Fitness gyms and studios can be found in just about every locality all offering a variety of facilities at prices to suit all budgets.
So how can you make your fitness business stand out? Remember, it's not just about attracting customers and getting them through the door, it's about retention and making sure those customers convert to loyal members.
In this post, our friends at Dialpad show you how to overcome some common obstacles fitness business owners commonly face so you can ensure your brand thrives in this competitive industry.
Ask yourself if you're committing the following common mistakes?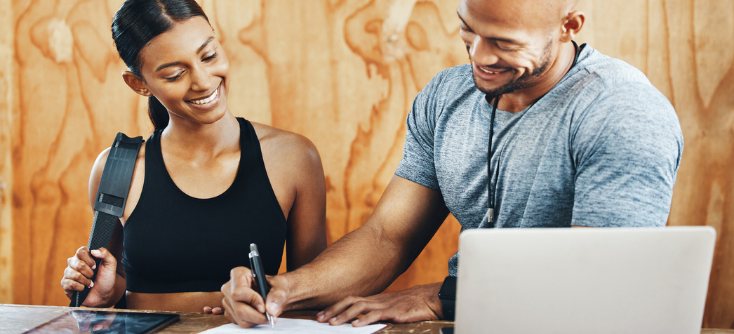 Failing to have a clear business goal
If you're to run a profitable fitness business you need to set out clearly defined goals. Know what you want to achieve and how you're going to achieve it. The more specific you can be the better.
Depending on your specific fitness business model your goals could be to:
Achieve 20,000 Instagram followers by the end of the year

Increase your income by $1000 in the next four weeks

Publish a video every week on your YouTube channel
With concrete goals in mind, you'll be ready to take the next steps which are to outline the steps you need to take to get you there.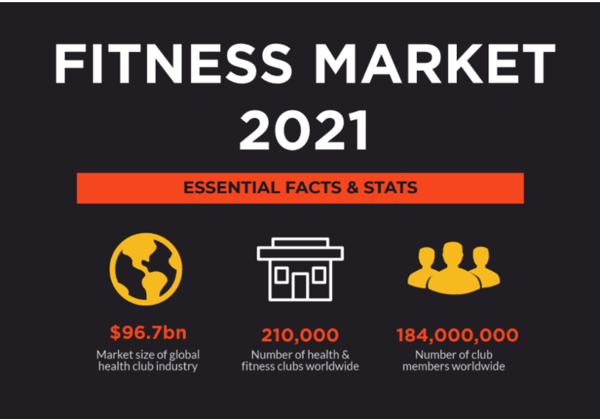 Not creating your ideal client personas
Your business will only survive if it's unique and attracts the right type of niche audience for your brand. A lot of businesses fail because they try to serve too broad a target market in the mistaken belief that otherwise, they'll be missing out on potential customers and income.
The truth is that saying exactly who you want to walk through the doors of your gym or fitness facility will lead to increased revenues going forward.
There are lots of groups with different fitness interests from bodybuilding and yoga to CrossFit enthusiasts and more. Each represents a clearly defined audience. If you offer exceptional facilities for bodybuilding then base an ideal client persona around them. Ask yourself what do they need and how do they like to train? What can you offer them that other gyms can't?
It's also important to keep an eye on fitness trends. Many fitness businesses now target clients who want to be able to live-stream or stream fitness videos on demand.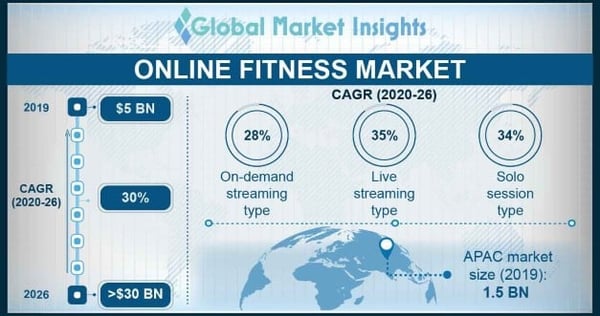 Image Source
Putting finances on the backburner
At the beginning of your business journey, it's easy to focus on building your client base whilst ignoring financial issues. So many businesses fail this way, especially fitness businesses.
Don't make this mistake or you'll be caught off guard later down the line. Even if your numbers are small at present they have the potential to grow quickly. Learn to budget and invest in accounting software with CRM integration to help you track finances and keep you up to date with your financial responsibilities.
Only pay for what you can afford and borrow what you know you can pay back in a timely fashion. Bring an accountant on board to give you objective advice on running your finances.
Being inconsistent
If you're a startup you'll be constantly pulled in different directions. You'll need to be a marketer, accountant, trainer - even receptionist. Unlike at a larger company you won't have teams of staff at IVR call centres at your disposal to answer your customer calls or reply to queries.
When you're doing everything yourself, running a business can get a little overwhelming and things can start to slip. The video you promised would be published this week gets left to next week, the social media updates are behind, you haven't yet responded to client emails or you've even had to reschedule sessions.
Playing catch up is never a good idea and will eventually see you losing clients. If you're to keep clients, followers and subscribers happy, you need to be consistent. They require seeing that you're delivering on your promises. Identify your core tasks and focus your energy on them. Use gym management software to help you manage admin, tasks, and host important parts of your business such as your on-demand content and your class schedule.
Respond promptly to clients' questions and concerns so that they feel like they're part of your community and build trust in your brand.
Not looking after your existing clients
In the fitness industry, it can be hard to get clients to stay with you. Many start new year resolutions only to give them up by the end of January. It takes time and energy to attract new clients making it crucial that you retain them for the long term.
As a fitness business owner, you need to actively engage with your community so they won't get tired of their fitness routine and will continue to aim for their fitness goals. Just as a product recommendations engine helps e-commerce companies boost revenues, you can implement strategies to encourage clients to continue to invest in your company.
Look after your clients by:
Learning their names quickly and using them. Train your instructors to introduce themselves right from the start. Your gym software will let you know who is coming to class and when so that you can always be prepared with a proper greeting and program.

Encourage your regular clients with emails post-workout to tell them how well they're doing.

Showcase a client's efforts and reward them to keep them and others motivated.

Plan themed classes: Coachella or a '90s night. Promote them on social media and make sure your instructors mention them in the lead up to the event.

Encourage clients to engage with you on social media. Get clients to tag friends in a post or guess the answers to trivia questions to increase engagement.

Celebrate milestones: recognize clients that are consistently working towards their goals and reward them with branded merchandise or free classes.

Start a fitness challenge: Offer prizes for clients who hit a goal such as the number of classes per week.

Have a referral program: make it rewarding to gain a workout buddy by creating a referral program. There's plenty of referral software to help you promote your program and track and reward clients for referring friends.

Listen to the voice of the customers by asking them regularly for feedback on what you could be doing better.
Getting your marketing wrong
When it comes to marketing your fitness business you can use a host of channels from social media to SMS to emails. But before you hit the button and send out that mass email campaign, take a breath and consider your long term strategy. Rather than simply focusing on fulfilling your immediate needs, many gym owners end up taking short-term decisions they later regret.
Focus on market predictions and take the time to understand client expectations in order to create a strategy that keeps clients for the long term.
Don't overpromise. Can you truthfully say you'll be able to get each client to 'lose three stones in two months'? If you can't then don't state that you can. A strong brand message that relates to your target audience will be more powerful than a message that hooks them for an instant.
Once you've identified your target audience, nurture prospective clients along the sales funnel. Test out different messaging using customer analytics - different messages will resonate with your audience at different stages in their customer lifecycle. The message that works well to help you retain clients won't have the same relevance to someone yet to begin their fitness journey.
Place a pop-up ad on your website to encourage viewers to register for a membership. Offer them a guided tour of your facilities, a discount voucher or a free day pass, or even a complimentary consultation call to discuss their goals. Bootcamp SE16 offers a simple popup on their website: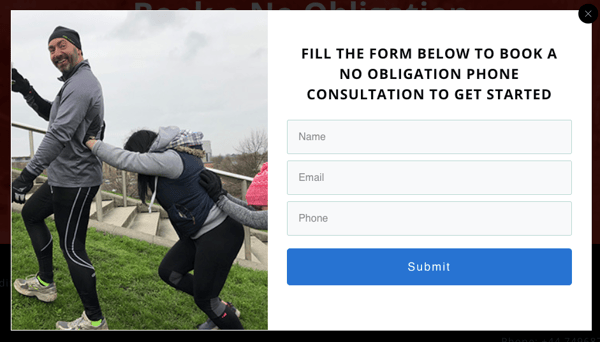 Conclusion
When you first start out running a fitness business you will inevitably come across many challenges and obstacles. Being aware of these potential pitfalls will put you in a better position when it comes to achieving success.
The six mistakes many fitness businesses make are:
Failing to set goals

Not identifying your target market

Putting finances on the backburner

Being inconsistent

Not looking after your existing clients

Not getting your marketing right
To help you eliminate these 'easy to make' mistakes you could consider investing in your tech stack. Most software platforms are easy to set up and have user-friendly interfaces - so you won't need any technical expertise or a specialist IT operations crew on hand to help you. All you have to do is get started.
Now that you know the mistakes to avoid long term success is on your horizon.
Bio:
Grace Lau
is the Director of Growth Content at Dialpad, an AI-powered cloud communication platform for better and easier team collaboration and one of the top cloud PBX solutions in today's market. She has over 10 years of experience in content writing and strategy. Currently, she is responsible for leading branded and editorial content strategies, partnering with SEO and Ops teams to build and nurture content.
Open Comment Form