Every day we see fitness business owners eager to get their new ventures off the ground or take their businesses to the next level...but aren't quite sure where to start. They have the motivation and willingness to learn and get started, but with overcomplicated how-to blogs and videos and costly marketing schemes, and too many opinions of "whose done it best" they find it difficult to find the right sources to guide them.
For that reason, and many others including wanting to give you the easiest and most straightforward understanding of how to use marketing to grow your business, we created this 7-part step by step marketing your fitness business series.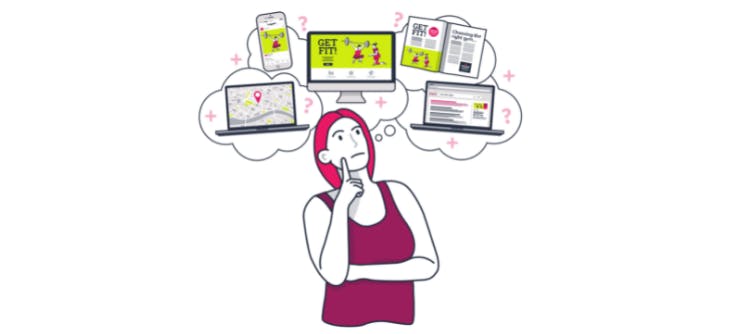 Why we created this marketing series
In overviewing dozens of marketing guides and courses we have seen a few things that end up blocking growth, rather than helping fitness business owners such as yourself learn what to do. To name a few:
Tell you to put effort into marketing your business, but not show you how
Share the importance of strategies including website building and content curation, but not tell you how to implement them
Explain what valuable marketing terms and strategies such as SEO, keywords, headers are, but not tell you how to build them into your content to rank on Google
Repeat how marketing is the solution for everything, only to push expensive marketing tools and software on you throughout their course in order to achieve your goals
The list goes on and while having the knowledge and understanding is enough for some, having the visuals, examples, and ideas to inspire your own strategies will set you up for better success.
What we do differently
We don't want to give you complex explanations of how to grow your business. It simply doesn't have to be and can be quite easy once you get moving. So we've created 7 structured guides to cover everything from the importance of very specific marketing strategies, how to implement them, and the results you can achieve over time. From start to finish we'll guide you through the set-up processes with the help of a TeamUp customer who recently began using these same strategies for her own business.
Find out more about what to expect from our bespoke marketing series
What does our marketing series include?
Over the course of this series, you'll become an expert on everything from how to build your website to how to use social media to earn new clients. Every step has its own guide that will help you:
Learn how to set up your website to attract web users and visitors to check you out
Understand how to set up and track your website's performance with Google Analytics
Get the down-low on SEO and why you need it for your website
See how to implement the most basic and useful SEO strategies to make your website visible on web search engines
Sharpen your writing skills by learning how to create engaging blog posts that attract visitors to your website
Put your business on the map and make it easy for local customers to find with Google My Business
Discover how to build your community and advertise your business on social media
How our marketing series will benefit your fitness business
Benefits of marketing your business
It goes without saying that marketing your business online is one of the best strategies to boost growth. By implementing each of the strategies you'll learn about in this series, some of the many benefits and successes you'll begin to experience include (but aren't limited to):
earning new valuable customers and members
improving your visibility and ranking on web search engines such as Google
attracting more visitors to your website who can then convert into customers
building your credibility and reputation in your community
growing your footprint and expanding your reach to possibly even new locations
earning larger investments and loans to support your growth and expansion
more interest from teachers and trainers in your area to be affiliated with your business
boost in revenue, that you can then spend to build and improve your business, as well as a boost in your own income
increase in staff and team
and so much more.
But, marketing can come in all shapes and sizes, including and there is a place for offline marketing that can contribute to the benefits above as well. In this specific series, we focus on the online strategies you can implement, but to give you an idea of some of the offline strategies that work well alongside your online strategies, here are a few:
using word of mouth to refer and welcome new customers
networking with other fitness business owners & collaborating within your community
partnering with local businesses to spread the word about your businesses
hosting events where new clients and community members can come check out your business
offering discounts and promotions to get new customers through the door.
Why you need this marketing series
If you are a fitness business owner also eager to grow your business, earn new loyal customers, and achieve the goals you have set out for your business, you'll want to start using our 7-part series marketing guides. We can't wait for you to get started and hear what you think.
Additional resources
If you are interested in learning more about TeamUp and our management software to help you launch or grow your fitness business, we offer a free trial that you can sign up for today, here.
Open Comment Form