To celebrate the upcoming Commonwealth Games on July 28, 2022, Parasport, developed by Paralympics GB in partnership with Toyota as a part of their commitment to making movement better for everyone, is inviting all fitness business owners to list their inclusive activities and opportunities on their site for free. In an effort to bring a larger awareness to the inclusive activities and opportunities across Great Britain, Parasport is harnessing the power and excitement of the Games to reach all disabled people throughout the country and encourage them to participate in the inclusive activities available in their local areas. To do this they need your help.
Parasport has integrated with imin to access OpenActive data to be able to list all accessible and disabled-friendly activities directly on the Parasport site. The data they are already able to access has enabled them to create an extensive directory of in-person, online, and local sports activities and fitness classes that their audience can search. But in order for it to expand even further and share more options in every area, they need all businesses offering inclusive activities and opportunities to list with them.
As a TeamUp customer offering inclusive and adaptive activities, you have the opportunity to list your classes for free on Parasport via your OpenActive integration in your dashboard.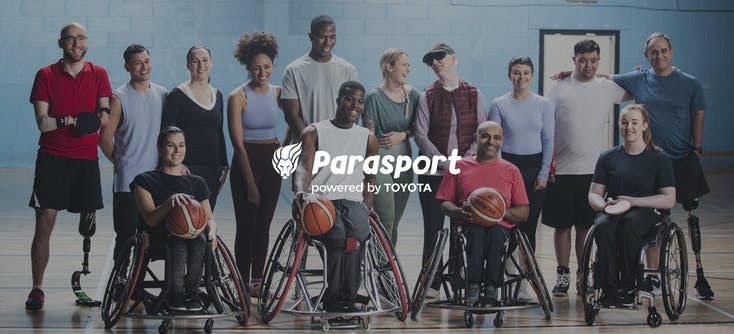 To give you a little more information about OpenActive
OpenActive is a community-led initiative for people in Great Britain to get active using class and activity data provided to them by fitness businesses. The data they request includes what type of business you are, where you are located, what classes and activities you offer, how much they cost, if they are in-person or online, and so on. Once they have collected that data they then publish it online via apps and websites where fitness consumers typically search for fitness classes and activities.
As a TeamUp partner and integration already included in your dashboard, listing your business with OpenActive can be done in a matter of seconds and is completely free. OpenActive works with some of the largest fitness and leisure operators in the country and with this current campaign, they strive to add more inclusivity opportunities to the community by making them known and easy to find.
Why does TeamUp work with OpenActive?
OpenActive offers TeamUp customers a powerful marketing channel to spread the word about their classes... for free! All you need to do is enable the integration and then OpenActive will start promoting your classes on the following sites automatically:
This Girl Can
ClassFinder
Decathlon UK
And many more.
Where your classes will appear will depend on the type of class and the type of activity the portal is promoting. There's no guarantee you will appear but it costs you nothing to make the data available and gives you a chance to connect with new customers searching for the services you offer.
How to get involved:
To get involved in the Parasport campaign and list your accessible activities and business with OpenActive you will first need to open your dashboard and go to the integrations section under settings. Once you are there you will see the option to integrate with OpenActive.
If you have not already enabled OpenActive in TeamUp you will need to follow the instructions by clicking on the Get Started button on the right.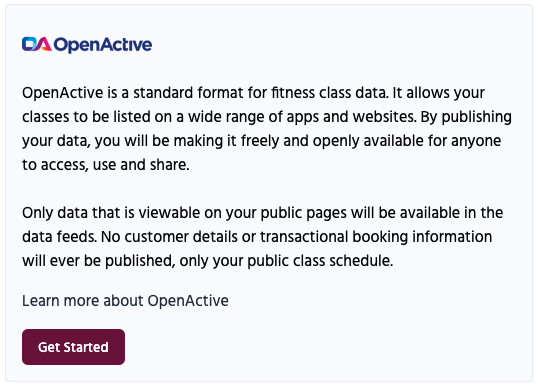 If you already use the integration, you can edit and add any new class types by also clicking the "Options" button.
You'll then be directed to the Enable OpenActive page where you will be able to label each of your class types as a specific activity by OpenActive.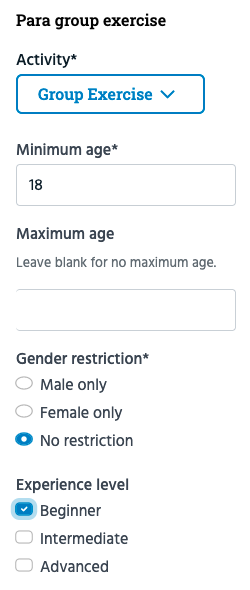 Once you find the option that best describes and suits your class type, you'll then select the minimum age and maximum age of participants, their gender restriction if there is one, and their experience level if they must have one.
After you have completed this for each class type you will read and agree to the Public Access waiver below, and Enable OpenActive.
In order for your classes to then be listed on Parasport, imin will automatically verify that data via OpenActive and then add your inclusive activities to the Parasport site. You'll also benefit from your activities being visible on other campaigns across the industry such as Badminton England's Discover Badminton, Ordnance Survey's Get Outside campaign and more.
How to include your inclusive activities in the Parasport campaign
There are two simple methods to get your inclusive activities included in the campaign. Firstly, by using an accessible keyword in your class title, and secondly, by picking a specific class type in OpenActive settings. You do not need to do both. If you run, say, a fitness class, you can just mention in the title using one of the keywords that it is also accessible. You don't then need to select an accessible class type too.
Keywords to use in class titles
accessible
adapted
adaptive
amputee
behavioural
blind
boccia
cerebral palsy
chair
dementia
disabilities
disability
disabled
gentle
impaired
impairment
inclusive
injury
paracise
parasport
para activity
para athletic
seated
short stature
spinal cord injury
supported
walking
wheelchair
Accessible class types
Blind football
Boccia
Chair based exercise
Deaf basketball
Deaf tennis
Inclusive Zone Basketball
Para-badminton
Para dance
Powerchair football
Sitting volleyball
Visually impaired tennis
Walking
Walking Basketball
Walking Football
Walking Hockey
Walking netball
Walking rugby
Wheelchair Basketball
Wheelchair fencing
Wheelchair Football
Wheelchair rugby
Wheelchair tennis
If you need help with this set up please reach out to support and we'll be happy to help you.
A word from Toyota: "We are extremely excited to start on this journey with ParalympicsGB. Toyota believes strongly in creating a lasting legacy for our partnerships with the Olympic and Paralympic Games and this is an important step in our commitment to make movement better for everyone. Through Parasport Powered by Toyota, we have a great opportunity to significantly improve the landscape of grassroots disability sport in the UK, helping to remove some of the barriers to getting active," said Andrew Cullis, Toyota GB Marketing Director.
FAQs
Here are some questions you might have about participating in this campaign:
Do I have to offer in-person classes to participate or can I list my online classes?
Great question! Both your in-person and online classes can be listed on Parasport and as a part of this campaign. When the TeamUp and OpenActive integration is being set up, the integration pulls from your class types list, and if you offer in-person or online classes it will save and send that information through so that customers know they are signing up for an in-person or online class.
Do I have to list all my classes or can I list only a few?
For this specific campaign, only your accessible activities will be listed on the Parasport website, however, when you enable the OpenActive integration, all the class types that you have filled out the details for on the integration page will be listed on OpenActive.
What if I want to start offering accessible classes, can I still participate?
In order to participate, you will need to offer accessible classes. Whenever you add a new class to TeamUp you can update the OpenActive page in your dashboard to ensure that your new class is listed. To take advantage of the benefits of this campaign and get involved, you will need to either use an accessible keyword in the title or select an accessible class type in the OpenActive settings.
What if I don't want my activity data visible after the campaign ends?
While we don't recommend you removing your data as it is an incredible resource for both you and new customers and is essentially a free advertisement to point new customers in your direction, we do understand if you do not want your class information being shared online. To disable the OpenActive integration, all you need to do is select the settings button where you got started and disconnect. We do however believe that once you start earning new customers and experiencing the benefits of the exposure OpenActive can provide you, you will not want to disconnect the integration. No data is shared with OpenActive that isn't publicly available via your Customer Site anyway (aside from OpenActive-specific metadata like class category).
About Parasport: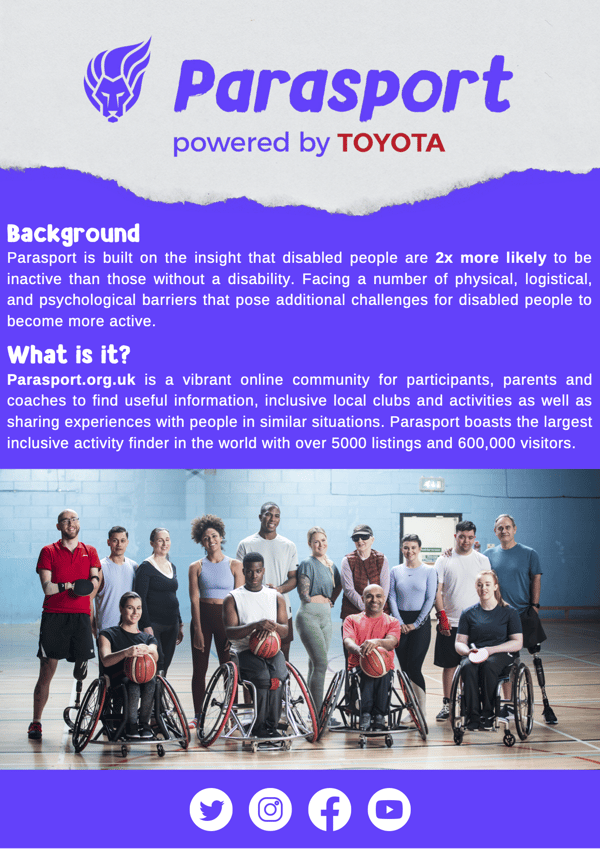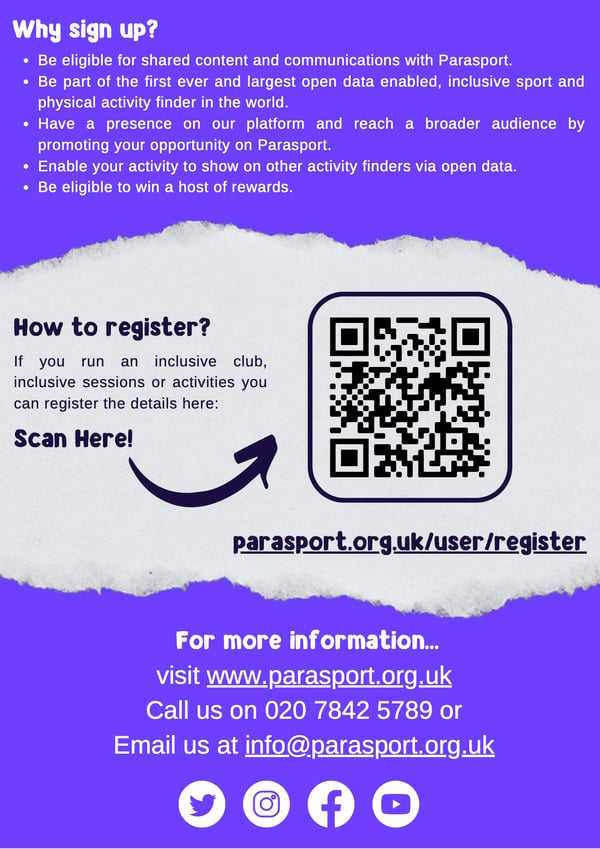 To learn more about participating in this campaign and see what accessible activities are currently listed in your area, check out the official Parasport website, here.
Open Comment Form