As your business grows, so does the amount of time demanded of you. Your booking system works in the background to keep your admin ticking over and ensuring you'll have more time to focus on adding value for your new members.
To help you manage the influx of new business and smoothly onboard your new members, there are several tools and features you can set up to manage your day to day more efficiently. In this guide, find the secret weapons living in your dashboard and learn how to use them to deliver your new and existing members an unbeatable experience at every stage of your business's growth.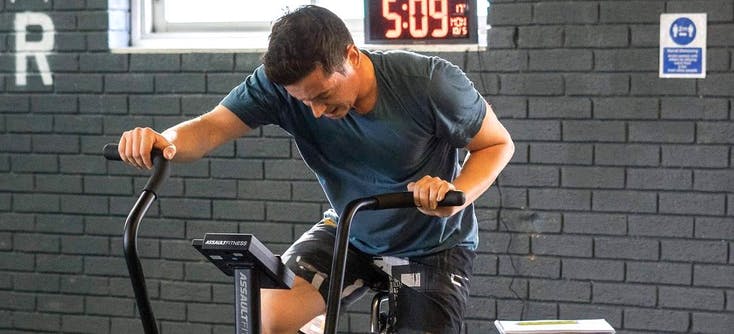 Photo credit: CrossFit Faber
Three ways to boost efficiency in your business
When your client base increases, it can seem as though the tasks to keep ahead of everything come thick and fast. But there are key areas that you can focus on to ensure that you boost efficiency for day to day tasks and keep your business running smoothly. Your business growing means accepting certain changes to your processes, but change doesn't have to be negative, it just means making some adjustments to your delivery.
Maintain clear communication with your members
The more customers you have, the less time you have to address their individual needs yourself. While you're unable to give as much face-to-face time to your clients, there are helpful automations and systems in your gym management software that you can easily set up to deliver a seamless customer experience.
Make business decisions based on facts
Making decisions that will help you get your business to the next stage is difficult and takes experience. With fewer customers, you're able to make decisions based on observations and assess what's going on around you. But with more clients, it's easy to fall into the guesswork trap. As your business grows, turning to your software lets you make business decisions based on clear data.
Utilise your software to automate data collection
Even smaller business owners will tell you that relying on spreadsheets and bank transfers can lead to double bookings, missed payments, and ultimately it makes running your business more difficult and time-consuming. Utilise the tools at your disposal that can collect new customer info, store it in your system, and be able to notify you of any information or updates your customer adds. It's more efficient for you, and it's easier for your clients as well.
Keep reading to find out how to work more efficiently with TeamUp
The TeamUp features to take advantage of
TeamUp is a system that gets the fine details right. The tools and features in your dashboard are designed to grow with you and to help elevate your business to the next level. On top of your essential set of features and tools to manage your every day, your system is also equipped with additional features that help you avoid having to put out fires in your business and keep day to day tasks as simple as possible.
Link all the tools you want together using TeamUp and Zapier
TeamUp links with Zapier to allow you to send your member data to over 1500 other platforms. This enables you to set up helpful automations that save you time and improve the customer experience.
Why not automate sending a personalised t-shirt to every new member when they sign up? Or send a gift basket to a member after their 1000th class? Even managing a complex onboarding process with multiple platforms is made easy with TeamUp's amazing Zapier integration.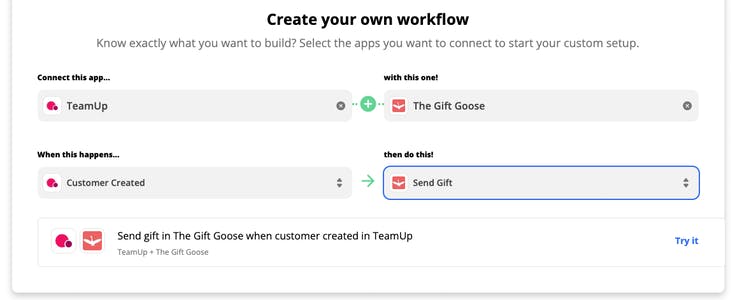 Add Appointments to membership options
Appointments is already helping fitness business owners keep their availability clear in their schedules, as well as removing a messy booking process involving phone calls, spreadsheets, and manual calendars. But they can also be used along with memberships. You could, for example, include a one to one session or consultation in a trial membership for a consultation. This will give your clients the chance to meet their trainer and to go through any injury history with them, or simply to discuss their fitness goals. Small automations that remove manual processes will help you build a successful process.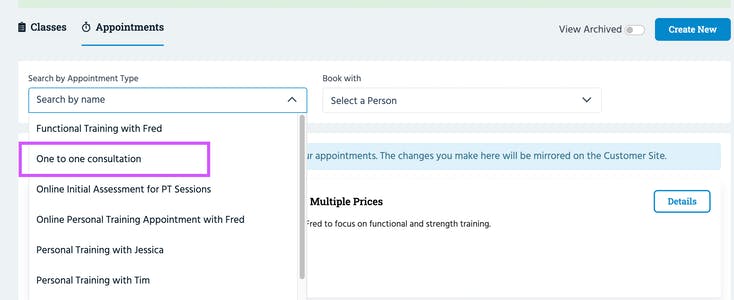 Reduce time wasted with staff scheduling
You don't want to be tied up with micro-managing your staff. Another feature of Appointments is that your staff can manage their availability themselves. Give them control of their own calendars ensuring that their availability is clear for their clients to see.
Instructors will have all the essential information they need about clients in their classes before they begin with members prompted to fill out any incomplete forms, disclaimers, and PAR-Qs when buying a membership.
Your coaches can also take over class reports. By managing attendances and keeping track of clients' progress, you'll get accurate information about classes and clients. It takes away another aspect of admin from your plate, and it will also give you a more accurate overview of how your classes are running.

Use class reports to steer your business in the right direction
Your class reports can give you more information than you may have thought. As well as tracking attendances, you can use them to find out more about your classes. Your class reports will tell you which classes are doing the best.
You're able to see if it's a class type that's not performing as well as you'd like, or if a certain instructor's classes are seeing a dip in attendances. Having this information clearly presented to you enables you to make decisions to prevent customers slipping through the cracks and not renewing memberships.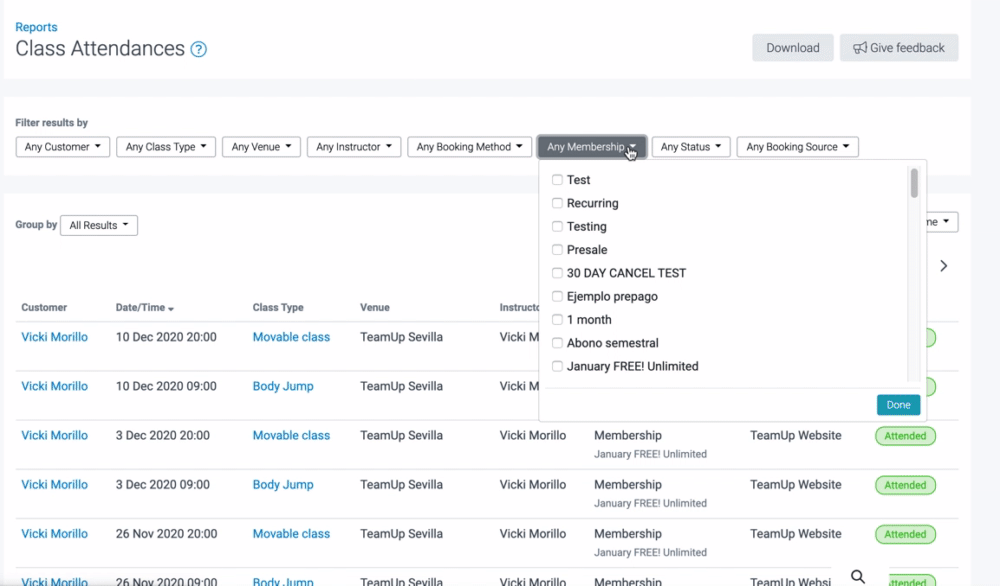 How to use class reports to keep track of attendances and to discover which classes are performing the best for your business.
Prevent failed payments
TeamUp's payments make your cash flow more reliable and secure. Whichever payment integration you use whether it's GoCardless, Stripe, or PaySimple you'll benefit from the same advanced features that TeamUp adds to the mix - set it up once and TeamUp handles everything. One feature that you will love is fine-tuning how you approach failed payments. TeamUp gives you full control. You set the parameters for missed or failed payments.
If a payment fails to go through, you set how many more times the system will try to collect it. For example, setting a "three and done" policy means that your software will try three times. If there is a problem receiving the payment three times, the client in question will have their membership blocked from booking classes until the issue is fixed.

Collect exactly the right information at the right time
Don't put new sign-ups off with endless form-filling. Create a smooth sign up process at the early stages. Asking for contact details means you can send them links to complete more detailed information that you need from your members. You can create bespoke forms that cover all the information you need. Get the exact information you need at each stage exactly when you need it.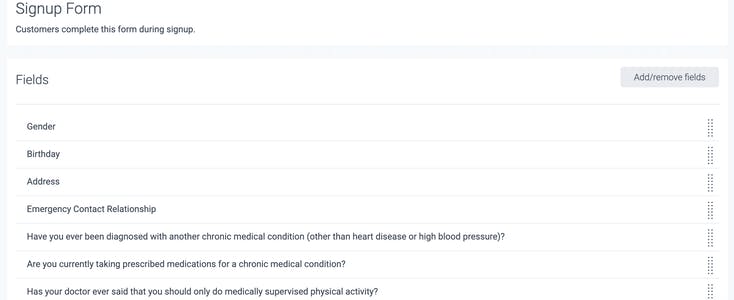 Enable access control smart security to prevent pre-class admin
Cut down on pre and post-class admin and check-in with access control. By enabling smart security with the TeamUp Kisi integration, you can sync your membership information with smart locks at the entry points of your facility so that your members can come and go during their class times. This means no more unlocking your door for each individual member, no more manual checking to see who is coming into your facility, or ensuring that members with late payments or drop-ins show up for class without fulfilling their payment. You get more of your time back to prepare for class and can eliminate manual checks and the pre-class admin from your workload.
To sum up
Seeing your business grow is an exciting time. It's also a busy time for you with increased admin in almost every area. Utilising your gym management software to the fullest helps to lighten the load. Taking the time to fully explore what each of the tools in your dashboard is capable of will help you to set up processes within your system so that you can spend less time at your computer analysing confusing data and schedules and more time taking on the day-to-day running of your business.
Find out how our customers have used TeamUp to run their businesses more efficiently here.
Open Comment Form