When we researched fitness businesses last year we found that referrals accounted for 59% of new Pilates customers, 63% of new CrossFit customers, and 67% for new Pole customers.
A high referral rate indicates that members trust the studio and the instructors to provide a good experience for their friends. It's a sign that the studio has a good connection with clients. The strongest businesses we know have a large number of referrals.
A good referral program can grow your fitness business substantially - and sustainably. It can help you access potential clients that you would otherwise struggle to reach. And, it will contribute to a culture of generosity and togetherness at your studio.
Here are some tips from those who have done it before: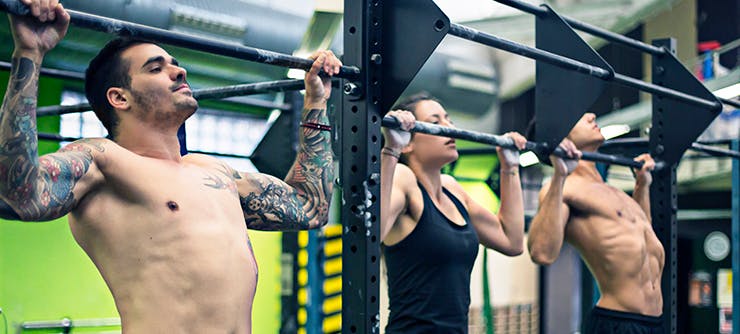 When you enjoy something, you want to help others get the same benefits.
Get to know your customers and their needs
Get to know your customers! It costs nothing to ask how their day is going, and to check in on injuries or body changes. Meaningful conversations go a long way to help people feel like they belong in your space. When they feel like they belong, they'll be much more comfortable bringing their friends.
Hire people who care as much as you do
It's easy for you to chat with customers when you're there - but what about when you're not? When your staff are speaking to customers, encourage them to have meaningful conversations with customers. And this should go without saying, but treat your employees like you want them to treat your customers. Smiles are contagious.
Ask for referrals when your customers are happy
The best time to ask for a referral is when someone is really happy with your service. This might be when they personally compliment your class or studio to you or your staff - or in a follow-up message after one of their first classes. The best time to get referrals if you're automating them is...
After a key milestone
After a survey with positive results like a high NPS score
When someone is sharing something important with friends like their training results
Celebrate customer successes and milestones
When we interviewed customers of Pole Athletes about what gave them a strong sense of community, each of them said that it was the kindness and celebratory feel to the space. The instructors, the students, and the staff all celebrated each others' new moves, no matter how small of an improvement they represented.
Follow-up with customers about your studio and services
It makes sense to follow up with newcomers, but regular (not necessarily frequent) check-ins with your regular customers are a good way to build a relationship over time. You can do this with automatic emails at the end of their trial periods after they try a new class, or at an interval - say every 3 months.
Show appreciation for your customers' loyalty
Gift certificates, coupons, presents, tokens of appreciation… any way that you can show appreciation to your customers for bringing friends and family to your studio is going to go a long way.
Call TeamUp if you need ideas
Our customer team has spoken to hundreds and thousands of fitness business owners. We've heard about what works and what doesn't to build businesses. Any time you need help, book a call and we'll be happy to share some ideas with you and show you how TeamUp can help you do this with our customer referrals feature.
Lean on software to automate what can be automated
The best referral programs share the following characteristics. They should...
Deliver growth by encouraging clients to bring friends
Run by themselves
Protect against abuse
Without software, it's hard to track referrals, and hard to thank people who bring friends and family to your studio.
How referrals work in TeamUp
Every TeamUp account includes a referral feature that works with minimal set up and encourages referrals while also being very simple to manage. Here's how it works:
TeamUp's referral system lets you give referral "bonuses" for both the referring customer and your new customer, as a thank you.
Using referral codes, you can offer your new referred customers a free membership or an account credit when they sign up. After they confirm their purchase, you can set up a gift for the referring customer. An account credit, for instance, toward their next purchase.
Select the reward and set it live.
Promote anywhere you like - set up an auto message to share the referral code, or include in your integration with your email system via an integration. TeamUp includes automatic messages to tell customers about the status of the referrals they have made.
Customers can share the code with friends or even a link that leads them straight to an offer that you choose.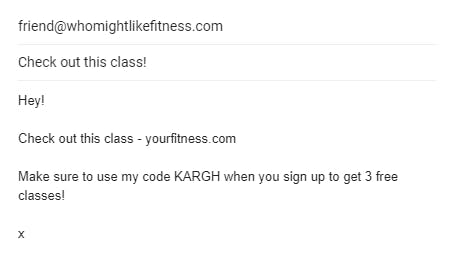 The system is easy to use, and you have full control including approval of each reward to ensure that they are genuine.

A great way to use this is to promote a free trial, with a credit for the client who refers.

Referral codes could be taken advantage of, so TeamUp helps you protect against abuse. Referrals must be manually confirmed by the business before the referring customer's bonus is added to their account. This is also a great way for businesses to thank the customer for a referral in another way, like in class, a personal message, or an in-person gift.
TeamUp tools to help manage a successful referral program
There are several TeamUp tools that live within your dashboard to help you run a successful referral program. Once you have them set up you can get started on building referrals.
Email marketing
The first step in getting your program started is to inform your current customers. Tell them you have a new referral program that they can also benefit from by helping spread the word about your gym or studio.
Incentivising your program is a great way to attract new clients and reward your customers for their contribution in helping grow your business.
Online booking
Encourage your customers to give their friends and family their unique referrer code to make signing up even easier. Each of your customers has their own code that can be found within their dashboard and given to anyone. Your customer has the option to either share their code or you can send a customised URL that they can share which will automatically apply the code when the new customer signs up. When a new customer signs up online all they have to do is apply that code to their booking or it will be done automatically with the customised link.
Booking classes online also eliminates having to sign up and handle payment in-person at the start of class. It becomes a hands-free experience that increases attendance and eliminates the possibility of a no-show, even if it is just their freebie trial class.
"When I started getting people booking and paying via the website I knew it was working and would be a great solution for my business. It just works."
Reporting
Reporting is one of the most useful tools in running your program. There are two important reports you can run to help you identify the success of your program.
Customer referrals. This report will not only show you new referred customers but also who your top referrers are. Ben brought in 10 new members in a year. Jenny brought in 5 of her friends for a group class, and 3 of them attended a class. This information is incredibly valuable for tracking who contributes to bringing in new customers.
Account credits. This report will help track any pending credit your customers have in their account from referring new customers. Ben brought in 10 new members, so has 100$ (10 x $10) account credit. Jenny brought in 5 of her friends, but only 3 of them attended a class, so Jenny has 30$ account credit.
These reports will help you assess your program and what you need to do to make it grow. As well as recognise your key customers responsible for its success.
Activity feed
Just as the reports tool can help you track your program's success, your activity feed will allow you to see your customer activity in real-time. Your activity feed will also give you insight into which of your classes your new customers are coming to. Will they start off with a beginners class or jump straight into an advanced class?
Forms and documents
The forms and documents tool comes in handy, especially when potential new customers sign up and make their bookings online. Before a new customer can register for a class, you can prompt them to provide information about their fitness history, injuries, and any other information that you would like to know about before they sign up. If a new customer comes to class directly and signs up with you in person, no problem. You can either ask them to sign the forms in person or send the forms to them once they create their customer profile.
Automated referrals are like having a growth engine on autopilot. Included with every TeamUp account as standard.
To find out more book a call with our team and get a free trial.
Open Comment Form