Fortunately, cloud-based security software such as Kisi has developed smart security locks that you can install at your gym or studio's entrance points. When integrated with your gym management software, you can easily assign and automate access (aka, access control) to your members and staff so that managing who's in your gym at all times is seamless and always on your radar without being a manual task.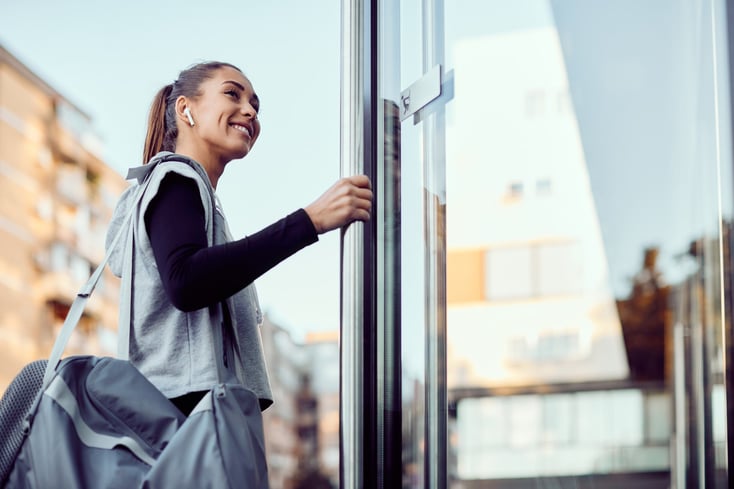 24-hour gyms and studios make it easy for members to turn up and exercise whenever they'd like. Easy entry, easy departure, (where's the "that was easy" button?). But without a security system in place, it can be difficult to regulate just who is actually inside your gym and when. Sure you can let each and every person in the door and manually check them in, but who has that kind of time?
If you're a gym or studio without security in place, it's important that you learn everything you can do with access control and how you'll benefit from adding smart security to your facility. Let's go.
1. Let members come and go as they please
In a traditional 24-hour or open gym setting, members can come and go as they please. With access control, you'll never have to worry that
Members can't enter at their class or workout time
Members who shouldn't be there are
Members who haven't paid can slide on by
Rather, you'll have a full proof method to give customers a key, fob, or via the Kisi app to enter and leave on their own without having to check in with you. It's totally up to you when a customer can enter your gym as well. You set the parameters for each registration type.
If you want any of your customers to have unlimited access, then great! But equally, you can set it so that certain membership types can only come in at a certain time. For example, if they're coming to a specific class.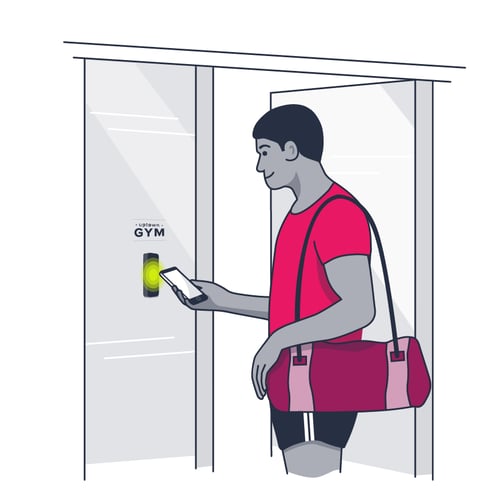 2. Keep reception clear and lessen the load for your staff
For a 24-hour gym, security is key, especially during night shifts. This would normally mean making sure a member of your staff is at the front desk constantly to ensure that people coming into your gym are actually allowed to.
But if you install access control, you'll know that the only people going in and out are your staff and registered, paid-up customers. It also means that the staff on duty can focus on making sure your customers have everything they need or keep an eye out if while people are working out they're needed to be on hand to help.
Your trainers don't want to be spending their time doing loads of admin anymore than you do, so by connecting TeamUp with Kisi, you get them away from check-ins at the desk and out on the gym floor.
3. Make sure only members who have paid can attend your classes
It's one thing if your customers haven't paid for a class or membership pack, but it's another thing altogether if they still keep turning up and try sneaking into a class or stealthily using your facility.
Access control quite literally closes the door on that. You can set up your automated access control to only allow customers entry if their account with you is paid and fully up to date rather than you and your staff having to police who comes and goes.
If someone doesn't pay, they don't get to play. It incentivises your members to make sure they've paid ahead of time and it ensures that you're not losing income or having to have that awkward, "sorry, but you haven't paid" conversation
4. Create a more secure way to offer drop-ins
A big plus to access control is being able to set a timeframe of when people can or can't gain access to your facility. You can set that to class times, membership types, and more importantly, drop-ins. Being able to set when a drop-in can or can't enter your facility offers you and your regular clients more security.
It means that when you see an unfamiliar face walking through your reception area, you already know that it is either a new member or someone who has booked a one-off session with you or one of your team.
Staff and clients having a sense of security at a fitness business is becoming more important, and it's certainly something that more and more potential clients will want assurances of.
5. Offer a better customer experience to your members
Kisi isn't just going to benefit you and your business. Your clients are going to get a lot out of access control as well, helping to boost your customer experience. It makes attending classes or using your facility that much easier for them. No buzzing doors or queueing at the front desk to check in. Instead, they can let themselves in for their classes or workouts without any delay.
By syncing membership information with smart locks, your customers can see when their preset times are. This makes it simple and transparent for them to know when they can come and use your facility. Additionally, you no longer have to worry about letting individual members in or manually checking to see who is coming and when.
Access control also takes away some pressure from your members. If they're running late, they don't have to worry about disturbing classes that are already in full swing. They can let themselves in and come and join the class when they arrive without you having to stop the session to let them in.
Lock it up
Automated access control will help to improve your business in a number of ways. From cutting down on staffing costs to enhancing the overall security for both your members and your trainers, if you want to deliver the best customer experience set up access control at your facility today.
We hope this blog has helped you understand the benefits of access control and why it's worth installing smart security with TeamUp and Kisi at your facility.
For a rundown on how to connect TeamUp and Kisi, check out our access control guide.
Thanks for reading!
Open Comment Form