So many of our customers come to us after joining and say they can't believe they haven't signed up sooner. Sometimes it happens after a week, sometimes after a month, sometimes it even happens during the actual onboarding process. But the consensus is always the same; that gym management software solves so many problems business owners often face. However, if there are so many proven benefits and success stories from people who have finally chosen to invest in management software for their gym or studio, why are there still so many who hesitate or wait until they feel deflated or stuck to take action? Many of those same customers who can't believe they hadn't signed up sooner came to us with the following concerns:
They were worried about the extra workload
They were worried about pricing and taking on another cost
They were comfortable using spreadsheets and paperwork
They were not comfortable with apps and websites
They weren't sure if they'd be able to manage using a platform
They were worried they'd choose a software and it wouldn't do what they wanted
They weren't sure if they or their customers would like using it
They had other software that caused them problems in the past and they felt burned
They felt they were already too deep into a hole they couldn't get themselves out of


Yes, gym software is another cost, and yes it can be a little intimidating in the beginning, but as we have seen so many times, the benefits of using management software far outweigh the reasons not to sign up. Need a little extra proof? We gathered up some of our customers' success stories to show you just where they were at before switching or signing up for TeamUp and how their businesses have improved since.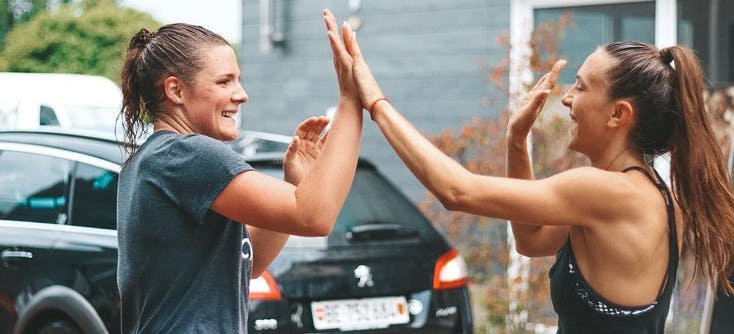 Photo Credit: CrossFit Lyss
Goodbye to spreadsheets, hello to an online booking system
Chip Hartranft has been teaching yoga for over 40 years and has run his studio, the Arlington Center, since 2002. Prior to the pandemic, Chip was a cash-only business, keeping track of all customers, memberships, and registrations on spreadsheets for nearly 20 years. But when his business had to move online due to the pandemic and Chip didn't see his clients face to face anymore, he knew he had to make a change and that online gym software software would be the way to keep his business open. Chip has been with TeamUp since September 2020. In just five months Chip was able to observe some very concrete ways in which his centre has benefited from switching to an online booking system and management software:
A better relationship with his teachers and a better pay scale thanks to being able to forecast income
Monthly memberships that his clients could now manage on their own
Knowing what was happening in his business and being able to make quick positive decisions without having to defer to cumbersome spreadsheets
A wider reach for clients who can't typically make it to class in person. He has since been able to reconnect with old students who can now sign up for his classes and take them via Zoom
Read Chip's full story, here.
Tax season won't be a pain when you have gym software
Annie Norris is a confident pole and aerial instructor who said "thanks" to her friend for recommending gym software but wanted to run her studio on her own. However, when it came time for tax season and collecting invoices and payments information, the workload piled up and it became a nightmare. So, Annie decided to give TeamUp gym management software a go and her words, not ours, "it changed my life." One of the biggest reasons business owners often hesitate about choosing software is they think using software is a sign of defeat or that they can do things on their own just fine. But when problems arise and you don't have the support, it can quickly become very overwhelming. Software isn't there to rescue you, it's there to give you the tools to run your business the way you want. Since signing up for TeamUp six years ago Annie has seen these noticeable differences in her business:
Tax season has become much easier
Clients are able to manage their own memberships and book themselves into class
Her business and other businesses are able to benefit from the TeamUp "refer a business" program
Detailed reporting makes it quick and easy to see how the business is doing
Talking to people, the customer support team, who really understand the system has helped her navigate quickly and find information
Read Annie's full story, here.
Switching from another gym management software provider to TeamUp
Don't even get Karen started on her experience with other gym management software providers. With over 400 clients, multiple venues, and a full workload on her plate, Karen thought she had found a gym booking software that would help her manage her business. But instead, she was left with a complex system, expensive prices, and features that she needed were hidden or upsold to her. So Karen gave us a call. She told us she was ready to switch, but wanted to make sure she knew exactly what she'd be getting into with TeamUp. She also wanted to know if she could easily migrate her clients and their memberships over to TeamUp. Karen has been a customer of ours for over 5 years and not a day goes by we aren't happy to chat with her and hear how everything is going. Here are some of the major standouts that convinced Karen to switch software providers.
Support she could rely on and count on. The same attention is given to all of her inquiries, big or small
An online booking system and payment system with a monthly direct debit so that she could see just how much income she could earn
A gym system software that cares about her clients and her business beyond just being another customer
The ability to give online classes and not only survive but thrive
Read Karen's full story, here.
Launching a new business with software ready to go
With years of personal training and dance under their belts, Caroline and Ryan, the owners of Create You UK, quit their jobs and decided to launch their own PT/dance training. After observing the necessity of software at their previous employer, they knew signing up for good software would be the best way to get started off on the right foot. But they weren't sure what to choose and having experience with complicated software at the previous employer they wanted to make sure they were investing in the right one. A well-known PT in the area recommended TeamUp, and that was all they needed to decide to move forward. Caroline and Ryan have been TeamUp customers since October 2019 and are thrilled with the professional way they can conduct their business with the help of software. Here's how:
They now have the tools they need to run both in-person and online classes to their clients and their clients can choose which suit them best
More reach and accessibility to clients in other areas who can't typically attend in-person classes
Reports to track their progress and discover ways to boost attendance and revenue
The ability to run various types of fitness classes under the same business
Marketing tools to offer trials that both retain and welcome new clients.
Read Ryan and Caroline's full story, here.
The benefits of having gym management software
Now you have seen first hand that many of our customers had some bumps in the road and they were able to solve them by choosing to use gym management software. Not only did they improve, but they were also able to grow, innovate, and find success in their businesses. There is no doubt that investing in gym management software comes with many other benefits. To name a few, software can help you have...
Streamlined admin and payments
Streamlining your admin and automating your payments are two of the biggest benefits of software. With all tools and features to manage and schedule classes online, pay your staff and collect payments from your customers, and know exactly what is happening in your business will save you more time and energy than you could have imagined. You'll be able to prioritize the customer experience and quality of your services and ensure that you retain new and existing members. Through the detailed activity feed to the numerous reports you can run at any given time, any unorganised paperwork or spreadsheets will become a distant memory.
A better relationship with your clients and staff
The ability to manage your clients and staff in the same place will give you the time and energy back that you need to build a better relationship with them. If all of your time is spent worrying about which classes your teachers are teaching and which classes your clients are taking, you'll have no time to actually be there to support them and offer a great experience. With support that can help you quickly get all of your admin in line and give you information regarding registrations, payments, and class schedules in an organised way will make you feel in control.
A way to forecast income for months to come
One of the fastest ways for a business owner to start resenting their clients and vice versa is late or missed payments. Business owners don't want to have to chase down their clients and those clients don't want to be bombarded with "did you pay?" questions before and after every class. Without software that can automate and collect your clients' payments on time, not only are you missing out on valuable income that can slip through the cracks, but you won't be able to make important business decisions or be able to see if you're growing. Choosing software with trusted payment processors will quickly correct those issues and give you a way to forecast your income for months to come and even review past months.
Flexibility to manage your business in-studio or from home
Our web-based app makes it easy for you to manage your business from anywhere. You don't even need to be in the studio or gym to access your dashboard. Simply sign in to our website and access all of your tools, features, customers, and staff from your laptop, tablet, or mobile device. The days of "I forgot something at the studio and have to wait till tomorrow" are behind you. Your business can go with you wherever you want and you can manage it whenever you want.
A system that always has your back
Find everything you need in one place. No more worrying about if you wrote down a customers' contact info or whether you've paid your teachers or if your customers are coming to class regularly. Your reporting tools will give you everything you need to know about what's happening in your business and won't leave out a single detail. Run reports on invoices, class attendances, and memberships any time you need, and see who is responsible for always bringing in new customers. If there is something that's going to make you feel like you really know your business it's your reports.
Get to know your clients from the moment they sign up
Your dedicated customer relationship management tool is the key to knowing everything there is to know about any of your clients. From the moment they sign up and fill out their customer details, you'll be able to find that information quickly and handily right in your dashboard. Know who is coming to class by name as well as important details including fitness history, level, and interests. You and your clients won't have to process any paperwork and you'll always know just who is walking through the door (in-person or virtual). These types of details are integral in developing a trustworthy strong client-teacher relationship.
Guides for New GYM Owners
How to open a GYM
Gym Membership Pricing Strategy
Best GYM Features
Unlimited customer support
Things happen and sometimes you'll have a question you need answered or help to navigate a new tool or feature. And we are here for you. Not only will you receive full and free support and assistance in migrating over your data and information from another software or spreadsheets, but we are here for you every step of the way, not just the beginning. No question or concern is too big for us to handle and you can reach the TeamUp team by scheduling a call or using the chat widget within your TeamUp dashboard.
Your customers can book any time anywhere
The real game-changer in switching to software is your customers' ability to manage their own memberships and registrations online. No more calls and texts at all hours of the day and night from customers needing to sign up for class or cancel. Your clients can simply sign into their customer dashboard or TeamUp member app and sign up purchase, check your class schedule, all from there. They can even easily navigate between multiple gyms or studios if they also are a member of another TeamUp gym or studio. It's so simple and they will appreciate how easy you made it for them to be a member of your business.
Connection online and in-person
Whether you run in-person classes, online classes, or both, your software will make it so simple for you to add a combo of mediums to your class schedule. The Zoom integration will allow you to reach your clients wherever they are and give your clients an option to always make it to class. Sometimes a customer can't come in because they had to switch up their schedule, or because they have other circumstances, or perhaps the commute is too long. Simply add a Zoom venue and schedule an online class and your software will get your clients who sign up the link to attend class directly from their email or TeamUp app. Your clients won't have to miss out and you'll be able to reach even more of your customers at any time.
All features available from the start
Many other gym management software providers hide their most important tools and features behind a paywall, forcing you to be upsold anytime you need access. And to be honest with you, that seems pretty unfair. The right gym schedule software will give you access to all the tools and features you need right from the start. The best way to offer your customers the best version of your business is to be able to run the best version of your business, which you can't do if you're constantly searching for the resources you need.
Running your business should not be stressful, so take the step to eliminate all hassle from your life and sign up for gym management software for your gym, studio, or PT business.
To learn more about gym management software and to see how TeamUp can help better your business, sign up for a free trial today.
Open Comment Form