These days, people no longer go to the gym only to exercise; they also unwind, socialize, and recharge — it becomes an experience.
Some of the best gyms offer features that create unique experiences, which makes members commit for longer and helps drive retention and sales.
Members choose gyms for various reasons, mainly because of the value your establishment brings. For example, when two brands offer a similar service, customers often avoid selecting the cheaper option. This is because they don't see the point in paying less and not getting everything they need.
This could be a chance for you to beat the competition and get more people to sign up by integrating some of the best gym features into your business.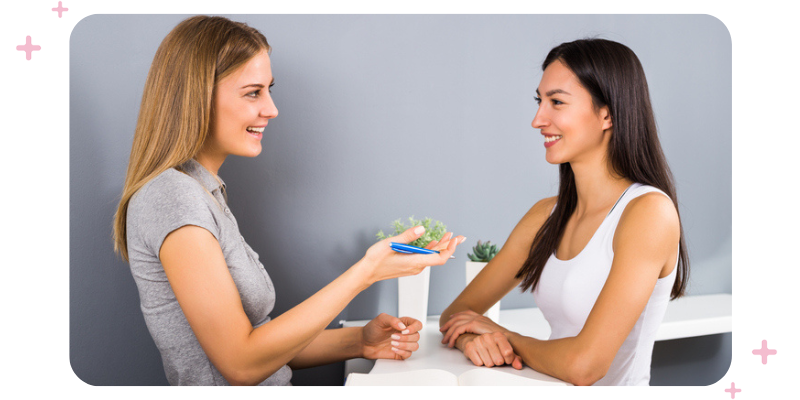 In this article, you'll learn all about what makes a gym great, what people are looking for when signing up for a gym, and some of the best features and amenities you should provide at your facility.
What makes a gym great?
Many elements must work together to help make your gym great and provide the best fitness experience, giving members value and driving retention.
To get the best fitness experience, though, you will first need to get the right equipment for your niche.
Aside from the equipment, the people, layout, space, and available workouts all play vital roles in making your gym great.
However, to give your customers the best experience, you need a perfect blend of meeting their needs and what value you can bring them.
Things customers look for when signing up at any gym
Because people go to the gym to work out, ensuring your gym can provide everything they need is imperative.
This can range from giving them the sense that they'll be comfortable exercising in your gym, knowing that there are all the exercise classes they need, and being safe knowing that your equipment is high-quality.
So, what do people want when signing up at gyms?
Motivation and accountability
Whether they signed up for the gym to gain muscle, lose some weight, or want to move more than usual, your members usually seek external motivation.
Staying motivated by yourself and holding yourself accountable can be challenging.
Due to this, you should create a community, hire high-quality personal trainers, and even challenge your members to fitness challenges to motivate them and hopefully retain them.
Membership cost
If finances are one of your audience's concerns, your gym's membership cost will factor heavily into their decision-making process.
While some people are willing to pay more but have limitless access to everything they need, others are perfectly content with paying less and having limited options.
There are usually four types of gym memberships people can choose from:
Weekly Memberships
Monthly Memberships
Semi-Annual or Annual Memberships (Prepaid memberships)
Membership with Personal Training Session Pricing/options
Whichever way your customers choose, they should be able to pick the best membership plans that suit their budget and workout needs.
Further reading:

GYM Pricing Strategy
Opening a GYM
Demographics
Demographics is another factor customers might consider when looking for a gym.
For example, some women might feel more comfortable working out in an all-ladies gym. Others might look for a place to exercise and meet people in their age range because they're looking to socialize.
Your gym consistently offers the "right" environment
When people go to the gym, they typically want to attend their classes and have the equipment readily available.
Essentially, they want everything to be convenient and within arm's reach.
You can achieve this by getting gym management software that allows your customers to reserve their equipment ahead of time and plan their workouts.
This should help ease their worries about their equipment's availability when needed.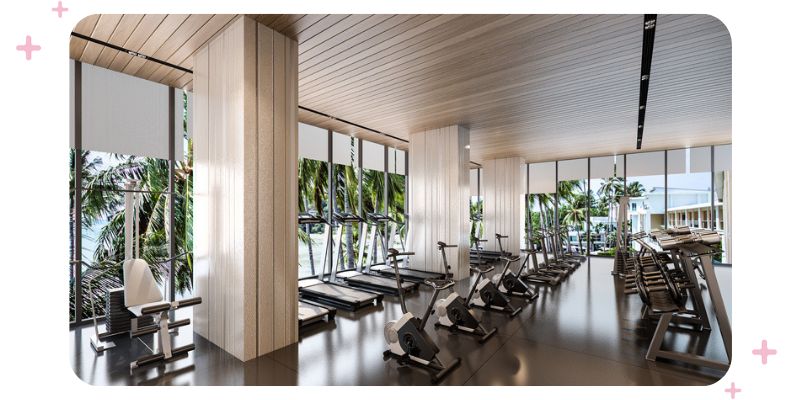 15 must-have gym features to attract more clients and enhance fitness experience
Community
During pre-Covid times, a Latent View study showed that an engaging community was one of the top reasons people went to the gym. This is because Millennials have integrated social aspects into their fitness experiences.
This results in that going to the gym is as much about socializing with like-minded people and having a good time as it is about exercising.
Better yet, if you can provide excellent customer care and make them feel like part of something bigger (a community), they'll still pay for a membership in your gym as they're willing to spend 21% more than any other generation.
Cleanliness
One vital factor you want to ensure is always in top condition is cleanliness. Customers will actively avoid working out on dirty equipment.
To keep your gym clean, ensure your towels and spray bottles are available in multiple spots to help clean the equipment and other areas of the gym after your customers use them.
Great equipment and layout
Your gym's layout, design, and equipment will play a vital role in why members choose you over competitors, so you should try to make your gym a comfortable and attractive space.
Personal trainers
Hiring qualified personal trainers that can help clients get in shape by guiding them through workouts to reach their fitness goals, advising them on nutrition, etc., is crucial.
To ensure you hire personal trainers that know what they're doing, find out if they have a Trainer Certification, which includes:
ACSM - American College of Sports Medicine
ACE - American Council on Exercise
NASM- National Academy of Sports Medicine
USAW – USA Weightlifting
Ultimately, having busy and competent personal trainers equals higher commissions for your gym and will help retain current customers and attract new ones.
Further reading:
How to get personal training certifications
Best certifications for Personal Trainers
Location
After a hard day's work, customers don't want to spend more hours sitting in traffic, another hour working out, and then another hour driving home.
Therefore, you should try to find a strategic location that allows customers to stop at your gym on their way back home. This will allow your customers to easily integrate going to your gym into their daily routine.
Working hours
People have different preferences for when they like to get their workouts in. Some prefer to work out in the morning, while others would rather work out at night when the gym is less crowded.
To ensure your gym provides what they need, actively ask your members' preferred time to work out and observe when your gym is at maximum capacity and when there are not many people.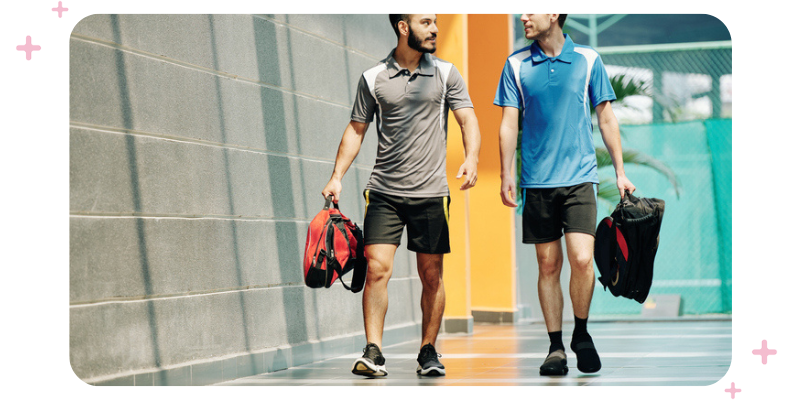 Variety of training
People have different needs when it comes to fitness and training. Some may require intense one-on-one training programs, while others only go to fitness classes once a week.
To make your gym great, consider providing different classes and training with knowledgeable coaches and fitness instructors who are specialists in their field.
This variety of training gives your customers options, but specialized coaches and instructors also give them confidence that working out at your gym gives them maximum results.
High-quality fitness equipment
To ensure your gym equipment is always high-quality, you should clean and maintain it regularly.
Here are some of the basic workout machines you should have:
Treadmills
Cardio Machines
Rowing Machine
Elliptical Machines
Strength Training Machines
Free Weight Machines.
To simplify fitness, you can use wearables and heart rate monitors to create a well-connected fitness experience.
Whether you have state-of-the-art treadmills or complete weight machines, your equipment must always help your members achieve their fitness goals.
Sauna & massage
If you're selling premium memberships, it's a great idea to have sauna and massage facilities so that customers can relax after working out.
For one, a sauna can help them feel recharged after a hard workout — and even shed some weight in some instances!
Meanwhile, massage rooms relax your customers' muscles and prevent them from getting too worn out.
Healthy snack bar
The most challenging part of staying fit and healthy is the lack of nutritious on-the-go food options.
A gym should allow members to grab a fruit-and vegetable-based smoothie or granola bar before their scheduled workout.
This will keep them from binging on junk food after they've spent an hour or two in the gym.
A well-designed space
The design of your gym plays a significant role in how members feel when they work out.
A clean, well-maintained, and spacious facility will help create a positive environment that supports social distancing.
Your facility should be consistent with your brand to promote loyalty among members. They should know what to expect every time they visit you.
Child-care facilities
Inquiring about extra services that come with, or in addition to, a gym membership is common among prospects.
For example, mothers might be more inclined to purchase a membership if they offer daycare services. If someone cannot afford a babysitter and a gym membership, they will likely choose the former over the latter.
Recommended Reads:
Features of Gym Management Software
Best GYM Management Softwares
How to choose the right GYM Software
How to make GYM stand out
GYM Marketing Ideas
Top gym amenities for attracting more clients
While some gyms might be better equipped, there are a few essential amenities every gym should have to attract new customers and keep existing ones happy.
Yoga space
Yoga has become increasingly popular over the last decade, and offering yoga classes at your fitness center can be a great way to attract new members.
Yoga appeals to many people because it helps relax and calm the mind and body. Studies have shown that yoga can lower blood pressure, decrease stress levels, and improve mind-body connection.
Charging station
If you want your gym to be unique, offer phone charging lockers in the dressing rooms. This way, customers can charge their devices while they work out and have a full battery when they finish.
Changing room
The best feeling is leaving a class drenched in sweat, but the worst feeling is sitting in it all day.
If you offer early morning classes, attendees will most likely go to work after them. Giving them a chance to shower and get ready before they leave is an excellent benefit.
Last but not least, don't forget about the bags! If attendees have one gym bag, one work bag, or maybe a purse or diaper bag - they'll need to put their belongings somewhere during class. Make sure you have enough storage for these items.
Complimentary toiletries
Feel free to provide extra shampoos, soaps, hair dryers, etc., for their use. Provide what you would typically find in a hotel room minus the overnight guests part.
Accessibility
All people deserve access to gyms as they are public places we all have a right to use. For everyone to feel safe and included in the gym environment, you must consider accessibility in its design. Some things to take into account include the following:
The entrance of the gym
Is there a ramp?
Is the door wide enough?
Is it easy to find?
The layout of the inside of the gym
Can you move around quickly? Is it too crowded?
Does it have a big central area for exercising with no machines blocking the way?
The staff at the gym
Are they understanding and flexible with all client's needs?
Group exercise
Most gyms provide some classes to their members, though people might need to pay an extra fee at certain establishments.
The classes offered by each gym can differ significantly. However, a few are more common and widely enjoyed than others.
These include yoga, Zumba, cycling, HIIT training, etc. If you want to give your members the best possible experience with maximum satisfaction, try offering as many popular options as possible.
Locker room
Your facility's locker room should be more than a place for members to store their clothes and belongings while working out.
Many people work out before heading to work or during their lunch hour, so it's a good idea to upgrade your locker room space to include full showers, dressing rooms, and grooming areas.
Lounge area
Deck out the extra space in your gym with comfy chairs, cushions, or a few couches. Consider throwing in some high-top tables and chairs.
This space can come in handy for gym-goers that like to hang out pre or post-workout!
Plus, making it available to use whenever makes it great if they need to get in the zone, wait for a workout buddy or catch up on emails before heading to the equipment.
Free WiFi
A good gym WiFi connection is vital for customers who like to track their progress and see results. For example, many people use fitness apps that require a stable internet connection to sync data from devices such as heart rate monitors or activity/sleep trackers.
Furthermore, having WiFi lets people stream music or audiobooks while working out, making time fly by.
And lastly, social media addicts can now upload sweaty post-workout selfies without using up all of their phone data!
Best gym features FAQ
What features do gyms typically have?
Community
Cleanliness
The best equipment and a proper space
Personal trainers
Location
Working hours
Variety of training styles
High-quality fitness equipment
Sauna & Massage
Protein smoothies and bars station
A well-designed space and facility
Child-care facilities
What facilities are available at the gym?
Yoga space
Charging station
Changing room
Complimentary toiletries
Accessibility for customers with disabilities
Group exercise
Locker space
Lounge area
Free WiFi
What is crucial in a gym?
A gym must provide comfortable and safe facilities that promote physical activity, offer a pleasant social environment, and allow members to relax.
How can I improve my gym facility?
Upgrade your cleaning and hygiene practices
Develop positive relationships in your neighborhood
Re-evaluate your current offerings
Use FitTech to improve the experience
Base decisions on data instead of guessing
Request feedback from customers or clients regularly
Make business processes simpler
Be willing to change with what people want
Open Comment Form