An important step in setting up your business is building an attractive, easy to navigate website. It's a place where your customers can learn about your services, contact you and inquire, and book and register for classes. Along with that, a website can also help you grow your online presence on search engines such as Google and ultimately get more clients through your door. But building a website can be a bit tricky at first. That's why there are agencies and website designers whose mission is to help you build a successful effective website that can help you succeed.
In this guide, you'll learn the benefits of having a website, how you can create one, and four great fitness website design agencies and marketers that can help you build and grow your website and generate leads.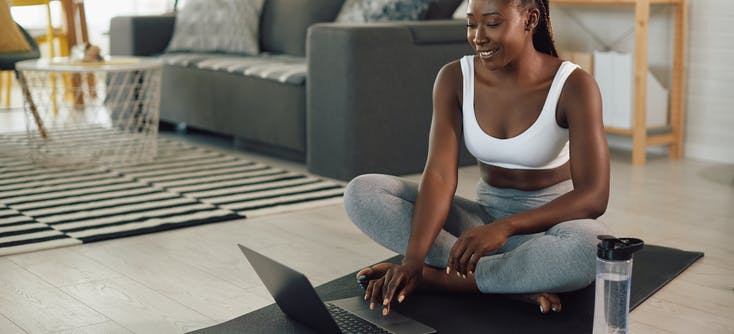 Why your fitness business needs a website
Your website is more than just a sign-up page. From improving your position on Google to filling in the gaps for potential customers, your website is a hub of information that will ultimately help you run your business effectively. Your website is your chance to show potential clients the types of classes you offer. It's where they'll find out about the coaches and instructors, and it's also your chance to show them who you are. Share your core values and what sets you apart from your competitors.
Answer potential clients' questions about your services
A full website includes details about your fitness business. If potential clients leave your website feeling even a bit unsure of what they'd be signing up for, your website hasn't done its job. Your website should clearly outline as much as possible about your business. From the classes and sessions you offer, to the cost of memberships, and what that includes. Potential customers will spend less time asking you questions when it's all there laid out for them to easily find.
Introduce your team before class begins
Your website is also an excellent opportunity to introduce your instructors and coaches with some information about their experience and credentials so that new clients will know who to expect for their class or session. Providing this kind of information with clarity gives fitness consumers more confidence in a new gym or studio, and in addition, it gives your business credibility.
Get Google to notice you
A full website needs to include multiple pages to answer specific needs that a customer might be looking for. But not only that, Google looks for SEO (search engine optimisation) friendly websites before they rank it on their search results pages (SERPs). The easiest way to get your ranking on Google up is by using keywords. Keywords are basically search terms. They are the words and queries that people put into Google, so researching keywords that are relevant to your area of fitness and incorporating them onto your website is important.
Find out how to build your own fitness website
How to build a website
If you decide to have a go at building your own website, there are free website builders you can use that take you through step by step to create your website. They can suggest pages to create and designs to select, and planning the content on each page is important. This goes back to what we mentioned earlier about ensuring your website has sufficient pages with the right SEO to keep Google happy and to ensure your clients have all the information they need.
What pages to include on your website
Every website should have certain pages that add to its credibility with both Google and with potential clients. The pages that you should include when you build your website include
A clear "Sign-up" page and an "About Us" page to introduce you, your business, and your team.
A clear pricing page detailing what each membership gives new clients.
A creative content page with a blog, which is the simplest way of adding important keywords to your website while building engagement with your members.
A gallery with good quality photos of classes and sessions along with video snippets as an example of your on-demand content.
Include links to your social media pages, especially Instagram and Facebook.
What are professional website builders and what do they do
Professional website builders are able to make your website run smoothly. They work with business owners and brands to help with the creation, design, and marketing of the website. Some website builders have a done-for-you approach, while others will walk you through the steps to learn and help you as you go.
Typically, they'll get you to fill out a questionnaire or hold a meeting so that you can outline your mission statement, what your services fitness business provides, and what you need your website to include. One big difference between a free website builder and hiring a professional is that a professional can make your website unique through coding instead of building on a pre-determined template.
Keep reading and see how these four website design agencies help their clients create an online presence
Internet Fit Pro

About Internet Fit Pro: We've already helped 100's of personal trainers, boutique gyms and fitness business owners attract thousands of new clients with our lead generating fitness websites. Arrange a call with one of our fitness business website experts today and discover how we can help you attract more clients and grow your fitness business faster.
When you invest in an Accelerate website from Internet Fitpro you are investing in a team that has over 20 years experience building successful fitness businesses. A team uniquely positioned to help you with a website designed to grow your fitness business. - Liam Thompson, owner of Internet Fit Pro
Pro Fitness Website Design
About Pro Fitness Web Design: Pro Fitness Web Design creates websites for fitness, health and wellness professionals that generate leads.
We work with fitness, health and wellness professionals to create websites that generate leads for their business. Unlike most design companies we do not only focus on making your website look good we also ensure that you have the right elements and content to drive leads into your business. Over the last 10 years, we have worked with hundreds of fitness, health and wellness professionals and transformed their websites so they are a lead generating tool rather than just an online brochure that tells visitors about what services they offer.

Our clients choose to work with us because we understand the needs within the fitness industry and we work to a tried and tested website formula that is proven to generate more leads than a standard website. - David Slaughter, owner of Pro Fitness Web Design
Discount for TeamUp customers: TeamUp customers can receive £100 off.
My Personal Trainer Website

About My Personal Trainer Website: My PT Website is managed fitness website design and marketing company for personal trainers who are ready to take their business to the next level.
We take care of every step from start to finish. All the trainer has to do is answer a series of questionnaires and offer feedback. We take care of the theme, layouts, website content, hosting, security, technical updates and offer unlimited revisions. - Dan Salcumbe, owner of My PT Website
Discount for TeamUp customers: 10% off set up fee. Show proof of TeamUp account to redeem.
Fitness Web Formula

About Fitness Web Formula: With a decade of service and over 3,000 fitness businesses benefiting from their unique set of skills, the web development and marketing experts at Fitness Web Formula are a team you can rely on. FWF stands out from competitors by achieving their clients' exponential growth through unique, organic lead generation strategies. This saves time and cash by virtually eliminating the need to fish for new prospects by constantly churning out costly ads. FWF serves the fitness and wellness industry exclusively.
Fitness Web Formula is a full-service web design and marketing company with a wide array of solutions. They really are sort of a one-stop-shop for professionals trying to grow their business, in that they do branding, web design, copywriting, custom web development, SEO, and a slew of other custom marketing services. Even with all that, FWF offers surprisingly affordable and competitive pricing.
The goal for us isn't about churning out cookie-cutter websites. We care about how our services directly impact the success of our clients' business. What we don't want is to see you wasting time and resources on things that simply don't work and won't set you apart from the competition. To be blunt, if you fail, we fail. Your success is, quite literally, our success. Our team operates more like your business partners than a marketing company. We're thrilled to see our clients increasing organic leads and growing their reach 3x, 5x, or even 10x over their previous website's performance. As fitness enthusiasts ourselves, we know that for each fitness and wellness business we help, we're also helping a real community become healthier and stronger. That's why I love this industry. - Shingo Suzumura, CEO of Fitness Web Formula, Locus Marketing
Discount for TeamUp customers: Use this link to receive 5% off any plan for life.
Which website builder platforms integrate with TeamUp
Embedding TeamUp into your existing website couldn't be easier. if you're working with a web developer or designer, you can invite them to access the customer site pages of your website's dashboard and they can help you create a seamless experience for your members and clients. The website builder platforms that you can integrate with your TeamUp account include
Additional resources to learn more about having a website
Now you've got your website up and running, find out how our marketing series will increase your visibility on Google and help grow your business.
Thanks for reading!
Open Comment Form