After months of closed doors, social distancing, and waiting for gyms to re-open, it's normal that your customers may be lacking a bit of motivation to come to class online. Without the little but effective things like a pat on the back after class, or a 'see you next week' or a high-five accompanied by a 'great class, you nailed it', enthusiasm falls short due to distance and separation. Add on top of that everything going on in our lives and it's not surprising to see why motivation can drop.
But, that doesn't mean you can't find new ways to motivate your customers and get them excited for your online class. Take advantage of a new opportunity to get to know your customers better. They will benefit more than ever from an extra burst of energy, positivity, and human connection...even through the screen.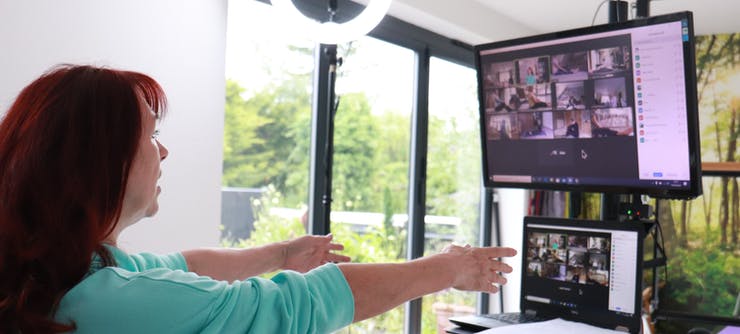 Karen from Northants Pilates gives classes online to over 343 customers.
Start with the benefits
A good place to start is by reminding your customers why exercise and fitness are so important. Not only for their physical but also mental health. During stressful times, we tend to forget to take care of ourselves. We forget that regular exercise helps us not only get in shape but work out other parts of our bodies. Although levels of activity have changed, The CDC does not want you to forget the benefits of regular exercise which include:
Improves brain health and activity
Reduces heart risk and disease
Improves mood and reduces stress, depression, and anxiety
Increases energy levels
Improves relaxation and sleep quality
Reduces weight gain and improves weight management
Improves bone and muscle strength
While you can tell your customers these benefits over and over again, until you're practically repeating them in your sleep, it's better to show them! Online classes may not have the instant attraction that going to an in-person does, but it's currently the best way to learn from an expert instructor, connect with friends from your gym or studio, and experience the benefits of regular exercise, even at home!
We talked to some of our own customers currently offering online classes to their customers and here is what is working best for them.
Ask your customers to come to class earlier
Using our Zoom integration, you can use settings like "join before host" and allow your customers to come to class earlier to chat, connect, and catch up. Some of the greatest friends you make in your adulthood come from the workout classes you take together. This is just as good a time as any to let them bond and talk, before gathering everyone's attention to begin class.
My ladies like getting there 15 minutes early and catching up - I think they enjoy it as much as their class!
Create the perfect at-home workout environment
The ambience is everything! Not only is creating the perfect at-home workout environment a way for you to brand your online classes, but it helps your customers get the vibe that they are in your studio or gym per usual. Here's how to create your studio space at home.
Have great lighting. Find somewhere that is bright and airy with great lighting so your customers can clearly see you.
Use things like candles, equipment, mats, scents, music, that you would use in your normal class, and ask your customers to bring the same with them.
You can go the extra mile and send your customers an email or message with the exact items you use for your set-up if they want the same. If they are your own merch items, your customers can purchase them from the merch section in your TeamUp dashboard.
We wrote an article on perfecting your production skills for online classes.
Encourage them to set up a calendar link with TeamUp
Make signing up for your classes easy for your customers by encouraging them to set up their own customer dashboard. In their dashboard, they will be able to set up a calendar link that will give them direct access to book your classes and allow them to plan ahead.
Using the calendar feature they can also export their registrations to any calendar application that supports iCalendar format. After copying and pasting their private calendar address into their everyday online calendar, they'll be able to see all the classes they have signed up for. Ensuring they never miss your class!
Sell the next class
At the end of the current class make sure they don't want to miss the next one. Plan in advance and set up something special in every class. Your customers might become tired of repeating certain routines, so letting them know there is something exciting in-store will definitely pique their interest. We've seen so many great examples of keeping it fresh including special dress-up days, party sessions, music themes and more.
In storytelling writers always leave the readers wanting more by using 'hooks'. Here are some ideas for end of class hooks:
Can't wait to see you next week for something we have never done before.
You are not going to want to miss the new skills we take on next class.
Have you heard that next week we are starting the next series? Sign up before the spots fill.
If you missed your customer on the way out of class, follow up with a message through your dashboard, email, or social media post. Remember, they don't want to miss out.
We're spicing things up next week by taking class outdoors. Don't miss out!
Do you like surprises, because you're really going to love next weeks!
Have fun with it and build up the suspense, so your customers really get excited and pumped up for your next class.
Send check-in emails
Notice your customers are coming to fewer classes than usual? Send them customers a check-in email with your favourite inspirational quotes and a reminder that you are rooting for them. Your customers will not only feel cared about but also appreciate that you went out of your way to give them a motivational boost.
Saw you weren't in class today, so I wanted to send you today's motivational quote.
Next week we're focusing on abs and glute techniques, which I know is your favourite. Reserve your spot now.
You can even set up templates in the TeamUp dashboard, and customise them per customer to save you some extra work, while still making your check-ins personal and unique. (If you're brand new to email marketing, a quick browse through our how-to guide will get you where you need to be.)
If you are worried your customers may be, what we call, 'slipping away', you can set up automatic messaging in TeamUp to help you retain those customers. It's about making sure that you never leave it too long to be in touch. While this will ultimately help you keep your customer, it will also encourage your customer to stick with their routine and not give up.
Celebrate the wins both big and small
Lockdown feels as if it came out of nowhere, and it most likely threw a big wrench in your customers' fitness routines. Don't forget to celebrate their wins, both big and small. Maybe Jenny just ran her first 10K after her knee surgery. Maybe Ben just held a plank for 5 minutes straight.
These milestones matter to your customers, so they should matter to you too. Log these goals in your customer notes so you can be sure to plan ahead with a celebration in class. Letting your customers know
Hey there, be sure to come to class on Tuesday for a fun surprise
or
You won't want to miss out on Wednesday's session to celebrate your 10K anniversary,
Set up goals and class challenges
Nothing gets fitness clients motivated like a challenge! We are constantly pushing ourselves to accomplish our fitness goals, whether that be to nail a new pose or break our personal records. Set up class challenges for all of your customers to participate in. You can even set up an award and incentive like the top 3 winners get 1 free class or free merch from your studio or gym. A healthy motive with a little incentive will encourage your customers to come to class so that they don't miss out. It will also push them to keep hitting their goals without skipping a beat.
Try something you've never done before
Why not mix it up a little? Introducing new and creative workouts can keep customers engaged. If you run intense sessions you could try a different relaxing ending or vice versa. Maybe you could teach something completely new. Working out at home may not be a new concept, but there are definitely ways to get creative with it.
Create a buddy system
As an instructor or owner, we know it's not easy to be checking in with your customers all day every day. So create a buddy system between them. This is a great way to get new members involved in your classes quickly thanks to their new fitness pal who showed them the ropes. Not only will having a buddy system help you out, but it will give your customers an extra person to lean on in class.
Stay positive
While this one may seem like a no-brainer, as an instructor and owner, it's important to stay positive. Your customers lean on you for support and to be their guide. Focus on healthy communication and a positive attitude to be the rock for your customers.
There are dozens of ways to encourage fitness customers. Whether your customers like a challenge, are looking for that extra push, or want to make new friends, learn what works best and stick to it. We could all use a little extra inspiration and motivation right now, and we're determined to find new ways to do so.
If you have an idea or a special way you motivate your fitness customers, let us know, and we would love to give you a shout-out.
Need help getting your online classes up and running? Check out our online classes collection and resources to find everything you need to successfully run your fitness business online.
Thanks for reading!
Open Comment Form